Softgoods
Armada
Not only do they kill it making skis, but Armada also offers some incredible outerwear. New this year in the technical Vector Series, the Resolution Gore-Tex 3L Jacket. The Resolution comes in a tech fit, Recco avalanche system, a microfleece chin guard, water-resistant pit vents, lycra wrist gaiters, a 4-way stretch powder skirt and more. The perfect jacket for the backcountry, pow day or just staying dray and looking good. Also new to Armada are the Highline Gore-Tex 3L Bibs, you heard us, Gore-Tex bibs from Armada. The actual bib material is made with a stretchy board short material to fit and stretch to your chest size. Even better, if you don't feel like wearing bibs one day, the bib part will zip right off. Coming in a range of simple colors; dark blue, black and red, these bibs are going to be a go to for the hard charging ladies. The core Armada series boasts six jackets and four pants coming in a range of style, waterproofing, and breathability.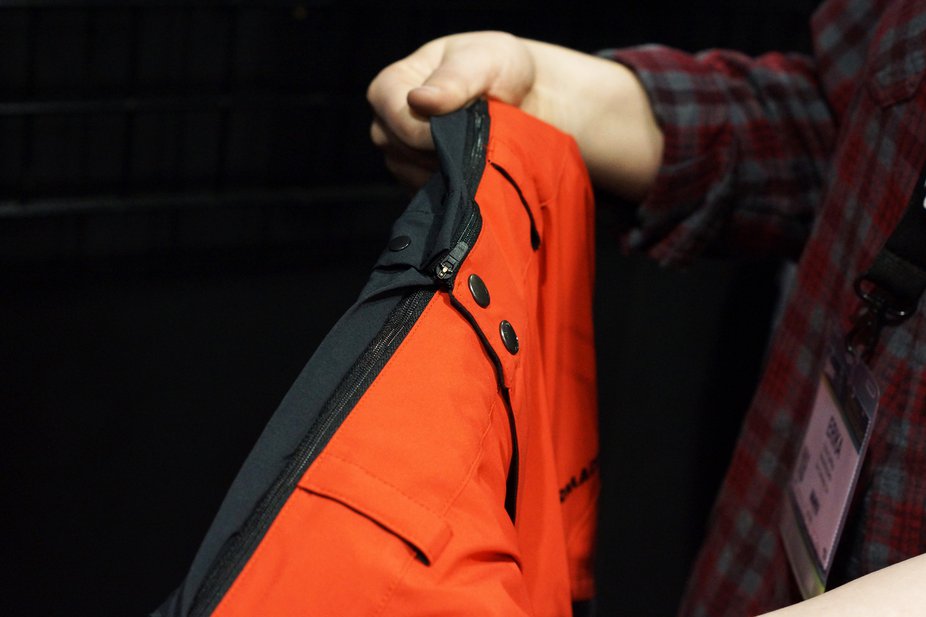 Highline Gore-Tex 3L Bib
Color: Red
Tech: Gore-Tex 3L with C-Knit Backer Technology
Fit: Tech
XS-XL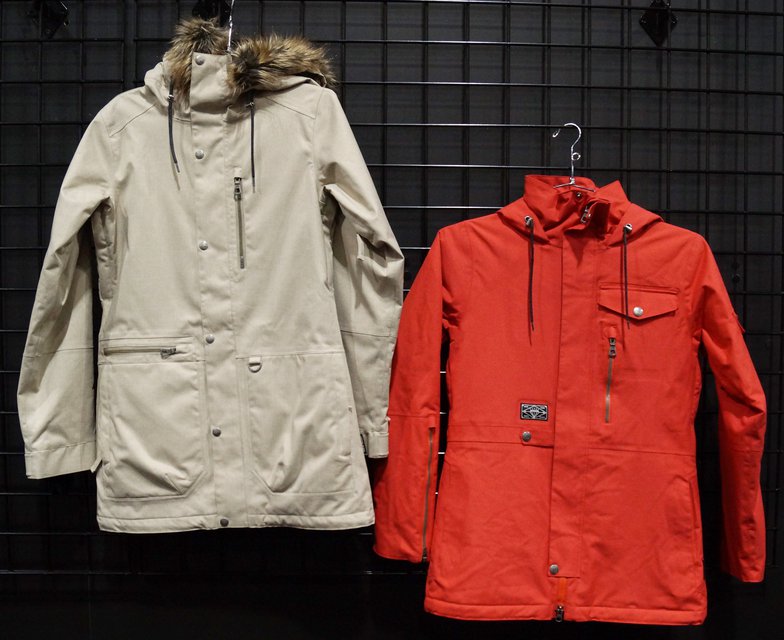 Lynx Insulated Jacket
Color: Khaki
Waterproof: 10K
Breathable: 10K + DWR
Fit: Team
XS-XL
Mercer Insulated Jacket
Color: Red
Waterproof: 10K
Breathable: 10K + DWR
Fit: Tailored
XS-XL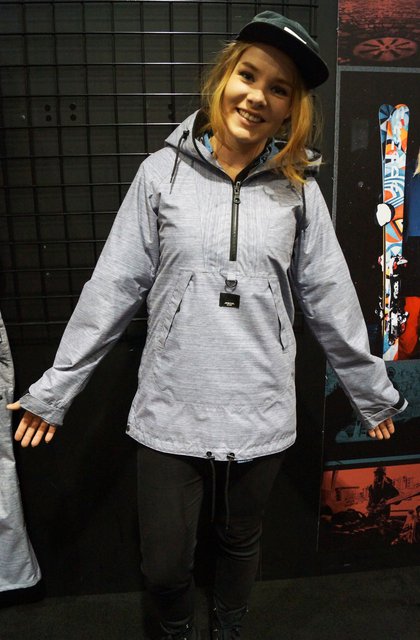 Saint Pullover
Color: Heather
Waterproof: 10K
Breathable: 10K + DWR
Fit: Anorak
XS-XL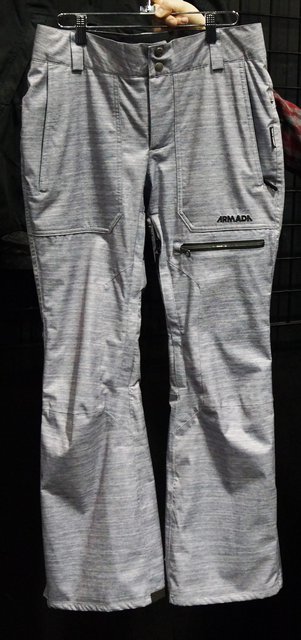 Shadow Pant
Color: Heather
Waterproof: 10K
Breathable: 10K + DWR
Fit: Skinny Slouch
XS-XL
E: These bibs are so cool. The stretchable fabric is going to be so nice for the ladies instead of weirdly placed straps. Also really happy to see it's removable, sometimes I just want to wear normal pants too! I'm also loving that the colors are subdued, lots of blues, reds, and blacks. Everything they had was designed really well.
M: Their stuff for next year is pretty sweet. True to form, Armada have some steezy stuff coming out. Pullovers are definitely a thing next year and I squeeeeezed into the Saint Pullover for you guys. Yeah, you're welcome.
B: I love the fit of their pants. Their pants are made for girls with thicker hips for a curvy girl and thin knees that allow a curvy girl with a tight fit.
CLWR - Colour Wear
Born out of Sweden, CLWR is making a big splash. They make functional, yet fashionable outerwear for skiing. They offer a tremendous amount of variety in their jackets and pants with four different categories; Liberty, Fusion, Ride and Urban. The Liberty series is their top of the line mountain series. Built for exploring all over the mountain, the Liberty series is built for harsher conditions. The Fusion series is for the rider that not only wants to stay dry and warm, but have a very stylish look. The Ride series is the catch all for riding, day in day out, this outerwear is good for any condition. Lastly, the Urban series is for looking good while staying warm and dry when you go out after a long day of riding. or their women's line they have a great variety of jackets and pants. Ranging from 20k to 10k waterproofing, traditional jackets, parkas and pullovers; they have something for every lady out there.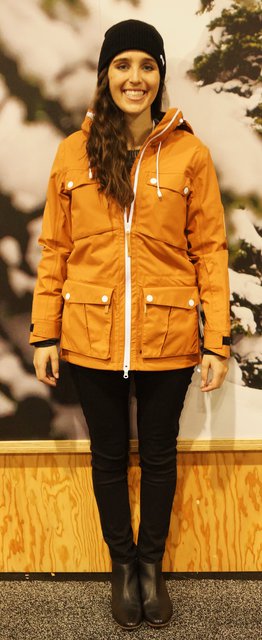 Lynx Jacket
Color: Adobe
Waterproof: 20K
Breathable: 20K
Fit: Regular
XS-XL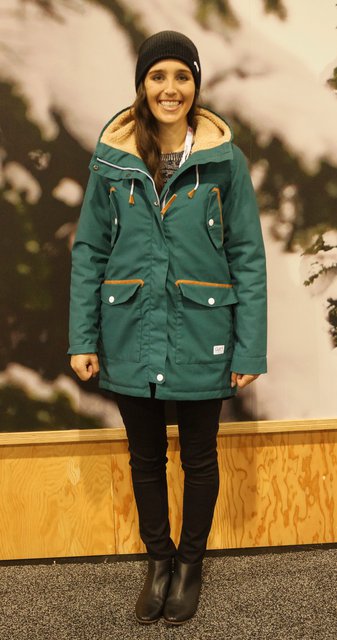 Up Parka
Color: Bottle Green
Waterproof: 10K
Breathable: 10K
Fit: Loose
XS-XL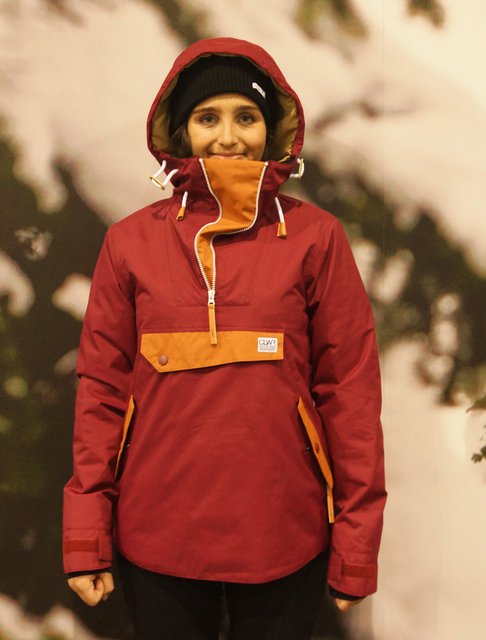 Recruit Anorak
Color: Burgundy
Waterproof: 10K
Breathable: 10K
Fit: Loose
XS-XL
E: I really liked everything at CLWR. They use a lot of the same colors and patterns throughout not just the women's, but also the men's line. Which means if there's a color wave you like, but not the jacket, there will be very similar patterns in a different type of jacket. I really like the pullover, especially in the burgundy color. On the other hand I wasn't too big of a fan of the materials used. Almost felt like they were a bit too stiff and bulky to me.
M: I left the CLWR booth having drooled on a lot of their clothes. #sorrynotsorry. Their stuff is so sick. Great choices made with the colours, the fits are awesome and they pay a lot of attention to detail.
B: CLWR won my heart for outerwear at SIA as soon as I saw them, and that love grew after I put the first jacket on. I don't think I can pick a favourite as they were all right on point, suitable for both skiing, city and apres. They have great attention to detail with contrasting coloured trims (which I love) and lots of pockets (my favourite thing ever in a jacket). So much room for snacks, lip balm, buffs; I'm in love. They had all different types of jackets in both neutral and bold colours which was nice, although they didn't have anything that was super out there; they're probably a little bit conservative. CLWR's girls' range is similar to their men's range, but the dimensions are tailored to women. CLWR really thought out the gender norms relying more on neutral colours and contrasting trims to add style.
O'Neill
O'Neill has really stepped up their game this year. They've brought on Maude Raymond and not only given her a pro model, but given her a lot of creative control over the whole line. Intricate details can be found everywhere; from horizontal and vertical pocket zips to quilted stitching these pieces are not only functional, but super trendy. The Maad coat comes in three different colors and comes with a multitude of features like long wrist gaiters, venting and goggle, sandwich and phone pockets. The women's line contains over 20 jackets including insulated jackets, shells, down and pullovers. They offer eight different styles of pants; skinny, slim or regular fit, in almost any color imaginable.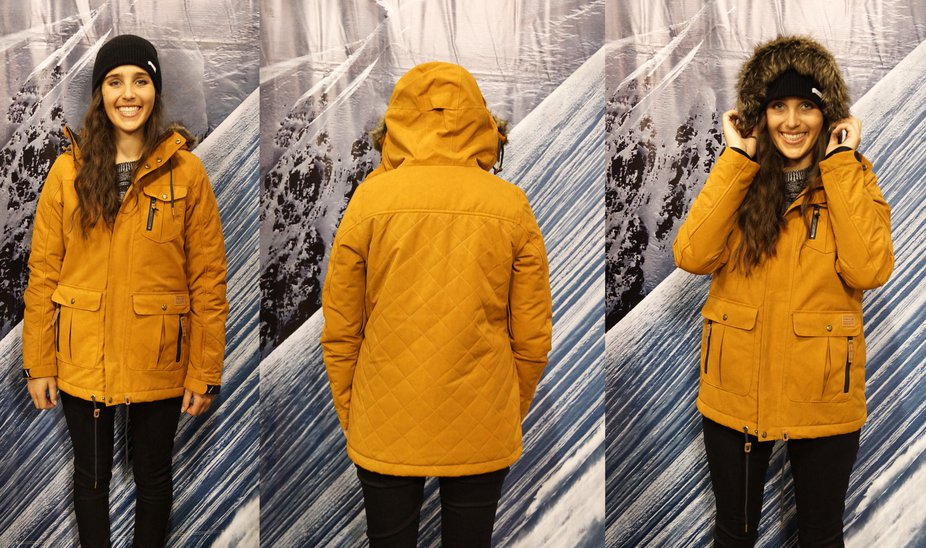 The Maad
Color: Cathay Spice
Waterproof: 20K
Breathable: 20K
Fit: Regular
XS-XL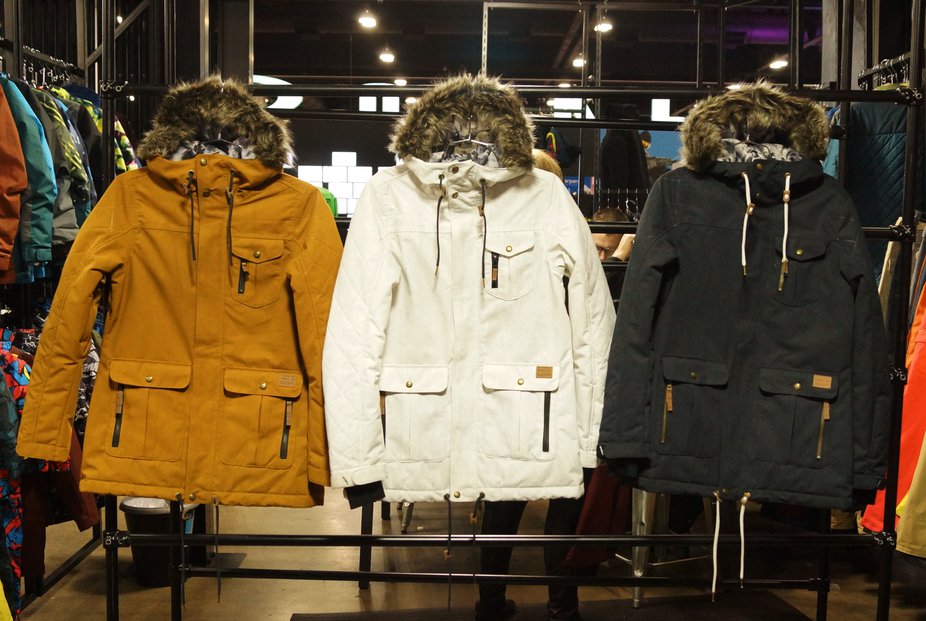 The Maad Jacket
Cathay Spice, Powder White, Black Out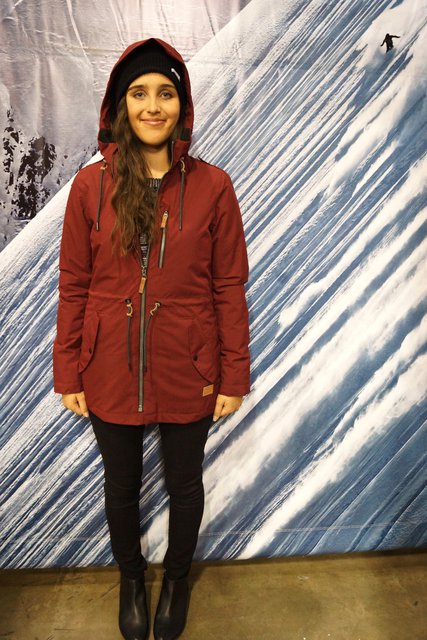 Eyeline Jacket
Color: Cabernet
Waterproof: 10K
Breathable: 10K
Fit: Regular
XS-XL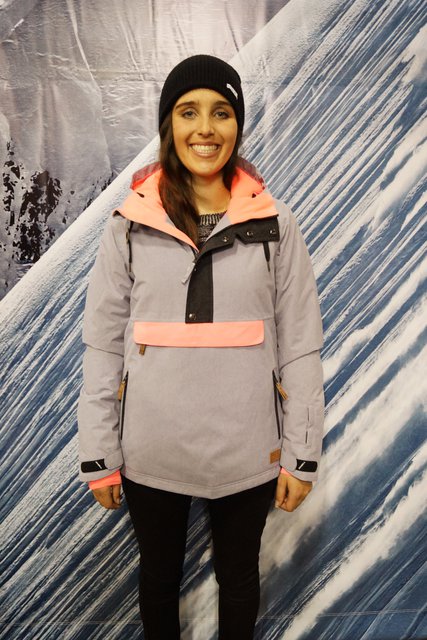 Crystal Pullover
Waterproof: 10K
Breathable: 10K
Fit: Regular
XS-XL
Prism Shell
Color: Black Out
Waterproof: 20K
Breathable: 20K
Fit: Regular
XS-XL
E: O'Neill showed up this year prepared. Not only do they have the powerhouse of Maad Maude with them now, but they just had such a huge variety. They pretty much had any style of jacket you could imagine, plus in a ton of different colors. I loved the intricate details and colors they're offering, not too girly, but still fashionable.
M: O'Neill nailed it this year for sureeee. Definitely my pick of outerwear (which is a MASSIVE call, as it was all so sick). Quality materials, amazing details and so much $WAG. So sweet to see the MAAD Maude collab too, that jacket is straight G. We didn't leave the booth for like an hour, and afterwards, I was so satisfied I needed a cigarette. If you know what I mean. Bow chicka wowowwww.
B: O'Niell for me was a super close second in the garment section. They have this awesome subtle quilted print on some jackets that I love. Maude Raymond has her own jacket now and it is incredible. You can tell it was designed by a woman because the pockets are perfect with both horizontal zips and vertical pockets. They really stepped up their line this year nailing all different types of jackets for different types of girls.
Orage
Orage brings a line up of women's outerwear to the table that has immense variety; in style, fit, function and color. Jason Mousseau gave us the inside look at the latest from Orage. They've expanded the transition line which is best used for heading off the mountain and around town. The pick from this line would be the Parkatype. A insulated down jacket that feels like a sleeping bag and folds into a pillow is going to be amazing for those cold nights around town. They have an insulated layering flannel that can also be used to ride in with a DWR coating to keep dry. The gem of the ski collection, the Deal, has not changed too much, but features some finer details and a slightly altered fit. This is a really warm jacket that comes in five different colors. For the ladies headed into the backcountry, Orage has introduced something for you, the Distinctive. With 30K waterproofing and 60K breathability, this jacket will keep you extremely dry and allow you to work hard uphill and reduce sweating. This jacket has a multitude of features including four way stretch fabric, abrasion on the shoulders for your pack, elbow to hip venting zip and more. You also have the choice of an insulated jacket or a shell version. "The whole point of this was for the people going touring or sledding and don't want to stop and take off their gear or remove a layer." All prime 20 jackets will feature a pretty innovative feature. The sleeves will be reversible, to a bright orange color, not for fashion, but for safety. Mousseau explains, "These jackets come with reversible sleeves so if you get stuck in the backcountry, turn your jacket inside out and wave around, or if you like to party really hard you can be that guy."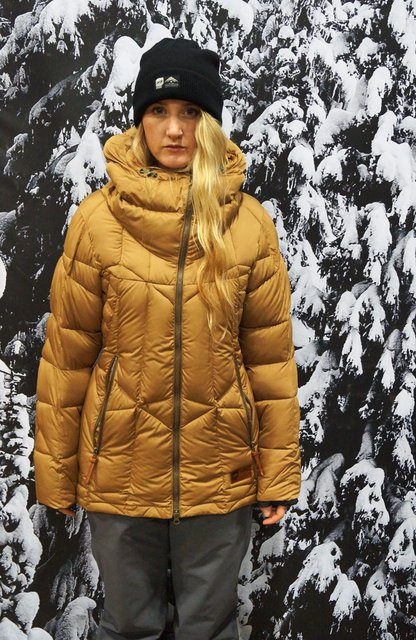 Parkatype
Color: Golden
Waterproof: Eco DWR
Fit: Original Long Fit
XXS-XL
-Folds into a pillow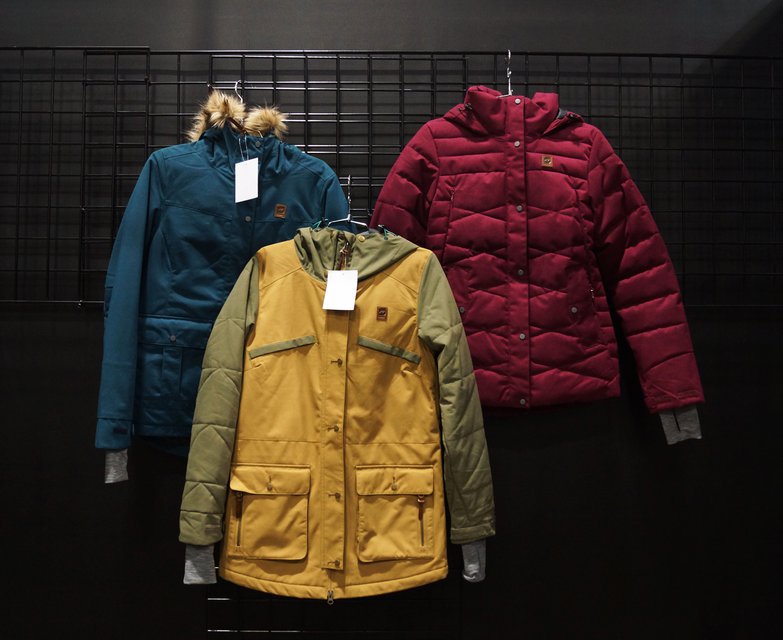 Kiva Insulated Jacket
Color: Steel Blue
Waterproof: 10K + DWR
Fit: Original Fit
XXS-XL
-Detachable fur
Deal Insulated Jacket
Color: Golden
Waterproof: 10K + DWR
Fit: Original Fit
XXS-XL
Riya Insulated Jacket
Color: Plumrose
Waterproof: 10K + DWR
Fit: Original Fit
XXS-XL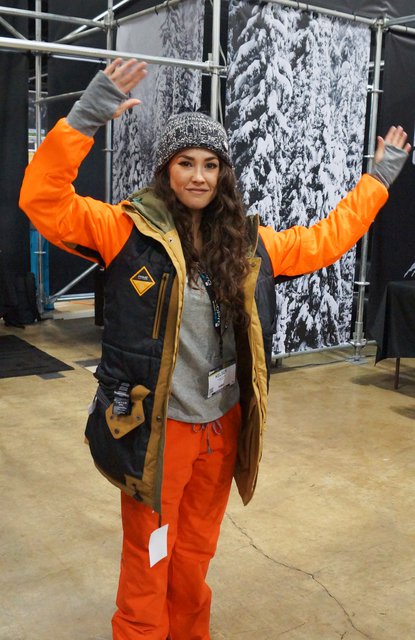 Deal
In case of emergency; bright sleeves to wave around to be found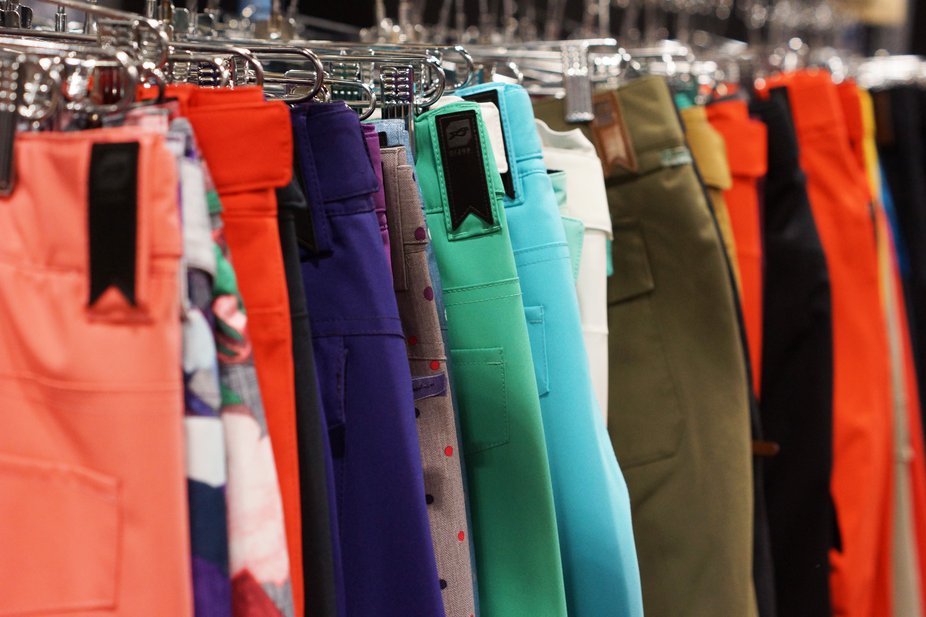 "Pants are Pants"
E: I put the Parkatype on and felt like my head was in a sleeping bag, it was awesome. I could probably just wear that while sitting around the house, plus it would be great for camping, there's a pillow right there. Their tech jacket is seriously top of the line, comparable to the likes of more mountain tech companies. I love the earth tones and color blocking they use, makes everything look really sharp and modern. The orange sleeves are such a good idea that I think more companies should implement. Only thing is that everything is pretty fitted so I wish they made some bigger sizes to be able to layer a bit easier.
M: What can I say? Orage are kings of the outerwear game. I consistently love their stuff. And they have so much of it. You're definitely spoiled for choice and it will be money well spent.
B: Orage had some sweet colour combinations that I loved. They also had a range of styles for the girly girl to the tomboy which was pretty neat. It's nice as a tomboy not having to buy a men's jacket.
Packs
A leader in the pack, Dakine puts together some not just trendy packs, but functional and practical. The Heli ski backpacks come with a Women's specific fit which makes them much easier to carry up hill and around. The shoulder straps are made with an S curve shape to reduce pressure points. The shoulder straps are narrower to allow for efficient load transfer on women's shoulders. The sternum strap sits higher on the chest to accommodate our, ahem, "lady bits". The length of the backpack as a whole is shortened to match a women's torso, but the base is widened to not lose any volume. The waistbelt is angled to accomodate a narrower waist and wider hips. The Heli backpack comes with so many features and comes in 12L, 20L, 24L and 28L to give you plenty of space and options. The rest of the lineup is more lifestyle oriented, but comes with just as many practical features and stylish designs.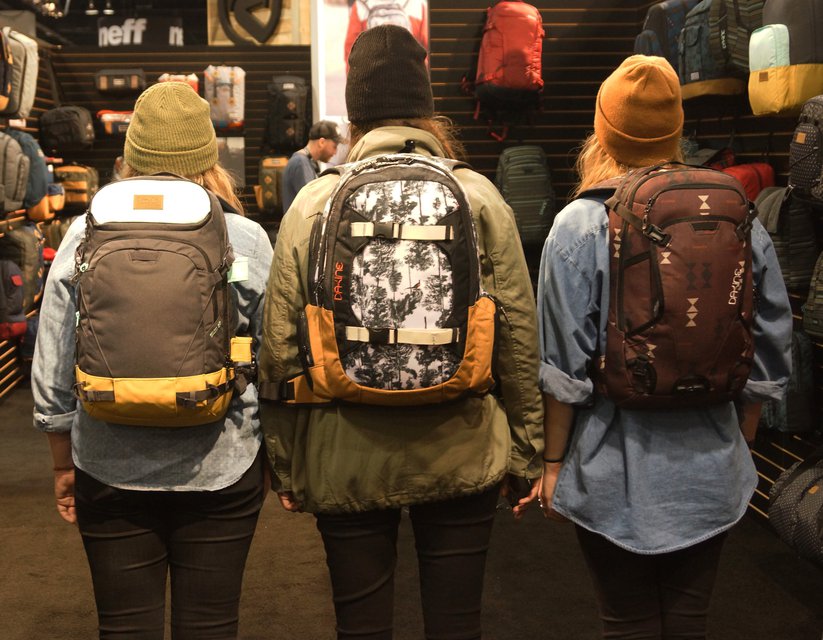 Heli Pro 20L
Color: Blue Lights
-Diagonal ski carry
-Fleece lined goggle pocket
-Hydration compatible
-Rescue whistle
Mission 25L
Color: Wildwood
-Fleece lined goggle pocket
-Padded laptop sleeve
-Padded waist belt
Heli Pack 12L
-Diagonal ski carry
-Insulated hydro sleeve
-Fleece lined goggle pocket
-External shovel carry
-Rescue whistle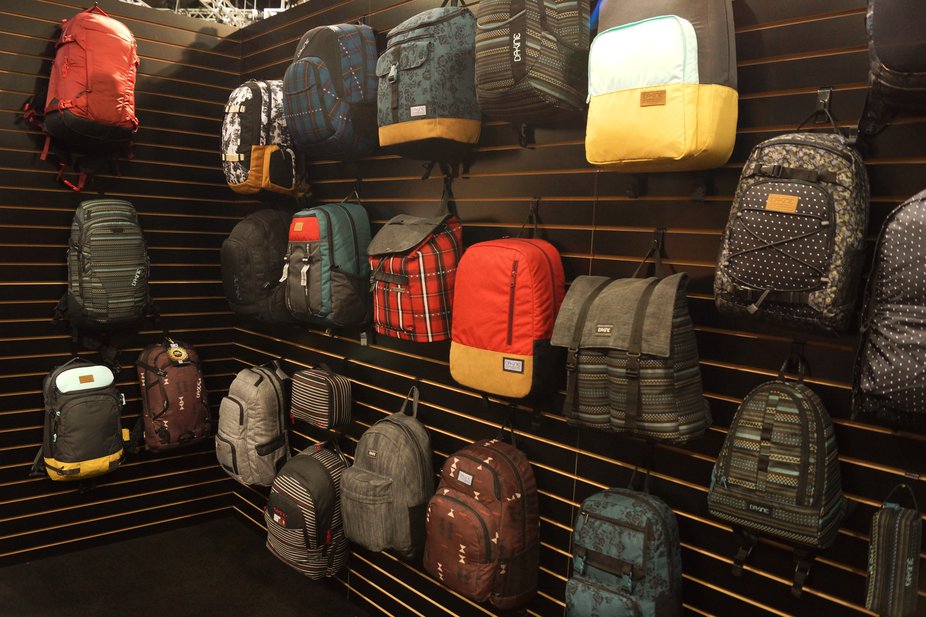 All the packs
E: Really liking the new colorways for the Heli packs. It's also really cool to see so many different size options with the ski carry compatibility. Will make it super useful for either a resort pack or going on a longer mission. Their lifestyle packs are super rad, kinda makes me wish I was still in school to show off to all the other kids.
M: Packs are packs. I think Zach and Cy just used it as a reason to take picks of our asses. They're sly like that.
B: They had some really cool packs both functional and aesthetically pleasing. Their girls' range featured a higher chest trap to cater for those with big boobs and a higher back height to cater for our larger hips. No more having to squish your boobs and balance the bag on your ghetto booty; they've got you sorted now.
The Gear Girls
Erika Dahlby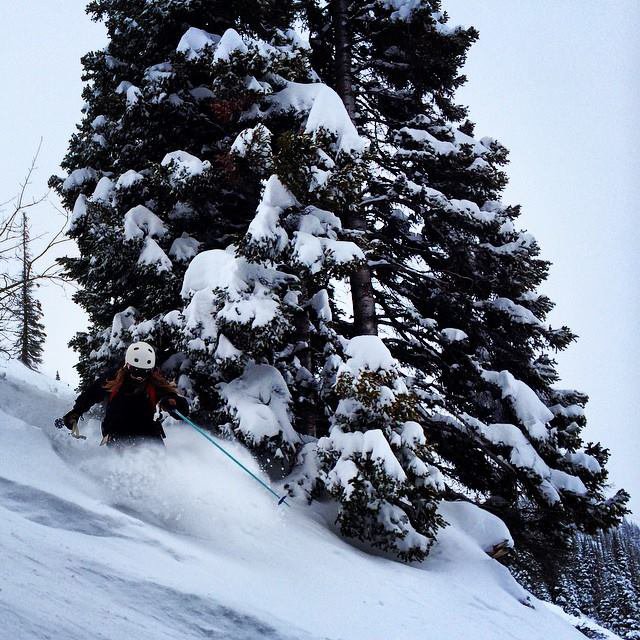 Photo: Zach Nelson
Maddie Jones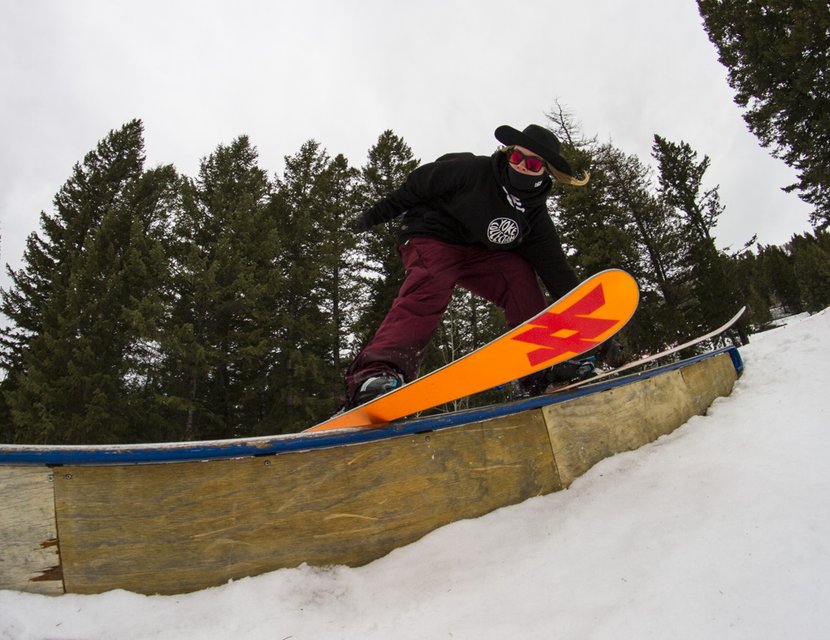 Photo: Cy Whitling
Brooke Dunleavy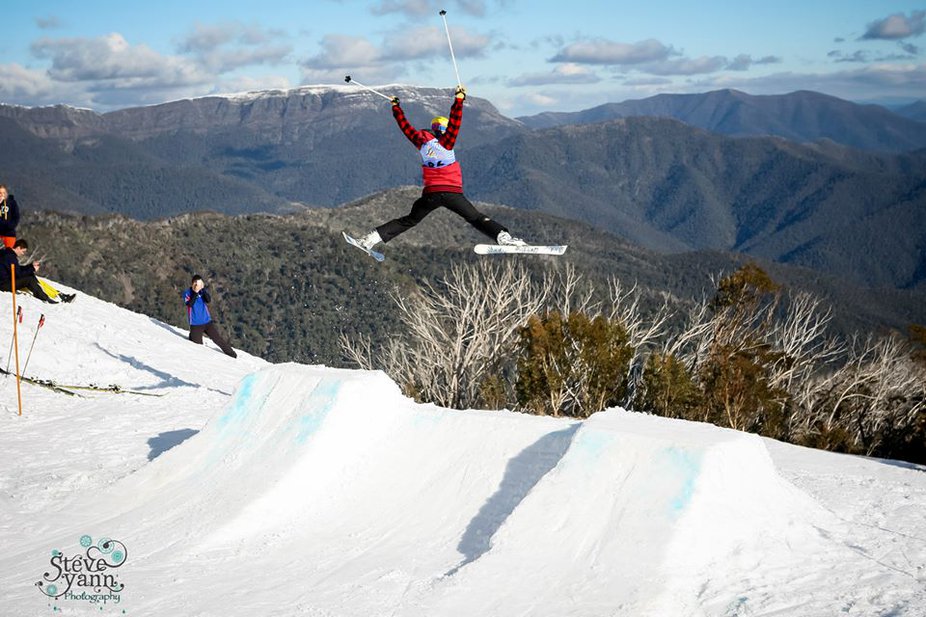 Photo: Steve Yann
I want to give a huge thank you to these ladies for all their input and to Newschoolers for giving us the creative control to run around the tradeshow to make this happen. Also to all of the companies that took the time to speak to us about all of their new gear. Looking forward to making next years already!
Have a brand you want to see? Let us know to include it for next year!