After three years of great times and great competition 382 and Loon Mountain are back again to bring you THE weekend to be at in 2010. With rumors of one of the craziest set-ups ever for this event yet, a slopestyle contest where anything can happen and the Stept crew gunning for the 3-peat BMC championship, this is shaping up to be one hell of a showdown.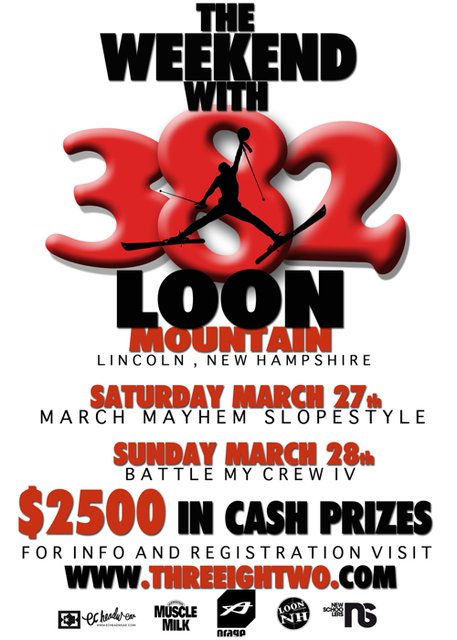 flier by Joe Cap
Saturday March 27, 2010 - March Mayhem Slopestyle
Inspired the NCAA tournament, this is THE original 32 skier, bracket style single-elimination contest. Skiers are randomly seated in a bracket, and compete head-to-head down a four feature run. Winner moves on, and the winner take all will score themselves $1000 straight cash. But best of all, if you're eliminated you will still be able to keep skiing all day. Previous winners include LJ Strenio and Parker White.
Only one can win, will it be you?
Online pre-registration opens the first week in March at http://www.threeightwo.com, and the price is $75. First come, first served.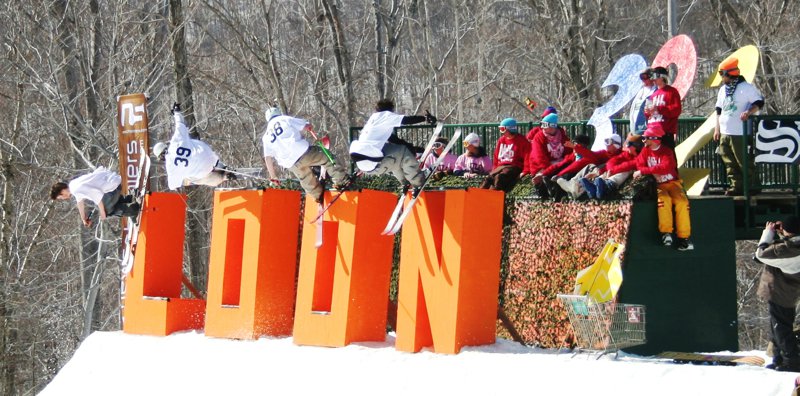 photo by Jen Merrihew
Sunday March 28 2010 - Battle My Crew 4
The Stept crew has won back to back BMC Championships in both 2008 and 2009. With a free ride to go for the 3-peat the Stept crew is sure to come prepared. It won't be easy with two other crews also invited for their shredding in previous contest years. That means there are only two spots open for any crew looking to battle.
To be considered for an invitation for the two remaining spots, crews must submit a maximum 5 minute edit to 382 and upload it to The Battle My Crew 4 contest right here on NS. Videos must be uploaded by Sunday, March 14th, and the final two crews will be voted in by you, the worldwide community of Newschoolers.com. After voting ends on Thursday, March 18th the winners will be announced on Thursday March 18. 
So get your cam and get an edit together, or let your crew be forgotten...
Also look out for the Battle My Crew mixtape vol2, which will be available for free download.
If you don't know, now you know, and if you're not planning on competing, definitely still come up to check out the action. It's just some good clean east coast fun.
After party gathering TBA in Lincoln. No lodging rates currently available.
Press/media lift credentials will be extremely limited. Please contact brandon@threeightwo.com for info, and for upload or submission questions email knowledge@threeightwo.com 
Thanks to the sponsors for making this all possible...
Orage
Loon Mountain
Muscle Milk
Newschoolers.com
EC Headwear
Kooter Brown
Djskdentertainment.com
Fire on the Mountain
March Mayhem + Battle My Crew 3 from threeightwo on Vimeo.
Battle My Crew 2 from threeightwo on Vimeo.