Welcome (back) to the Weakend, a weekly editorial selection of big news, what the fuck moments, and of course the finest visual offerings in skiing from the past seven days. It didn't happen last week thanks to the Dued Tour, but now we're back with a two week bumper edition. The theory sure isn't new but check back every Sunday to make sure you didn't miss something big while you were out getting blackout, visiting your gran or, heaven forbid, actually spending some time on a snowy hill with planks of wood on the end of your legs.
Ruka continued to be Ruka this week, with Henri Immonen stomping whatever the fuck this is. He's calling it a Dub Misty 7 and I can't wrap my head around it at all so I'm going to take his word for it.
http://www.newschoolers.com/videos/watch/850763/First-double-misty-7
But I suppose the biggest things that happened in our microcosm of skiing were the first iteration of the reinvented Dew Tour and Rails 2 Riches. On the whole, Dew was pretty successful despite being shut down hard by the conditions both before and during the event, though there are still significant changes we'd like to see happen for next year. The team event was pretty cool and skiing should be incredibly thankful for Henrik Harlaut and Jossi Wells. Oh and Sean Jordan deserves mad props for stomping 3 entirely different runs in the rail section rather than 3peating runs and adding an extra 270 like everyone else. Boss.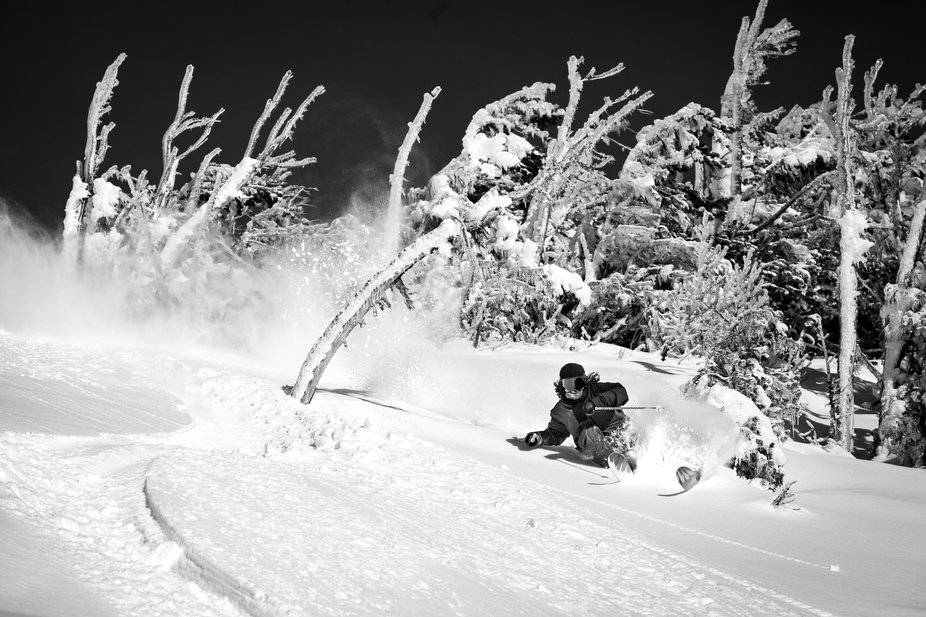 Rails 2 Riches was a banger too, expect to see edits from that start dropping as soon as today. The riding was off the chain, Sandy Boville took home the men's win for the second time in three years, while Taylor Lundquist's third consecutive win proved that she is both the truth and that the selection panel at Dew Tour should have listened to me and invited her to the damn event #salty. Full results here.
In other news highlights, Noah Albaladejo is back on snow after a long term injury (and on Revision Skis), as is Kim Boberg. It's dope to see two of the illest back in the game. We also dropped our Park Ski Editors' Picks and I waxed lyrical about the super playful Armada ARV 106.
It's almost impossible to narrow down two weeks' worth of edits to fit in an article but I'm going to give it a go, starting with Brendan Reid. His switch landings are obnoxiously aesthetic and he's got some mad tech skills to back them up too. Gapers gone wild indeed.
In Tamashii, Karl Fostvedt continues to bring forward 1080s back and it's a damn good thing too when they look that good. He also clears the last pillow in almost every line he rides because he goes too damn hard. But he always rides it out, definitely one of the best doing it right now. Read more here.
https://www.newschoolers.com/videos/watch/850528/Karl-Fostvedt--39-s---39-Tamashii--39--Self-Edit
Keegan Kilbride goes too damn hard, it's hard to look past him as the single craziest talent to have come up in the past couple of seasons, he's certainly one of the top few. His season edit, largely composed of shots from BUFU, is frankly ridiculous.
http://www.newschoolers.com/videos/watch/850592/Keegan-Kilbride-15-16
But my personal highlight has to be this insane glacier riding segment from Sam Favret. I actually saw the shots (drunk) at IF3 in London but boy did I fail to remember how dope they are. I'm sure you've already seen this but it had to go in here by virtue of being so damn good.
http://www.newschoolers.com/videos/watch/850400/Ice-Call---Sam-Favret---Backyards-Project
Thanks for another crazy couple of weeks skiing and shoutout to the weather for dropping some of the good stuff across North America. See you next week.