Interview by Jeff Schmuck
Hey Walter. What have you been up to lately?
What's up NS! I have been doing pretty well. Skiing, mountain biking, pumping some iron, hollering at some chika's and doing a lot of cross training.
 
Are you all done skiing now for a bit?
No way. I can't be off my skis for more than a week. I went water ramping today at the Utah Olympic Park. Learned some new doubles for the pipe next season!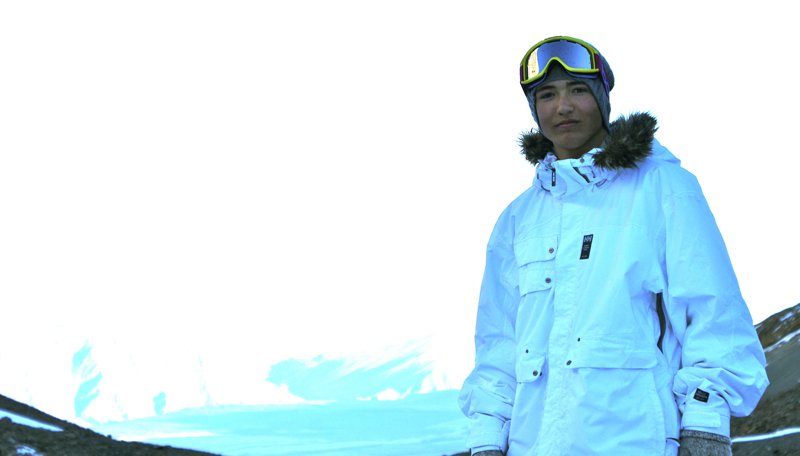 What are your plans for the summer?
I'm going to be heading to Mount Hood to hit up some jumps and their 22-foot pipe to hold me over until New Zealand. There really is no end to skiing for me. It doesn't matter what time of year it is, if there is snow out there I will find it and ski and train as much as I can. Besides those two trips I'll be spending a lot of my summer getting ripped here in Utah at the Center of Excellence. My goal is to literally to be indestructible next year! (laughs)
What'd you get up to for the last part of the season?
Participated in some photo shoots, skied just about every day until last week and did some mountain biking in Aspen on the new bike I just bough which I'm pretty stoked about.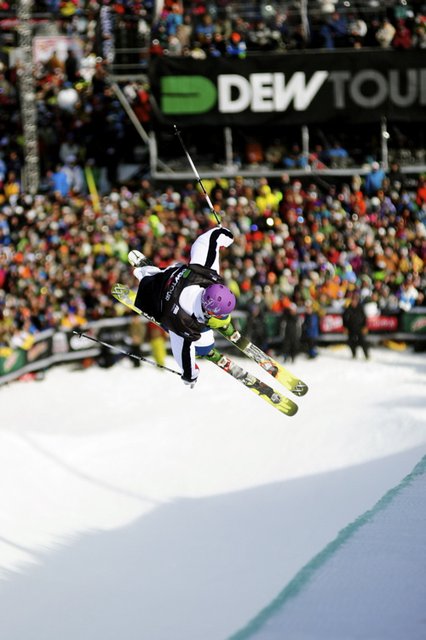 Dew Tour. photo: Matt Stauble
How was your season overall?
My season this year was definitely one of my best by far. I made finals at the Mount Snow Dew Tour, got 2nd at Aspen Open, 9th at Euro X Games, and finished my season off with my first major win at WSI in Whistler. I am so stoked!
Tell us about your first big win at WSI.
This was my second time competing at WSI in Whistler, and I just wanted to ski my run and do my best. It was an incredible halfpipe built by the same guys who built the Olympic pipe. It was what I had been training for all year and it all came together at WSI. It was a surreal experience and a great week. I had been working on that pipe run the whole season and felt ready to bust it out at WSI. My run was 1080, to switch 720, to right 900, to left 900, to right 1440. I was really concentrating on putting down that run for myself and then to win was incredible. I was really excited with my 14 because I added some style to it. I also landed a double alley-oop flat 900 in practice. It was easier than I thought, so expect to see more of it from me in the future. It was just a great week overall!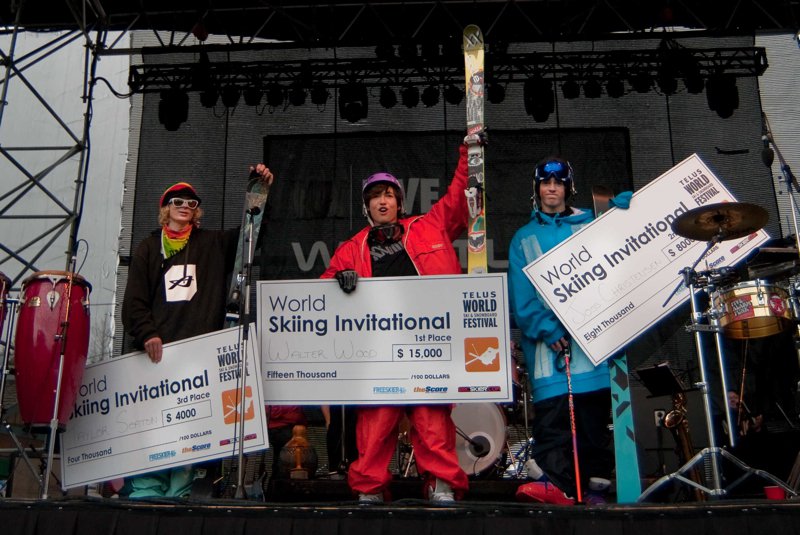 WSI. photo: Geoff Jansen
Aside from that, what was your biggest highlight of the winter?
Competing at the inaugural European X Games was definitely a highlight with a 9th place finish. The crowd was super loud and excited just like in the States. After pipe training Duncan Adams and I would hop on the lift and go ski ridiculous backcountry lines, launching off massive wind-lips, enjoying the Alps and just having a great time.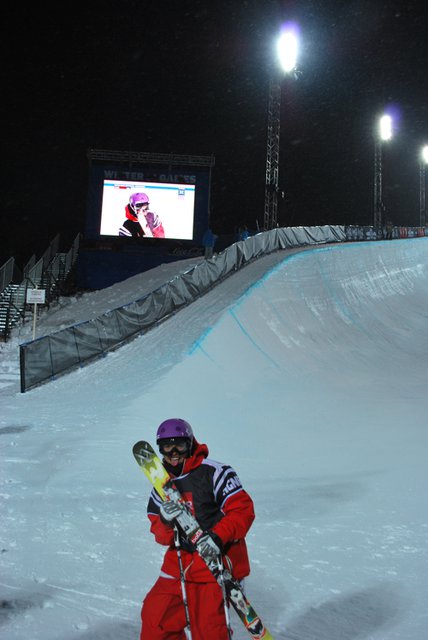 European X Games. photo: Jeff Schmuck
What are your plans for next year?
My plans are to win! I tasted victory and I'm hungry for more! I'm planning on progressing the sport of halfpipe skiing to new levels. New doubles, more creative runs, stand out grabs, and even more style. With all that I have my sights set on X Games, Dew Tour, and the FIS Grand Prix, World Cups, World Championship and more!
And looking even further ahead than that, word on the street is that halfpipe skiing is looking very likely for the 2014 Olympics. What are your thoughts on that possibility?
There isn't a day that goes by that I don't think about it. I'm really focused on being there on that day in Russia. From what I hear in the skiing community the buzz is yes and the support is huge for halfpipe skiing to be included in the 2014 Olympics. It is exciting, competitive and thrilling. It has some similarities to halfpipe snowboarding, but yet we have our own uniqueness. As a competitor there is nothing that psyches me up more than a crowd of fans wanting me to put down my run and taking it to the next level. I have traveled to competitions in the United States, Europe, New Zealand, Canada and Japan since I was 14 years old. The fan base not only in the United States, but all over the world, is massive. People love watching halfpipe skiing, so let's keep the vibe up!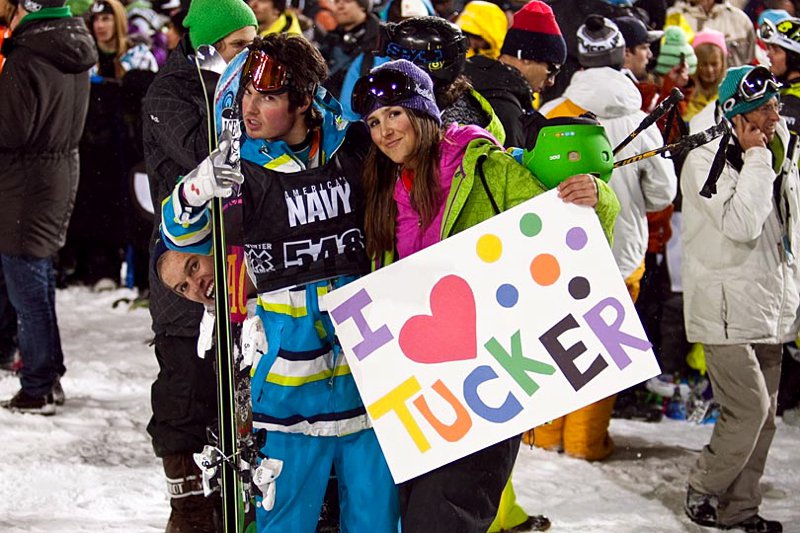 Tucker Perkins & Jen Hudak. photo: John Vandervalk
You're part of a strong contingent of young pipe skiers from the States who are really starting to make some noise. Who do you think everyone should most watch out for in the next couple of years?
We all support one another and push each other to new levels. We are all competitors but also good friends. Tucker Perkins is one of them and we really focus on pushing one another and training hard. Jen Hudak is always a strong force in the halfpipe and is going to be really pushing the sport forward as well. You can always put your money on the Wells boys representing New Zealand in the future. Canada always has a strong posse of young skiers, especially Megan Gunning and Noah Bowman. But get ready, the new generation of skiers are here, and we're here to stay! 
Any advice to young skiers who may start taking a real crack at pipe skiing with the announcement of its inclusion in the 2014 Olympics seemingly imminent?
Work hard! Get out and ski, hit the pipes and commit. It is freedom, creativity and fun all in one.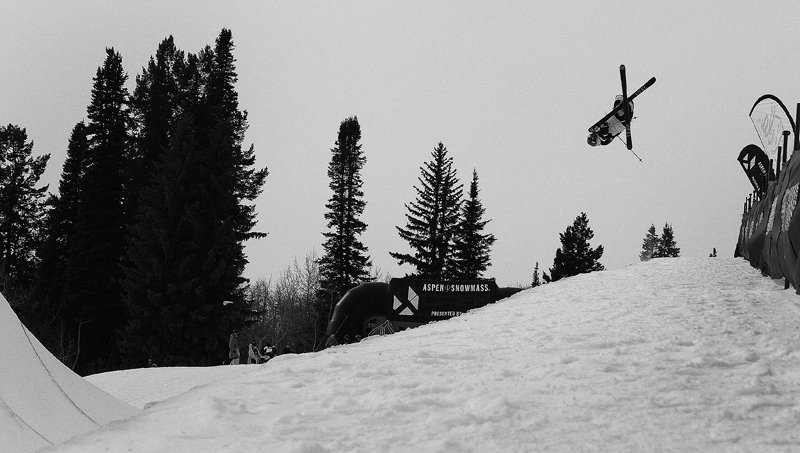 Aspen Open. photo: Rocky Maloney
Any last words, shout-out's, thank-you's?
I have a lot! (laughs) I'd like to thank my folks for getting me into skiing. My coach Elana, who is a huge advocate for our sport, and Jen Hudak who's like my big sister. My sponsors: Volkl Skis, Marker Bindings, Bolle Optics, POC Helmets and Body Armor, Spyder Clothing, Aspen/Snowmass Ski Resort, AVSC (Aspen Valley Ski Club), Discrete Headwear, and to Red Bull for giving me tasty beverages. And a huge shout out and thanks to Newschoolers for covering our events and interviewing me.