words by the Jibij team
photos by Eric Schmitt
Let's start by introducing you to the crew for this epic journey.  First up is Josh Bishop, an east coaster who moved to Colorado and a veteran Jibij team member.  Next we have John Strenio, or LJ, another east coaster famous for his performance in the Young Gun Open.  Sean Jordan is rider number three, a newbie to Jibij and on the am team and a solid rider. 
Bishop, Sean and LJ
Lastly you have myself as the photo monkey, and Darci acting as my assistant.  The team assembled in Zurich and was skiing at Glacier 3000, one of the few European resorts open at this time of year.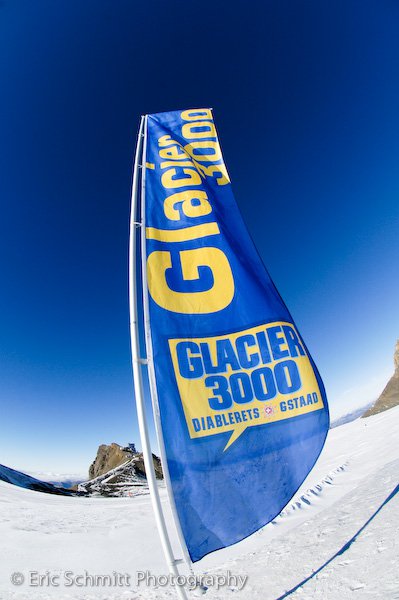 The info on our trip to Switzerland can be found in the previous Jibij team update.  For info on the ski days I'll turn it over to the riders for their unique perspective on things with minor notes from yours truly.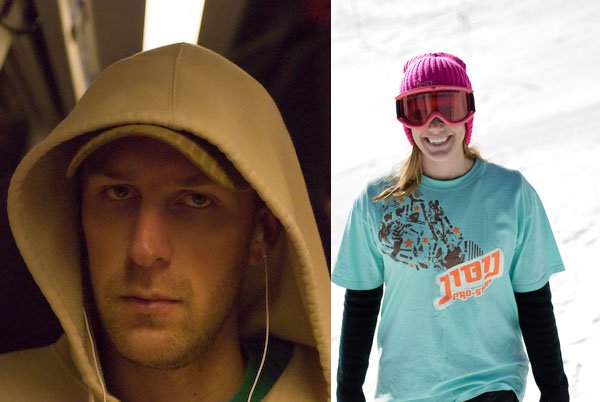 Schmitty and Darci
DAY 1:  Let's take a walk with the blue skies and sunshine – Sean Jordan
This day will go down in the memories of all on this trip. We showed up at the tram station Col de Pillon right at 9:00 so we were the first ones up to the glacier. We could tell on arrival at the midway station this was going to be an epic day. This was our first day skiing in Switzerland so we just kind of rolled around in the beginning. There was a decent amount of people up there but no one was enjoying it half as much as we were. After getting a feel for the terrain it started to go down, quickly.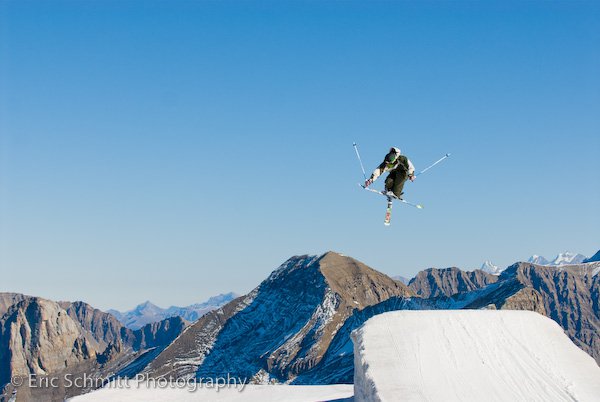 Sean gettin it started
When we decided to start throwing down Josh and I figured we would be seeing some really good-looking 3's with some tech grabs, but we were oh so wrong. LJ started things off strong with a ill-sick-nasty switch rodeo 7 mute and we just didn't know what to say. Shortly after Josh and I followed LJ up. Josh with some illin' shifty 180's and cork 5 blunts and myself with some cork 7's and 5 mutes. Oh yeah I forgot to mention, Josh had 2 broken big toes and was not able to mount his new skis, so he was stuck on some old beaters.  As LJ would say, Josh was " NOT PHASED!" The day went on as Schmitty kept getting dirty shots of us with some unbelievable scenery.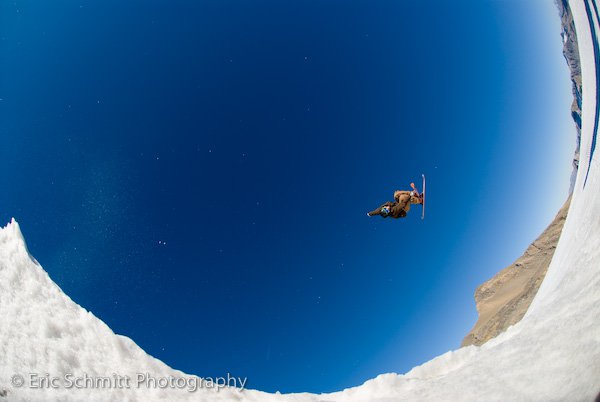 LJ's turn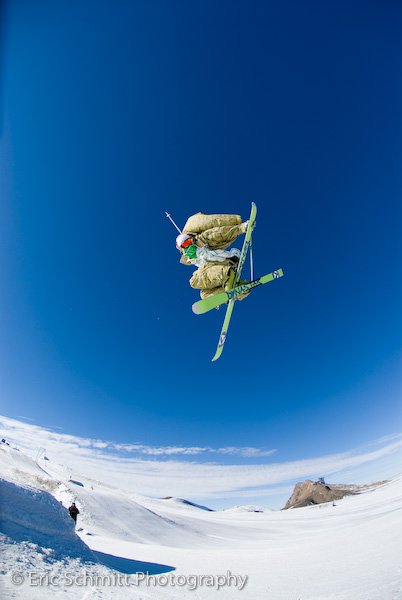 Bishop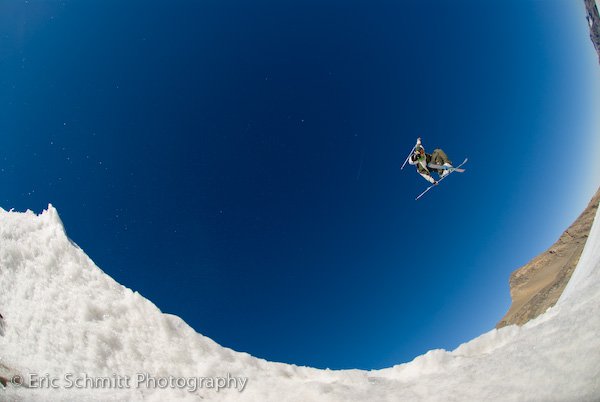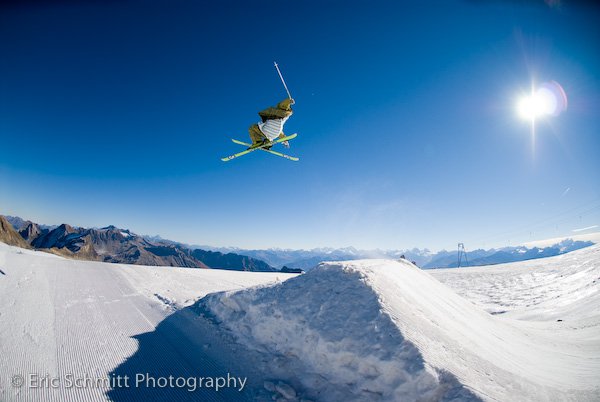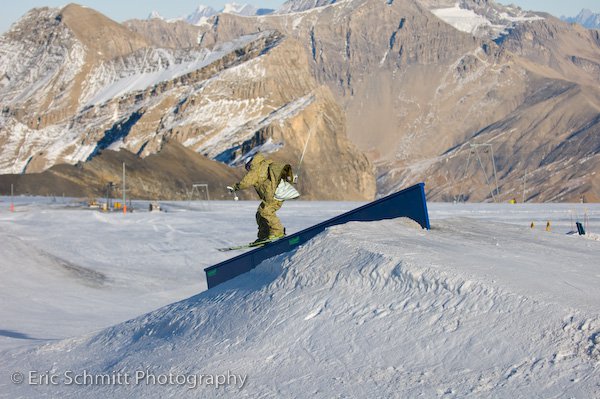 Even after we left Glacier 3000, the day was not over. For dinner (which was delightfully cooked by "papa Schmitty") we had pasta and salad, which was way good. To follow up the evening we decided to go find the mini ramp and destroy it. Prior to this trip we heard about the mini ramp, but weren't quite sure what it was going to be like. The only problem was the gnarly tranny but a few runs easily overtook that. Once we got into it we started realizing that all of us had some kind of talent involving the mini ramp. Josh and LJ killed it on the rollerblades while I tried to get my mini ramp skills back on the skateboard. Josh was absolutely killing grinds while LJ had his back with some airs and general LJ ridiculousness. I just worked on hand-plants the entire time. When our mini ramp session was done, we scoped the pictures that Schmitty took and realized he was brilliant behind the lens both on and off snow. Given we were all exhausted from our day, we all went to bed kind of early, imagining what tomorrow was going to be like.
DAY 2: East Coast till I die – Josh Bishop
[Schmitty note – Day 2 was terrible for shooting, the lighting was awful and flashes weren't helping, it was a total bust, real downer but you make do and I got some great landscape shots on the tram coming down.]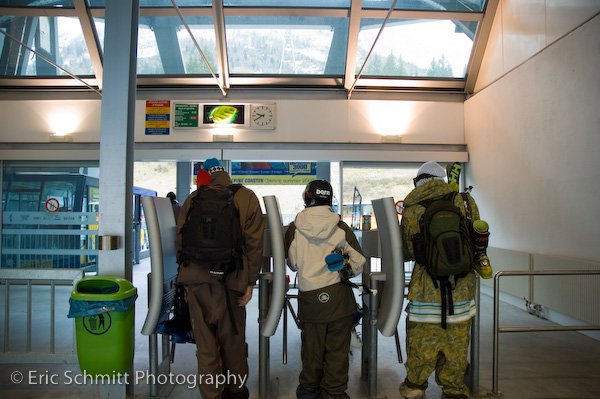 A mellow start
We showed up to flat light, fog, snow, and a slight breeze. No one was on the glacier, and we were the only skiers rolling out of Demonium with an agenda. Despite the weather, we were skiing in Switzerland, so everyone was stoked. At the top of the tram, the chairlift that brings us to the bottom was temporarily closed for construction. Rather than wait, we let our ADHD take over and decided to venture down the rocky path to the trailhead.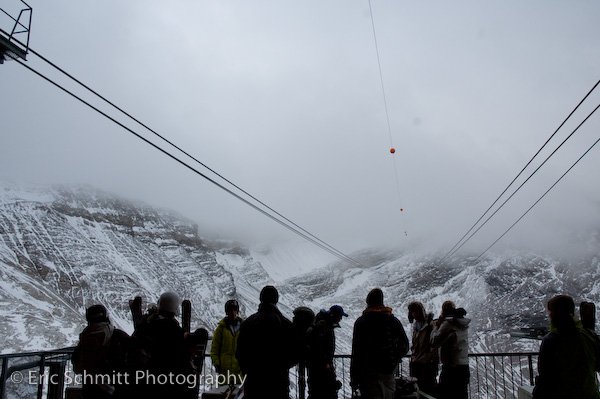 Starting to look bad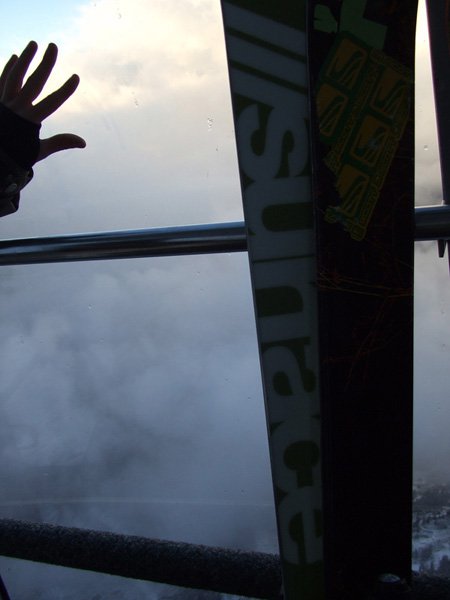 Once on snow, we power lapped with music to keep our spirits up. Very few of the features were visible and jumping was out of the question. After struggling to get a few shots on the rails, our photographer was OVER trying to make something out of the day and decided to dip into the lodge. Sean's boots gave him shin bang so he decided to chill and roll back with Schmitty but not before he and I threw dirty 7's off the mini-shred jumps. Despite the conditions, LJ said "NOT A CHANCE" and lapped the park with me all afternoon.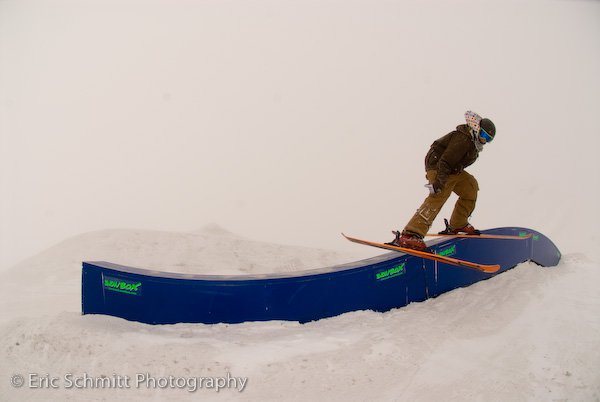 LJ holding it down for the East
After everyone left, LJ and I were the only ones on the glacier. Rather than get phased by the gnarly weather, LJ got down and dirty and skied like a soldier. Front 630 out of the 30ft flat rail? CHECK. 360 swap on the flat – gap – down box? CHECK. Switch 7 on the mini shred jumps? CHECK. Lap after lap LJ put on a clinic and kept getting stoked on glacier skiing. By this point in the day, the sun was creeping through the clouds and making a sick backdrop for our session.
As LJ would say, I was seeing through turkey vision with switch hard-way on the flat gap down box which brought all the boys to the yard and slayed some 450's off the long flat rail. Despite the bad weather, LJ and I had an incredible session and proved that Glacier 3000 is dope regardless of the conditions.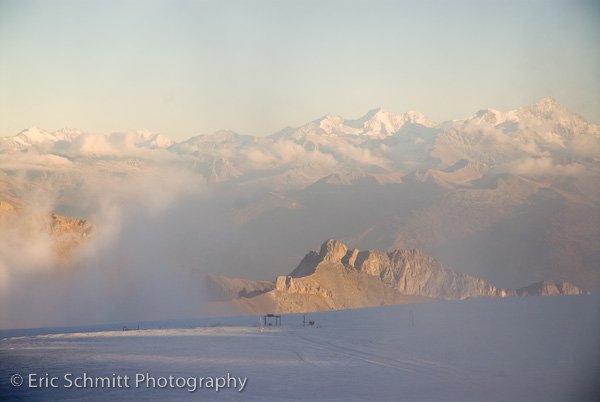 End of day it cleared up...after the glacier closed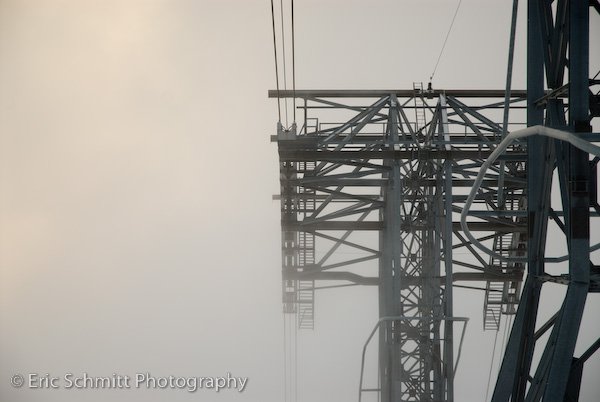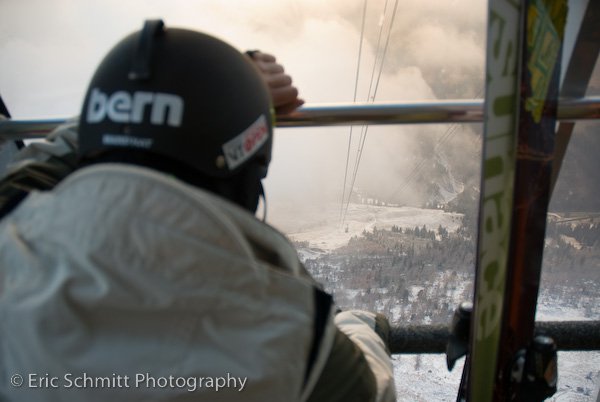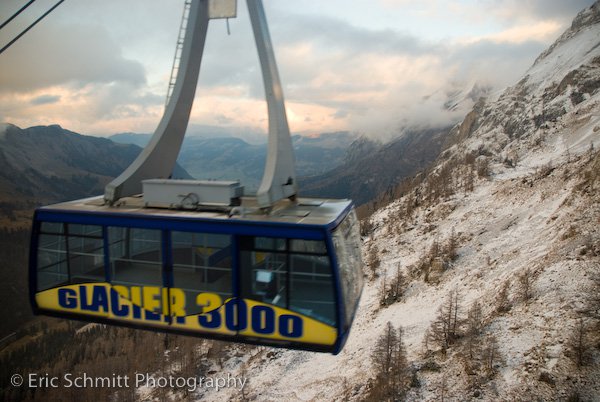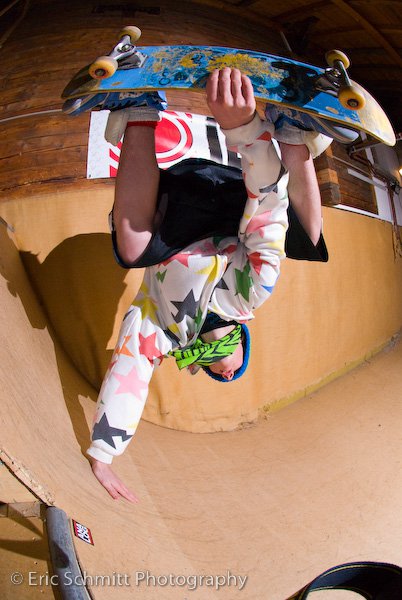 After shredding for a day the team setup a mini ramp session again and we got some more sweet handplant action from Sean and LJ going inline.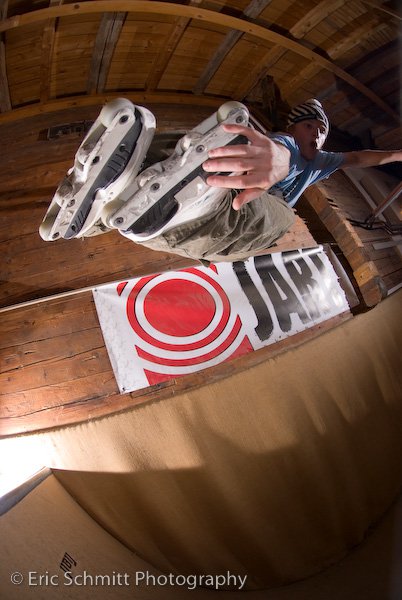 DAY 3: Hello Friends! – LJ
What up its LJ! Today was ridiculous. The weather was still a little bummy but the visibility was great and we charged it like true east coasters lapping the 4 pack of Jumps. Guest appearances were made by THE Phil Casabon and none other than Henrik Harlaut. These kids slay, throwing dope assortments of cork 3's and 5's toying with their tip grabs like a lion and its prey.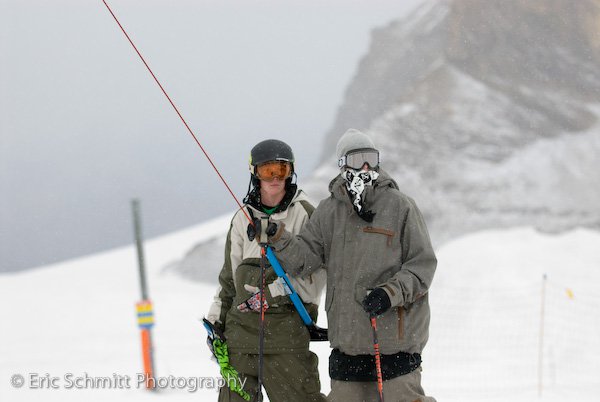 Sean and Phil on the T-Bar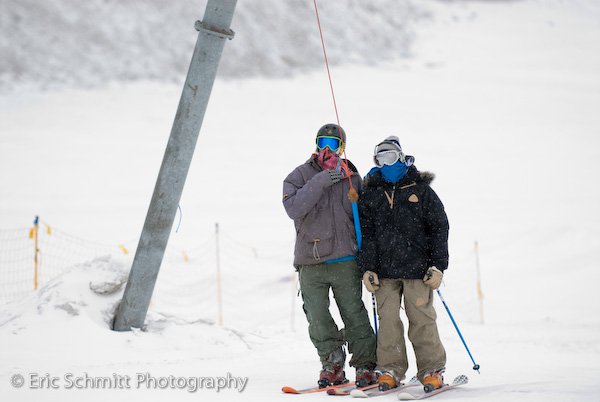 LJ and a random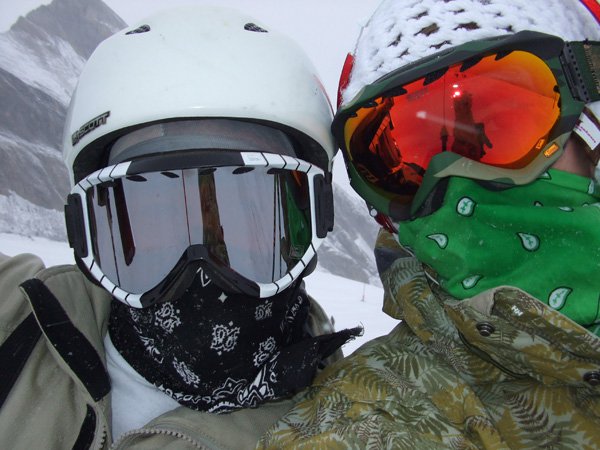 Bishop and Henrik - 4bi9
Bishop got off to a nice start as well, by throwing stimulating cork 3's and CORK body tweak 180's! If you see a skier doing shifties with his body tweaking past what is humanly possible, it's probably Bishop! uhhhhh Sean Jordan made tricks into poultry with oh so dope switch 5's, 7's, cork 7's and D-7's.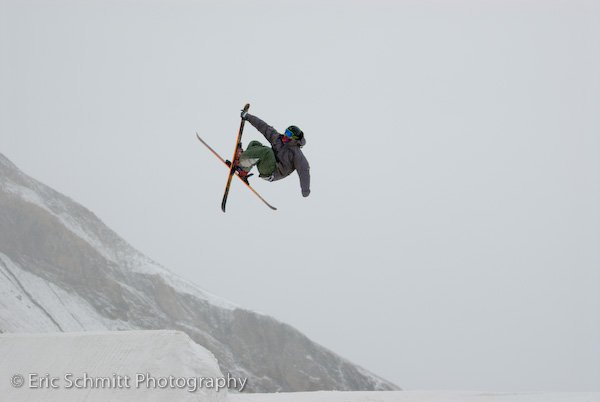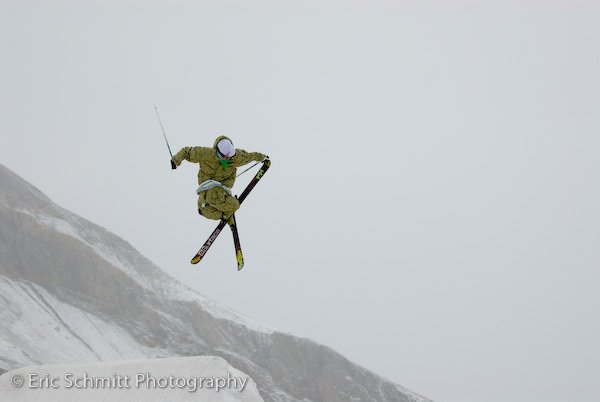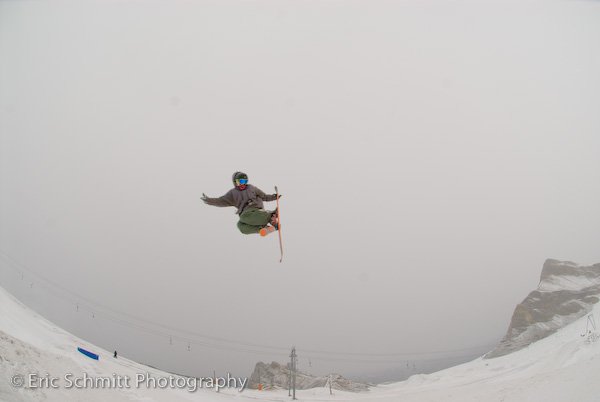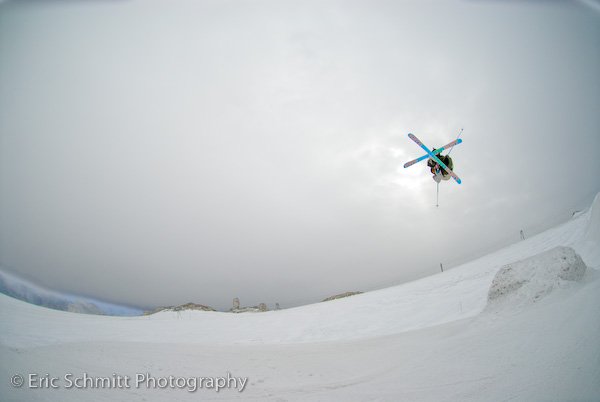 After getting fancy on the jumps we decided to get acquainted with the rails. Everyone murdered the rollercoaster rail. Henrik owned pretzels while Phil took his 270's to switch for added ride away. Bishop refused to stand up on this feature, end result: Monet-like tail presses sitting wayyy back. Sean continued to faze me with blindside switch-ups to 270 out leaking from the cracks with steeze. The flat rail was all about 450's. Henrik and Sean stomped 450's, while I did some pretzel 450's and Bishop got dirty with some of the dopest blind 450's I've ever seen.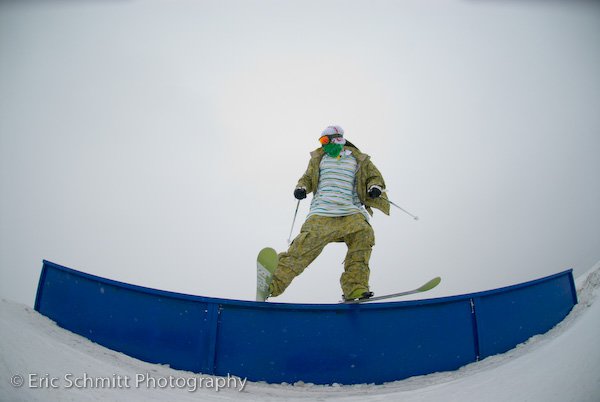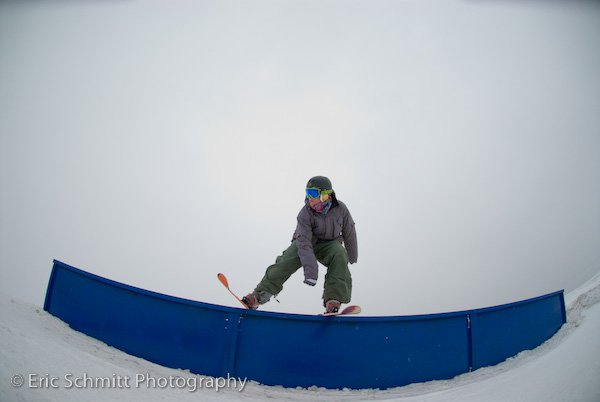 With the weather deteriorating everyone decided to head out while Josh and I lapped the park for a few more runs. After witnessing the dinkle-pop that is Josh's cork 3, he decided to let me in on the secrets of life as well as the cork 3. End result, I live a more enriching life and can do cork 3's now weeooooo! Another rewarding moment was when Bishop and I got some local swiss grom's stoked by showing some hand steeze after they stomped their ski stunts. Switzerland is crazy and I couldn't ask for a better crew. Sean is by far the dopest 14 year old I know and soo stoked on skiing and I could have sex with J-Bish and still consider myself heterosexual, he is the happiest person I've ever skied with! Just try to faze this kid! Schmitty also was on point producing some ill pictures under not so ill circumstances. Props fellas!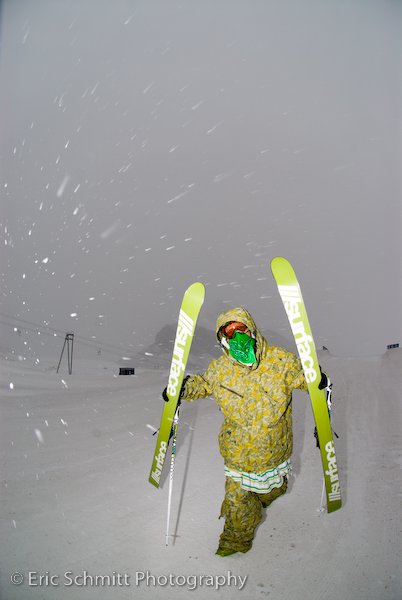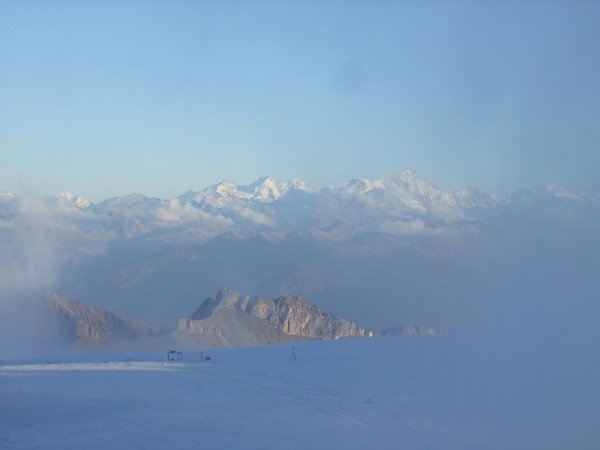 After some traditional Swiss food, we kicked it at Demonium Mastacamps with Mickael Deschenaux. He showed us some edits, showed us his beats and songs that he's remixed, and hung out with a few stoked kids. His rhyming is dope, multilingual, and in your face. Say what you want, but chilling with Mickael was the best night of the trip. He is by far the most down to earth and genuine character. He gave us a place to stay for the week, helped us navigate the in's and out's of Switzerland, and gave us firsthand knowledge on everything that has happened over the past few years. Big up to this cat, he's got true passion for skiing and life, and we're so amped to have met him.
DAY 4: Kangaroos in Switzerland!!!! – Team effort
[This day was almost a bust for shooting, my main camera ran out of batteries shortly after getting started.  The backup camera I carry also had one dead battery.  We were lucky in that I had 1 full battery for the backup, and I think day 4 produced some of the best shots of the trip.]
Banger! Better weather is here after two days of east coast ice and wind. Schmitty set up immediately and started getting shots on jump three. Thanks to the snow the day before, the black glacier ice was hidden under a soft blanket of fresh.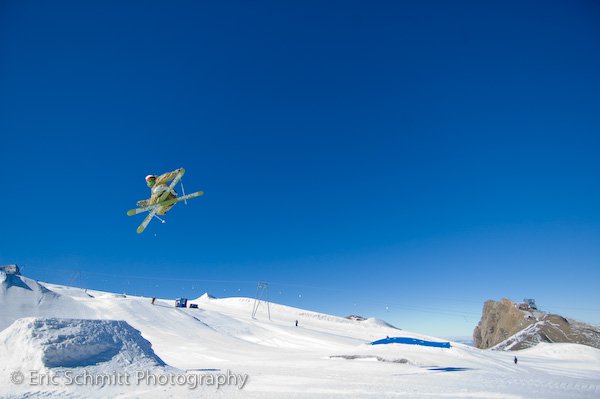 After a few laps of Bishop's cork 7 blunts, LJ's rightside switch misty 7s and 9z, and Sean's switch 7 HIGH mutes, we met up with the Demonium crew. Mickael Deschenaux, Henrik Harlaut, Phil Casabon threw down with the dirtiest style on the glacier. Yeah, in case you havent heard, Mickael is back and he's CRUSHING it!
After a siiick morning sesh on the four pack, we rolled over the money booter for an afternoon of excitement. Dropping first LJ with no clue what he was doing. After straight lining the majority of the pipe, LJ had 20 feet of beautiful air until he came up short and decked hard on the landing. Next time around, it was on. Bishop threw a switch cork 9 blunt and stomped the heck out of it, virgins then descended upon our location and unclothed themselves… it was kinda weird…. Sean dropped next and hit a dirty switch 10 high mute, this kids got it for sure, did we mention he's 14? WORD.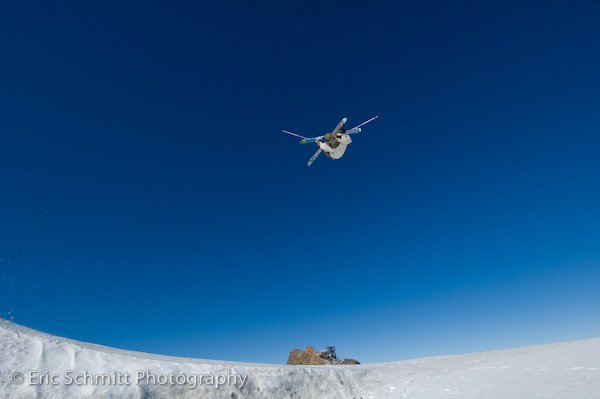 LJ hit a switch misty 9 high mute. There was a huge rumbling when LJ stomped his trick, the ruckus turned out to be Master Chief rocketing into the ground. He then hopped up, high fived LJ, and dipped to finish the fight.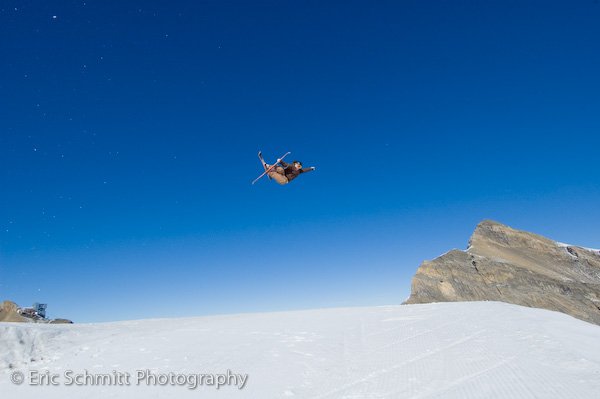 Sadly, Bishop was forced to put down his skis and pick up a camera. He took the 9 to the flats, falling easily 30 feet onto a patch of ice and demolishing himself for the rest of the day.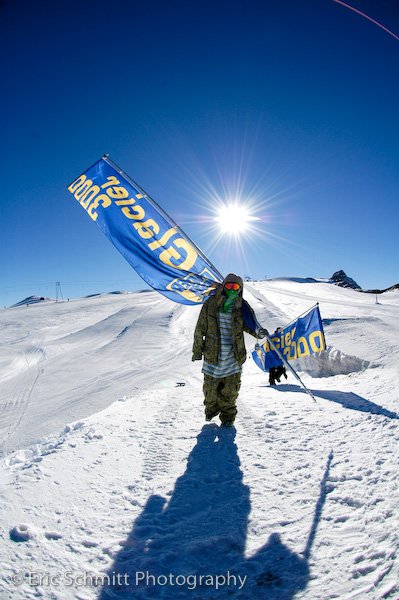 After this, Henrik and Phil came over for the session. Cork 3's, 5's, and 9's? HELL YEAH, these kids got it all and slayed the jump. LJ got so stoked skiing with the crew and went for the double back and stomped it hard. Frank Sinatra came back from the dead and was at the bottom of the lift with a song, wine, and three dancers for LJ. After his snack, LJ was being playful and messed with some double flatspins, washing out on some and riding away on a few. Give this kid a bigger jump and he'll probably get even more playful! Be sure to hide your sister!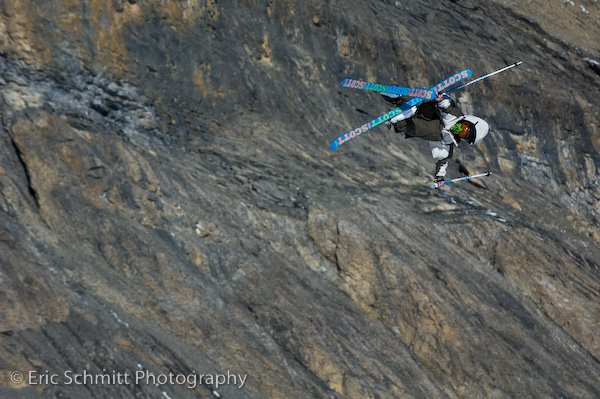 Not satisfied with his previous shots, Sean Jordan decided to show Switzerland what skiing from Pennsylvania is really about. Bombing the jump from the top of the pipe, Sean hit the dopest switch rodeo 5 high mute we've ever seen. He popped it, grabbed his ski and relaxed all the way to the landing. Based on Sean's promo – this jump is the biggest feature he's ever seen. Prior to this trip he was shredding 20 foot jumps in early April. Now he's getting switch rodeos on the biggest hit at Glacier 3000? Damn Son!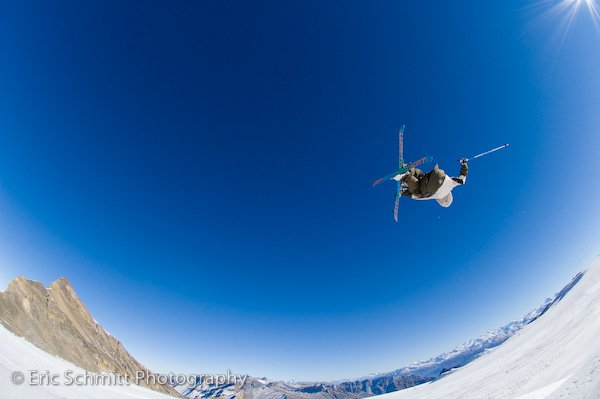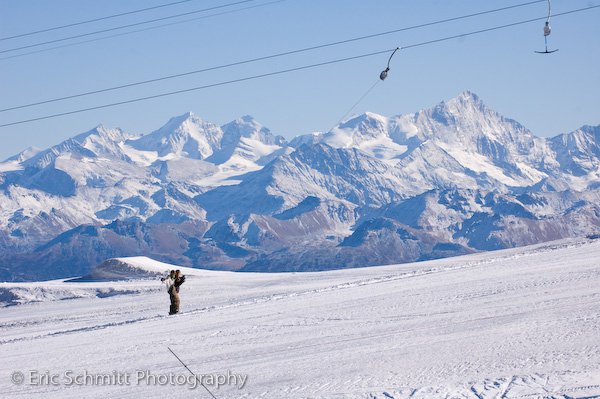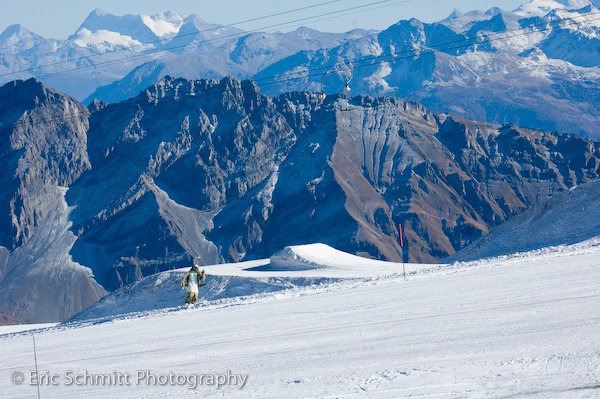 Bish on the lift one-footing it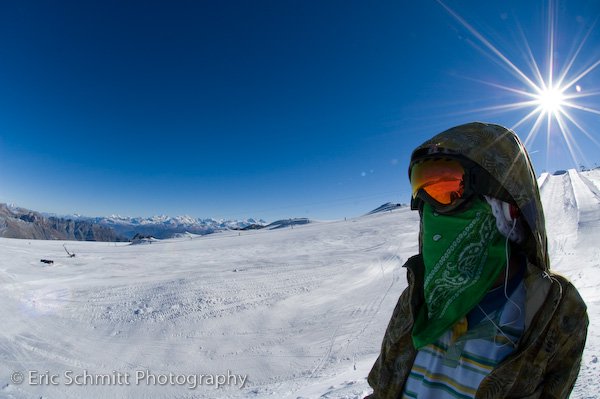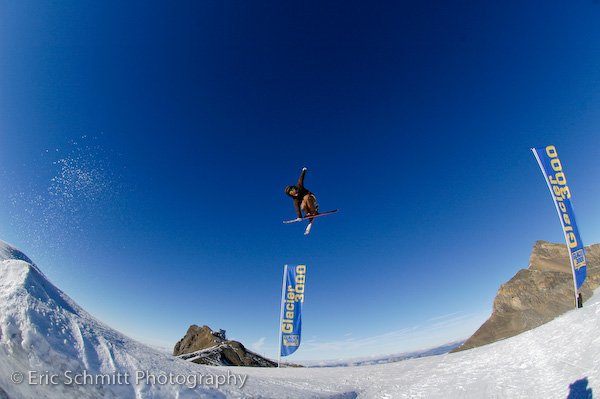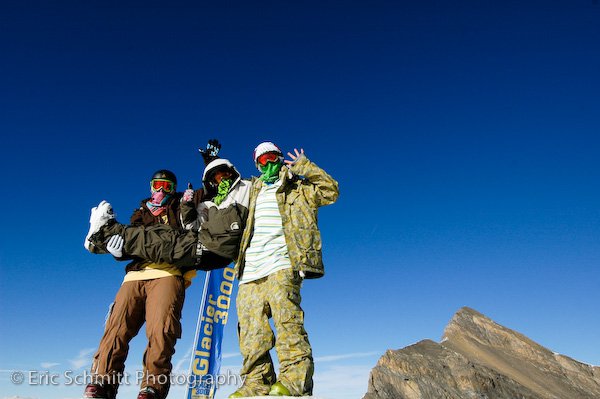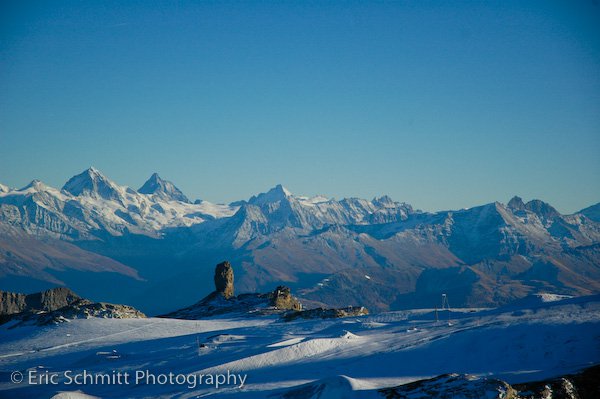 The park as seen from the top of the tram.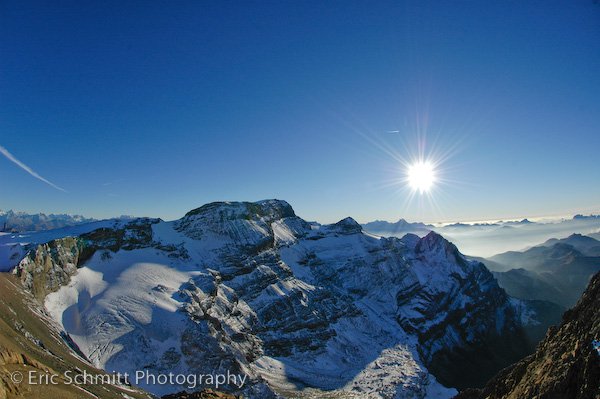 Day 5 – Schmitty
Day 5 was a down day for the crew.  The guys had wanted to try and go ski but the glacier ended up closing due to high winds and heavy snow.  We decided to head into the town of Les Diablerets that was just down the hill from Demonium.  Walking around town was an experience; we got food from the local grocery, wandered the streets, ate at a café and tried to open Swiss bank accounts (to no success).  Satisfied and warm after some amazing hot chocolate we hiked back to the camp.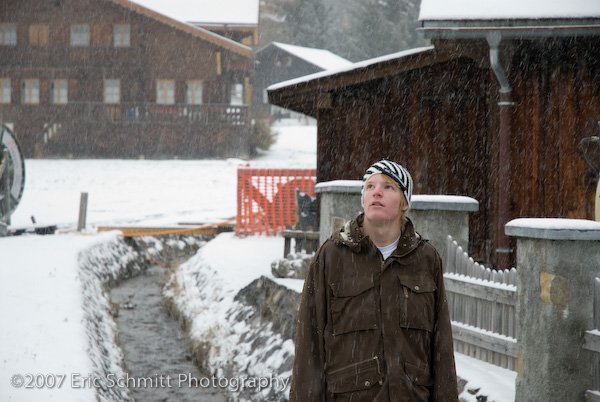 The afternoon was spent packing our bags, cleaning up the room and getting ready to head back to Zurich.  Through our contact in Switzerland we were told to get on the 6:45 train to Aigle.  We loaded up the van and caught a ride down to the station, hopped on the train and began our 5 hour journey to the Zurich airport.  So we take a train from Les Diablerets to Le Sépey and then a bus to Aigle.  In the Aigle station we found that we had to hop another train to Lausanne.  In Lausanne we found that restrooms in train stations are pay-per-use (2 francs to use it!) and that we would have 2 more trains to ride before getting to the airport, the first Lausanne to Zurich, and then a quickie from Zurich to the airport.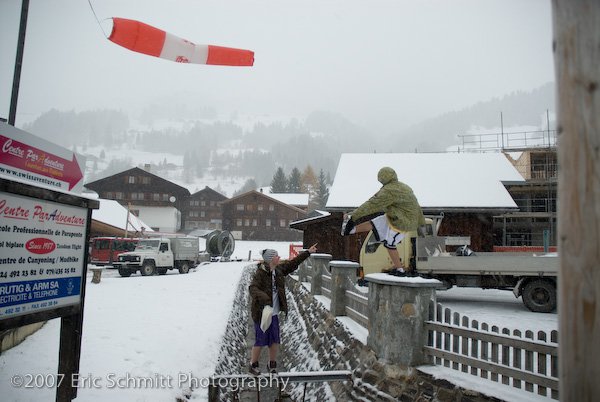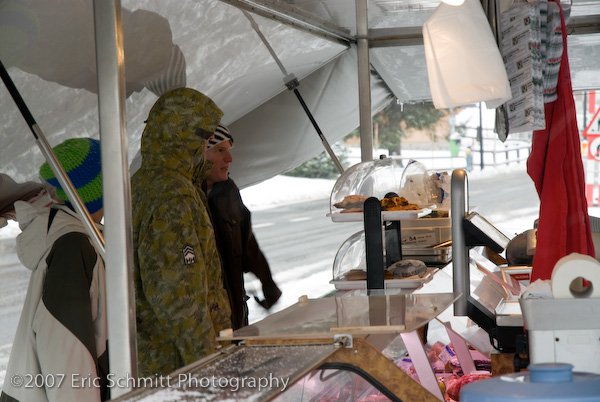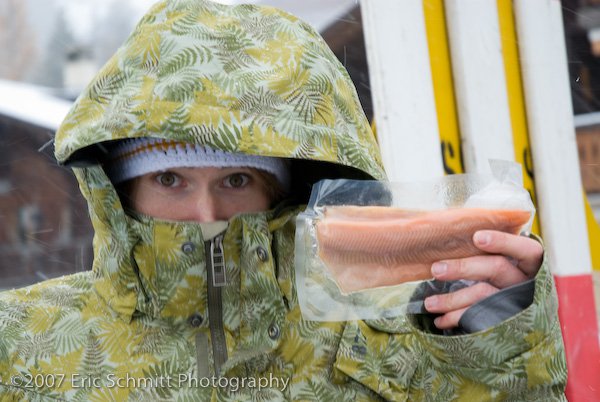 The ride from Lausanne to Zurich was really nice, we were on a double-decker train that was really comfy.  The guys explored the train a bit, found a snack station and some really big booths to work in.  I slept for most of the ride as jet lag was tearing me up by this point.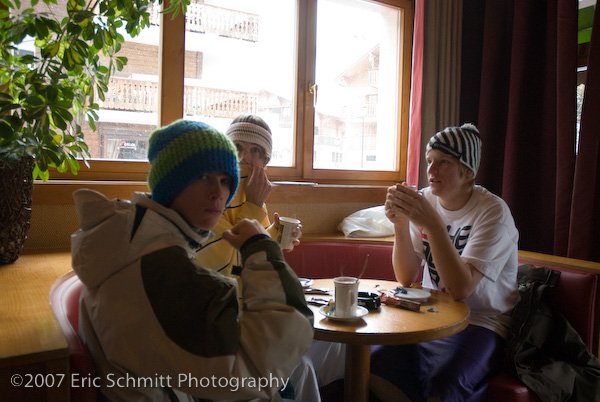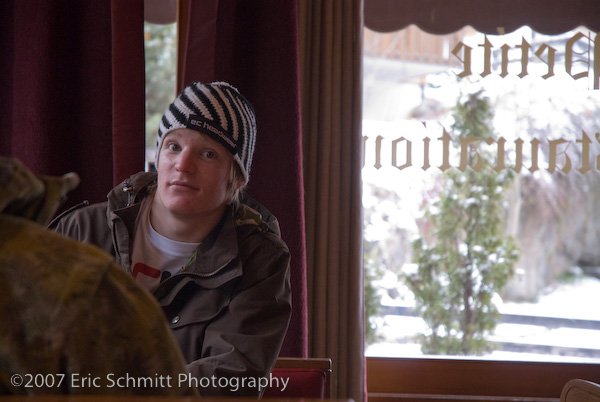 In Zurich we parted ways with Bishop who was meeting a special friend and had other arrangements for the remainder of his trip.  LJ, Sean, and I boarded one last train to the airport and were looking forward to checking our bags in and getting a good nights sleep at our gate.  We were very surprised when we got to the airport and found things shut down and the place empty.  It was only 12:30 am! Being thoroughly exhausted everyone found the check in desk and collapsed on the marble floor for our last night of sleep in Switzerland.
I want to give a big thanks to everyone involved with this trip, first and foremost Josh, LJ and Sean for coming along and having a great time, Josh Bryant and Jibij for sponsoring the guys and helping get the trip going, Glacier 3000 for having an awesome resort and a full park this early in the season, Franca for all the help, Darci for coming along and assisting as the mobile flash stand, Demonium for putting us up and giving us a place to stay, lastly all the riders out there throwing down and having fun.  Enjoy the season everyone.