Interview by Brandon Ascher
The skiers, brands, community and media contributing to the ski world have worked very hard over the last ten years to grow the sport into the freight train it is today. It's been said many times that things will eventually "slow down". With doubles/triples going down in the same year, contests being more exciting than ever and the Internet propelling our media into a new realm, what more can we expect? 
The youth has always been the driving force behind what is to come; Mike Wilson, Simon Dumont, Sean Pettit and Phil Casabon are just a few of the names who have been bestowed "the next big thing" title over the years, and now in 2011 the list of skiers pushing the boundaries is seemingly endless. Although this season, one athlete in particular has made his presence known. 15-year-old Torin Yater-Wallace out of Basalt, Colorado has smashed through the glass ceiling of professional skier stardom with impressive performances at the Dew Tour, X Games and European X Games. Lets see where he'll take us next...
X Games. Photo by John Vandervalk
When and where did you start skiing?
When I was one and a half years old at Snowmass ski resort.
When did you get into freeskiing? Was there a moment when it became something you wanted to pursue? Or was it more natural?
Well I started out in normal ski lessons until I was about six and was so anxious to do jumps and tricks, which none of the classes offered, so I joined the Aspen Valley Ski Club and skied moguls from when I was seven until I was 12. Then I moved up to the freeride park team and have been skiing park and pipe since.
Last year you won the overall Gatorade Free Flow Tour in pipe. Tell us about that and what new opportunities it led to.
Winning the Gatorade Free Flow Tour opened up so many opportunities for me. It's one of the best events I've done purely because it helped me so much with getting exposure. I had so many interviews and TV appearances and people knowing who I was in general just based off of winning that.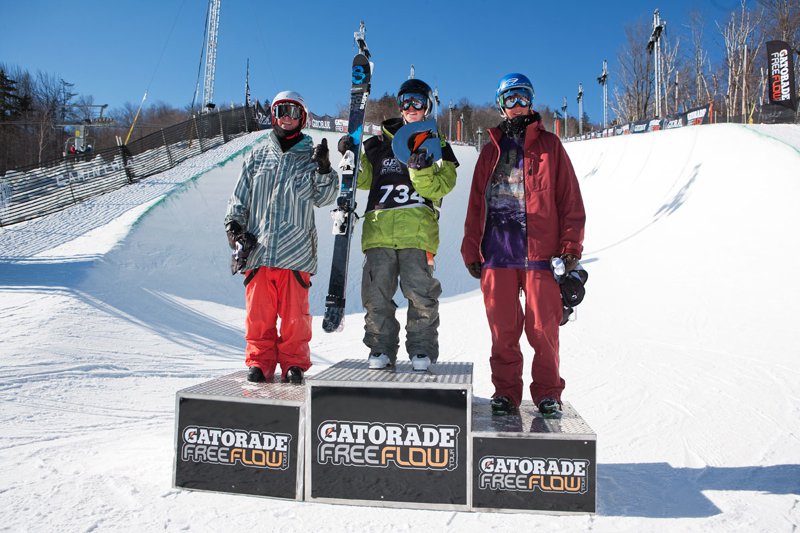 2010 Gatorade Free Flow Tour Championships. Photo by Alli Sports
That qualified you for this past season's Winter Dew Tour. What were your thoughts and expectations coming in to those events?
I was super excited coming into the Dew Tour, but I had no expectations at all. I just thought to myself, "It's my first time in the Dew Tour, I just want to have fun!" It was awesome and I was so happy I ended up doing well.
How was the experience as a whole? What was it like competing with all of those big names for your first time?
The experience was crazy, because I was competing with all the guys that I look up to. Being up there in the start gate with former X Games gold medalists and legends was insane. It was hard to believe that I was there competing and not just watching.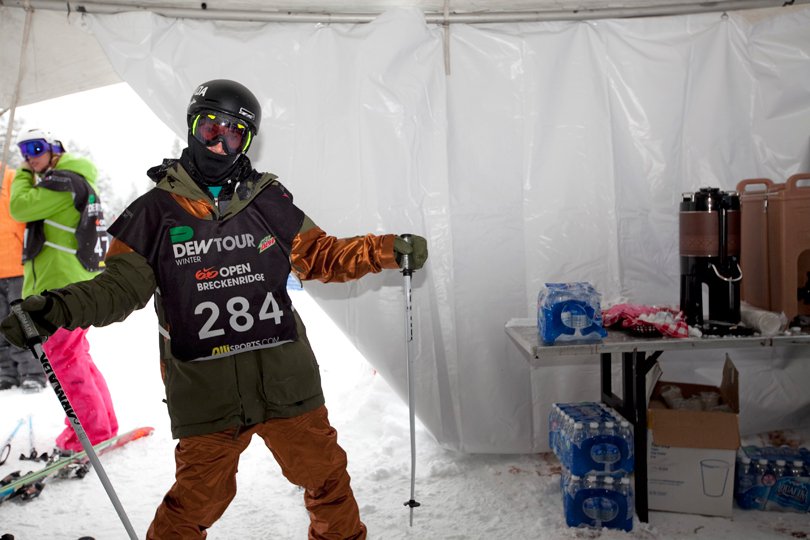 Dew Tour. Photo by John Vandervalk
And then you got the invite for X Games. Walk us through that.
X Games was the best week ever. I have only been alive the same amount of time that the X Games have been going on which is crazy to me (laughs). Most of them I have watched live in person since I live near where they're held. It has been my biggest dream for as long as I can remember to compete there, and when I got invited I couldn't believe it. Being in the X Games superpipe, which is without a doubt the most perfect pipe ever, with all the people and the lights and everything is amazing. I was in so much shock for the next week that I had actually gotten second that it just seemed unreal. It was the best night of my life.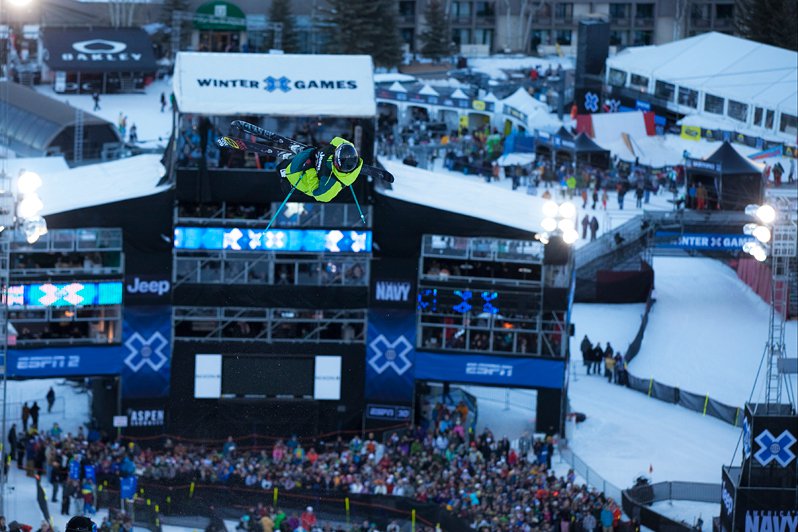 X Games. Photo by John Vandervalk
During X Games you said on Twitter, "X-Games finals, life long dream!" So now that you've accomplished that, what's next?
Well what's next is first place (laughs). I hope to one day to win a gold medal there, but just for me to keep going and doing what I love is what's next, and of course making sure I'm always having fun!
 
How did you start skiing pipe? It's not typical for someone your age to already have the skills you do and to be so comfortable, so have you focused on that or do you ski park/pipe/powder pretty equally?
I'm actually not sure (laughs). When I was 12 I remember doing a local halfpipe comp and I just randomly threw a cork 9 and a flair in my run, which was my first time doing both tricks in the pipe, and I ended up winning (laughs). I never intended to be a professional pipe skier, it just happened. I tend to ski more slopestyle when I'm at home, but I do try to keep a balance of pipe and slope along with sneaking in some powder skiing when I can, but I've been pretty busy competing this year.
After seeing you in the pipe, a lot of people were excited to watch you in slopestyle finals at the last stop of the Dew Tour, but then you didn't end up making it. What happened?
(laughs) Well I put down my first run, which I personally thought was pretty good but I ended up getting a 57. Then in my second run I changed things up and went for a double 12 on the first jump and then was going into the second jump and kind of caught my edge on the take off and ended up doing a switch 16 and fell (laughs).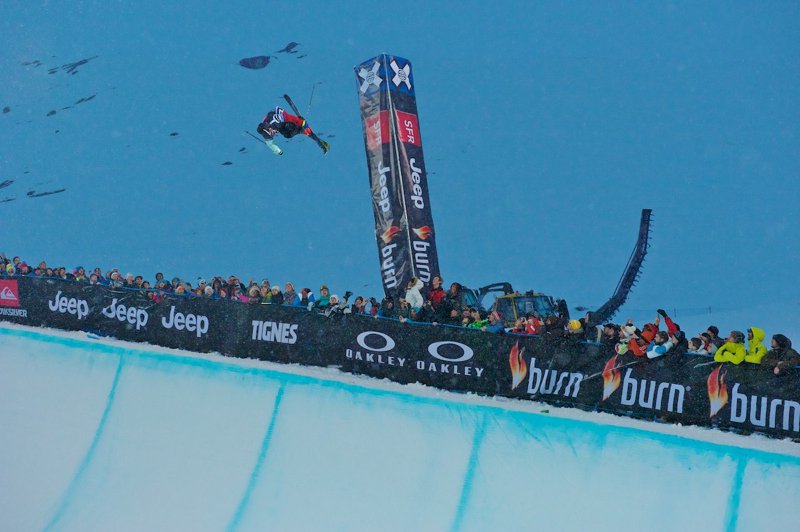 European X Games. Photo by Felix Rioux
After X Games and Dew Tour, how did the rest of your season go?
It went pretty well. I got third at European X Games, and won the World Cup in La Plagne, France, which was pretty sick. I also got to do some freeskiing in Aspen with my friends in the spring which is always tons of fun, and then I shot with MSP there as well and went to California for spring break, which was my first non-skiing vacation in while (laughs).
As most everyone knows, you unfortunately suffered a late season shoulder injury, which prevented you from competing at WSI along with some filming opportunities you had lined up in the spring. Tell us what happened.
I was at Squaw Valley for the Red Bull performance camp and it was one of the coolest things I've ever been to. I got up there and was having tons of fun, because it was so warm out and the pipe was sick, but I unluckily ended up decking on a double flair with my arm extended straight out on the deck and bounced from there to the middle of the pipe on my face. The last thing I remember from that day was waking up in a toboggan with my arm strapped down. The final diagnosis was a separated ac joint torn scapulae and torn trapezius. I was really bummed I had to miss WSI and some film shoots I had lined up, because I think I can speak for every skier when I say that spring skiing is the best!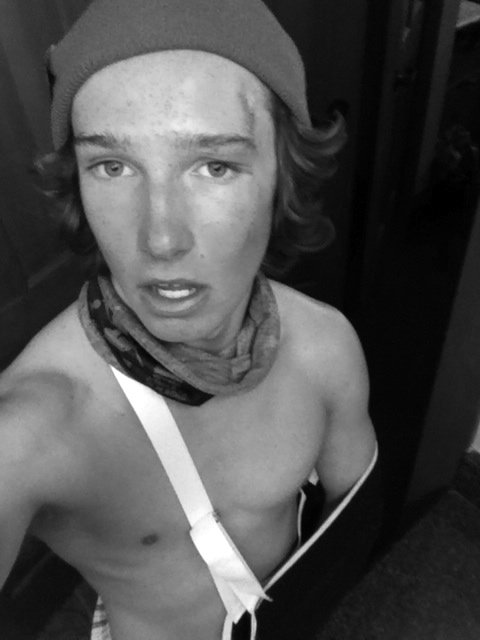 Has this been your first season-ending injury, and if so, how do you deal with it, and where are you at with the recovery process?
Yes this is the first. The way I deal with having an injury is watching a ton of videos on Newschoolers (laughs), playing Skate 3, trying to pass ninth grade, and doing lots of physical therapy.
So what else are you up to right now, and what are your plans for the summer?
Right now I'm just being a normal high school student and surprisingly attending school every day. My plans for this summer include spending some time at Utah Olympic Park in Park City to hit the water ramps, hanging out and shredding at Windells, and going to either New Zealand or Chile, not sure which one yet.
And looking a bit further ahead, given your age, how successful you were this year and the fact that a lot of people are thinking you'll be a major contender at it as a result, give us your thoughts on the inclusion of halfpipe skiing in the Olympics in 2014 and what it means to you.
I can't wait! I don't know much about the politics of it all, but I do know that our sport can use all the exposure we can get, particularly to an audience outside of the freeskiing community, because we work just as hard as any other sport to get to the top. As far as being there, going to the Olympics in 2014 to me would be such an amazing experience.
How did you get linked up with Armada? And how has that been going for you?
It started this summer when Chris O'Connell got a hold of my coach Elana Chase and said that Armada was looking for a new young athlete and they had been watching me for a while. The deal was good, so I went for it, and it's been great.
 
Speaking of sponsors, everyone saw the brand new Target logos on your gloves at X Games. How did all of that come together?
Well I had been introduced to Troy Michaels at Target by Armada and skied with him at Snowmass for a little while and got to know him pretty well, so things just kind of went from there.
Any other new sponsors to speak of that we don't know about yet?
Not quite yet, but soon enough there will be some news.
This has really been your year, but has it set in yet? Is the "pro life" what you expected?
It has set in but some ways but at the same time I still can't believe it (laughs). Especially the X Games podiums. It's definitely been quite hectic to say the least, but I enjoy and appreciate every second of it!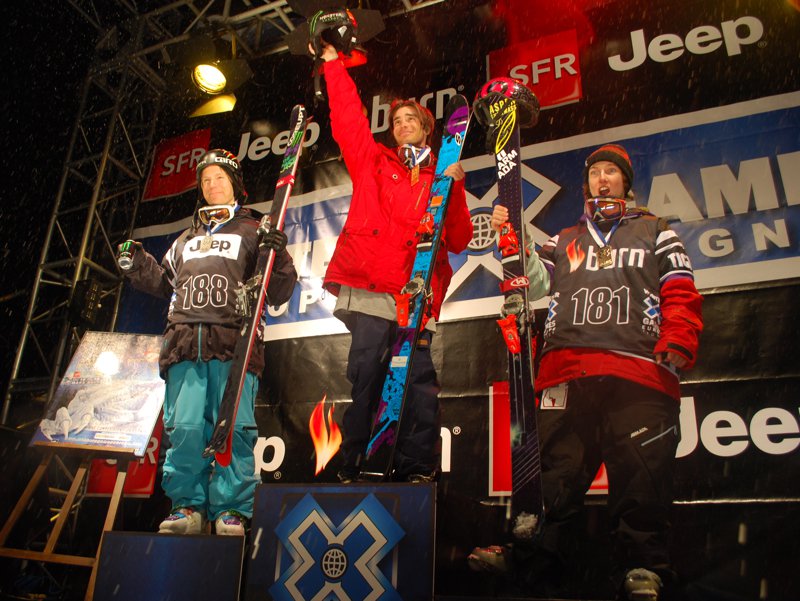 European X Games. Photo by Jeff Schmuck
Do you feel any pressure in the spotlight, all the attention and people saying that you're "the next big thing"? And if so how do you deal with it?
I definitely do feel pressure sometimes but I try my hardest not to. When you feel like you are being expected to do something you never compete as well. When you are just going out there like it's just another day shredding with your friends things seem to go much better, so I try to block it all out.
You're only 15, so how do you manage skiing and high school?
It's been hard in the past but now it's not too bad. I go to the public Aspen High School and take two online classes and I'm not taking any electives this year, so I only have four in-school classes. So I go to school every other day in the winter.
Are the girls going crazy yet?
The girls (laughs). Well I've had a girlfriend for the last year and a half so I'm doing good.
Dew Tour. Photo by Jeff Schmuck
Who do you look up to in the sport?
I look up to Jen Hudak, Kevin Rolland and David Wise. They're all so good and train so hard. The passion the three of them have is really inspiring and I want to be just like them.
What's your favorite trick?
A cork 3 blunt.
Ideal day of skiing?
Going up to my home resort of Buttermilk with my three best friends Alex, Mikey and Ky on a slushy spring day and just shredding, feeding off of each other and learning new tricks together.
ATM webisode #1 from Kyler Sciarrone on Vimeo.
Favorite music?
I'm really into chill rap such as Grouch, Eligh, Zion I and Masta Ace.
I know you're quite the skateboarder as well, so are you going to pull a Shaun White and show up on top of the vert ramp eventually?
(laughs) I would love to! Aside from skiing skating is my second favorite sport, so I would be amped on that, but we'll see.
Any advice to kids out there looking to make some moves?
Try skiing halfpipe, it's fun! (laughs)
Skiing to you, in as few words as possible.
Only one…amazing.
Shout outs and thank-yous?
Shout out to ATM, Rhyan Rosin, Elana Chase, my family, Aidan Sheahan and all my sponsors: Armada skis, Smith Optics, Aspen-Snowmass, Target and Windells Ski and Snowboard Camp.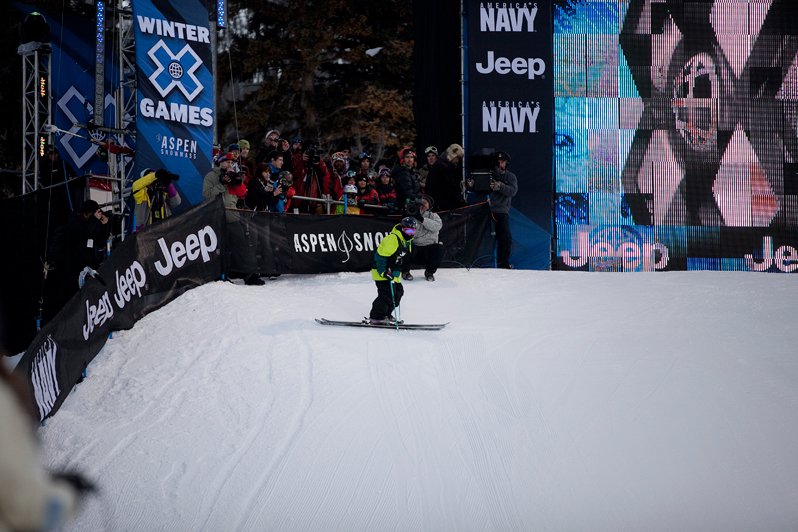 Photo by John Vandervalk