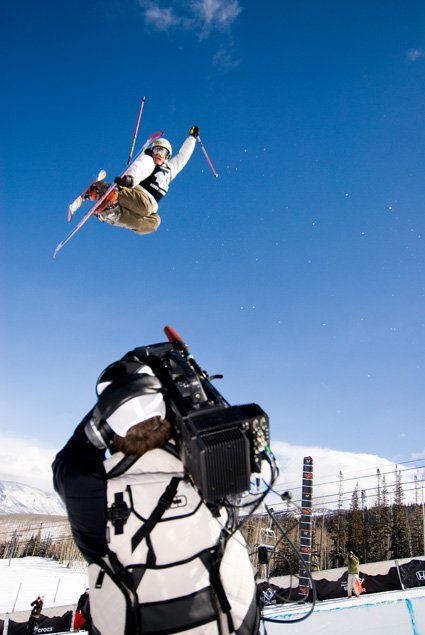 Words: Julie WeinbergerPhotos: Connor Walberg & Julie WeinbergerVideo: Jeff Loewe"And the judges score Simon Dumont a 97.50," blared the loudspeaker on Saturday afternoon at the Snowmass halfpipe.Yes, you read that correctly. And no, I did not make a typo. Dumont put down the highest scoring pipe run ever, and did it in freeskiing's largest cash prize event: The Honda Ski Tour. This was his second Ski Tour victory as he won the Sun Valley stop, too. Simon's over-the-top run flowed effortlessly with unmatched amplitude from a huge truck driver 5 to a flat 5 to a 12 to a flat 10. And, this was his victory lap since his first run kept him on top all along. "I knew I had won, but I wanted everybody out here to witness possibly the best halfpipe run they are going to see this year," said Dumont. "That was my goal from the beginning of the day."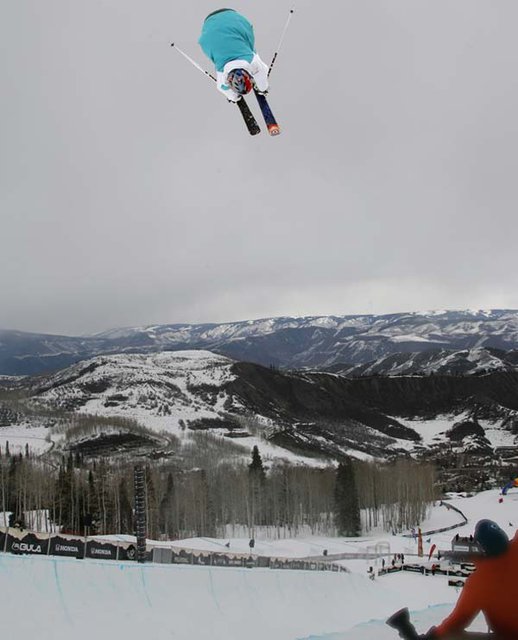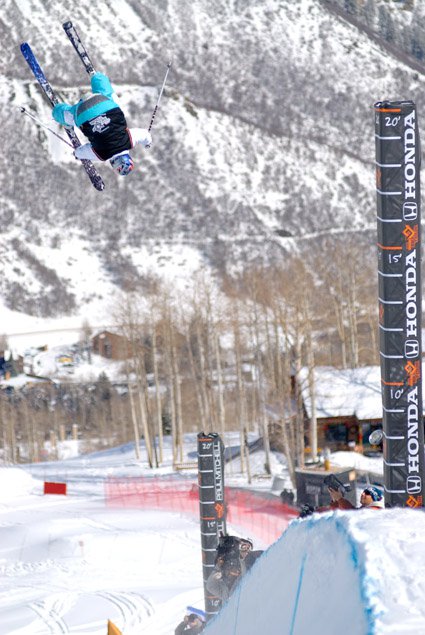 While the event was missing a few big names—Candide Thovex, Jon Olsson, Tanner Hall and Andreas Hatveit—the level of skiing was phenomenal. Colby West, John Symms and Mike Riddle stepped up to fill the gap. Even though none of them came close to threatening Simon, they all put on a great show.After a second place finish at the Sun Valley stop, Riddle had a hard time at the Breckenridge event. But, a left 5 nose into a right 5 reverse mute to a mute 10 to a switch 7 mute let him capture runner-up again."Too many mute grabs," said Riddle. "But next time I'll fix that. This is probably the best pipe run I've ever put down."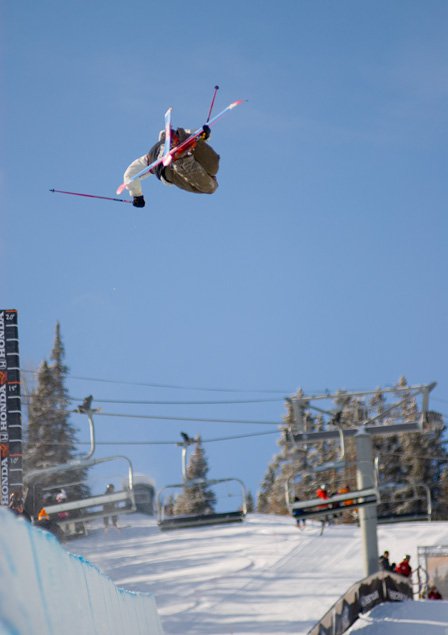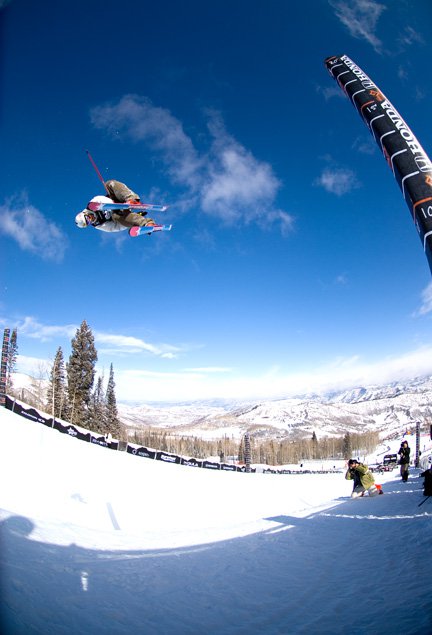 Lately, we've been getting pretty used to seeing West on the podium. This event was no exception. After losing a pole on the first hit of his first run, he made sure his pole straps were tight enough for run two. He found himself in third place with a 9 to a right 5 to a left 7 to a switch 7 mute into a 10."I'm pretty stoked right now, except that I'm covered in Champagne," said West. "That's going to smell later."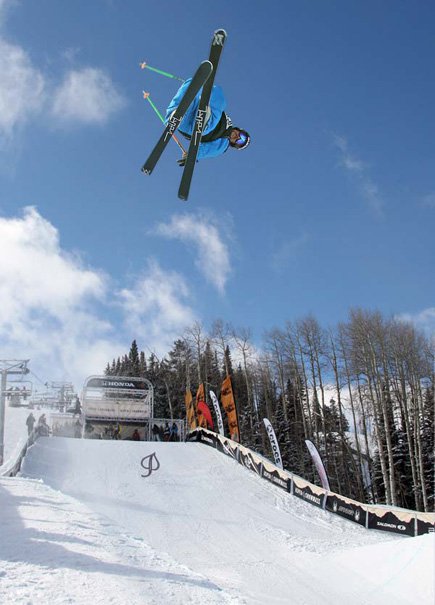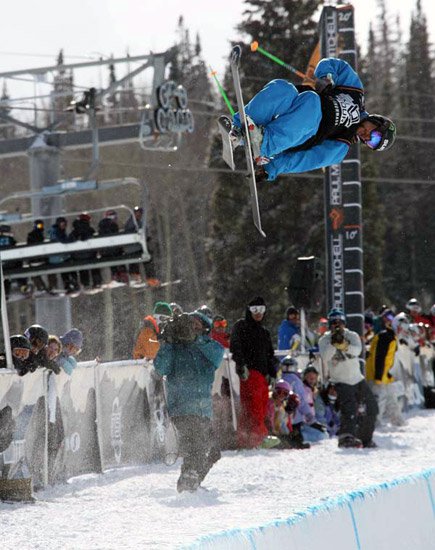 The top three guys were either spinning one way or tossing in just one unnatural trick. So Symms decided to change it up a little throwing his first and fourth hits unnatural. He took fourth with a flat 540 japan to a flair reverse mute to a cork 9 tail to an alley-oop flat 5 japan. Some tidbits: On his first run, Peter Olenick stomped the crap out of his Whiskey Flip, but could not keep it together on his next hit. JL Ratchel was throwing some of the most photogenic 5s on his first hit I have ever seen. Stefan Thomas pulled some nifty shifty 1s on his first hit. Matt Philippi decked hard in practice, and could not continue. Sean Field got three hits out of the relatively short pipe.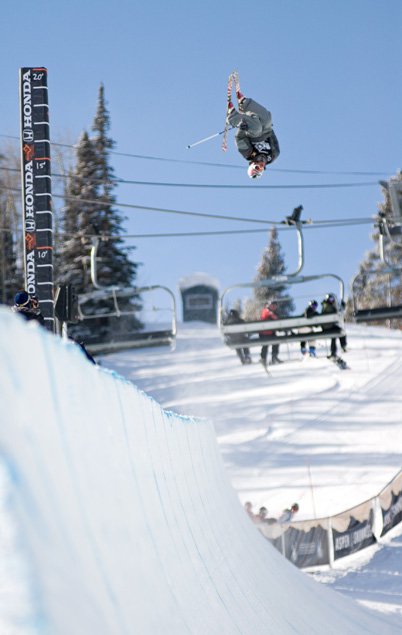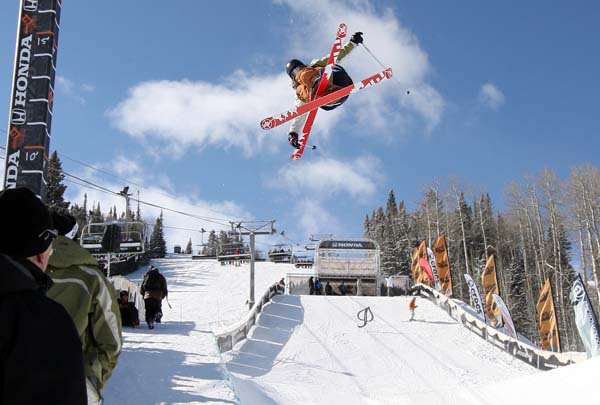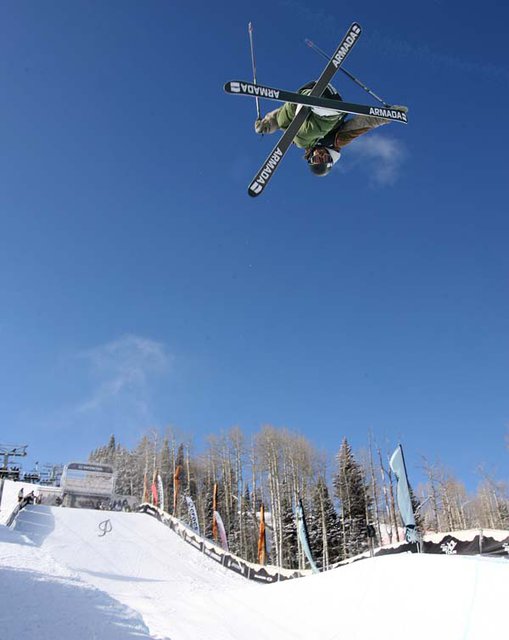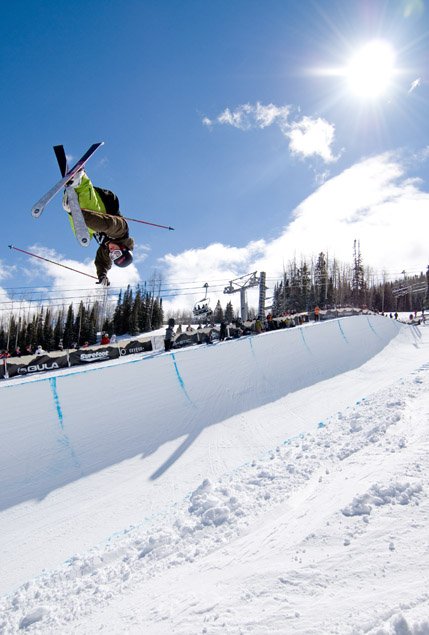 Speaking of this short pipe, it was not nearly as lengthy its neighboring pipe over in Buttermilk. But, with its construction and with the sun out, it was the best pipe The Ski Tour has had."It's a perfect shape, and it's consistent the whole way down," said Riddle. But because of its length, some guys were having a tough time getting in just four hits. "I was having trouble getting my fourth hit in some runs when I went bigger, so that was a bummer," said Symms. "That's really short if someone's having trouble getting four hits." Sure the skiing was exceptional, but it just would not be The Ski Tour without big name entertainment. On Friday night, Tommy Lee played DJ at the Sky Hotel VIP party. Unfortunately, media credentials don't help you out when you're under 21. Anyway, I heard the evening was an awkward mix of ski industry types and intoxicated middle-aged high rollers. On Saturday night, Swollen Members followed by Sean Paul rocked Rio Grande Park in downtown Aspen. Cold temperatures and an outdoor venue did not keep many people away. Some of the athletes including Olenick, Riddle, West, Dumont, Field, Thomas and Matt Hayward checked out the show, too. Swollen absolutely killed it as they always do. Prevail took crowd surfing to a new level by getting off the stage, walking to the crowd and then diving. Something about seeing Sean Paul in a ski town in the middle of winter was weird, but he, too, lit up the stage.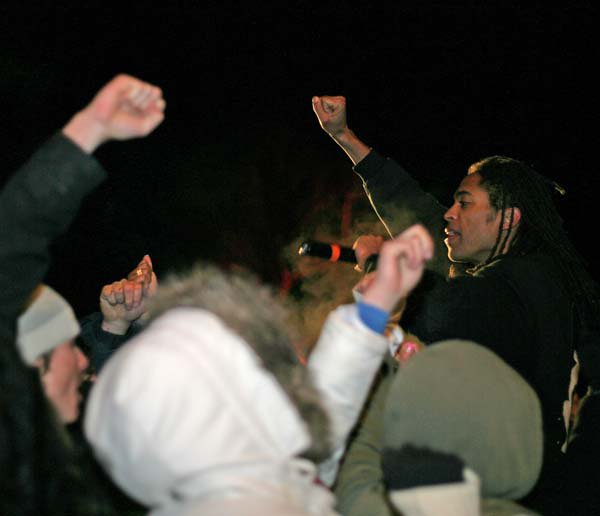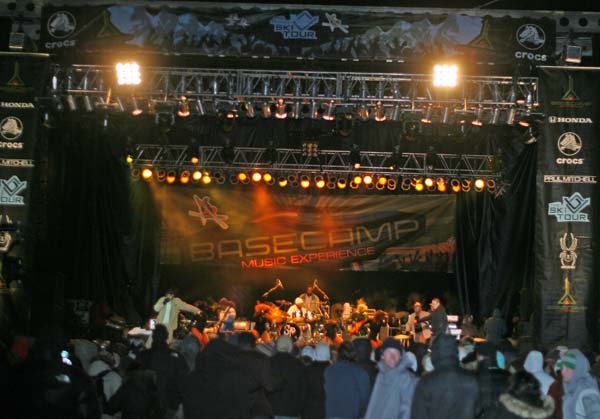 On March 8, the final stop of The Ski Tour kicks off at Squaw Valley. Word on the street is that some of the guys who missed this one will be there. If this is the case, it will be interesting to see Tanner Hall's run against what we just saw from Dumont.In my Breckenridge Ski Tour story, comments made by Olenick and Kipp Nelson—one of the dudes who started the tour—regarding how pipe should be in the Olympics sparked some debate as many of you think it should not be in the games. Just as some food for thought, here is what the weekend's top four finishers had to say when asked if pipe should be in the Olympics. Mike Riddle: "Hell yeah. So good for the sport. Look at Shawn White. Everybody knows Shawn White. How many people know Tanner Hall outside of skiing? Not a lot. It would do so much for the sport." Colby West: "Of course, yea. It's no fair if snowboarding is in there and we're not. We go bigger most of the time. So, why the heck not?"John Symms: "It absolutely should be because the people who are skiing pipe are real athletes. The level of competition is definitely as high as it is in other Olympic sports. To win a pipe contest now, you've got to be training pipe all the time, and there are plenty of people out there to beat you." Simon Dumont: "I don't know why halfpipe shouldn't be in the Olympics. I give respect to all the snowboarders out there. They're killing it, and I feel like we're killing it out here. We've earned it, and we have three more years to prove it. This [The Ski Tour] is a good stepping-stone. The judging is the only main thing I've seen with it. All the skiers are killing it. That's not an issue. We just need to have a meeting, figure out the judging, and I think we've got it. The Ski Tour had a huge meeting with the judges this time, and they figured it out. I'm not just saying that because I won. We just need to come up with some sort of criteria, not to the extent of FIS or anything, but we need some sort of criteria that we can judge halfpipe with so it's consistent and so that people know where our sport should push."Anyway, word up to MSI for having the best cookies ever in the media room, an endless supply of Red Bull and for putting on this event without a hitch.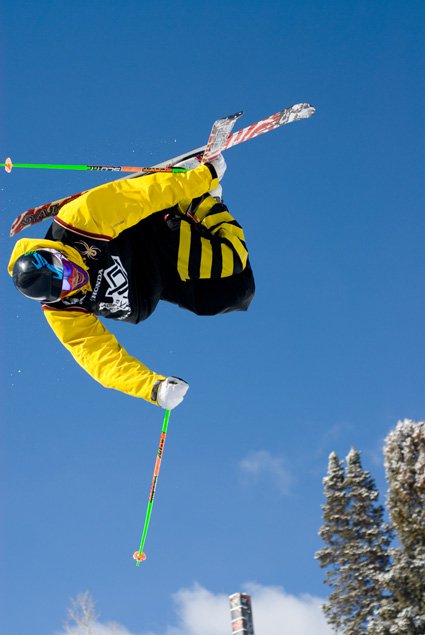 Ladies and gentlemen... name that skier!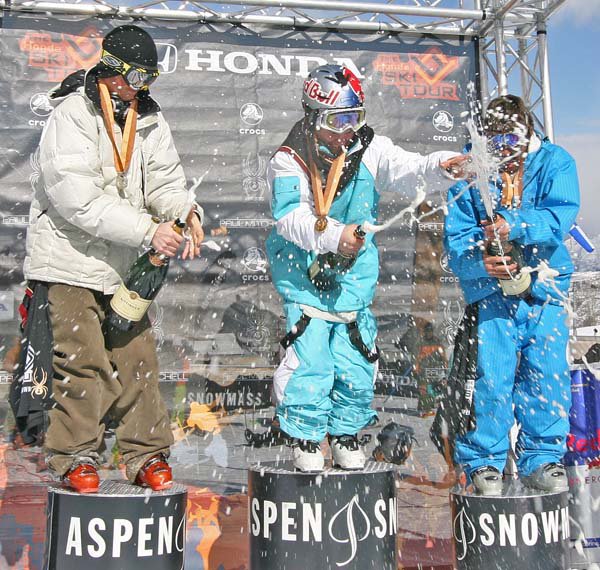 Watch the video here!