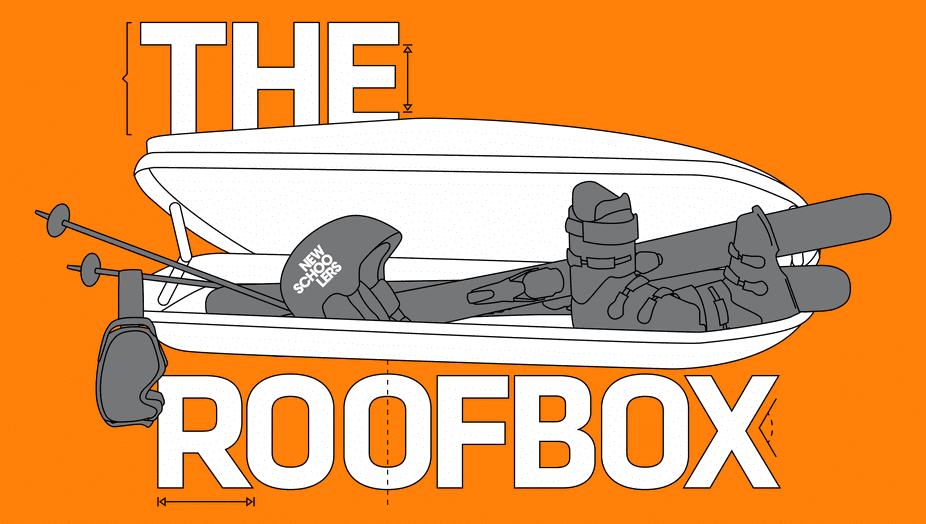 [Editor's Note: Our review was conducted on the 16/17 Magnum Opus, which is unchanged for 2017-18].
The Roofbox is back for 2016-17, with one aim: No bullshit, in-depth ski reviews, by ski bums for ski bums. No sponsored athletes, no 'we took 3 runs at a ski test'. Brands send us the sticks and we spend a solid chunk of our own seasons shredding them. Then when, and only when, we've spent enough time on a ski to judge it fully, we tell you what we honestly think about the pros and cons of a ski and who we think it will work for. It's a matter of pride for us that 'NS Tested 'means something and that we advise you as best as possible what you should be slinging in your roofbox.
Ski: Line Magnum Opus
Length skied: 188cm
Tip-Tail Length (Straight Tape): 185cm
Shape: 148-124-146
Measured weight (each ski): 2011g/2023g
Mount: -2cm
Binding: Salomon STH2 13
Days skied: 15+
Reviewer height/weight: 5'9, 145lbs
Review Location(s): Saas-Fee, Les Arcs
Conditions skied: Open pow, trees, chutes, groomers, sidecountry, park, B&E course
The Line Magnum Opus has some small updates for 2017 and it's the last ski of the Line Pollard series to retain the cloud core. There were some issues on the narrower skis with the full cloud core standing up to hard snow impacts but the Magnum Opus has been deemed wide enough to hold its own. The most notable change from last season is that it now comes with ecofriendly bamboo sidewalls which, as well as saving the planet (ha) also seem to reduce the weight slightly.
The topsheet of all three of the 2017 Pollard skis proudly proclaims: "This ski was designed to slide on snow with style. Not to be skied in a traditional ski manner. Works terribly well on snow waves, spines, wind features and deep snow. For individuals looking for an experience unlike any other". This is excellent marketing but, in the case of the Magnum Opus at least, it's also largely true.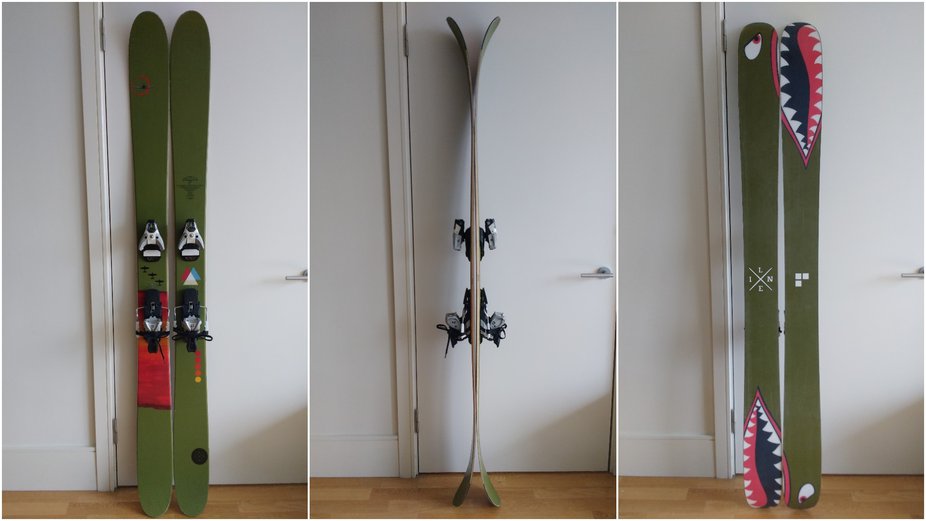 Line, fairly uniquely among the bigger ski brands, have never been afraid to create genuinely specialist skis which work brilliantly for their stated purpose but somewhat less so if taken out of their comfort zone. The Honey Badgers I reviewed last week are a prime example of this. In a dedicated park environment they're super lightweight, buttery, poppy and still stable. They're also cheap so ultimately replaceable. But away from jibbing I found they very quickly become a handful. The Magnum Opus, however, is not quite so limited.
The shape, the profile, hell even the topsheet quote suggest this ski won't be much fun as soon as you deviate from playful pow skiing but for me that simply wasn't the case. I had a great time shredding around the mountain on what is of course a playful ski but is perfectly capable of holding an edge when thrown into a carve. Their light weight means they don't feel like too much work to ski groomers or even throw around off jumps. I've taken them in the park a few times and they barely felt more work than an everyday ski. I even flowed around the B&E course on them and while they didn't feel ideal for the speed edge to edge such a tight environment dictates, they also weren't a nightmare.
https://www.instagram.com/p/BC-_4v5wj9l/?taken-by=twig_spens
Line's Magnum Opus are therefore superfat powder skis that are semi-usable day to day. Sure they are horrible in bumps and they are unnecessarily fat for most users. But they don't actually punish you much for picking a ski on the obese size of reasonable. They are certainly the best 120mm plus ski I've used for all mountain use. This is largely by virtue of two things. Firstly, they are less tapered than most powder skis have become, on edge they actually have a fairly respectable running length which, when combined with the flex, makes them relatively stable and predictable. They are by no means a stiff ski but they are stiffer than say, the Bentchetler and much more solid than skis like the Shreditors, older Bacons etc. The 17m sidecut counters the fat waist by being nice and quick, but because they are so wide they are happy enough to go straight if required. Basically, despite being a highly specialized tool, these are a surprisingly versatile ski.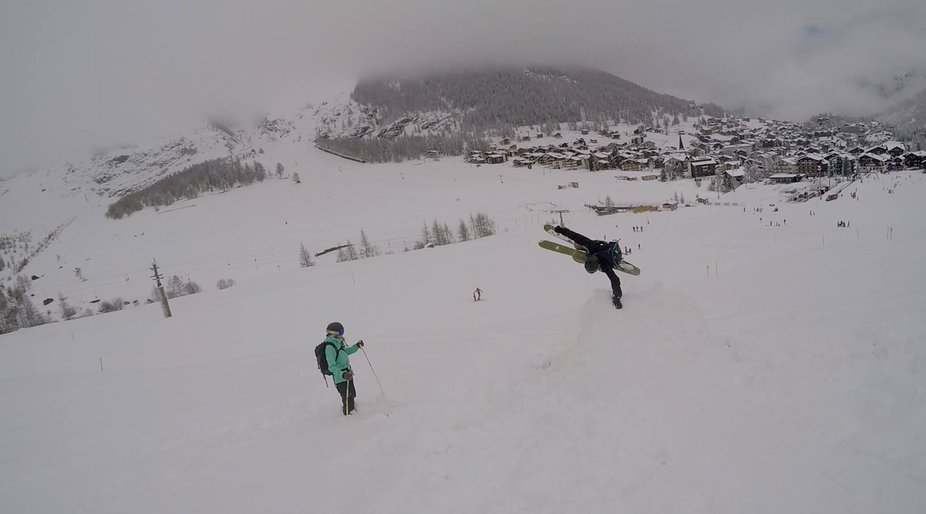 Because where these skis excel is when playtime starts. As mentioned, they aren't the softest of powder jib skis but the shape (especially the tip/tail profile) makes them exceptionally happy to go sideways, butter, slarve and otherwise spread joy all over the mountain. They are super easy to throw into butters thanks to generous rocker, soft enough to make holding them flexed relatively comfortable but stiff enough that there's no real risk of overflexing. I've never skied a ski that's so easy to revert in deep snow or as happy to go sideways.
And of course they float fantastically. With such a forward mounting point, you can get a little front seat, but ultimately it'd take seriously deep snow on a mellow pitch to cause any issues at all. My pair were mounted at recommended (-2cm) and you definitely need to ski them with a centred stance despite fact that if you lean in to them you have a higher risk of going over the bars. For predominantly jib skiers, that is the most comfortable stance anyway, it's a tradeoff you make for a more balanced swingweight. If you don't want to make that tradeoff, you don't want these skis plain and simple. As long as you don't fuck up landings badly, no snow level is going to be an issue. In the deep stuff they are laugh out loud fun.
https://www.instagram.com/p/BCtFcEewjwd/?taken-by=twig_spens
They aren't however a powerful ski. In cruddy snow they get deflected a fair bit because of how light they are. They aren't a charger either. And perhaps most importantly, I wouldn't buy these to use as a fat jib ski if you are planning to encounter a lot of hardpack jumps/solid snow/rails/rocks etc. There is a reason Line have moved away from using the cloud core in the other Pollard ski: they have a pretty limited lifespan when you slam them into hard things. I raised my suspicions about this with my 2015 (cloud core) Line SFBs and after some fairly abusive days post review, they blew up underfoot in pretty spectacular fashion. The Magnum Opus use the same construction as those but with bamboo sidewalls, so you do the math. The problem, if you can call it that, is that they are a ton of fun so you're going to be tempted. I don't want to overstate this point, I've skied them on slushy days and groomer days and they have held up fine, but avoiding metal, rocks and other hard things would be prudent if you pick these up and want them to last.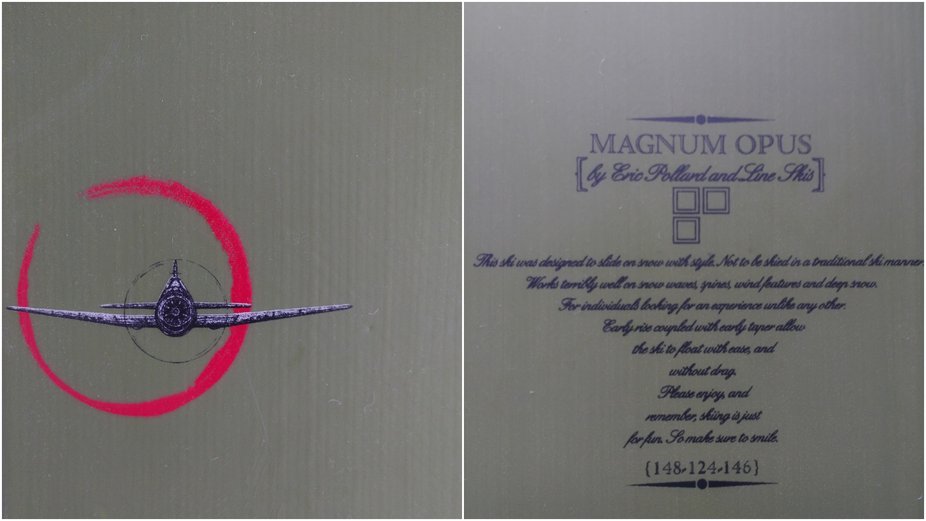 There we have have it, the Line Magnum Opus: An (almost) versatile superfat ski. So who actually needs such a thing? Well jibby skiers who live somewhere it snows a fuckload couldn't do much better. Less than super gifted pow skiers who want to land switch and surf in fresh snow and need some help (AKA me) are going to love them too. If you want a chargy pow ski, look elsewhere but if you do want to ski fast occasionally these won't try to kill you. If you want a versatile ski, you're almost certainly better off scaling down the waist width, very few people (including myself) actually need a 124mm ski. But if you want a superfat ski, and I can see the appeal because they are seriously fun, these are a damn good shout. I had an absolute blast skiing them, which at the end of the day is what matters.
Shop For line magnum opus

Merchant

Sale Price

Retail Price
Shop For line magnum opus

Merchant

Sale Price

Retail Price
Skied the Line Magnum Opus? Let us know what you think and add your review in our review section:
http://www.newschoolers.com/reviews/4526/Magnum-Opus
Follow my insta to check out what I'm reviewing in real time: @twig_spens
Next up: Armada B-Dog