[Editor's Note: This review was conducted on the '17-18 Völkl Revolt, which is unchanged for '18-19, '19-20 and '20-21 except for the graphics.]
Ski: Völkl Revolt 95
Length skied: 173cm
Actual length (Tip-tail w/ straight tape): 172.8cm
Shape: 129-95-119
Measured weight (each ski): 1862/1956g
Mount: -1cm from true center.
Binding: Tyrolia Attack 16
Days skied: 15
Reviewer height/weight: 5'9, 145lbs
Review location(s): Kitzsteinhorn, Snow Centre Hemel Hempstead
Conditions skied: Early season park, hardpack, shallow pow, crud, indoor.
_
Unlike most skis that we review on The Roofbox, the Revolt is not a new ski. Currently in its third season, it probably should already have a review by now. But the low price point and, to be frank, the fact that it's a Völkl ski have always put me off. Don't get me wrong, Völkl makes and has always made great skis. However, they aren't generally skis I want to spend a lot of my time on since I generally like wider, more playful skis and Völkls have tended to be skinnier and often stiffer, like the Wall/Revolt 87. When the Revolt 95 appeared it seemed an interesting proposition, but I dismissed it unfairly. Surely, I thought, it's too price-point to be any good for actually skiing on (as opposed to sliding metal repeatedly). It wasn't until I ended up hanging out with a few guys on the Völkl team, most of whom are using the Revolt for pretty much everything and were seriously enthusiastic about it, that I figured I needed to take a closer look.
_
Shape/flex/construction:
The shape of the Revolt is trademark Völkl, with the short stubby tips and mellow rise rocker recalling the Gotama of old. The sidecut at 21.3m in a 173 is pretty long for a park ski too.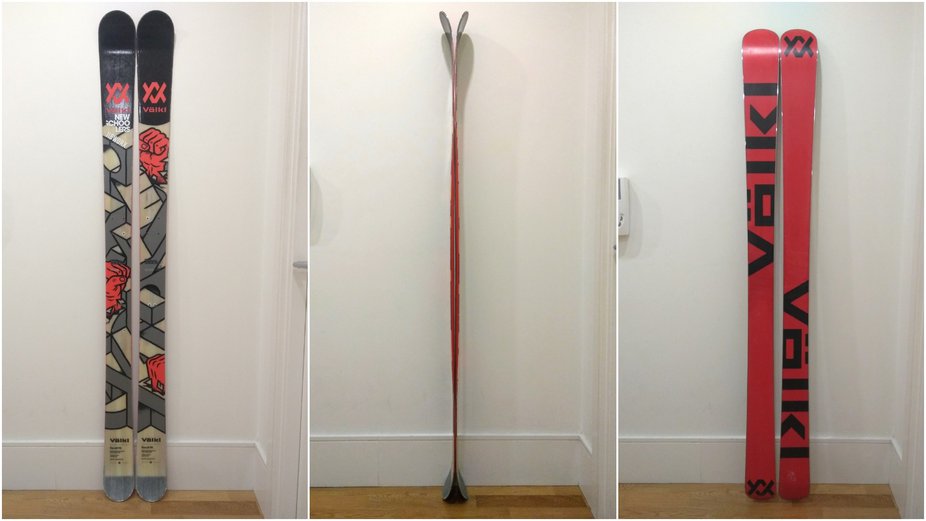 The flex and profile of the Revolt make for an interesting combo. The whole ski is pretty flat: very mellow camber underfoot with mellow rocker and rise in the tip/tail. The flex curve is similarly flat, a fairly consistent 'softer end of medium' flex both in the nose/tail and under the binding. I'd probably rate them a 5 out of 10 throughout in terms of longitudinal flex. The construction is pretty traditional, full sidewall with a poplar/beech wood core. The result is a fairly torsionally stiff ski, especially for a price-point jib ski.
_
On snow:
The result of the Gotama-esque shape is that the Revolts feels like a traditional Völkl ski, despite softer flex… and that means they rail. It actually takes a bit of getting used to how confidently you can ski them coming off of pretty much any other soft jib ski, but with the relatively long effective edge, this is actually a ski you can throw some weight into and SKI. This long effective edge combines with decent torsional stiffness to give far superior edge hold when compared to the many softer (Blend etc) or more heavily rockered (ON3Ps, Faction Prodigy 1 etc) skis in the category. In the first couple of days on these, I spent more of my time skiing around the massive variety of terrain and sidehits that Kitzsteinhorn has to offer than in the park itself, which for me is a rarity. As a result, I can report that the Revolt will ski shallow depths of fresh snow, mashed potatoes, bumps and more with relative comfort. Don't get me wrong, these are still sub $400 park skis. They aren't actually comparable to the Mantras or Gotamas but they have that same DNA in there somewhere and, for what they cost, the versatility and edge hold are pretty incredible. They are also (obviously given the 95mm waist) not a pow focused ski, but for the size, they are pretty good in shallow depths. They aren't a one ski quiver for somewhere it snows often but for occasional pow days they aren't too bad. When I think of similarly priced skis past and present like the Line Anthem and Honey Badger, Revision Talisman, and K2 Domain etc, there really is no comparison when it comes to ripping around. To get better on-hill performance out of another new jib ski, you're looking at paying out a minimum of $100 more than you would for these.
_
Park/jibbing:
Like other Völkl skis, the Revolt is fairly heavy, averaging at 1,900g (ish) per ski for my pair of 173s. However, since the sidecut continues further into the nose/tail than almost any other twin tipped ski I've tried, I was very comfortable on a 173 even though I normally ride 175-180. To be honest, I could have ridden these in the 165 and they still would have had a more effective edge than most other skis I test. But I digress; the 173, despite being relatively heavy, was also fairly short so I didn't ever notice the extra weight in the air. For a ski of 95mm underfoot, I'd say swingweight is entirely average.
https://www.instagram.com/p/BcaKBBHBDWe/?taken-by=twig_spens
An interesting quirk of the smooth but fairly soft flex is that the ski feels stable most of the time... until it suddenly isn't. Pretty much the only time I ever noticed an issue was hitting drops and sidehits at speed. A couple of times I thought I'd landed a bit backseat but felt confident I would ride out absolutely fine – only to find myself slowly wheelieing out. It wasn't the same sensation as landing backseat on a really soft ski like the Honey Badger, where you immediately just flex through the ski and crash; it's a slower process of gradually overpowering what is a relatively soft section just behind the boot where most skis have a stiffer zone. As a result, I think they could do with a tad more stiffness just behind the boot and that would fix it. You do get used to this though.
At the same time, the nose/tail aren't as easy to butter as, say, the Blend (super soft) or Magnus (super rockered). The Revolt 95 is certainly still a playful ski and you can do buttery stuff on them. They were, after all, developed by and for Ahmet so that he had a Völkl ski he actually wanted to ride. But everything is relative and there are surfier, more playful skis out there.
In the park, they felt very natural from the off. I'd had a couple of days of all-mountain ripping on them by the point I started hitting rails, but I did expect a longer adjustment period coming from the Blend. Most skis feel much of a muchness on rails, but the flat, untapered shape of the Revolt felt particularly locked 50-50ing (both feet) round tubes. The short length was nice when spinning on hips and small jumps, and they felt ok on landings too despite it. While I didn't get a chance to hit any bigger jumps on these, from what I did hit, I suspect that the landing and slowly washing out issue might rear its head again if you got it a bit wrong on something big. They are just as good as the majority of softer or more heavily rockered park skis, it just comes as more of a surprise when you slowly wash out rather than immediately eat shit.
_
Durability:
So they rip pretty well on trails, can handle a variety of terrain, jib comfortably enough and are cheap. But there is an elephant in the room and it comes in the form of construction and durability. The ~100g weight difference between my two skis is the biggest I've seen which isn't a great sign of consistent build. My pair also arrived with what looked like a slightly dodgy topsheet/tip spacer bond in the tail (the topsheet is see-through so you could tell it wasn't bonded perfectly). During my two weeks riding them, the tail started to delam a little and to keep riding them I would most likely have wanted to put in some rivets to stop things getting worse. I've also seen a fair few other delammed pairs among people I ride with, so while it's always difficult to judge durability on just one pair, it does seem to be more of a general issue. The edges are also thinner than some park skis these days. I don't have an edge measurement from the manufacturer but my best guess measurement is 2.1x2mm, which is pretty middle of the road (not really thin like older Armada EDollos/non-Candide 1.0 Factions but not as fat as the burly park skis like ON3P or Line's Fatty). I only got a couple of edge cracks in my testing but the general rule that fatter edges will, on average and in very generalized terms, hold up better still applies. In short, while I like them to ski on, there my experience is there are definitely tougher skis out there.
_
Conclusion:
Much to my surprise, I really enjoyed skiing the Revolt, so much so that I made them an Editors' Pick park ski last year. Calling them a park ski, though, somewhat underplays their versatility elsewhere. Perhaps I should have placed them in the all-mountain category instead like I did the Poacher last year. Because they can handle the whole mountain comfortably.
If you mostly ski rails or tend to be particularly hard on your skis, however, I would probably look elsewhere. For those who don't need the all-mountain versatility that the Revolt provides you could trade that feature for better durability and/or more playfulness.
If you do want to enjoy the rest of the hill as well as the park, though, and aren't particularly hard on your skis, then these might well be the ones for you. Especially if you know someone who can put some rivets in if things do go wrong on that front. So, for those who want to buy new sticks on a budget and want to take a jib-able ski to whole mountain (particularly somewhere it doesn't snow often) you might find it hard to do better for the price than the Revolt.
_
If you have any questions about the Völkl Revolt 95, feel free to hit me in the comments and I'll do my best.
To see our reviews before anyone else, download the Newschoolers App: iPhone - Android
Find out what I'm reviewing in real time: @twig_spens
Next up from me: Line Chonic 2019