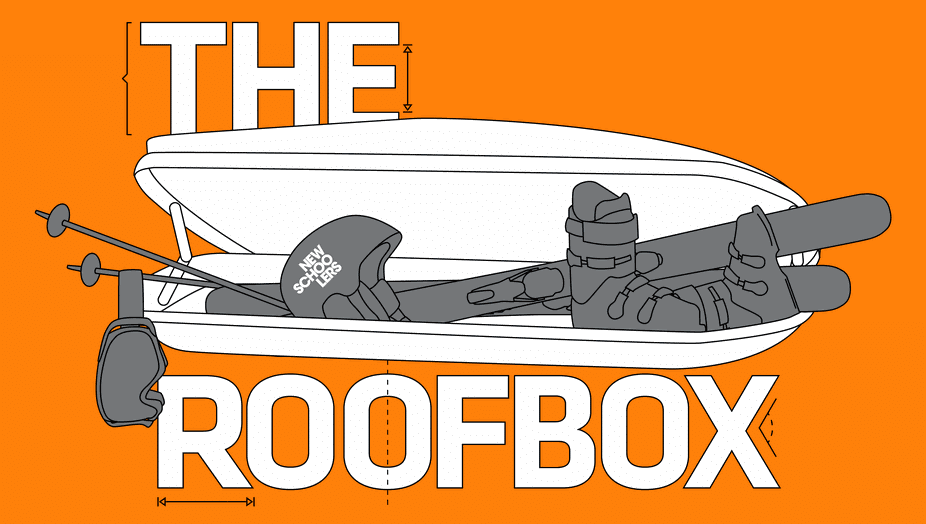 The Roofbox is back for 2017-18, with one aim: No bullshit, in-depth ski reviews, by ski bums for ski bums. No sponsored athletes, no 'we took 3 runs at a ski test'. Brands send us the sticks and we spend a solid chunk of our own seasons shredding them. Then when, and only when, we've spent enough time on a ski to judge it fully, we tell you what we honestly think about the pros and cons of a ski and who we think it will work for. It's a matter of pride for us that 'NS Tested' means something and that we advise you as best as possible what you should be slinging in your roofbox.
Ski: ON3P Magnus
Length skied: 176cm
Tip-Tail Length (Straight Tape): 176.3cm
Shape: 119/90/115
Measured weight (each ski): 1763g/1801g
Mount: True centre
Binding: Tyrolia Attack 16 (2018 model)
Days skied: 25+
Reviewer height/weight: 5'9, 145lbs
Review Location(s): Snowpark Zermatt, The Snow Centre Hemel Hempstead
Conditions skied: Summer slush, ice, fresh groomed, indoor
ON3P Skis are deeply ingrained into the Newschoolers story with the forums having played a significant role in the founding of the company. The brand garnered such a loyal forum following that "Buy ON3Ps" became almost as prevalent a forum response as "get Full Tilts". But eight years since the company first sprung up, barring a couple of runs on borrowed pairs of Filthy Riches, this is the first time I've ever actually skied a pair of their skis. My test pair came with a purple custom topsheet, but in all other respects were a stock layup Magnus.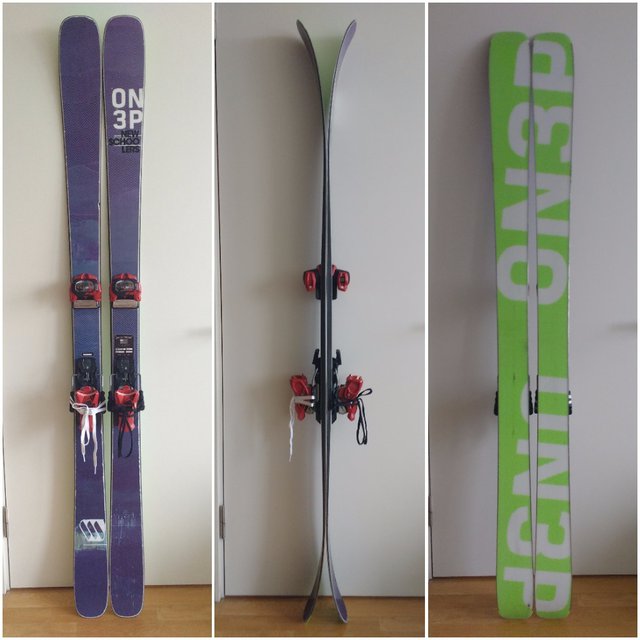 The reputation of ON3P on NS is so good that, if anything I was probably slightly biased against the brand because I was looking for faults, looking for something to say that hasn't already been said. Surely it had to all be hype? But in terms of build quality, these were probably the best built skis I've seen. I couldn't find any obvious gaps in construction, the ¾ wrap edges met the bases near perfectly and the topsheet/sidewall bevel is nicely rounded, meaning that after 25+ days of use, the tops don't look drastically different to the day the skis turned up aside from some very minor chipping. I do have one sidewall gouge but it didn't expose any wood and I've been skiing the things for a month solid of pure park. The bases are both high quality and very well finished. They arrived with a admirable base structure and ran faster than my friends' skis for the duration of the test. The edges are the thickest on the market and that, combined with the park detune the skis came with, has meant not a single edge crack.
In short, ON3P build their skis extremely well. That doesn't mean you can conclude "the skis are indestructible" because they aren't, I've definitely seen damaged and broken pairs. Skis break, deal with it. You can't even say "they will outlast any other brand" because there are so many factors involved, luck being a major one. I think the most accurate comment that I can make is: from what I've seen of the construction and having skied them for a month, I think they will give you the best possible chance of your skis lasting a long time.
On Snow
And when it comes to how they ride, the positives are plain to see. From the watching the ON3P team, particularly the guy who gave the ski its name, you get the impression that the Magnus must be a super soft ski. It isn't. Don't get me wrong, it's a really fun ski to butter on. If you can't do butter tricks on them, you need to practise, but if you are looking for the easiest ski out there to flex, this isn't it. The Magnus is actually pretty solid flexing, I'd say similar to the Poacher but with much more rocker, and definitely stiffer than the majority of jibby skis out there. Part of what I loved about them was that while they are super fun to play on, the ski actually has some backbone, giving you something to throw your weight into rather than just folding with the slightest lean.
https://www.instagram.com/p/BYbfi4qBhP8/?taken-by=twig_spens
A lot of the playfulness comes from the rocker profile, which looks frankly insane on a 90mm ski but actually works. The huge nose rocker, combined with substantial tail rocker would be more obviously suited to something 110mm + in the waist but the skis are solid enough flexing that in the vast majority of situations it works. You get that ease of entry into butters that a stiffer ski wouldn't have, but you still have to work to flex the ski itself. As a result, when you are buttering the ski doesn't wash out, it supports you and pops you back out smoothly too. Pop is a key word to mention when discussing these skis too, they have it in abundance. Nollies send you to the moon and the nose rocker, while smooth, is so high you don't have to worry too much about getting hung up, even on snow which is nice and definitely not the case on many skis these days.
The cambered section of the profile is solid enough, and particularly in the tail, extends far enough that while the skis are buttery and playful, you do have a landing platform for getting it a little wrong on jumps as well. This is, however, one the of the areas the Magnus could be accused of lacking. While they are stiff enough to be supportive, there is no way to have that much rocker with no stability loss. When landing in tight transitions, especially switch, there sometimes wasn't enough contact length with the bases flat to support bad landings. So there were times when I wheelied out where I wouldn't have on, say, the Volkl Wall (Revolt 87) or even a K2 Poacher. But the ON3Ps are still as good or better than most of the soft jib skis out there, while being more stable when skiing fast and being way more poppy. So the compromise they have made between playfulness and stability is nonetheless admirable.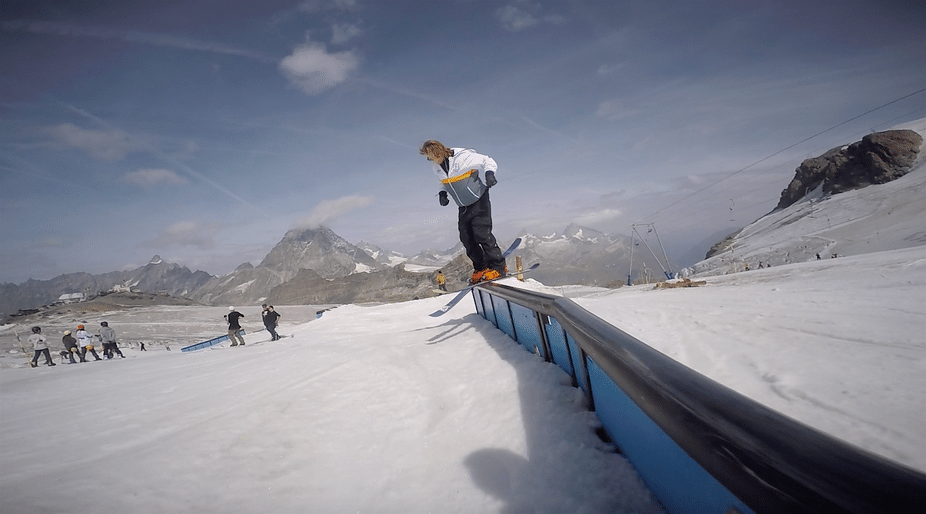 Snowpark Zermatt is the perfect summer testing ground, views aren't bad either
With that much rocker, surface swaps are a breeze and thanks to being at the narrower end of the scale they are quick on rails and in the air too. They aren't a particularly light ski, they are of pretty average weight for the size, in fact, and there are no features to bring down swingweight. But the width means that they are easy to spin regardless. I found tricks coming back to me that I thought I had long abandoned. Tom Pietrowski said, in his review of the Line Wallisch Ski, that while no ski will makes you a better skier, they can make you more feel more confident, and these did that for me.
Skiing the Magnus, combined with watching the return of quick, snappy tricks to the playful side of skiing has actually made me think the days of the sub 90mm ski might not be over after all. With what has been learned in the past few years in terms of shaping and construction (and is on display in the Magnus) I think narrower waists might be set for a comeback. Much like having a soft ski for learning butters, a wide one makes learning presses and 5050s easier, but once you have them down, it's easy enough to scale the waist width down and benefit from the added speed edge to edge and associated control.
Outside of the park, the huge rocker has some definite positives too. For a 90mm ski, they dealt with deep summer slush exceptionally well, with little catching, even when throwing them sideways where most narrow skis feel pretty bogged down. The profile combined with the solid flex also meant they didn't get bashed around and deflected nearly as much as most narrow skis I've tried.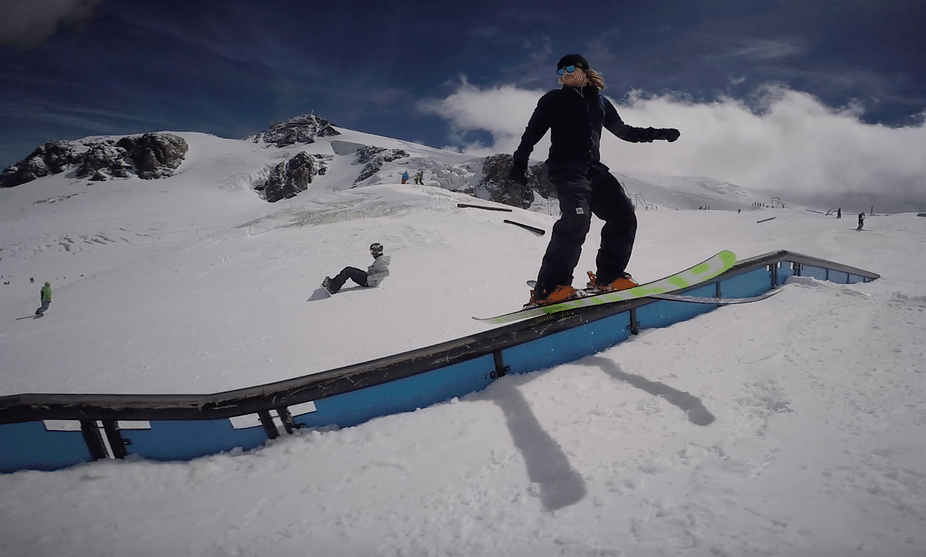 The endless rail options in Zermatt meant these spent a lot of time on metal.
The lack of much in the way of early taper meant that on edge in soft snow you still get a ski that will carve nicely. Much of the rockered section will engage if you get enough lean going on. However ON3P don't have a magic solution for the fact that if you take a heavily rockered ski, and then you detune the underfoot section for rails you have very little effective sharp edge left to hold when the snow gets hard. On the glacier in summer, you get some icy days and these were pretty sketchy going anything other than slowly in those conditions. All skis basically suck on ice once the underfoot is detuned, but there is no question in my mind that heavily rockered ones are worse. If you want minimal suck in those conditions, the Magnus might not be for you. The same goes for anyone who heavily prioritizes pipe/jumps: just buy a full cambered ski.
For everyone else, I can't say much more than these are a fantastic park ski option. They handle fast rail tricks, they handle buttery tricks, they have tons of pop and they are solid enough for going big/fast in the vast majority of cases. I'd be happy skiing them all over the mountain too, as long as it wasn't somewhere it's either icy or snows a lot. Of course for real versatility, you probably would want to go wider, but these do a decent job. There is no hiding the fact that they do cost more than the majority of the 90mm skis on the market. The reasons for that: American labour costs, admirable quality control, great materials, building their own ski factory etc, are transparent. And so yes, I can think of better jump specific skis, I can think of softer skis, I can think of lighter skis, I can think of park skis that carve better and I can certainly think of cheaper skis. If these are particularly important things to you, then the Magnus might not be the best option. But I can't think of a ski I'd rather actually ski a season of park on than the Magnus, or that I think is likely to hold up any better. So despite my desire to come up with some kind of contrarian take on ON3P, my conclusion is simply that the Magnus is the best ski I've ridden for handling most of the aspects of park skiing well. Damn.
Skied these? Let us know what you think below.
Find out what I'm reviewing in real time: @twig_spens
Next up: Line Blend
Shop For ON3P Magnus

Merchant

Sale Price

Retail Price
Shop For ON3P Magnus

Merchant

Sale Price

Retail Price