Ski: Völkl Revolt 121
Length skied: 184cm
Actual Length (Tip-tail w/ straight tape): 182.9cm
Measured weight (each ski): 2235g & 2283g
Shape: 143-121-135
Sidecut: 19.2m
Mount: -2cm from true center
Binding: Tyrolia Attack2 16
Days skied: 5
Reviewer height/weight: 5'9 (174cm), 140lbs
Review Location(s): Saas-Fee
Conditions skied: Powder, crud, re-frozen suncake, slush, park
[Editor's note: Our review was conducted on the 2021 Völkl Revolt 121, which is unchanged for 2022 & 2023 except for graphics]
_
The Völkl Revolt 121 has to be one of the most hyped ski launches for some time. They've been everywhere from the top of the Freeride World Tour podium to all over social media feeds… and have a starring role in their own movie, Legs Of Steel's '121'. It has been a while since Völkl have brought something totally new to the table on the backcountry freestyle front, having been recycling their pow ski shapes under different names for some years now. Having spent some time with the team during the development of this ski, I can verify there is truth behind their 'built together' marketing. This is a ski the team had a lot of input into and loves to ski. I'm not generally our go-to guy to test super fat skis, though I have skied quite a few over the years, but at the time of this review (mid-April), I had the best conditions for testing a pow ski. I only got 5 full days on the Revolt 121, which is less than I'd like for a Roofbox Review, but these are a pow day specialist so that's not too bad all things considered.
_
Shape/Flex/Construction:
The Revolt 121 is a big ski. 121mm underfoot and 143 in the tip, with a generous helping of early taper. When you put them on your feet, they look huge. That's partly because they are big, and particularly because of how tapered they are. They have a lot of rocker too, 46cm in both the tip and tail by my measure. The nose rocker has far more splay than the tail rocker though, giving these skis a somewhat directional appearance and feel. The tail rocker is very mellow in that regard. The tail is also blunter where the tip is more pinned, adding to the more directional looking shape.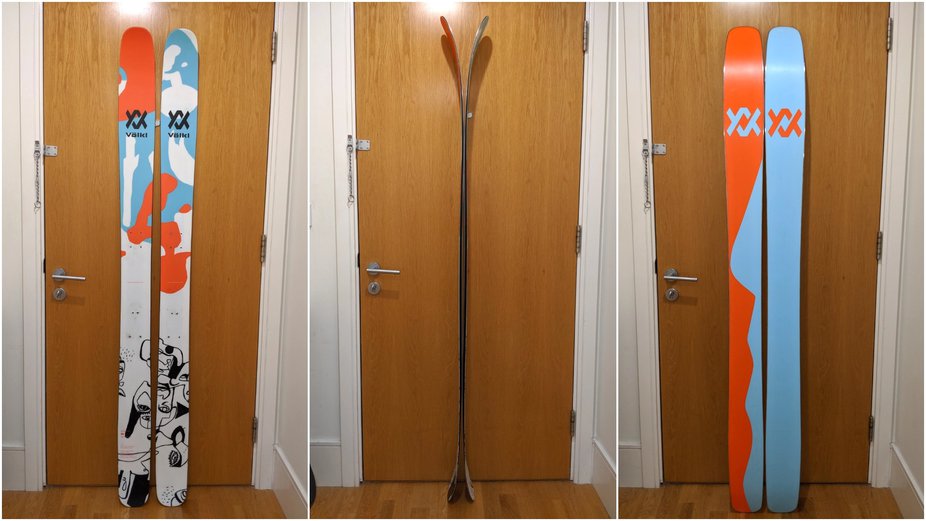 The 121 is, unlike the many skis in the playful powder ski market, pretty stiff throughout much of the ski. I'd rate them about an 8.5/10 in the middle two-thirds of the ski with the ski softening off towards the tip and tail. In that regard, they brook some comparison with the Black Ops 118, which has a similar flex pattern. I'd say the Revolt is a touch stiffer throughout though.
There isn't much that stands out in terms of construction, but the essentials are all there. Sintered base, mid-fat edges, solid wood core, and full sidewalls, these feel solid. It comes at a price though, they are pretty heavy at well north of 2200g per ski in a 184.
_
On-Snow:
The 121 is of the width that really can only be considered a pure powder ski. I don't need a ski this big, ever. Maybe if I ended up in Japan it'd be just about better to be on something this big. But at 60kg, I never really NEED something bigger than say 112mm… at the most. That doesn't, however, stop it from being really, really fun to be on a ski that fat. I started my 'proper' skiing career on skis like the EP Pro and Benchetler, so this was a nice flashback to that boat like feeling. And actually, the 121 skis surprisingly well on hard snow. It's certainly better than I expected it to be. It hasn't got that much effective edge but it tracks nicely and feels stable through turns. If you try and fully lean into them they get a bit loose but they are more than manageable in resort for most things.
The solid flex and wide shape mean they are great in cruddy/mixed conditions. They aren't a full-on directional charger, but for going fast in not great snow they are pretty fun. They are nice and damp (and heavy), which helps reduce chatter too. And thanks to the taper rocker, they pivot on a dime, so you can always shut down speed when you need to.
_
Jumping/Playfulness:
I took the Revolt 121 for a few laps through the park just to see how they felt and while the fatness made the impact of landings feel horrible, they felt good in terms of stability. The flatter tail rocker is good at keeping you upright if you land a little backseat, and while I didn't get to take them to any big drops (and given the width, my knees were thankful for that), I feel like that stability on park jumps stands them in good stead. The abundant nose rocker works well for buttering, both on hardpack and in soft snow, where the taper comes in to play and keeps them feeling loose.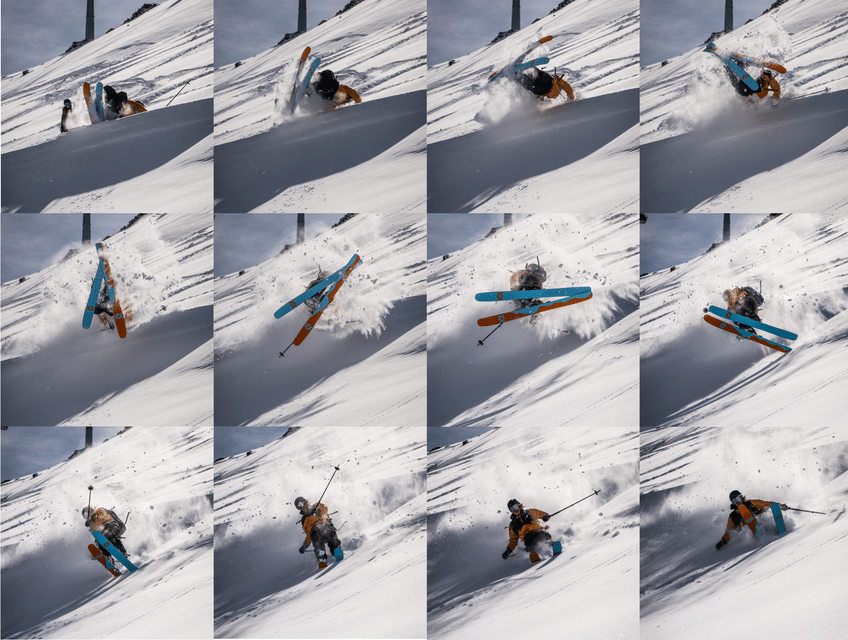 Photo: Puzzle Media Saas-Fee
For me though, the weight is a downside. You can go watch 121 if you want to see pro skiers who have no trouble at all throwing these around, but they are far from the lightest ski. Anything this fat is starting to get heavy but these are noticeably heavier than say, a Line Outline and way heavier than an Atomic Benchetler. If spinning into soft snow is your number one priority, I'd take those skis ahead of these. But then, these are far more stable than either.
_
Pow/Freeriding:
It kind of goes without saying that a 121mm ski is going to float well. Anything this big, with this much rocker is going to do a good job in pow. But even taking that into account, these are very easy skis to ski in deep snow. They lack the horizontal rocker technology you now find on the Atomic Benchetler, Line Outline and Armada ARV 116 but I wouldn't say they go sideways or surf any less comfortably. They are definitely on the surfy end of the spectrum in terms of how they feel like they'd be skied most naturally.
However, what they do far better than skis like the aforementioned three, is charge. The flatter tail and stiffer flex makes them far more stable feeling than any of those three. They are perfectly happy to be skied fast and fairly straight. They rarely flap and never felt to me like washing out. I'm not the biggest guy but they didn't feel like they had a speed limit. Where skis like the Bentchetlers, Outlines, et al, feel perfect for learning tricks in the pow, the Volkls feel like they are designed for going faster and taking tricks to bigger features. And you know, maybe even skiing some steep straightlines. They are kind of the halfway house on your journey from park skier doing tricks into pow to full-grown big mountain charger. They aren't quite a full-on backcountry jib ski and they aren't entirely a charger, but they do both well.
The one downside compared to many jib skis is the lack of tail rocker splay. I didn't like landing switch in pow on these and ate shit more than a couple of times on tricks I thought I had. I think that was a combination of the profile and the flex so I'd watch out for that if it's a top priority.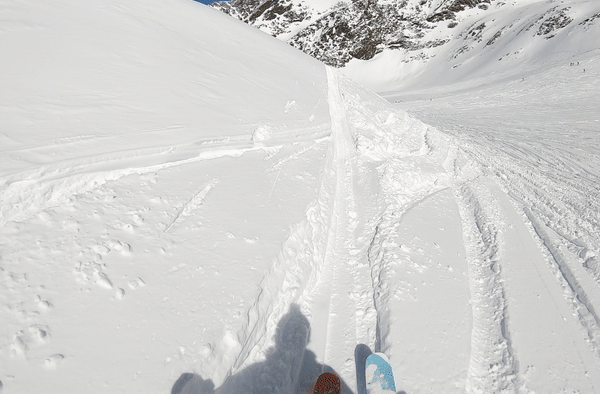 Just about held on to this one but it wasn't pretty
_
Durability:
These skis felt solid but I don't have much to report here after 5 days. I did get one spinner on each ski when mounting, which was fixed with inserts and caused no problems. In all other regards, I'd say these felt bombproof, but don't have much to back that up.
_
Conclusion:
If you ski a lot of snow, the Revolt 121 is a really versatile choice for you this winter. As I already mentioned, these aren't an all-out jibber, though they do surf a treat. They aren't as light and easy to ski as a Line Outline or Atomic Bentchetler 120 in particular and those skis would probably remain my first choice if I needed a ski like that. However, for me, the Revolt 121 allows you to do far more than either of those skis. I wouldn't really want to be on either of those on something particularly steep if the snow was anything less than perfect (not that I ever want to be on anything steep if the snow is less than perfect), whereas the Revolt 121 will handle mixed conditions no problem. For me, it sits somewhere between the pure jibby pow skis and the more directional fat chargers. It gives you a lot of the good sides of both without too many downsides if you're ok with the weight penalty. I can't say I fell in love with them, they were just too big for any of the situations I skied them in, but I was impressed by them. I think Volkl have built a great ski here, one that will endure in their line for years to come.