Ski: Faction CT 2.0x
Length skied: 178cm
Actual Length (Tip-tail w/ straight tape): 175.5 cm
Measured weight (each ski): 1905g / 1911g
Shape: 133 / 100 / 133 mm
Sidecut: 16 Meters
Mount: -4cm
Binding: Tyrolia Attack2 13 (2019 model)
Days skied: 10+
Reviewer height/weight: 5'5, 135lbs // 5'8, 170lbs
Review Location(s): Jackson Wyoming
Conditions skied: Ice, summer slush, fresh groomed, indoor, shallow pow
I, Erica [EA] and my boyfriend Dylan [DD] @TheWeaz are Jackson Hole, Wyoming based skiers. We're fortunate enough to be able to share equipment, and therefore are bringing a double perspective to the powder and big mountain ski Roofbox Reviews on Newschoolers. When applicable, our individual opinions are noted with our initials.
––––––
Introduction:
This year, Faction introduced the CT 2.0x Mademoiselle– a women's ski with the exact same construction as the men's (with a ladies/pink topsheet). The ski has softened over the years, but remains virtually unchanged since the 2018-2019 season. Dylan and I hopped on these skis this season to bring our perspective to the CT 2.0 and 2.0x.
Prior to the skis release, they had limited sizes and we tested the longest they had, which was a 178cm in the men's topsheet at the time. This is significantly shorter than the skis we've been on this season.
_
Shape/Flex/Construction:
The Candide 2.0 has a pretty standard sidecut profile with minimal to no tip and tail taper, combined with a rocker profile that features pretty deep rocker lines, but not a ton of splay and almost no camber, Faction states 2mm of camber. The flex is soft in the tips and tails and gradually transitions to medium flex throughout the center of the ski.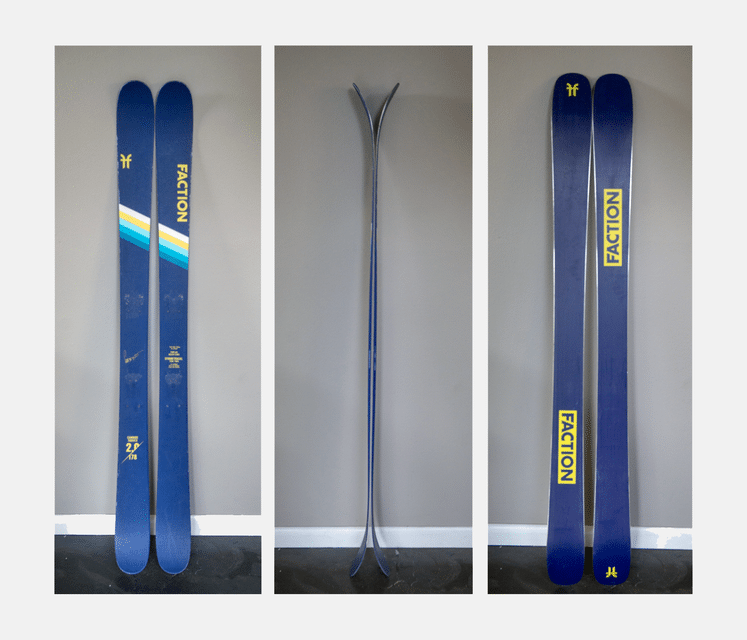 The edges are pretty standard thickness, not the 2.5mm you'll find on skis such as ON3Ps or Line park skis, but not abnormally thin like found on some skis. The ski features a standard sidewall layup, and in general, there's nothing fancy about the build.
_
On-Snow Performance:
The Candide 2.0 is an excellent choice for the skier who is looking for a playful option that will take them from the top of the mountain, through fresh snow, and can end every day in park laps.
The Candide 2.0 is easy to get along with on groomers. I hopped on and was immediately able to make decent carves at slow to medium speeds. They're very easy going given the soft flex combined with slightly short size as well as the minimal camber and short turn radius. These same traits made high speeds feel a bit unstable, but that's not to say that they can't handle a burlier line now and then, we just wouldn't recommend them if you like straight-lining through chunder fields.
The light swing weight made for quick and easy turns and led the ski to be quite maneuverable through moguls, slush, and other variable conditions. Given its soft flex and pop, the skis really shined finding natural side hits around the mountain and popping/buttering off of cat tracks. [EA] In general, the Candide 2.0 much easier to maneuver than the Prodigy 2.0, which seemed to get caught up in any variable snow. They both had a playful touch, but based on initial impressions I would expect the Prodigy's to do better in an all-mountain setting, and the Candide's definitely outperformed them in that category.
[EA] I was really surprised by how well the CT 2.0s performed in steep, off-piste terrain. I was a bit nervous given the slight instability at higher speeds on groomers, but when I got into steep terrain with softer snow these skis were so easy to shred. They're by no means a charger or big mountain ski (not that I would expect them to be), but I had total confidence in the skis whilst skiing bigger, steeper lines– they absolutely outperformed expectations in big mountain terrain.
_
Powder/Float:
[DD] My first day out on the Candides was a 12-inch pow day, while the Candide isn't the ski I would typically grab for a day like this I decided that to properly put it through the paces I would see how they handled a good amount of soft snow. I was surprised by this skis float in soft snow. The tips are pretty wide for such a narrow waist combined with the softer flex allowed the tips to surface without nearly as much backseat skiing as I expected to have to do considering the close to center mount point and narrow (for pow skiing) waist width.
I did experience one tip dive but I have a feeling that the next size up in this ski would have prevented that from happening, this is the smallest ski I was on all year and that became most noticeable in Pow. For comparison, the rest of the skis I have been on have a straight tape measurement of between 183 and 188 centimeters while these measures in at 175.5 meaning they are substantially shorter. The playful flex pattern had me popping off every little thing I could find and doing my best powder tail manual impression Adam Delorme.
https://www.newschoolers.com/videos/watch/942873/Endless-Candides02-roofbox-MP4
Erica on the CT 2.0 on a steep line in the Jackson Hole Backcountry
_
Mixed conditions:
[EA] In bounds on chopped up snow and moguls the easy flex and playfulness of the ski made navigating soft variable snow a breeze. They're a bit soft for tougher crud and ice (again, not a charger), but they were by far one of my favorite skis I've ridden for slush and spring conditions.
[DD]: I skied the Candides for a bunch of days in the spring, they had no issues cruising slushy groomers and laps through the park. They experienced no odd catching, even when doing butters in soft corn snow. As mentioned earlier the softer flex limits the speed on these skis, but they're also not a ski designed for crushing groomer at max speed. The wide tips did great at maintaining direction through softer crud and slush without deflecting at more playful speeds.
_
Park/Playfulness:
This ski really shines in park settings and is super playful. The Candide 2.0 loves to do butters off of everything, tailpressing terrain features, and slashing anything in sight, and quickly became one of the funnest skies we've been on in the past few years. The low camber combines well with the rocker and softer tip and tail to make a ski that's easy to pivot, smear, or butter. We even put a friend's dad on these skis as a loaner and he learned to nose butter on them in one afternoon, as did Erica.
[DD] The swing weight definitely feels lower than the stated weight would suggest. I had no trouble getting 3s and 5s around on the smaller jumps that Jacksons park has in the springtime. The soft flex provides a pretty forgiving landing pad in the park, you could land backseat, or front seat while switch and ride out almost in a press without causing yourself too much shin bang.
https://www.newschoolers.com/videos/watch/942872/IMG-7132-MOV
Dylan giving pow landings a go
This ski inspires you to pretty much jib everything you see, butters, grabs, spins, etc are all just asking to be thrown off of anything that can be made into a feature. Whether you're a seasoned pro or looking to add some playfulness into your skiing, we couldn't recommend the CT 2.0s more as an essential part of your quiver.
_
Durability:
Despite a bit of standard topsheet chipping, we didn't have any issues in the durability department. Granted, we weren't hammering out rail laps, but from skiing the whole mountain and finding some rocks and stumps, there was not any delamination or edge cracks. Faction has been known in the past for not being the most durable ski manufacturer, especially for those who are really hard on skis and lap rails all day. If you're not hard on skis, I wouldn't worry about it, but they may not be your best choice otherwise. Previously Factions warranty has been more than stellar though (in Dylan's experience).
_
Conclusion:
This is a perfect setup for someone who wants a playful ski that shreds top to bottom all season long. Whether it's park laps or finding jibs across the mountain, the CT 2.0s will be able to handle whatever you throw at them. If you want to do some more big mountain shredding, we would recommend going up to the 3.0s, but the 2.0 is a happy medium if you need one ski that will satisfy both your park and all-mountain needs.
I [EA] chose the CT 2.0 as my All-Mountain Editors' Pick this year for its versatility. I had mostly been riding more chargey skis, like the 4FRNT Devastator and the ON3P Jeffrey/Jesse recently, but the playfulness of the CT 2.0 made it an easy choice for me any day I'm skiing in-bounds and through the park. The ski is incredibly easy to ride, and while it may not have as solid a backbone of the Devastator, Jeffrey etc, I found that it can hold its own on burlier lines you may come across. It's not for those who just want to charge, but it shines on every side hit, rollover, cat track, and park feature from top to bottom, making every day as fun as possible.
_
Next Up: Crosson Maurader
For what we're reviewing in real-time, follow us on Instagram: @erica_aarons & @jahweazvt.