Ski: Armada BDog Edgeless
Length skied: 180cm
Shape: 121-94-116.5mm
Measured weight: 1.737kg/ ski
Radius: 15,0m
Mount: True centre
Binding: Tyrolia Attack 18
Days skied: 15
Reviewer height/weight: 5'10, 165 lbs
Review Location(s): Sugarbush Mt. Ellen
Conditions skied: Hardpack, Powder, Groomed, Granular slush, Concrete,and Rain
[Editor's note: Our review was conducted on the 2020 BDog Edgeless, which is unchanged for 2021, 2022 & 2023 except for graphics]
_
afit Radical 12 FT
Days skied: 10+
Reviewer height/weight: 5'5, 140lbs
Review Location(s): Jackson Hole Wyoming
Conditions skied: Touring, pow, groomers, corn, slush.
_
During the 2019 season, I had the opportunity to ski the most unique ski I have ridden to date, Armada's new BDog Edgeless. These were hands down the most interesting whips I've tested to date, thanks to Armada pushing the boundaries and creating a park/street ski that does not have edges. I skied the BDog Edgeless in best months of the season in February and March. Aesthetically, the BDog Edgeless has simple, great looking graphics. The olive green, orange, black and white top sheets provide a clean look with an all orange base providing an eye grabbing look for the camera. After a few laps sliding mach speed on park rails & figuring out how to hit jumps without edges, I knew I was in for a wild ride.
_
Shape/Flex/Construction
The Armada BDog Edgeless is an asymmetrical ski with a hybrid rocker-camber-rocker profile. In other words, it has a wider nose than tail, with a rockered tip and tail and slight camber underfoot. The BDog shape runs in the middle of the pack in terms of both how much rocker it has and its width for an all-mountain/freestyle ski, with a solid 94mm underfoot, widening out to 121mm in the tip.
The Edgeless version of the BDog is one of the softest skis I have ever been on, much softer than its sister ski the Armada BDog. It is extremely soft in the tip and tail, in my opinion I would say its a 3 flex rating out of 10 (1 being the softest imaginable & 10 being the stiffest). I'd say the hand flex of the ski is a little stiffer than it actually skis, perhaps 4 on the same scale. The BDog Edgeless features Armadas AR Freestyle Rocker and signature straight sections in the sidecut provide large surface area to butter on in the tips. It shares a Poplar-Ash wood core with the regular BDOG but the lack of edges really softens the ski. The Circle Flex, which softens considerably towards the extremes of the ski, means that the tips and tails have near unlimited flex, making these one of the softest on the market for 2020, similar to the Line Blends.
_
On Snow:
It's actually hard to decide where to start with this ski. I explained earlier this is one of the most unique skis I have ever put on snow and it almost goes without saying that they aren't for everyone. The ski provides a SUPER soft, and playful feel when cruising all mountain terrain. Laying the ski on edge takes a lot of time to figure out and I will be the first to say, if you are looking to buy this ski and ride the mountain regularly, this is not the ski for you. Even on days where there is a fresh coat of snow on the hill, it is still extremely difficult to ride groomers at any speed, not only because of the lack of edges but also because the ski is incredibly soft and flexes out. The 15m radius on the 180 is pretty narrow in terms of turn radius and with rocker in both the tip and tail, the ski feels quick and floaty when initiating in and out of turns but it doesn't really grip much. It's especially tricky in east coast conditions of hard pack and ice but could be fun for playful all mountain days of fresh.
[Editors' Note: Twig here, I skied the Edgeless at Copper in January and I'm also someone who heavily detunes my skis, which I know Mark doesn't so much. I found the Edgeless loose but managable cruising from the chair to the park. Skiing around the speed traps/gates at the bottom of the hill going back to the chair (I'm a euro, no idea what to call these or why they exist, but it gets iced out because everyone turns there) they were pretty scary though].
In comparison to the Armada BDog, the BDog Edgeless skied much softer in both the tip/tail and underfoot. I think the BDog Edgeless would not be best if you are someone who is just learning how to ride because it requires such a different feel on the mountain versus traditional skis in the same sort of flex range such as a Blend or Vishnu. I primarily rode the BDog Edgeless in the park / street. With unpredictable east coast weather meant that I skied the BDog Edgeless in so many variable conditions. Everything from fresh coats to sheets of ice. It was challenging for me to ride the ski at higher speeds because the softness but for Sugarbush Parks it was great since the features are more skatepark style, linking lines at slower speeds.
One thing I did really like about the BDog Edgeless is the lack of having to worry about catching an edge, and so having more confidence in skiing switch on slushy days. On days where the slush froze over and becomes crud, this ski becomes a little tougher to ride, with a lot of chatter underfood. Essentially they are not great in anything but pefect and soft conditions but for those, they are totally manageable all-mountain.
_
Park:
Alright, now let's get down to the real business here. The Armada BDog Edgeless was created for the park and the streets and Armada pretty much aced it on that, at least if you ski a certain way. The poplar and ash wood core gives the ski a super soft, flexible ski that still has a decent amount of pop. I want to start of emphasizing the skis ability to do nose and tail butters. The king of butters, Phil Casabon, added his own special touch to this ski to make it easy for the average park skier to learn the trick of the trade. Normally I'm not one to do butters all around the park but this ski changed my mind. The combination of Circle flex pattern and super softness in the butter zones provides makes these a super easy ski to try out butters. Whether you are trying to learn nosebutter 270s onto rails or nosebutter cork 7's on jumps this is the ski to try them on. I learned how to do unnatural nosebutters onto rails, which is a trick that I have never come close to on any other ski. I found the BDog Edgeless awesome for doing butters on knuckles as well, with the ease of going from nosebutter to tail back to nose with ease and style, and the edgeless aspect eliminating the possibility of catching an edge in the process.
If you're a big jumper like myself and feel like this ski wouldn't be a match for you I would like to partially change your mind on that. I was skeptical as well hitting jumps for the first few runs on these, since landing backseat would make me flex out and crash. Same goes for landing switch nose heavy on jumps. But after a few sketchy landings and flexing out of the skis, I learned that the skis do have a decent base for landing on as long as you land pretty dead center on the bolts. It's incredibly easy to overflex the noses/tails in this situation, but there is a balance point that rebounds you if you can stay within it. With the 94 base underfoot it has a decently wide platform for landing, and when you hit the sweet spot it felt really good. I found this ski performed its best when hitting medium size jumps due to the little to no swing weight and forgivingness of landing slightly short on slow slushy days. If you are a person that tends to carve off lips this might not be your most ideal ski. You have to flat base off jumps for the most part until you can gradually work your way up to mellow carves off the lip if it's a softer day. A plus with this ski for someone who is learning new jump tricks is that the ski is more forgiving so if you were to land a spin a little 90 then you would have the ability to shuffle out of it and not explode. Especially with the fact that the skis is edgeless. If you're really feeling it that day, you can flex and tweak your grabs in the air to the maximum on these skis as well thanks to the flex.
The BDog Edgeless is a really a ski for someone who likes to ski rails though. It takes a little time to get used to being on a rail without having a metal edge but I admire how Armada integrated an edge like feel with a sharp base material that acts for the edge. The first few rail hits I was expecting the ski to be slow on rails but after a day or so the skis slide on rails like butter. You can roll into a rail slower than normal and still generate the same, if not more, speed while grinding. In my opinion, it was one of the best skis I've ever rode for surface swaps. If you're skiing a park such as Carinthia or Park City with large tubes, this ski kills it with the ability to do quick surface swaps and 0 fear of ever catching an edge in the process. Another really awesome feature about the BDog Edgeless is the ease of doing 50-50s on rails. Normally its not as easy to get into a 50-50 or switch 50-50 but I found that these were ideal for them with the wider tips/tails. I had never been one for that trick and this ski allowed me to hit a disaster switch 50-50 with ease.
My one negative comment about this ski for rails in the park is the difficulty speed checking. When you are transitioning from rail to snow back to rail fast, cutting speed in between features was a little difficult. Especially because you usually have so much speed coming off the rail. Using the skis on hardpack reminds me of driving a boat and cutting the wheel back and forth. Its controlled but loose. The perfect swerve ski by some definitions, but not ideal for most. When it's icy hits, it's time to swap em out though. My legs have never been more tired than the days that I spent out on sheet ice with the BDOGs. No control at all. Going straight is the only option.
The last big thing that I wanted to point out with the BDog Edgeless in terms of park performance is, how light the ski is. This ski feels like a feather on snow and has little to no swing weight because edges make up a lot of the weight of a ski, making it ideal for spinning out of rails or spinning onto rails. I really like this aspect of the ski because it suites my rail style more, being able to have a nice pressy feel on rails but also having the option to rip quick spins out.
_
Street:
Primarily though, the BDog Edgeless is made for the streets. Phil Casabon is pushing the limits of what's possible in the streets and integrating his groundbreaking style into insanely massive hits. For a good majority of his X Games segment, he's on the BDog Edgeless, doing everything from 50 foot wall rides, to 25 foot rail transfers, to front slide back 2s out of down rails. One of the key reasons this is arguably the best urban ski out is the fact that you can ski it on so many variable features. Armada created this ski to ensure that you can slide wood, aluminum, concrete, and other surfaces not made to blend well with steel-edged skis, with full confidence. And they nailed it. Traditionally, you would not be able to hit aluminum rails because steel edges would dig into the soft metal, same goes for wood where the ski would dig into the wood unless you iced it over. But the BDog Edgeless opens up a new realm of possibilities by having an edge that is the same material as the base and doesn't cut in to softer materials.
Jackson Doremus spent a lot of time on the edgeless in the street during the making of his movie this year really pushing this ski to the limit with hitting creative spots. Jackson's feedback helped understand and write this review from another perspective. He says "The slide is very consistent for most surfaces and the flex is soft enough that the ski will bend and warp on impact, but not break (where brittle metal edges could pull and cause delams). The Bases are extra thick, so underfoot wear is nothing to be concerned about; I've skied hundreds of stairs on them. The issues I had with them were unsurprising. With icy inruns that were anything but straight, it was difficult to hold speed and get to the feature. Some features I was unable to hit because for example the inrun was cutting across a hill and I would just slide down the hill." With most rails, they were ideal, but if there was too much rust on them, the rust would dig into the bases and stick aggressively. Overall, if you're looking for in incredibly durable ski for streets that will open up a world of possibilities for you, this is the ski for you. Taking it to the next level while also having the ability to hit features that many skiers can't allows for ultimate creativity. Jackson Doremus took full advantage of that this year, be sure to check their urban film Hit This for Me out later this fall. Heres a clip of Jackson going big on a wall hit.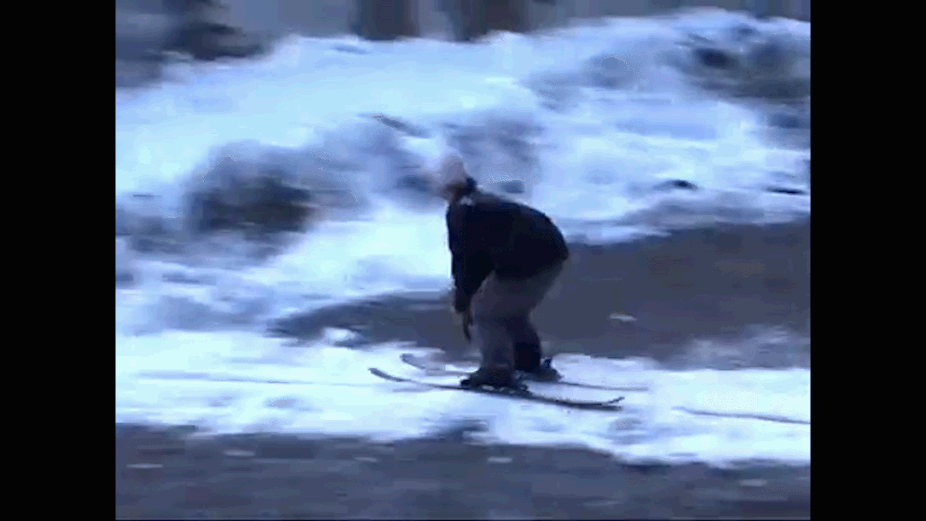 _
Durability:
So how durable are the skis for the pro & intermediate skiers going hard in the park and pushing it the streets everyday?
After a few days on hill breaking the ski in, they maininted the same softness underfoot while still maintaining good pop and quick response. Armada has been one of the companies making durable skis for a while now and once again they deliver with the BDog Edgeless. By eliminating edges on the ski you avoid edge cracks and the ski splitting on you under foot. They definitely can handle core shots from riding down stairs and riding down concrete ledges. They held really well while riding in the park, hitting roughly 15 rails per run, 10-15 runs a day, skiing 4-5 days a week. Even when the sidewall experienced some dent from slamming into rails, they didn't break. I could see if you were flexing them out in unbearable amounts how they can snap because of the all wood core, but I ski pretty hard most days and the ski held up nicely. In a lot of my past reviews with skis I have undergone significant damage in about the 7-10 day range. But this ski was able to take a beating even when your riding down multiple staircases trying to get a clip. I was very impressed by the skis durability and I give the the BDog Edgeless a thumbs up for that.
_
Conclusion:
First things first, I would like to say that I was very impressed by the Armada BDog Edgeless. I am not one for a soft swerve skis in general but I had fun skiing these in the park. I wouldn't choose it for my daily driver unless I was trying to enhance my butter game but I did find it incredibly fun. When it comes down to it, the ski is built for the streets and rail skiing, more so than anything else on the market. It's a great option to open up a variety of features that would otherwise be unhittable. The durability of the ski is impressive, and I would definitely say that's a reason to buy. [Editor's note: Twig again, what struck me about these skis is how simple they are. There's no edges so you have hugely less risk of a delam, since they are so often caused by the edge being forced in to the rest of the ski].
If you are a skier that likes to ski the mountain and take laps in the park periodically this is definitely not your ski. I'm not sure i'd even want it as my only park ski. But if you tend to lap the park all day and ski in a primarily rail heavy park like Sugarbush Parks, it is a great ski. And it goes without saying that Armada has changed the game for skiers that are getting after it in the streets all season. They aren't cheap for a street ski but to have a ski that is durable and also progressive is something that would really appeal to someone dedicating a lot of their season in the streets. They are a dream ski if you would like to have a secondary ski to shred in the park on soft days and in the streets. I think the BDog Edgeless has more potential to become a ski for a niche group of riders versus a general audience. All and all this ski was a great and unique experience to ride & I am happy that I was one of the first people to experience a ski of this nature.
_
Both me and Twig have skied both the B-Dog and B-Dog Edgeless. An in-depth review of the regular B-Dog is coming soon but feel free to hit us with some questions in the comments and we'll get back to you.
Find out what I'm reviewing in real time: @qwuise
Next up from me: Armada BDog