Roofbox Reviews: Our no bullshit, in-depth ski reviews, by ski bums for ski bums. No sponsored athletes, no 'we took 3 runs at a ski test'. Brands send us the sticks and we spend a solid chunk of our own seasons shredding them. Then when, we feel we've spent enough time on a ski to judge it fully, we tell you what we honestly think about the pros and cons of the ski and who we think it will work for. It's a matter of pride for us that 'NS Tested' means something, that these reviews can't be bought and that we advise you as best as possible what you should be slinging in your roofbox.
_
Ski: Majesty Crowbar
Length skied: 181cm
Shape: 117-86-117
Measured weight: 1.873 kg /ski
Radius: 21,9m
Mount: True centre
Binding: Tyrolia Attack 16 (2018 model)
Days skied: 12
Reviewer height/weight: 5'10, 166 lbs
Review Location(s): Sugarbush Mt. Ellen, Stowe Mountain, Big Boulder Parks
Conditions skied: Ice, hardpack, fresh groomed, machine groom, shallow pow, spring slush, and rain.
_
It's interesting reviewing a ski that you have never seen or even heard of before. It's sort of a relief when you have a blank slate ski that you have no prior bias or connection with, to truly test the ski not upon its looks or imagined characteristics, but the actual feel of the ski in various conditions. It was this situation I found myself in when riding the 2019 Majesty Crowbar through a variable February and March months of winter. Majesty skis are an independent European freeski company who have been making skis for about 10 years now. Although small and pretty unknown stateside, they have a large selection of skis with anything from park rippers to downhill carvers.
To me, the Crowbar is one of the best looking skis in their line up, with a clean & mean black & white finish. The all-black topsheets with gold accents and the black & white alternating bases make it a great option for anyone whos looking for an understated ski. You might have seen Derek Simpson destroying the Keystone Park on these in numerous NS homepage edits and Chris Topher turning up on them at Windells this summer too.
_
Shape/Flex/Construction
The Crowbar is a "semi-hybrid true twin with auto rocker in the tip", which in plain English means that it's a close to full camber ski, but with slight early rise in the tip when weighted. The Crowbar is narrow, like traditional Park/Pipe skis, with an 86mm underfoot and widening out to a symmetrical 117-117 in the tip/tail. It's also a fairly stiff ski in my opinion, with a personal 7.5 flex rating out of 10 (1 being the softest & 10 being the stiffest). I'd say the hand flex of the ski is a little stiffer than it skis, perhaps 8.5 on the same scale. With full sidewall construction, these are a pretty solid package.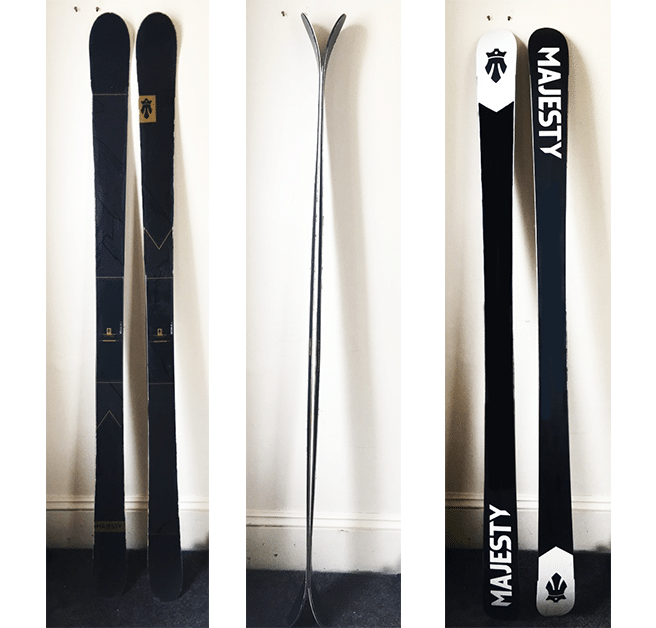 On Snow:
One thing I wanted to really highlight in this review is the Crowbar's performance when riding all mountain. With (close to) full camber & full sidewall construction, this ski provides a super grippy, highly responsive, poppy feel around the mountain & park. The stiff camber of the ski is relieved a bit thanks to a touch of early rise in the tip that allows for easier turn initiation.
Despite being someone who primarily stays in the park, this ski was something that I really enjoyed ripping hard pack groomers and steeps on. You can really push these skis hard when the conditions are icy or hardpack. The 21m radius on the 181 is pretty middle of the pack but the edge hold while crushing turns at high speed proved one of the best I've found on a park ski. The camber allows you to feel the ski underfoot while carving, and the rigidity of the ski eliminated most chatter at high speeds. For someone who is not trying to stay in the park all day, this ski is still a blast around the mountain. I actually found the ski the most effective on inbounds steep runs at full speed and laying the entire edge into the hardpack. While the edge hold is one of the ski's most interesting features, with incredible grip in all snow conditions. I'd highly recommend dulling down the edges when you first get the ski, as I found them challenging to ski park before I detuned mine on day two.
_
Park:
The poplar and ash wood core combines with carbon-kevlar stringers running tip to tail providing outrageous pop at high/low speeds. The stiffness ensures grip taking off and stability when landing with high impact. While hitting jumps or edging in the pipe, this ski is extremely stable underfoot, with little to no washout on larger features. This works great for skiers who like to ski fast and go big, retaining stability and power at high speeds. After a few days on hill breaking the ski in, they get slightly softer underfoot while still maintaining good pop and quick response.
Needless to say this ski is designed for going big and skiing fast. I'd say a lot of the ski performance is dictated by the powerful pop and stabilization while hitting features. The platform of the ski was very stable, which kicked ass hitting rails fast and taking jumps big, with slight relief in the tip and tail rocker when cruising around the park playfully and hitting rails at slower speeds.
I found this ski performed its best in the park when hitting jumps, with little to no swing weight and awesome pop taking off. These skis have a ton of energy and rebound, allowing them to really do the work, making generating pop little to no effort. If you tend to carve off the lip, this ski has great edge hold with an explosive take off. But beware of how explosive this ski can be, if you are hitting a medium size jump and pop harder than usual, The Crowbars will send you to the moon. Landing switch felt great when taking the jump a little too big or landing on slightly flatter zones. Just be sure to finish your spins because this skis stiffness and edginess does not leave much margin for under-rotation (landing slightly short of bolts will cost you).
On rails, the ski was narrow and quick, great for pedaling for spins off rails or switch ups. The ski isn't the best for surface swaps or presses because of the narrow waist and stiffness, but to my surprise weren't terribly hard to flex on the tails off of knuckles. I had to put a little more power into it buttering off the noses and tails but the pop it provides is a big help when ollieing onto higher urban features.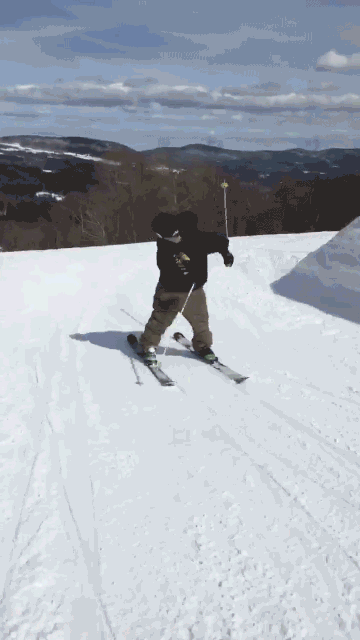 With a similar shape and construction as the Fischer Nightstick, these skis are meant to be skied hard and aggressively which is great for trying to progress on some new jump tricks but they are not the most playful ski to ride around the park. The ski lacks much in the way of rocker so you are really engaged and glued to the snow until you take off for the trick, which is not preferable to some park riders.
All said and done, this ski is great for hitting big jumps or rails. It does allow for a little bit of fun too but the Crowbar is definitely more suited to performance versus playfulness.
_
Mixed Conditions:
The inconsistent east coast weather meant that I skied the Crowbar in all conditions everything from slush, to sheets of ice, crud and everything in between. On icy days that were completely hardpack, this ski crushes with good edge hold even after hitting rails for a handful of days. On icy conditions, you can really feel the ski grip when you lay down turns, which is a positive factor when the park is frozen and you wanna spin some mountain laps. On the opposite spectrum, I also got to take a few spring slush laps, which still ripped around the park but lacking significant rocker in the tip, they made you work to push through the slush skiing the park. The plus side is the stiff flex does allow you to power through slush allowing you to maintain speed throughout the park. But at the same time the stiffness means a higher risk of catching a snow snake, making playful skiing in the slush more sketchy than many other park skis. On days where the slush freezes over and becomes crud, this ski powers through it with little effort. I didn't get to ski The Crowbar in much deep snow, but the skis were fairly fun to ride in a dusting of powder. The narrow 86mm underfoot obviously doesn't provide a ton of base to float on, but the stiffness allows you to power through some deeper snow. I wouldn't recommend this as an ideal ski to take out to Mt. Hood in the spring but still proved to be a great east coast ski for all conditions.
_
Durability:
So how durable is the Crowbar for the pro & intermediate skiers going hard in the park every day? Unfortunately not the most durable based on this pair. I am definitely hard on my skis but I got several minor edge cracks in the first three days of hitting rails and jumps. Within the five to seven day range, both of the outside edges on each ski had split from the base with the resulting issues of lack of edge control and water damage to the ski. Although the edges started to separate from the base exposing the core, the edges remained in the ski, just cracked and dented which allowed to still hit rails. The full sidewall construction made for a ton of damage to the topsheet too, including several minor coreshots through the topsheet, exposing some of the wood. This doesn't affect the skis performance, only the aesthetics of the ski and wasn't anything a little epoxy couldn't fix. My Crowbars didn't get to the point of unrideable when skiing them but the amount of damage that took place in the first 5-10 day range of riding isn't ideal. On bright side, stiffer skis are less likely to snap on you, so that's a plus point.
_
Conclusion:
The Majesty Crowbar has features that make it geared towards slopestyle-esque skiing. I'd describe this ski as powerful, responsive, and stable. For those hitting jumps every day at Copper or Keystone dialing in their slopestyle run, this is your cup of tea. The skis would also be solid for anyone who likes narrow, stiff skis with a super stable underfoot for hitting large features. It has a very traditional (mostly) cambered true twin shape that allows for ultimate control and explosive power. But I would also recommend this ski to anyone one who is trying to take their skiing to a new level. However, the durability issues are definitely a factor.
I personally really liked these skis due to my style of skiing fast and hitting big jumps but didn't enjoy them as much as some others when skiing smaller rail parks like Sugarbush's Park. I'm just overcoming my stiff, cambered ski phase, I would just like to see a little more rocker to soften up the tip for more versatility on rails. I would not recommend this ski to a beginner or low-level intermediate skier because the full camber & stiffness of the ski would present a challenge when trying to flex the ski.
If I were to have skied the Crowbar two years ago, I would of said these were a perfect daily driver for me, but now I like something with just a bit more rocker. The narrow waist of the ski isn't the most ideal for everyday variable conditions that the east coast will throw at you: hardpack ice one day and the seven inches of snow the next, but they handle the former exceptionally well. The power, grip, and stabilization really put this ski in the category with the Volkl Wall, Fischer Nightstick, and Atomic Punx. If you are willing to trade playfulness for performance, then the Crowbar is a good answer. I didn't have the best luck with durability but I really admired Majesty's ability to make a performance ski that looks great.
_
If you have any questions about these skis then feel free to hit me in the comments and I'll do my best to get back to you.
To see our reviews before anyone else, download the Newschoolers App: iPhone - Android
Find out what I'm reviewing in real time: @marky____markk
Next up from me: Liberty Helix 98