Cover Photo: Duncan Adams shot by Max Low
_
Ski: Faction Prodigy 4.0
Length skied: 181cm
Actual length (Tip-tail w/ straight tape): 179.0cm
Shape: 136-112-128mm
Measured weight (each ski): 2240g/2242g (stated weight: 2060g per ski @ 186cm)
Mount: -1.75cm & -2.25cm
Binding: Tyrolia Attack & CAST Pivot Freetour
Days skied: 25+
Reviewer height/weight: 5'8", 140 lbs.
Review location(s): Pebble Creek, Idaho; Grand Targhee, Wyoming
Conditions skied: Powder, Chopper Powder, Ice, Hardpack, etc.
_
If you follow Faction's riders, you have probably noticed that many of them are now riding this ski, including Duncan Adams, Daniel Hanka, John Collinson, and more. Clearly Faction believe it's a great shape because they have changed the shape of the Prodigy 1.0, 2.0, and 3.0, all of which we've spent time on this winter, to better match the shape of the 4.0 for the 18/19 season.
Note: When Twig sent me these skis, they already had holes for his slightly larger boot, for a Tyrolia Attack pattern. I used the same holes he had drilled, which put me at about -1.75cm from center. Most of the team riders have them mounted at -2cm. My CAST bindings arrived after skiing on these for about 20 days or so at -1.75cm from center. I then mounted the CAST at about -2.25 from center.
_
Shape/flex/construction:
Faction state that the Prodigy 4.0 has a flex of 8 on a scale of 10. I would agree with the stated flex pattern, as I did find these skis to be on the stiffer end of the spectrum. The Prodigy 4.0's core is composed of both poplar and ash. The Prodigy 4.0 has a stated weight of 2060g per ski in the 186 length. I was skiing the 181 length and weighed them at 2240g and 2242g per ski.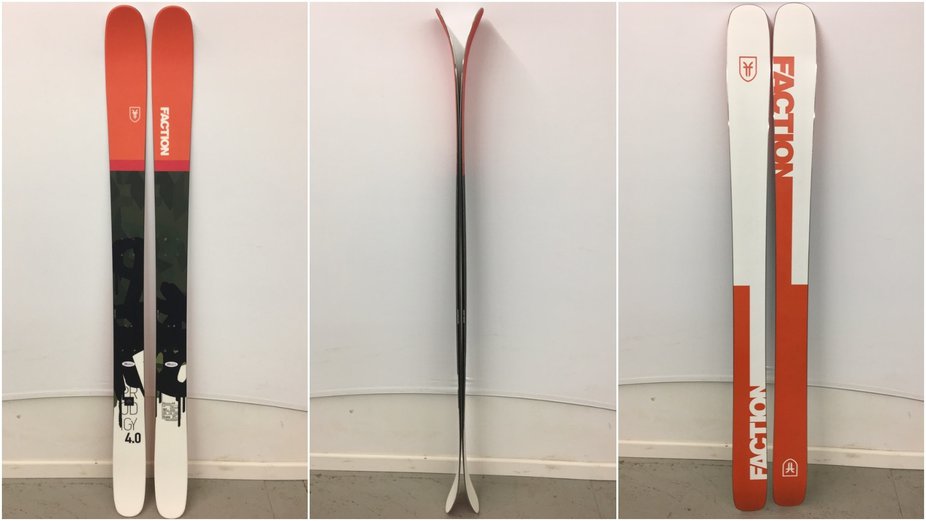 Tip rocker: 400mm, Camber: 3mm, Tail Rocker: 390mm @ 181cm.
There's a very smooth design to this ski in terms of the rocker profile and sidecut, meaning there are no abrupt angles in the rocker or side cut. Everything blends together really well, which I am almost sure contributes to its smooth on-snow feel as well. These skis sport semi-cap sandwich construction. The semi-cap helps to improve top sheet durability, while the classic sandwich construction helps with the performance of the ski.
The Prodigy 4.0 is composed of two radii (coined "dual-radius side cut" by Faction). There is a 22m turning radius on the front of the ski, and a 24m turning radius on the back of the ski.
_
On Snow:
Although the Prodigy 4.0 is the widest ski in the Prodigy line and is more marketed towards soft snow skiing, I found them to be quite versatile. No fat ski really excels on ice, but they were predictable, which is really all I can ask for and expect when it comes to this type of ski on ice. On groomers and firm snow, they held an edge quite well for their size. Even though the Prodigy 4.0 is 112mm underfoot, they felt more similar to my ON3P Kartel 106 on groomers than my ON3P Jeffrey 114. They were very quick edge to edge for the size. When skiing them, you do have to stay centered on the ski when ripping groomers though, which was something I had to get used to. I think being at -1.75 (and even at -2.25cm) from center instead of further back made them feel a tad bit squirrelly at times. If you stay centered and pay attention to the terrain in front of you, you should be able to handle everything when mounted at the ~ -2cm from center mount though. If you prefer to ski with a more forward stance, then mounting the ski more towards the recommended line will suit you better. That will clearly affect the pivoty, jibby nature of the ski though.
The shape of the ski makes them very easy and predictable when shutting down speed, and also makes them quite maneuverable in tighter spaces. The smaller turning radius up front combined with the smooth, surfy rocker and taper allows to ski to be very quick, not only edge to edge, but when turning, pivoting, smearing, and surfing in bumps, or any condition for that matter. While we are on the topic of the two radii, I should mention that the larger turning radius in the back of the ski allows you to go fast with stability.
_
Powder/Soft snow:
This is where the skis really shine in my opinion. The skis are lightweight and decently wide. Combine that with the ~40cm of rocker in the tip and tail, and the surfy design, and you have a ski that performs pretty well in the deep, soft snow. At 140 pounds, I don't need a huge ski, but I was never feeling like I needed more. The shape of the ski is dialed and was keeping me afloat, while also providing me with a great platform off of jumps and drops.
The Prodigy 4.0 is marketed as a powder ski, and it performs well as one. I can't say much more about skiing powder on this ski other than I am always left with a smile on my face. But I am pretty happy on any ski in the powder. Just know that these ski very well and are super fun in the powder.
The one time these felt a little unstable to me was in chopped up/tracked out powder. Maybe that's because they felt pretty light, and were mounted so centered compared to the recommended mount. At the very end of a powder day, where everything is skied out and packed down, I have to really make sure I am centered weight wise or the skis will deflect every now and then when I hit a patch of inconsistent snow, feeling "squirrelly". It is not a huge problem; you just have to pay attention. However, they definitely do not charge as hard or as naturally as the ON3P Jeffrey 114.
I didn't notice too much chatter in the ski at higher speeds and in chopped up snow, but they definitely do not have that super damp feel that you get from a burlier ski.
_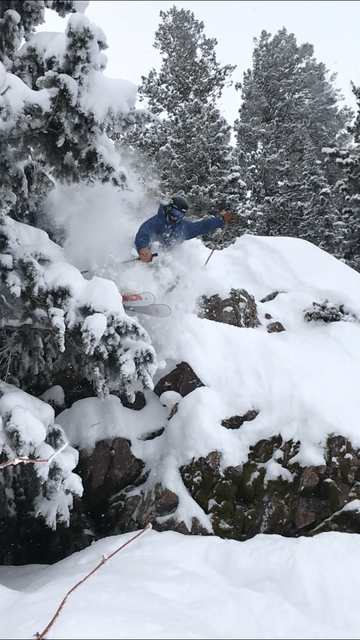 _
Park/jibbing: I'm not the best park skier, but I do enjoy skiing park. The Prodigy 4.0 is not marketed as a park ski, but I still took them into the park when I had the chance. While my measured weight is about 200g heavier than Factions stated weight, I still found these super light, especially coming off of a few pairs of ON3P, which are some of the burlier skis on the market. The light weight feels nice in the air (and makes the ski a great option for touring). On rails, I think 112mm underfoot is a bit too much for my liking, but they still slide well and they feel light, so it is possible to still toss these around on rails. The stiff flex provides a lot of pop, and the skis feel light in the air. Park jumps, or any jumps and airs for that matter are super fun on these skis. However, they don't have the beefiest construction in terms of either edges or bases, so they probably wouldn't make for the most durable park ski (see durability).
While the shape is still very playful, I'm not really flexing the ski itself all that much when buttering, rather, I'm using the rocker profile to butter. Keep in mind that I am only 140 pounds, which is on the lighter side. I have talked with people who are bigger than me who have ridden this ski that could flex it a bit more because they have more weight behind them. You can still butter and smear your way around, but you might have to rely more on the rocker until you really break them in.
_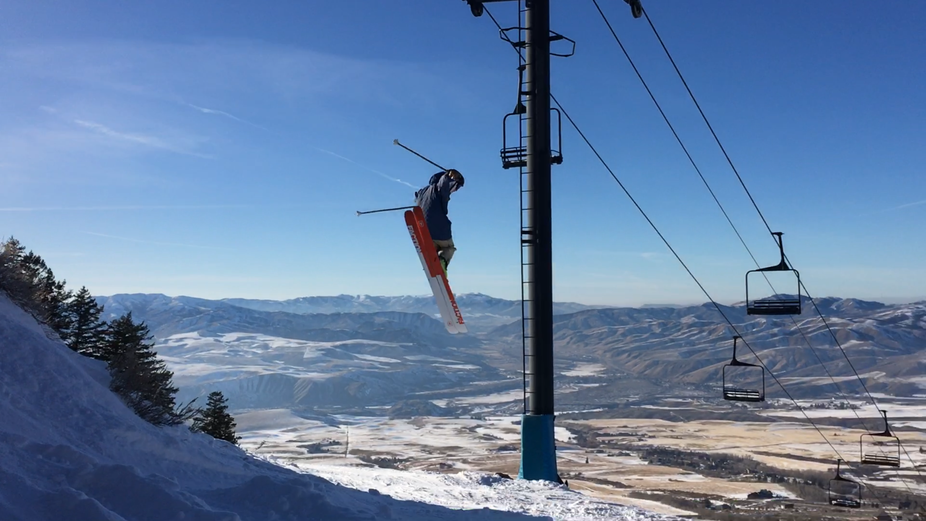 _
Durability: I put my gear through the wringer, and my home mountain is notoriously rocky (nicknamed "The Rock"). The bases of the skis are fast when taken care of, but very thin and soft. I found it was super easy to scratch the bases of these skis, which left me a bit disappointed and I would like to see a thicker, more durable base on the ski. I also think the thicker base would give the skis a bit more "damp" of a feel. I did not notice much chatter in the Prodigy 4.0 at all, but they could definitely be a bit more damp.
However, the edges are in almost perfect condition, which is shocking considering how my bases look. Base damage does not really negatively affect the performance of the ski in my opinion, it is the edges you have to worry about, but the edges stayed in great condition after striking many rocks and sliding a few rails, so I am impressed with the edge durability. Top sheet chipping in minimal to none, so I am impressed with that as well.
_
Bottom Line:
For me personally, I loved the sizing and the shape, but I would like to see the flex softened up a bit, at least for the smaller sizes. Overall the Faction Prodigy 4.0 is very fun, surfy feeling ski. I found it versatile enough to use as a daily driver, although I would want a separate ski for park. But I could easily take something like a Faction CT 2.0 and then the Prodigy 4.0 as my only two skis. This ski would be great for people who ski in places that receive decent amounts of snowfall and have good terrain.
Compared to other "powder designed" skis, the Prodigy 4.0 has much to offer. The 4.0s feel quite light both in hand and when on your feet. If you are looking for a ski to walk with, the 4.0 would be a great option compared to burlier powder skis on the market. The flex of the 4.0 is just a little too stiff for my personal likings, but it can be tough for some skiers to find a playful ski they like with a backbone. The playful shape and stiff flex of the 4.0 is great for skiers that have a playful approach to the mountain and high demands from their ski.
The Prodigy 4.0 lacks compared to other skis when it comes to that "damp" feel, durability, and mount variability. Burlier skis, such as ON3P, Moment, etc., have a "damper" feel, meaning that there is little vibration felt in the ski. The lighter, thinner profile of the Prodigy 4.0 allows the skier to feel more vibrations compared to the burlier skis on the market. The durability of the 4.0 lacks compared to those kind of skis as well. I also noted that mount variability lacks compared to some other skis. I know the recommended mounting point is another 4 or so centimeters back from where I had them mounted, but I did find them to be a bit squirrely at times. On skis like the 4FRNT YLE and ON3P Jeffrey, I had a greater degree of ability to move the bindings forward of recommended without affecting performance.
Shop For Faction Prodigy 4.0

Merchant

Sale Price

Retail Price