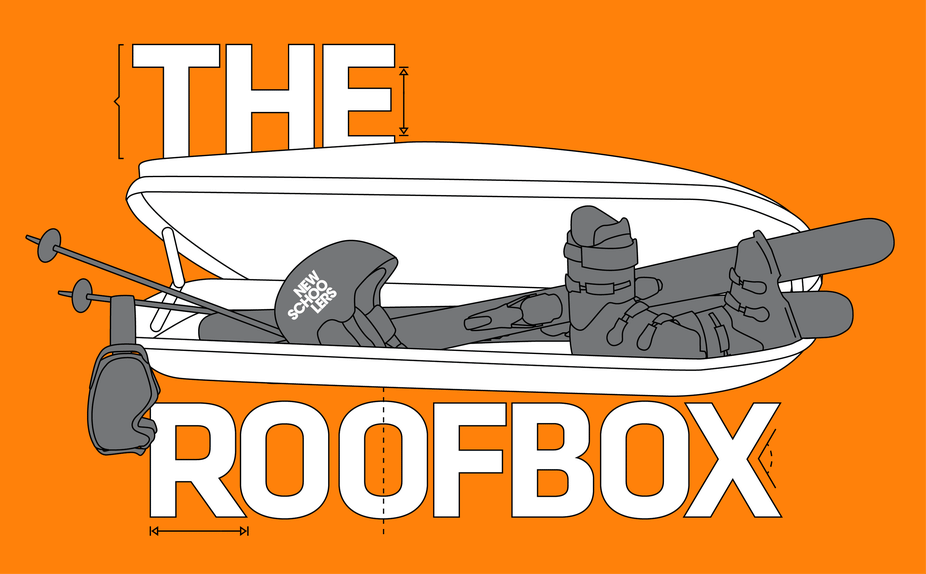 Ski: K2 Shreditor 102
Length skied: 177cm
Tip-Tail Length (Straight Tape): 177cm
Shape: 131-102-125
Measured weight: 2,004g & 2,008g
Mount: True Centre
Binding: Tyrolia Attack 13
Days skied: 12
Reviewer height/weight: 5'9, 140lbs
Review Location(s): Saas-Fee, Hemel Hempstead
Conditions skied: Slush, Ice, Groomers, Rails, Jumps, All mountain jibbing, Indoor
The first thing that you notice with these skis is the graphic. They divide opinion but what they do in every case is attract attention. I don't think a lift line passed without someone, often a euro racer, making a comment on 'ze retro skis'. Personally I love them, simple, clean and they pop in photos which is always nice when you're out trying to 'get the shot' for an article. Most people I ski with have been pretty stoked on them too.
The ski shape and profile is something out of the ordinary too. For an all mountain ski, these have A LOT of rockered length, though the rocker height is fairly normal. When you weight the ski, the nose and tail rocker stops just a few of inches in front of the binding. The taper is also extreme for a ski 'only' 102mm underfoot. The flex is average to solid underfoot and fairly soft in the tip and tail. Lots of rocker, early taper and soft noses and tails is pretty much the textbook recipe for a playful ski, so do they ski how you'd expect?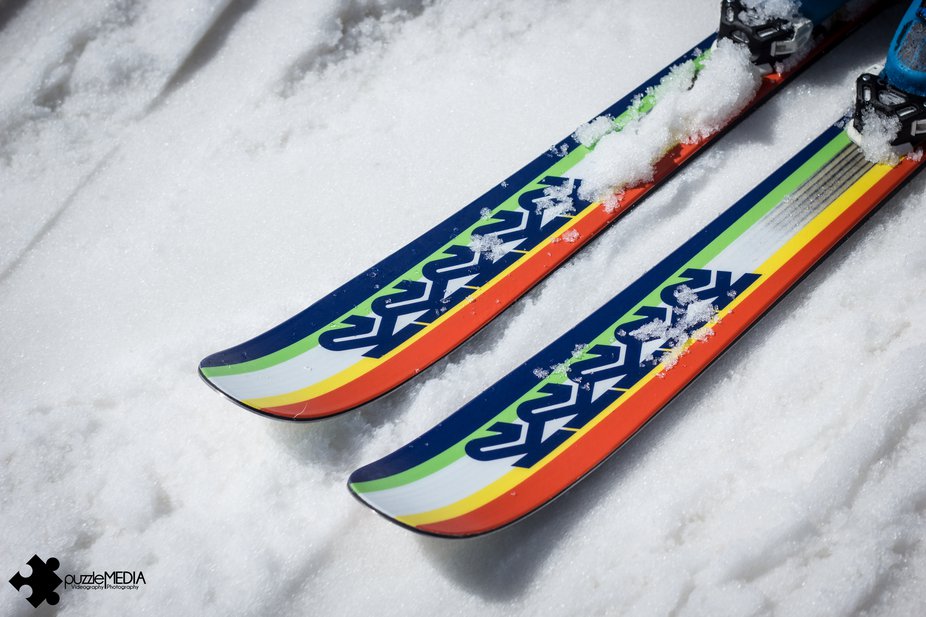 Topsheet + Ski profile. With the camber compressed the rocker length grows significantly
Well K2 skis tend to have a pretty damp, solid and heavy feel to them. And despite being no heavier than comparable skis, and so by no means a heavy ski, these do retain that classic K2 heavy feel to a degree [Editor's note: After 2 more weeks riding this no longer bothers me]. They are fairly damp for a jibby ski, absorb vibration pretty well and are predictable through the carve. They also ski well on the groomed terrain for such a heavily rockered ski, the short cambered section underfoot does provide some energy and grip through the turn, but they aren't explosive turn to turn or poppy like a stiffer/more cambered ski would be. The early taper ensures you get a reasonable and predictable amount of contact edge when turning and that adds up to making them enjoyable to carve around on. When you really open the taps the tip/tail do flap around a bit, but they are by no means as unstable as I thought they might be.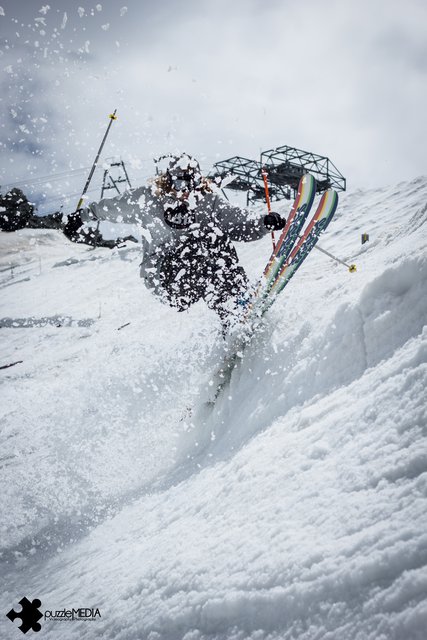 These skis really excel for general all mountain playing around
Through soft melted crud and even summer slushy 'powder' they do a great job, the shape knifes through any kind of soft mixed conditions and the flex absorbs condition changes without washing out or bucking you like a stiff ski would. I didn't get a chance to take these skis out on a deep day but you can tell from the shape, profile and the way they perform in deep slushy summer conditions that they would be excellent for a ski with just 102mm underfoot. They really don't like ice or harder cruddy snow though, the soft noses and tails get bounced around like crazy and they just refuse to hold an edge. Early mornings on the glacier were not fun territory on these things, but they are certainly capable of cruising around on all of the mountain through the vast majority of conditions when you aren't using them for their primary purpose, fun.
As I said earlier they are pretty much the textbook playful ski design. The soft tip and tail combined with more than generous rocker makes them super buttery. Literally anyone could butter them. But the camber provides some energy to pop back out of butters, and plenty of pop off lips/takeoffs. They are wide/stable on rails, making them easy for surface swaps, 50-50s and presses. They ski well switch and never hook up on takeoffs thanks to that rocker/ taper too. As you'd expect with the shape/profile they are also more than happy to slash turns and pivot. In short, they are extremely easy to ski for all manner of jibbing. If you're looking to learn to ski playfully, these are pretty much perfect.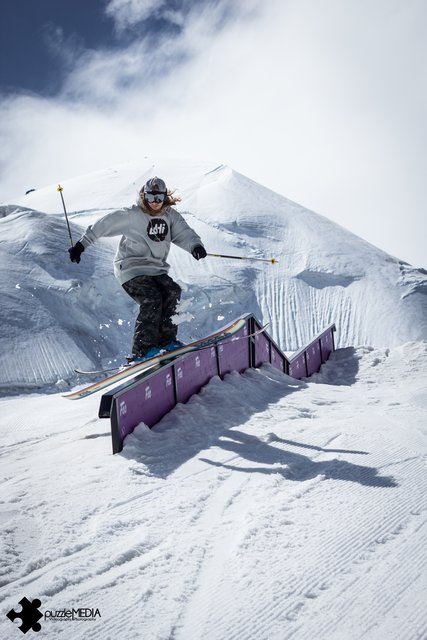 Mandatory rail shot
But for me there are a couple of shortcomings. Firstly, I find the nose and tail are too soft. With that much rocker, you simply don't need so much flex to play around or to float. Buttering at high speed, I found myself occasionally overpowering the skis, though not as much as I found with the Line Blends (12-13 Tiger+Snake graphic). Personally, I prefer a ski with a more consistent flex throughout the ski, be it a soft ski or a stiffer one. And once you're up on the tips/tails stalling out a butter, the taper, so great for avoiding catching an edge in deeper snow, means that you can't control the direction of travel nearly as well as a full sidecut ski. By comparison once I'm up there on my Faction Prodigys I can control where I'm going even while flexed because while most of my ski is up in the air, the contact edge area is still part of the sidecut. On the Shreditor at the extremes of flex, you're suddenly on the taper point/reverse sidecut section of the ski, so it's much harder to control. That really is nitpicking/personal preference detail but it made a difference to my own skiing. That said the durability is so superior to the Factions and the difference in performance is so small, I choose to ride the K2s.
In the air the skis feel balanced thanks to the fairly symmetrical shape, so they aren't hard to spin but at the same time not particularly light/easy either. As a true 177cm long ski, they are longer than 178cm skis from most other brands and thus most skis I normally ride. As a result I found them harder work to spin than other skis I've been on recently, which didn't inspire confidence for spinning on to rails or any faster spinning tricks. It's not a big issue, they didn't stop me doing tricks but they made them harder work. Indoors in particular they really felt a bit sluggish and a lot of ski to throw around, so bear that in mind when picking a ski/ picking a size. However, the durability I experienced during my 12 days skiing these was really exceptional. I have no edge cracks despite skiing rails all day for 12 days. I don't have the edge specs but these are clearly both wider and taller than a standard edge, though not the full 2.5x2.5 you'd ideally want on a pure jib ski. The twintech sidewall construction is possibly the most durable I've experienced, my skis look almost new, in stark contrast to your traditional sidewall ski after 12 days, I have no significant chipping.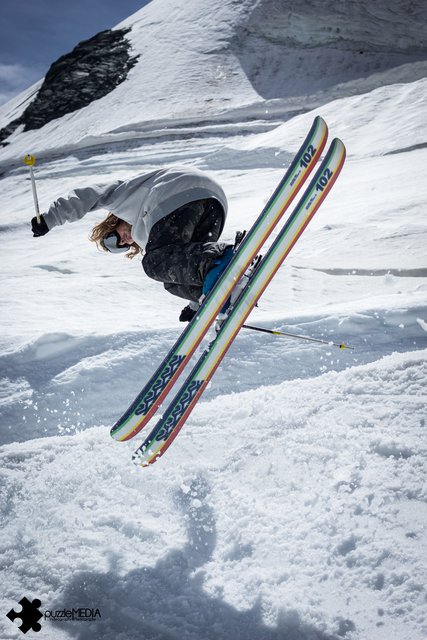 I learnt this nosebutter cork 3 thing on these off a cat track, fun times!
So despite my often very personal criticisms, I think these would be a great jack-of-all-trades ski for skiers who mostly enjoy softer conditions day to day. If you liked the much loved pre-2016 Sir Francis Bacon, these are probably the closest thing now available on the market, albeit with much more pronounced taper. They feel quite similar to ski and they are similar fun to ski day to day. They would also work well for someone looking for a soft fat park ski. And they seem durable enough to stand up to abuse in park like your average park ski, though perhaps the edges won't last as long as something really designed to take a thrashing. Most importantly though, they are definitely a ski I could chuck in my bag and feel comfortable knowing that whatever conditions I ended up arriving to, I'd have a ski to have fun in them.
Shop For k2 shreditor

Merchant

Sale Price

Retail Price
Shop For k2 shreditor

Merchant

Sale Price

Retail Price
For a sneak peak of what reviews and articles are coming up, follow my insta @ https://instagram.com/twig_spens/
Massive thanks to Puzzle Media for coming out and shooting this for me: https://www.facebook.com/puzzlemediavideography
Other products featured in this review:
Julbo Universe: http://www.newschoolers.com/reviews/4219/Universe
Dakine Belleville Pant: http://www.newschoolers.com/reviews/4218/Belleville-Pant
Tyrolia Attack 13: http://www.newschoolers.com/reviews/4216/Attack-13
Have you skied these skis, then add your review here!: http://www.newschoolers.com/reviews/3953/Shreditor-102