You may have read my articles/interviews on NS.
You might like them, you may not.
You may even know a bit about my story.
If not, here's a quick summary:
I used to teach skiing, windsurfing and sailing all over the world. I managed to fall 26ft through a roof, in London, in 2010.
When I woke up from a six-week-coma I couldn't walk, talk or anything really.
Since I was in that coma, my mum kept a diary, from day 1 to becoming a Freeski journalist, via relearning to tie my shoelaces, carrying the Olympic Torch and plenty of skiing. I wrote a couple of chapters and a few random pages myself.
It's probably an emotional story about a mother's worry when her son's clinging to life in a hospital bed. For me, it's always been a ski story.
Inspired and led by CR Johnson, you can read how skiing (and a few paramedics) pretty much saved my life.
The cover-photo is me and Phil Casabon, in the Kläppen park, the day after Kimbosessions in 2018. That was the top of MY mountain, read the book to find out how I got there
(after that photo was taken, I didn't hit anything, I just --pretty gingerly-- side-slipped to the bottom! Maybe there's a little way to go to the top.)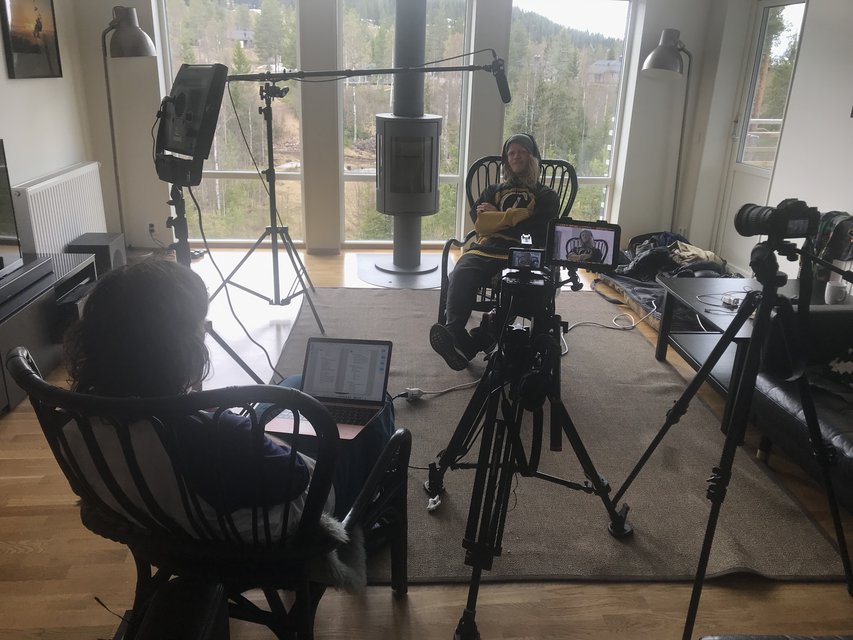 Interviewing Ski Boss on that trip to Sweden with Armada in 2019
If you're keen to read the book, it's available, hard copy, here (with free worldwide shipping):https://www.bookdepository.com
If you prefer digital it's available on Apple Books: https://books.apple.com/gb/book/the-road-to-the-top-of-the-mountain
It's also available in all the usual places for books/ebooks.