All photos: Josh Bishop
We caught B-Dog on a rest day, during the filming of his insane 2019 entry for Real Ski. Chilling out at home, in Shawinigan, Quebec, Phil talks about developing his pro model with Armada, his movie En Particulier and even his love for quinoa…
"I felt like racing was another form of school and I was already going to school"
Like many youngsters, Phil's early days on skis were in his local race club at Vallee Du Parc. He didn't really like having so much of his time controlled by other people:
"On the weekend I had a schedule and I already had one all week for school, so I was over it at some point."
When his brother bought The Game —an early Poorboyz ski movie— it was the last straw for his racing career:
"It really spoke to us. I had another friend that was living nearby, who also caught the movie, and we all just decided to make the switch gradually."
Phil has spoken about being grateful to the skiers "who built the road I'm walking on". So who were they?
"Let's say: Dave Crichton, Micheal Deschenaux, Tanner Hall, Yannick B, JP Auclair, Philou Poirier. Vinny Dorion, that's a good bunch right there…
"Me and Henrik met at the Orage European Open, in 2007. We saw each other skiing and gave each other props for the tricks we were doing and we created that bond because we have similar styles."
They started talking at the event, 12 years ago, and found out that they were influenced by a lot of the same skiers. It was a pretty instant connection:
"We were both in a foreign country and neither of us knew too many people so we connected through skiing, our similar upbringings, and personalities."
B-Dog (Phil) and E-Dollo (Henrik) started creating B&E content in 2009:
"Then Inspired brought us on board, they loved what we did. I've been on Armada for 15 years and then Henrik got on board because Ninthward didn't really work out. Eventually, it just made sense, Inspired and Armada had wanted to get Henrik on board for a while and it just fitted on his schedule."
"Inspired was a movement that really spoke to me and I've always been a fan of Iberg's work, Tanner as well."
"They asked Henrik and I to be part of the crew and to make videos. Their whole plot in skiing was to gather groups of freeskiers around the world to just represent Inspired, as a movement, just scream and shout the colours and create video content of skiing or whatever it would be. That really spoke to me, so I got on board, we did our thing for a while. Eventually it got the point where the person taking care of it (Iberg) had no longer time for it or couldn't afford to raise a family by just having this company, so he decided to move on. So Inspired was pushed to the side a bit and that's where it's been lately."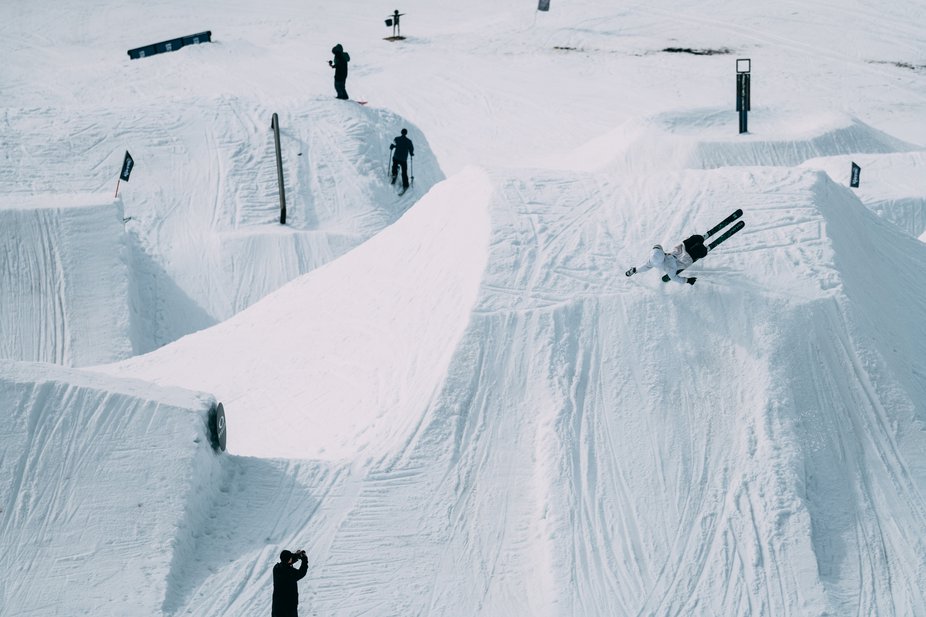 "With En Particulier Brady took the reins for it and created something that he thinks will speak to people and has a bit more substance than just the skiing aspect of it."
In late 2019, Phil dropped En Particulier, a 23-minute film that really shows the hard work that goes into edits and videos:
"I hadn't filmed much since Real Ski, I filmed at Kimbo Sessions and that was basically it. So that was the content we were dealing with, we just saw room to speak to people in a different way than just straight ski porn. We went for it and the result is probably my favorite ski movie I've been a part of, because it shows a lot of humility, personality, dedication and just shows a bit more of what it involves. I'm really happy with the result and most of the credit goes to Brady for sure."
Some of the crashes in En Particulier look pretty brutal. I ask if he has to go through that for every video?
"This one was a bit more intense because I was filming for Real Ski, so I put myself in a bit more of an intense zone. There's always very hard battles, there's nothing easy in anything that's worthwhile. It takes a lot of time to make a ski movie.
"Moving forward I'd like to do more projects in that direction, that have a bit more human direction to it. Right now I'm filming for Real Ski, so that's really intense and taking up a lot of my mind space. I'm trying to focus on that and just one thing at a time. I'm just trying to create with people that have a bit more of a similar mindset, share good vibrations, just capture it and try to share it with the people. All in real time, without faking it, no after-interviews, just real sh*t I'm just trying to give people what it is as much as possible."
"I think skiing is very diverse, there's all kind of people obviously and it takes variety to make the left and the right shine."
With social media, there's more skiing content than ever. Phil doesn't think that one style or trend will ever dominate:
"I don't think skiing will ever go in one specific direction, it's going in multiple ways. I'm just trying to fill in the void I feel I am a part of and let other people do their thing. I'll always do what I feel that I do best and what feels natural."
"I enjoy cooking food, growing food, picking mushrooms, walking, skateboarding, making fires, camping with friends and just things that are related to nature."
Even the best skiers need other hobbies. Phil enjoys spending time around home in Quebec. While he does enjoy traveling, in his opinion, you can't really beat home:
"It's been a pretty obvious realization that it's not where you are at, it's who you are and what you make of it. I'm very comfy where I am so I don't have to be in New Zealand or Japan to feel special."
As a chef, he says there's so much to choose from but if he's pushed for a signature dish…
"My best dish is probably a curry of royal quinoa, a bunch of vegetables in it, yellow curry, coconut milk. That style of food is my favorite, sort of Thai-ish is really up my alley."
"I'm really hyped that Armada produced it. It was experimental last year and it worked really well for the Real Ski."
We finish our chat by talking about the progressions of his signature ski, the BDOG. Next year Armada will produce an edgeless version. It may be Phil's signature ski, but he's not the only one enjoying it:
"This year we're basically all on it. Emile, Noah and myself. I think Henrik got a pair as well. I think it's a good price point for a ski. Just a different approach to skiing with that one."
Check out Phil defending his title on them in his 2019 X Games Real Ski entry:
https://www.newschoolers.com/videos/watch/925771/Phil-Casabon--Real-Ski-2019---World-of-X-Games
_
B-Dog's favorite:
Trip: If I had to travel, I'd say Japan is my favorite place to go.
Trick: Switch 360. It feels really natural and I like going backwards... also it's less painful for the knees!
Track: The Alchemist feat. Earl Sweatshirt- E Coli