So you just got a new pair of park skis and you're looking for a new pair of bindings to go with it? Or your old bindings are beat up and after thinking about changing them for a couple seasons, now's finally the time? To help you make your choice, here's a list of our favorite park bindings. This list is in no particular order but we think they're the best you're going to find. In fact, they're the only alpine bindings we'd trust for park skiing. Which suits you best will depend on your requirements.
_
Look Pivot 15 / 18 GW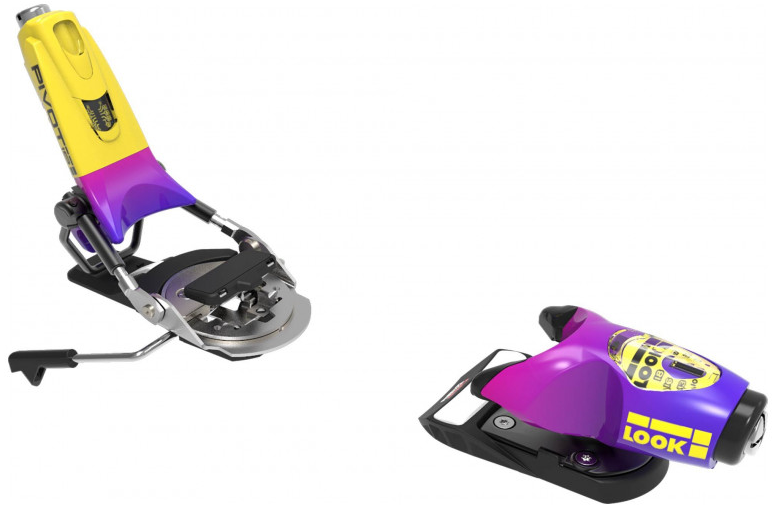 DIN: 6-15 / 8-18
Weight: 1245g / binding
Elasticity – Toe: 40 mm
Elasticity – Heel: 28 mm
Stack Height: 19 mm
Price: $379.95 / $399.95
*Also available: Pivot 14 GW
New this year, or at least back from the dead, is the Look Pivot 15. It's the exact same binding as the Pivot 18, but with a lower DIN range. The main difference between the Pivot 14 and the 15 is the toe piece. While the 14 has the FULL ACTION toe piece, which is made of plastic, the 15 has the all-metal RACE toe piece, that offers maximum power, precision, and durability.
"I've had a pair of Pivot 18s in the past, and my main complaint would be that the DIN range was too high for me, starting at 8 while I was skiing at a 10 DIN. Ideally you want to be around the middle of the DIN range, that's why the Pivot 15 would have been a better option. Plus I prefer the aluminium toe piece, which is the same as the 18s, compared to the plastic one on the 14s. It's more solid and can be a good option if you're rough with your equipment." - @fredyferl
Pros:
- Probably the most trusted binding by pros on the market.
- All metal construction is super solid.
- Incredible elasticity in the heel.
Cons:
- The heaviest binding on this list.
- Brakes are expensive to replace and have a history of exploding, especially on switch landing ejects.
- Fiddly to get on and off but that's far more of an issue in powder.
- Minimal boot sole length adjustment.
- 9/10 penetration factor.
_
Marker Jester 18 Pro ID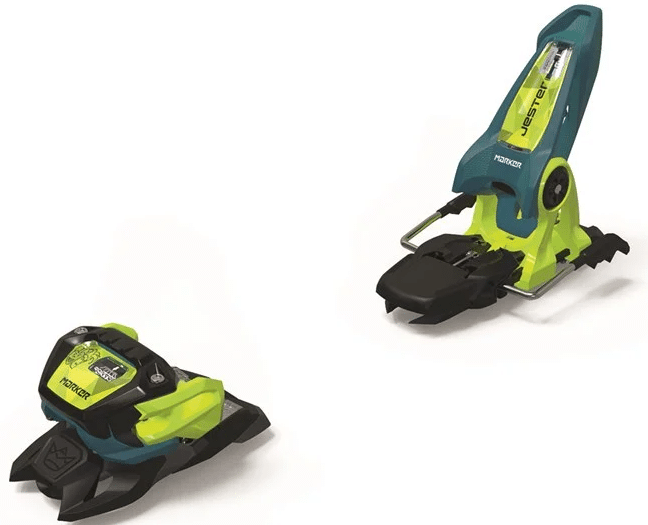 DIN: 8-18
Weight: 1085g / binding
Elasticity – Toe: 30 mm
Elasticity – Heel: 16 mm
Stack Height: 24mm
Price: $429.99
*Also available: Griffon 13 ID and Jester 16 ID
The Griffon, Jester, and Jester Pro are all updated for 2020-21. Both the heel and toe are upgraded and the bindings come in a touch lighter than previously. The anti-ice rail on the toe works really well for getting snow off your boots, though that's more relevant for the Duke PTs than here.
"While I've only skied them for a couple of days, I really like the good snap you get when you click in. It feels more solid than any other binding I've tried. I also haven't had any issues with the AFD, as opposed to the Attack where my boot would wiggle more even when adjusted properly." - @fredyferl
Pros:
- Improved design, durable build.
- Consistent release.
- Sliding AFD.
- Very solid 'click-in' feel.
Cons:
- 10/10 penetration factor.
- Comparatively high stack height.
- Less easy on and off than Attack/Sth.
- Expensive in the 18-DIN
_
Tyrolia Attack² 16 GW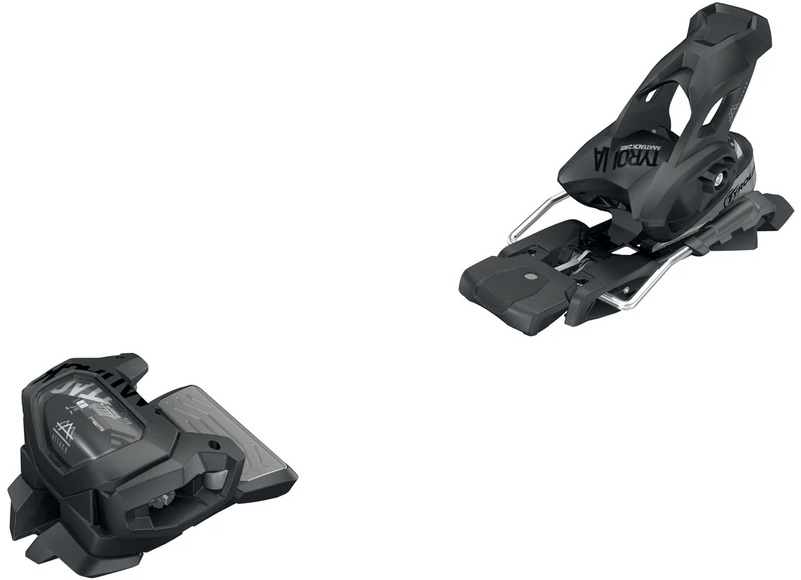 DIN: 5-16
Weight: 1120g / binding
Elasticity – Toe: 30 mm
Elasticity – Heel: 16 mm
Stack Height: 17mm
Price: $299.95
*Also available: Attack² 13 GW and Attack² 18 X GW
"As the saying goes, opinions on bindings are like arseholes, everyone has one. And everyone has their reasons too, but my favorites are the Attack series. I prefer them to other options because they are so simple, solid and light... oh and the heel pieces don't do as much posterior damage as Jesters/Pivots if you land really backseat." - @Twig
Pros:
- The simplest binding on the list.
- The lightest binding on the list.
- Usually can be found the cheapest.
- Easy click-in, consistent release.
Cons:
- Average elasticity.
- Brake screws directly into the ski, making replacement a pain.
- Tabbed forward pressure adjustment can leave you with sub-optimal settings depending on mounting.
- Annoying to mount.
_
Atomic / Salomon STH2 WTR 16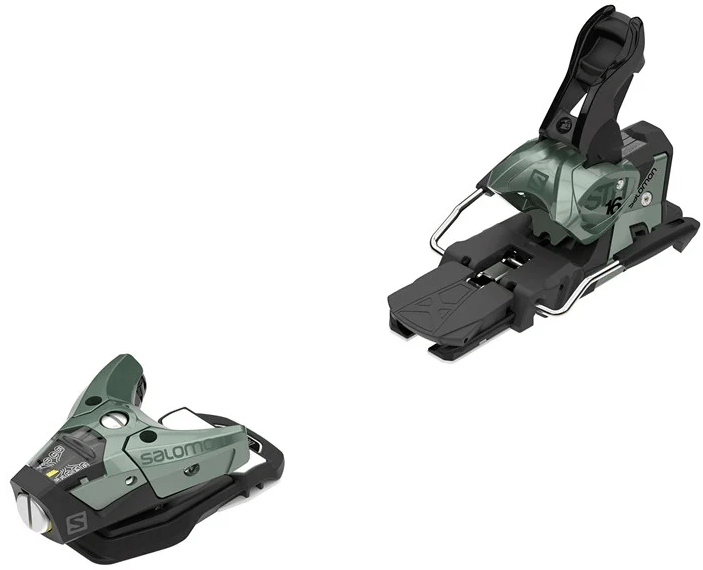 DIN: 7-16
Weight: 1220g / binding
Elasticity – Toe: 52 mm
Elasticity – Heel: 16 mm
Stack Height: 24.5mm
Price: $319.95
*Also available: STH2 WTR 13
With durability improved in terms of both the brakes and the toe wings over the original STH (nay Driver), is still the best park binding from Amer sports. They sport by far the highest toe elasticity on this list and they've been a favorite of many a park rider for years.
"The downside is that they are a fair bit heavier than the Attacks and have a higher stack height. Those can be good things for many people, some only trust metal bindings, but for me, they've led me to the Attack camp for day to day usability. The STH is a slightly more beefy alternative with extra toe elasticity." - @Twig
Pros:
- Solid construction with plenty of metal.
- Insane toe elasticity.
- Easiest to step in to in deep snow.
Cons:
- Manually adjusted toe wings require regular checks.
- Release is sensitive to snow buildup and binding setup.
- On the heavy end of the scale.