If you're a long time Line fan, you'll probably think these skis look familiar...well you're right! Here's the story of the Original Line Anthem.
It was the fall of 2006, Line's website was launching, ski magazines were out and J-Lev & co. were about to ship shops what they were calling 'the most progressive park ski of the time.' It was a new model called the Anthem with a 93mm waist, Butter Zones, 100% symmetric, center mounted jib ski designed to slay the park. The graphics were as unique as its design. It was a collage of rock and roll musicians with the best base graphics ever conceived, zebra stripes. It was all hand drawn by Line's in-house artist of the time, Tim Clayton. Skiing and rock and roll! What's not to like? Even Maxim magazine called Line to feature the ski in their gear section. It was then that the Anthem's luck turned for the worst. Not long after Maxim hit the stands Line received a call from someone accusing them of using their image in the graphics. Being the small brand Line is, they weren't about to go to court over it, so as many of you know, the ski never made it to the market.
It was a sad day for the Anthem, and even sadder for all of the skiers like us, envisioning what was possible with those dream skis on our feet. Then this summer Line committed to bringing these living legends of progression back to life. They have now been graphically re-incarnated in the form of Octoland and Sprials by Eric Pollard. These skis will now live forever becoming over time one of the most talked about parts of Line's Anthem history.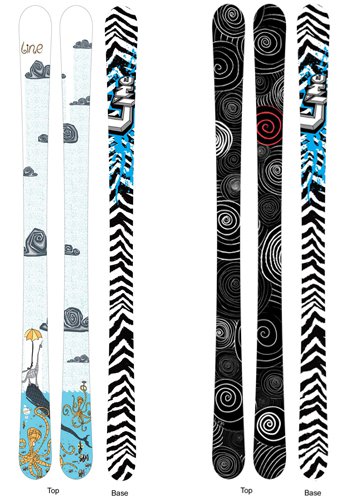 Octoland and Sprials, by Eric Pollard
Eric Pollard is one of the few skiers respected world-wide not only for his forward thinking and creative skiing style, but also for his artwork. So when Line needed unique graphics for a limited edition release of one of their most popular freestyle skis, it was obvious that the project needed to be given to Pollard.
Eric has created two new graphic versions of the original Anthem. The construction is the same, but the graphics are as one-of-a-kind as Pollard's skiing. If you're looking for skis that no one else has, that will set you apart from the rest, then this is the model you've been waiting for. Remember there are very limited quantities. With less than 150 pair, per size (161, 171, 178), per model world wide, they likely won't last long. Check out this vid from Eric on how he came up with the designs...
 
...for more info on the skis and how to score yourself a pair, head on over to http://www.lineskis.com/pollard