words by Cody Lyngephotos by Chris O'ConnellWell we're back from one of the most productive early season photo shoots in Orage history. These trips are always fairly difficult and can take some serious planning. Although the snow conditions in Colorado left a little to be desired we headed south from the comfortable confines of Montreal, where it's been puking to say the least, to blue bird skies and warm conditions in Denver.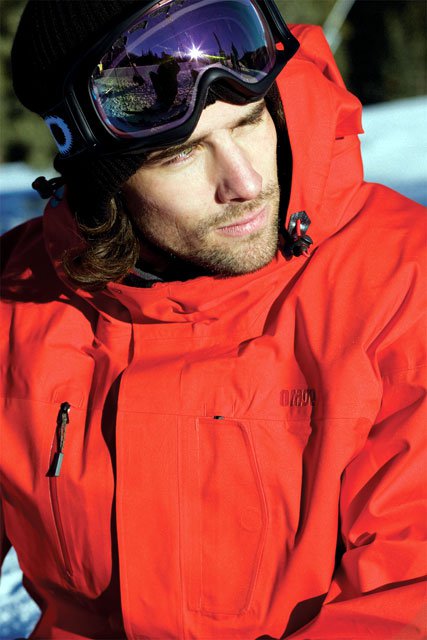 JP AuclairOn hand was legendary freeski pioneer JP Auclair, the young and talented Michelle Parker, big air master and all-around good guy TJ Schiller, along with up-and-comers Phil Casabon, pipe slayer Rosalind Groenewoud and the steezy Banks Gilberti. Also gracing our presence for a few days was Craig Coker in fine form.Fortunately for us, the conditions ended up cooling off and we received about six inches of fresh snow our first night there making it look a little more like winter. Our first day on hill took us to Keystone resort for some early season jibbing. Philly Casabon hit a nice little c-box, JP Auclair stomped the crap out a little drainage pipe with his legendary hand plants and Banks Gilberti killed a wall ride with a nice little hand drag. TJ in fine form also hand dragged a little up box and our first day was a wrap.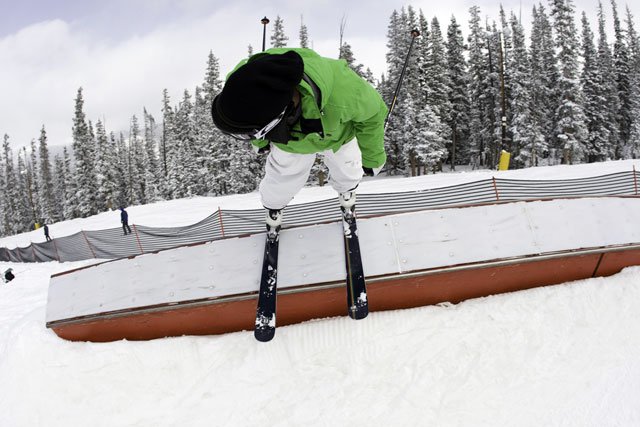 Phil Casabon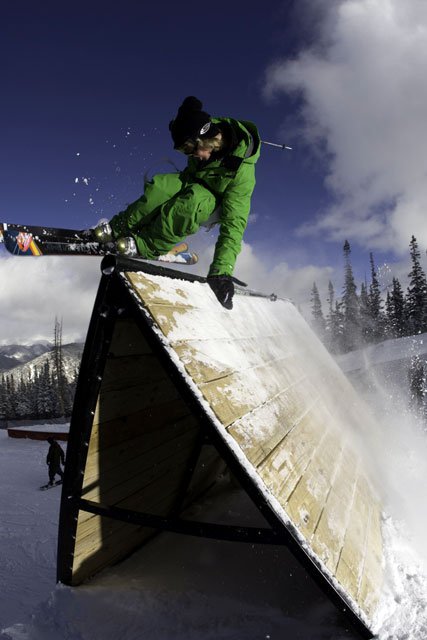 Banks GilbertiNow it's not an easy project to manage a group of eight to ten different personality types over a 12-day trip but the Orage team are serious and handled the pressure of living at 12,000 feet like true pros. With Michelle Parker on hand making epic dining decisions on several of the days only minor stomachaches resulted. Hint...if Michelle thinks it's good, ask her again. Anyway, with our first big meal done at the local tavern Eric's we headed to the City Market, or rather the Shitty Market, where the crew collectively cleaned out the entire organic foods area. I always thought skiers liked to eat crap but apparently not. Thankfully for me the organic foods section didn't blow the budget. Now before I go any further I should stop for a second a give you a little taste of our accommodations...sure they were nice, sure they were clean, but truthfully, before booking accommodations online, make sure that it is (a) near the town itself (b) has no major gas leaks (c) has a kitchen sink that works (d) can retain heat overnight (e) has multiple rooms, and finally (c) isn't at 12,000 feet (the highest development in the US!).All of this aside, us sea level-living individuals gracefully adjusted to the elements and carried on as one must do in these situations. I think there was only one case of altitude sickness during our stay and that's debatable considering the previous night's shenanigans.Day two again took us to Keystone Resort where we played around on what was built and pretended to play around on what wasn't. Either way it was all good times and the trip was now well under way. After day two notorious photographer Chris O'Connell and myself checked out the shot list, compared notes, had a few laughs and set the agenda for the next day. It was then that Philly Casabon began to speak. Here I thought I had a quiet French Canadian on the program and to my surprise Philly turned out to be one of the funniest, ballsiest skiers I've hung with. Now he's been with Orage for a while but it hasn't been until now that he's really shone. Fresh out of high school and ready to make his mark on skiing Philly headed with us to Colorado for his premier team trip. Remind me next time I see him to kick his ass because all I have been able to hear in my head since I've returned is "...Cause we poppin champagne like we won the championship game..." Thanks Phil! Anyway, day two was in the bag so off to bed we went.Day three the team decided we'd head to Breckenridge and try our hand at some of the rails there. The rails were nothing too exciting but an impressive display of jibbing began to take shape before our very eyes as PK Hunder, Andreas Hatveit, Tim Russell and a host of others along with the Orage team pounded the shit out a little flat down box. From there we headed to a separate park and slayed some of the other rails. None were off the hook but not bad for early season shredding.Day four took us over to Copper Mountain where the resort staff treated us like kings (a big shout out to the legendary Lauren of Copper). Thankfully for us, talented pipe shaper Frank Wells was leaving his mark and we had a freshly cut pipe to enjoy (the first in North America at the time). We ended up spending the whole day there shooting boosty 18' - 20' airs and really just enjoying the young and not-so-young talented skiers of today. With pros from all over sessioning the pipe it was a sight to be seen. Amongst the Orage team one could find any number of pros on hill that day. From T-Hall and his friend and filmer Eric Iberg (see Idea if you haven't already dumb-dumb) to Sean Fields and Jess Cumming. JP was boosting like the Dumont and TJ through toe bang was boosting 900 mutes like a champ!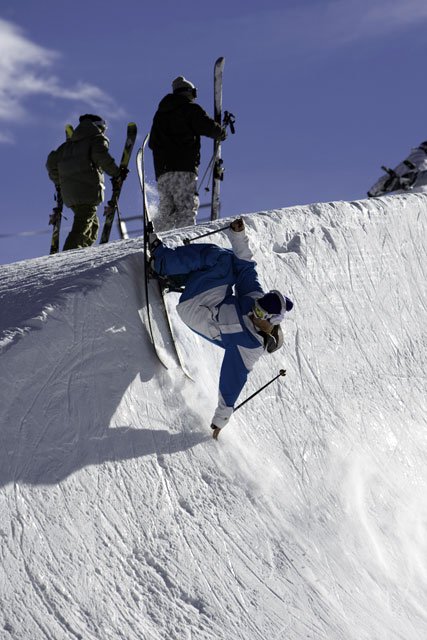 TJ Schiller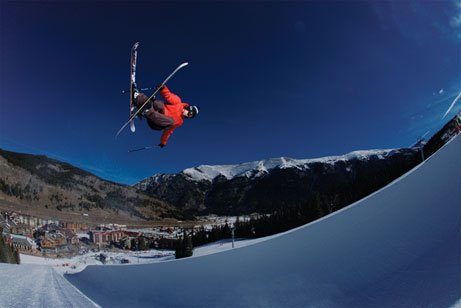 JP AuclairDay five brought us another dusting of snow. Some of us stayed at the house to shoot product while others headed off into the middle of nowhere to a little town called Leadville...or rather Deadville. That's right kids, Leadville was the largest producer of beryllium during the second world war. Beryllium is what helps to harden metal...Fact!In and amongst all of this there were many laughs, good eats to be had and a whole lot of Internet...the slowest I've worked on since about 1996. Regardless...we made it happen. For more photos, head on over to http://www.orage.com/