It's fair to say that 2021 probably wasn't that productive for most of us. That definitely can't be said for Kiwi teenager Nico Porteous. His X Games superpipe gold in January was followed by halfpipe Gold at the World Championships, making him many people's eyes, the favorite to take home Gold in Beijing.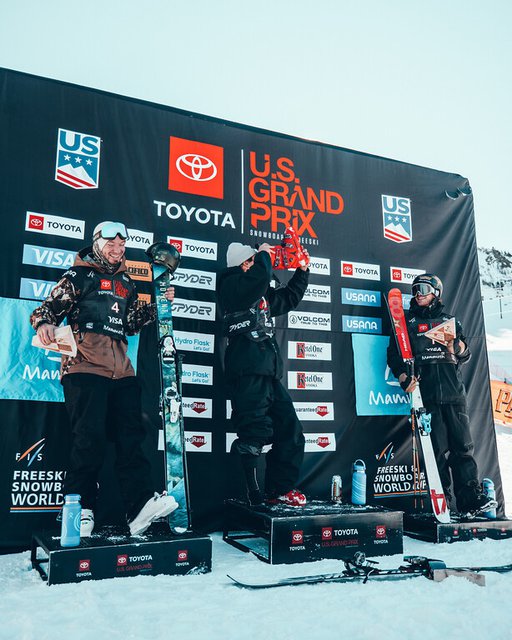 Nico doing his customary 'Shoey' celebration, but will we see it in Beijing?
I first caught up with Nico in Crans Montana, at Audi Nines last April. Just to show what a weird year it was, with restrictions changing by the day and by the country, we had this chat over the phone, even though we were together on the mountain about half an hour later.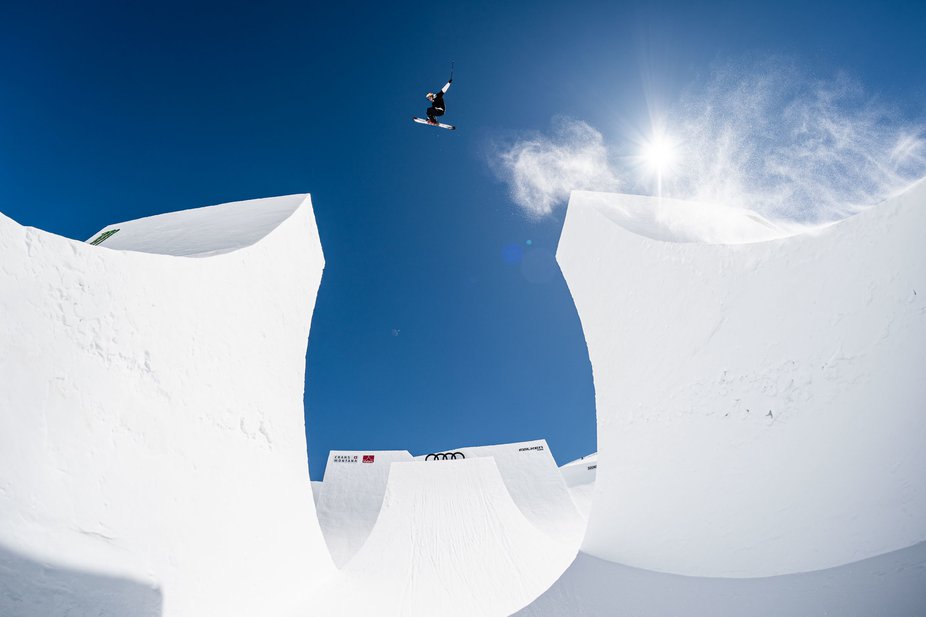 "A breath of fresh air" at Audi Nines 2021 credit: Klaus Polzer
Looking back at his season, we started with the Winter X Games which was, not only, his first event of the season but, due to the pandemic, his first event in almost a year.
"I was really excited to get back in the start gate and to start competing again. We had an awesome winter down south in New Zealand in 2020. The set-up that Cardrona built was insane. We had sick snow, good weather and I reckon it was one of the best seasons yet. That just led me with a really good mindset into the Northern hemisphere winter and we had a couple of weeks of training in Copper before X Games."
The pipe was really good, and a more relaxed Nico was feeling good too.
"I just kind of switched my mindset up a little bit. After the Olympics in 2018, I kind of became so fixated on results for a while, now I don't really care about the results. I know it sounds really cliché, but now I just want to go out and give it my all. Leave nothing on the table and try to be the best skier that I can be, rather than just worry about what the judges will score me. I feel like that mindset and the amazing winter in NZ, just set me up feeling super good."
He left Aspen clutching a new gold medal and his focus could now switch to the World Championships, but a different sport hindered his preparation for that.
"Two days after X Games, I was skateboarding in an underground carpark, because I hadn't skated in like a month and I was just fiending to skate, I wanted to go so bad. I was skating in the carpark, I did a tre flip, something I do quite a lot. I rolled my foot and you can actually hear my bone break on the video."
"I ended up breaking my 5th metatarsal. The pinkie toe, all the way down by the arch.
So, in the build-up to World Champs, I only left the house twice in three and a half weeks. I was just at home. I'd do some sort of rehab every day, just to make sure that I was staying strong."
Wake up, have a coffee, have some breakfast, do a gym session, do some admin and then go back to sleep. That was his routine for three-and-a-half weeks. With only two days before World Champs, he actually got back on snow.
"It was still a bit sore, but I managed to push through and keep skiing.
I was definitely a bit rusty, but I guess I was lucky that every single halfpipe event last year was on the same halfpipe. I just felt comfortable and throughout all the rehab, I just kept thinking about skiing and tricks. Because I was surrounded by skiing, living in the team house, in Aspen, I was watching clips of them and watching ski movies. In the end, it all came together."
Having taken gold medals at both the X-Games and the World Championships, he'd be forgiven for starting to wonder if he could improve on the Olympic Bronze he won in 2018.
"To be honest, I haven't thought as far as the Olympics. A couple of people asked me if I'd upgrade my Olympic Bronze to Gold, but I think with that mindset change I just want to go out, ski and do my best. I haven't really thought about results, I've thought about what I want to do and what I want to ski. Obviously, an Olympic Gold would be amazing, but I just want to go out, do my best, and see what happens.'
Other people might try and put pressure on me after those golds, but I'll try my best not to let it affect me."
Nico "stuck with what was working" and put the same run down for both of his titles last winter. The highlight of those runs was the back-to-back 1620s. While the 16s were 'crazy' he thinks eventually the 16s will become a standard pipe trick, like the 12. It might even happen by Beijing, where triples might not be impossible either:
"It's hard to say though, I'm not sure I would really like it to go down like that. My highlight of last winter was my World Champs run, that's the best I've ever skied in my life. I know the 16s are spin to win and are a lot of spinning and flipping, but I would rather push the sport in the direction of 16s and all the creative flips. Like Noah doing the Bone Roll and Pete Verheyde doing that forwards, inwards misty. All those different directions and creative things to do in a halfpipe, should come before triples."
"I just wanted to make my own mark and push skiing in a certain direction. I just kind of wanted to stay away from triples to be honest!"
Last winter's contests were pretty unique, for a number of reasons and affected every skier differently. The Kiwi was pretty outspoken when we touched on one of the more obvious adaptations.
"No crowds is sick. I love it. Some people get really pumped up by the crowd and really bounce off the energy. For me, no crowds was sick because it just felt like another training run and I could just go ski. I didn't have to worry about who was watching or if the crowd was going to scream. It was just me and a halfpipe. It was such a cool feeling, standing at the top of X Games and nobody being there, just silence, it was super cool. It was a pretty unique experience."
Credit: Mateus Bocian
X Games competitors were getting tested every second day and had to get tested before they went skiing. There was a bubble, but, if anyone tested positive for COVID, then they couldn't do the next event.
"Everyone was super cruisy and super chill, but trying to stay low and not get COVID."
After his eventful, but ultimately successful season, Audi Nines was a chance for the teenager to unwind.
"This event always blows my mind, it's such a highlight of the season, but this year it's such a nice way to round up the season. It's so nice to just get the whole gang together, see all your friends, just shred and hang out."
There were still restrictions, but the nearby, Alaïa Bay, wave pool offered a good kind of unique experience!
"With the surfing; getting barrelled and looking at the Swiss Alps, that's the craziest feeling. I've had to go a bit chill on the skateboarding, because of the foot, but the atmosphere and vibe was such a breath of fresh air after such a weird year-and-a-half. You can almost see the light at the end of the tunnel. It gave me hope."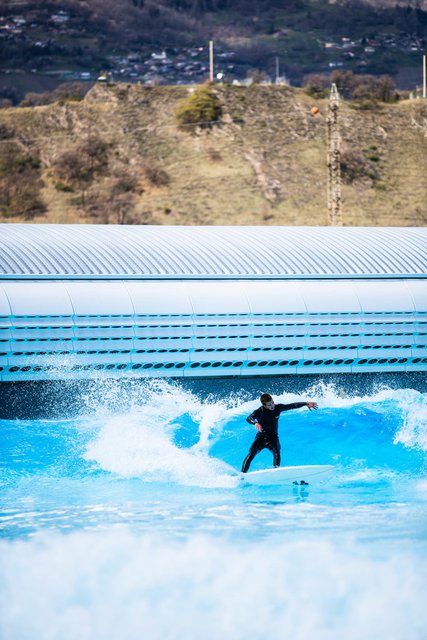 Surfing in the middle of the Swiss Alps credit:Florian Breitenberger
The line-up of skiers at Nines featured a fair few legends of Freeskiing. Despite his trophy cabinet, like any teenager would be, Nico is still getting used to hanging out with some of his peers.
"It's still such a shock. It's not that long ago that I was just watching these guys in videos and they were my idols. They still are, but now I get to shred with them. That is still so, so mind-blowing for me. I met Woodsy when I was nine, so I've always looked up to him.
There are two people at this event, skiing with Dollo is insane, my heart gets pumping when I'm even just talking to him! He's such an icon and he's a legend of freeskiing.
Candide turned up yesterday and that was just like: 'holy sh*t! Candide's here!'
It's kind of all everyone talks about, like 'damn, is Candide here?!'
It's so crazy that five years ago I only saw these guys on videos on Newschoolers!
But while winter 2020 in New Zealand lined up perfectly to hit the northern hemisphere at full speed. This last NZ winter was a "flop" with covid shutting them down for a big chunk through the middle of the season.
Always positive, Nico was really looking forward to getting overseas, as well as in the start gate.
"It's a massive year so I'm just excited to get it started."
Last week saw him win in Mammoth despite the less than ideal prep, crushing a 'shoey' from his ski boot on the podium for good measure. The win will provide a great boost before some big contests on the horizon and of course the big show in Beijing. Typically relaxed, the Kiwi champ looks forward with a simple view: "Life is already a trip so let's just keep the ball rolling."
_
Nico's favourite:
Trick: I'd have to say a straight air in the halfpipe. It's not a trick, but that moment where there's zero gravity and you tweak a mute or something. For me, big straight airs are so dope. So fun!
Trip: Obviously spring at home, in Cardrona is so fun, but I think I've got to say Chad's gap. It would be gnarly, but that's a bucket list thing for me. If it was perfectly built and all I had to do was show up.
Track: I'm a big fan of house and techno. I make my own music and I DJ quite a lot at home, but this year I've got to say "Rage" by Blistar. It's my drop song for every event, it's a surf punk song, by a band of surfers. No lyrics, just really fast. It gets me super fired up.