Words & Photos by Rocky Maloney
The inaugural North Face Park & Pipe Open was blessed with beautiful weather all weekend long, and the third and final day of competition was no different. Waking up to beautiful blue skies and a freshly groomed halfpipe makes for a great day. Today's proceedings kicked off with 24 of the top men's halfpipe skiers in the world who would later be cut down to 16 for the final round.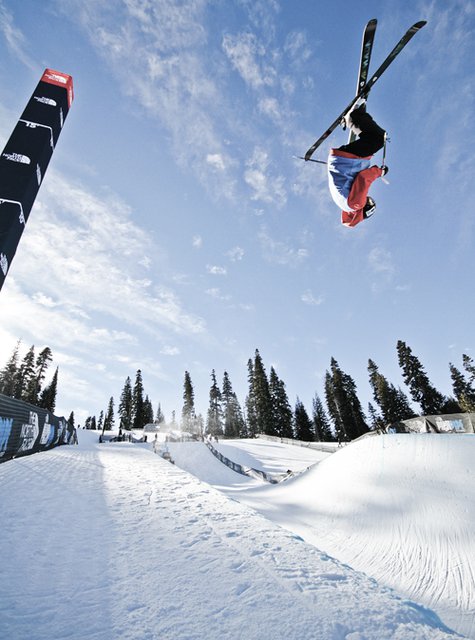 John Leonard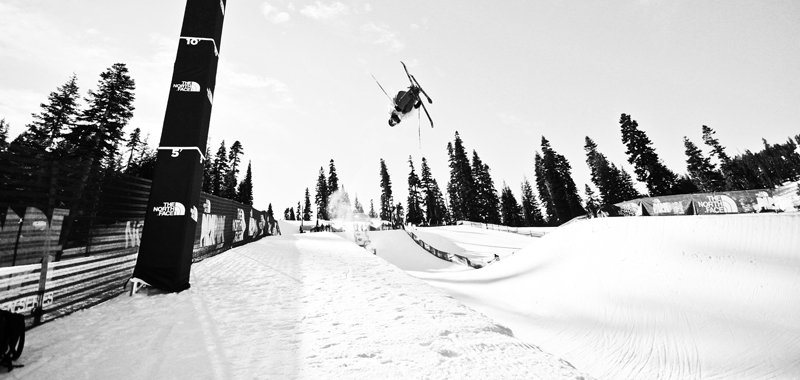 Kyle Smanie
Brian Kish was third on the start list and fell on his first run but was sure to make up for it on his second. He started things off with a big left 540 into a right 720, and then keeping his consistency carried speed into his third hit and landed a switch 540, into an alley-oop 7 and a big switch down the pipe cork 900, earning himself 5th place with an 84.00 and a spot in the finals.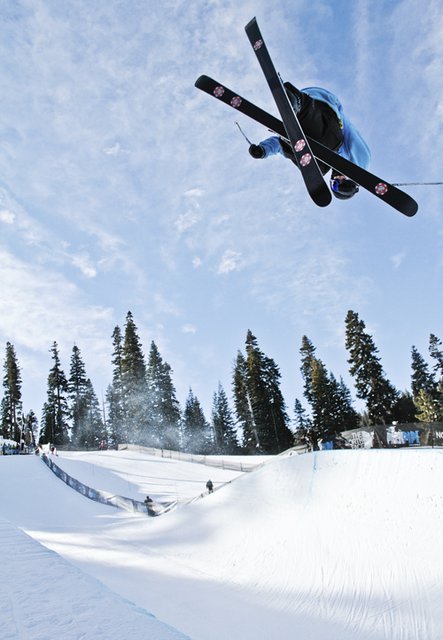 Brian Kish
Peter Crook showed the competition why he deserved a spot in finals as well by spinning his way into them with a big 1260 in the middle of his run and claiming the 6th place spot.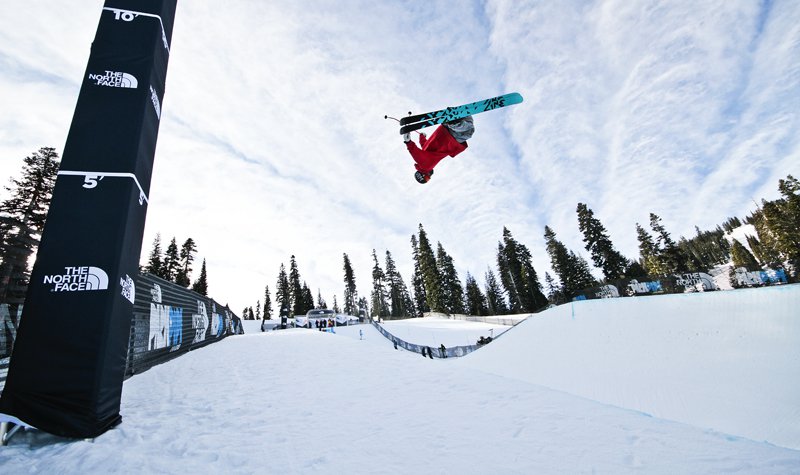 Peter Crook
Gus Kenworthy put down a super solid run of his own but to the surprise of many didn't make the cut for finals, landing just on the wrong side of the bubble, although Pat Baskins, Taylor Seaton, Walter Wood and a few others found a way to stomp their runs and make it into the next round.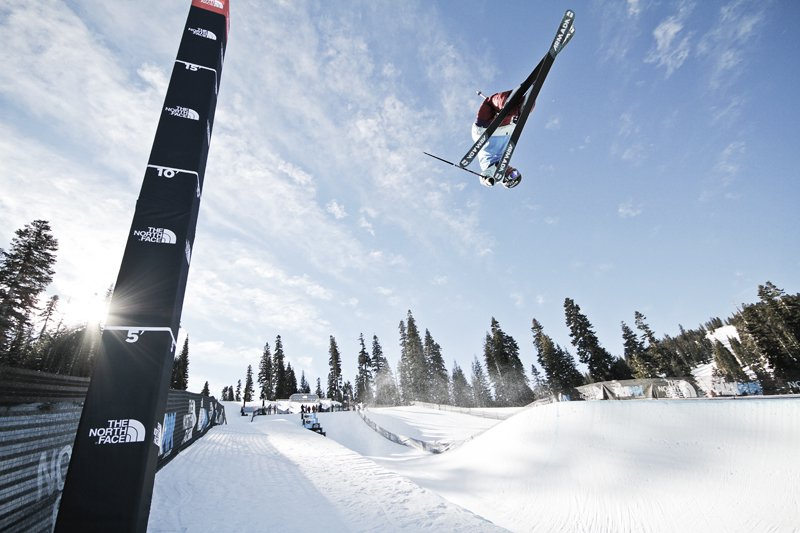 Gus Kenworthy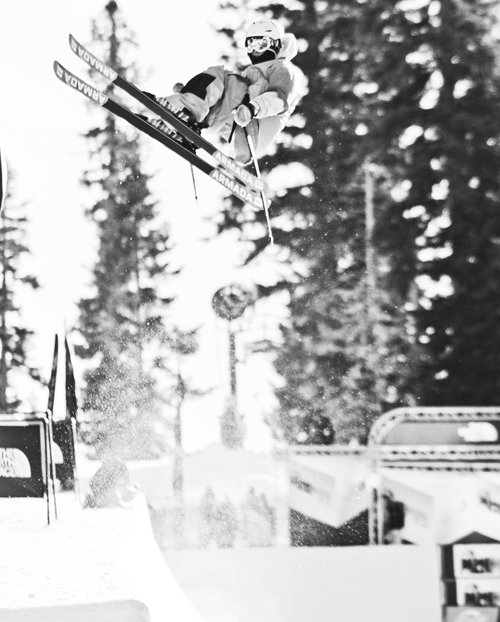 Pat Baskins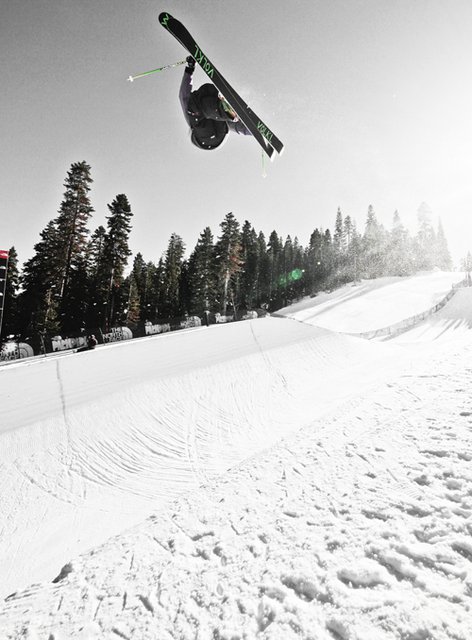 Walter Wood
Fresh off his 4th place performance in yesterday's slopestyle competition Joss Christensen was gunning for the win in the stunt ditch. Joss did what he does best and put on a style clinic, earning the 12th place spot and three more runs in finals. Matt Margetts was one of only a few competitors to impressively throw a double flair in the 18-foot pipe, along with linking a big right 1080 into a switch down the pipe 900, helping him score a 91.20 just behind Noah Bowman in 3rd.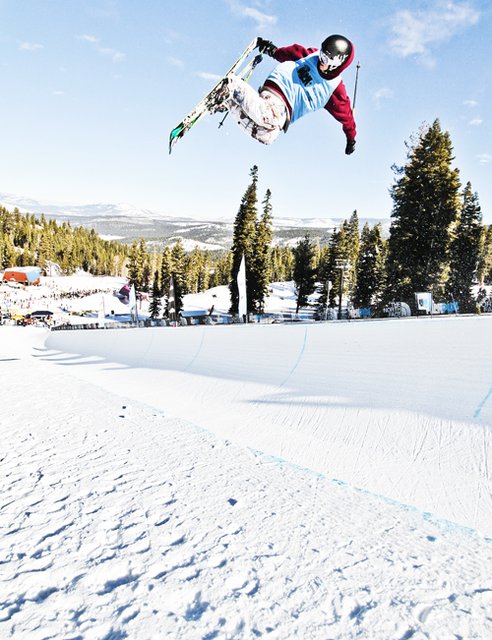 Noah Bowman
Local boy David Wise was on top of his game today, as sleeping in your own bed and having family and friends with signs in the crowd undoubtedly helps put one in the right mindset. Wise threw down the top run in semis by linking massive back-to-back 900's, into a flair and a big 1080 to finish off his run, giving him all of the momentum in the world going into finals.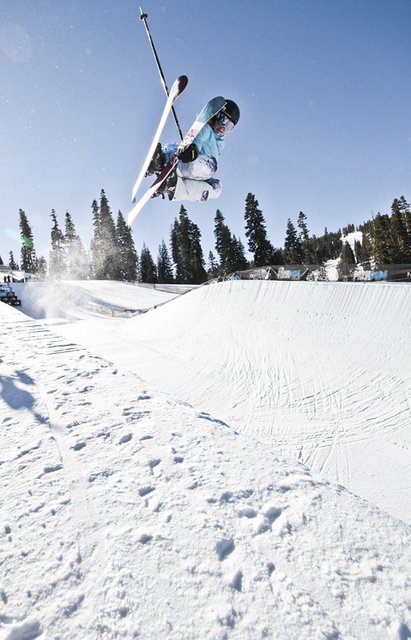 Hannah Haupt
The ladies then had their turn to tear up the pipe as soon as the men finished their semi-final round, and came out swinging with a ton of back-to-back spins. Park City local Kimmy Sharp, fresh off her Rev Tour Superpipe win in Copper Mountain, laid down a great run that started off with a left 540 into an alley-oop on the opposite wall, followed by another 540 and into a left 720 to finish off her run, earning a 72.80 and the 6th place spot.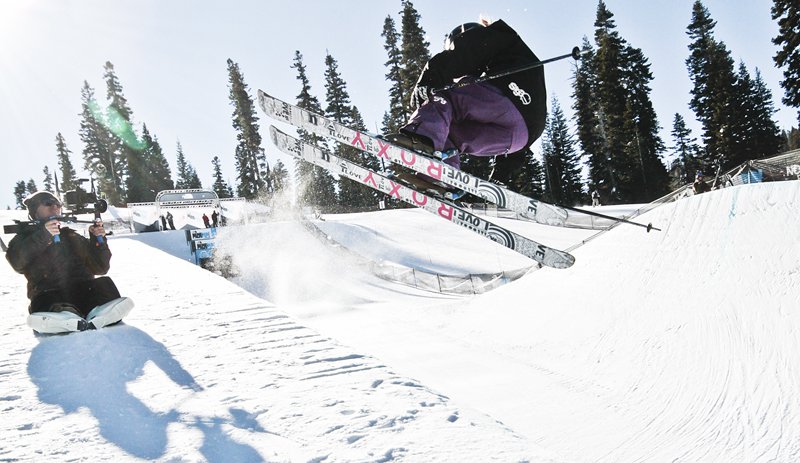 Kimmy Sharp
Brita Sigourney also had a very nice showing today, going big on her first hit 540 into an alley-oop and a huge 900 on her third, followed by another alley-oop, into an alley-oop 540 and finished things off with a 720. She earned an 83.40 for her noble efforts, but ended up just shy of the podium in 5th place.
Brita Sigourney
Birthday girl Maddie Bowman then won herself a nice present by scoring 4th place. Doing more spins down the pipe than any other girl, Maddie started with a left 540, to right 540, to left 540, to right 540 into a left 720…anyone else dizzy? Happy Birthday Maddie!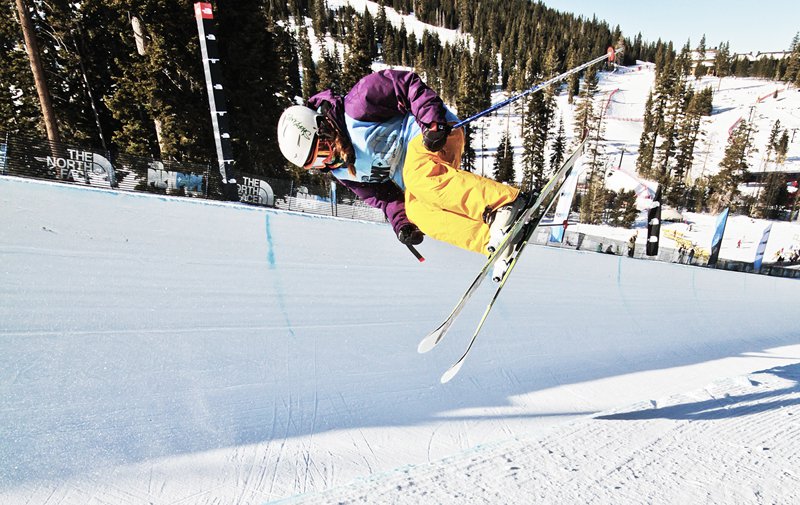 Maddie Bowman
Fresh off yesterday's slopestyle victory Devin Logan was looking to make it two in a row, and put down one of the most technical runs of the day by linking back-to-back flairs along with a big 540 and down the pipe 360 spins in her run, giving her an 87.00 and 3rd place on her second podium of the weekend.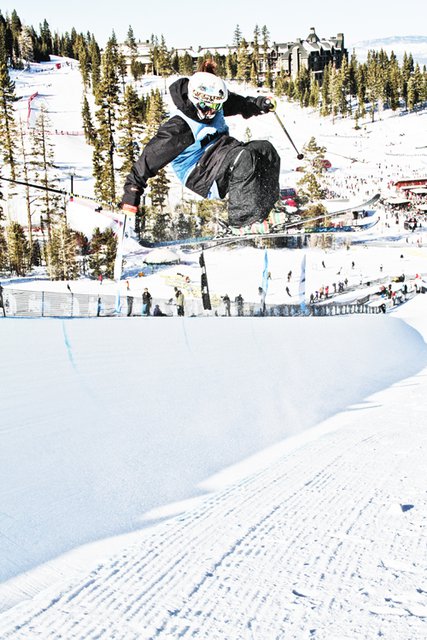 Devin Logan
Keltie Hansen had an excellent day as well, throwing down big left and right 540's in her run and capping it off with a big left 720, helping her stomp her way into 2nd place.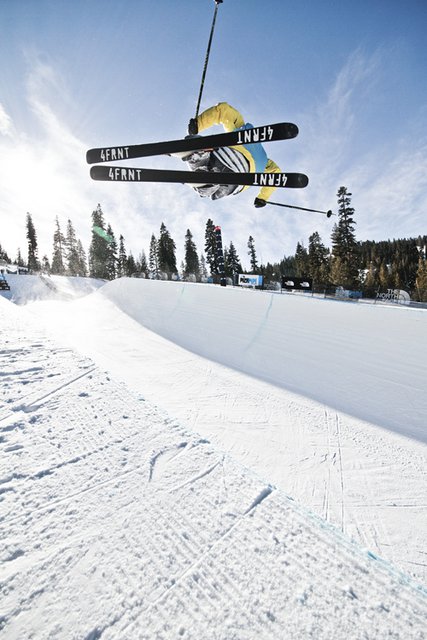 Keltie Hansen
Which only leaves one more lady to talk about…Dania Assaly. Fresh off her Dew Tour victory Dania is on a mission for halfpipe gold wherever she goes. She struggled in her first two runs while trying to land her big 900, so opted to play it a bit on the safe side of things with her plan b. Instead of the 9 Dania tossed a stylish 540 to keep her run smooth and consistent, and stomped a big 720 to finish it off and claim the 1st place spot for the second competition in a row. Congrats Dania!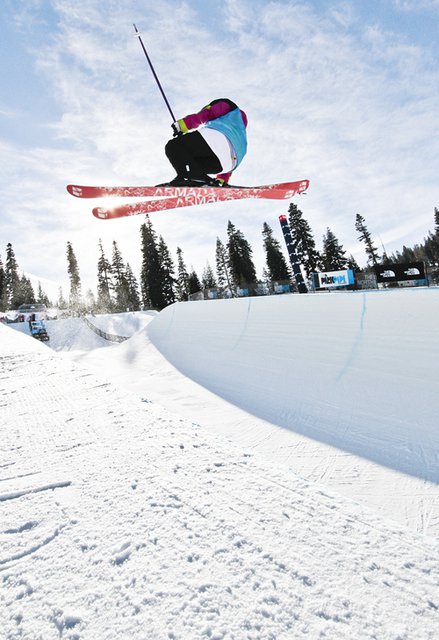 Dania Assaly
It was then time for the final competition of the North Face Park & Pipe Open, and it was no disappointment, as all 16 men who made it to finals threw down in the last hour and a half of the day.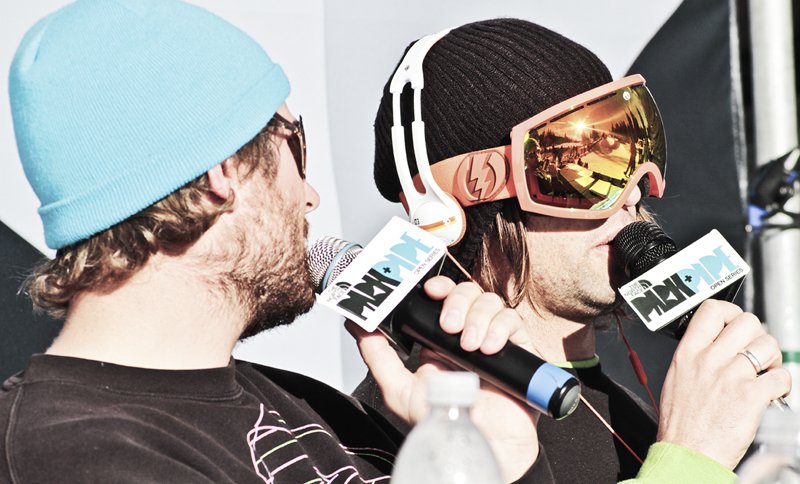 The emcees for the weekend: Luke Van Valin and Tim Russell
After claiming the 2nd place spot in semis Noah Bowman threw down a highly technical run which consisted of a huge first hit double flair, into a right 720, to switch left 720, into a right 900 followed by a mirrored left 900. Noah was consistently boosting high in the pipe all day long but couldn't land higher on the leader board, and finished with an 83.80 and the 7th place spot.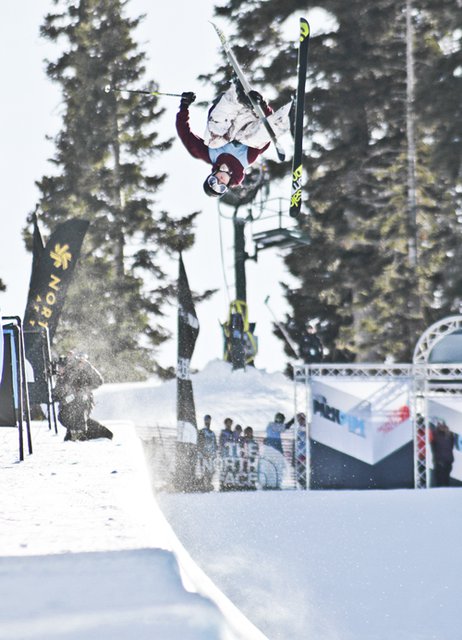 Noah Bowman
Taylor Seaton is one of the most stylish pipe riders in the game, and proved it today by linking together some seriously technical spins. Taylor was one of the only riders to spin into the pipe with a right 270 in, into a big switch 720, to right 540 blunt, to left 900, to a right 900 but ran out of pipe after his final hit alley-oop right 540.
Taylor Seaton
Joss Christensen also continued his dominance in finals by landing the buttery smooth runs we've all come to expect of him. Starting off with a big flatspin 360, into a switch 720 and connecting a right 720 and left 900, Joss finished off 5th place with an 86.40.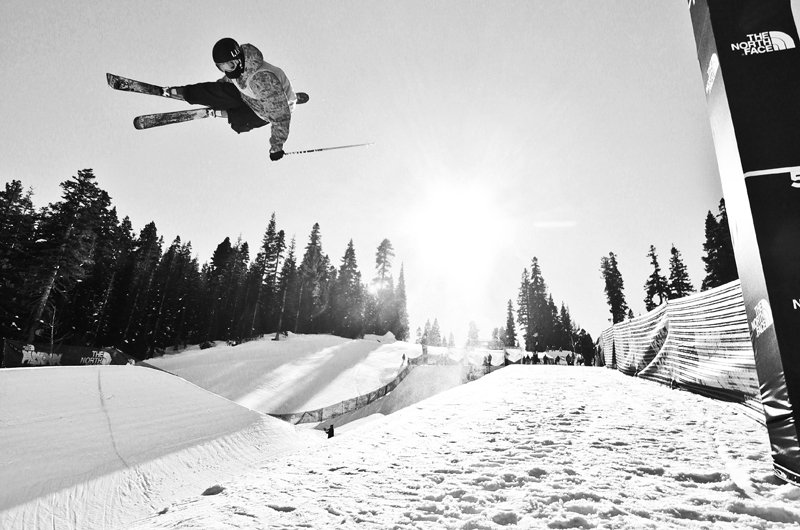 Joss Christensen
After learning a new double cork 900 in practice today, Walter Wood decided to throw it into his run, which came after some back-to-back 900's that resulted in him grabbing the 4th place spot with an 88.80.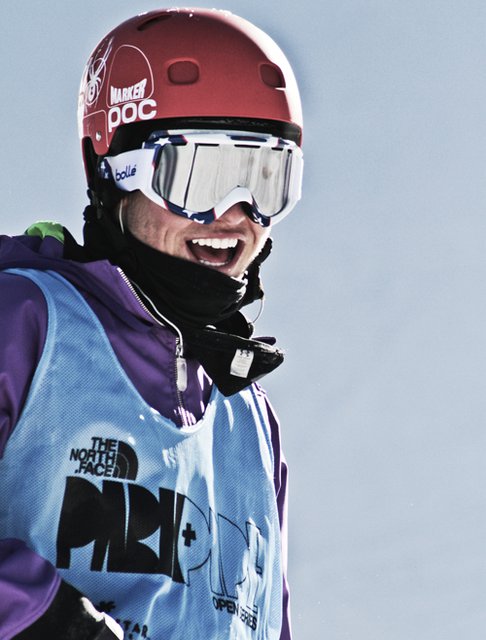 Walter Wood happy after stomping his run.
Pat Baskins finished top 5 in the semi-finals and then completed his drive for the podium in finals. With a huge first hit switch 900, into a switch right 720, to cork 900, into an alley-oop flat 540, to 720 and finishing off with a switch right 900, Pat found himself in 3rd place on the podium and was more than stoked.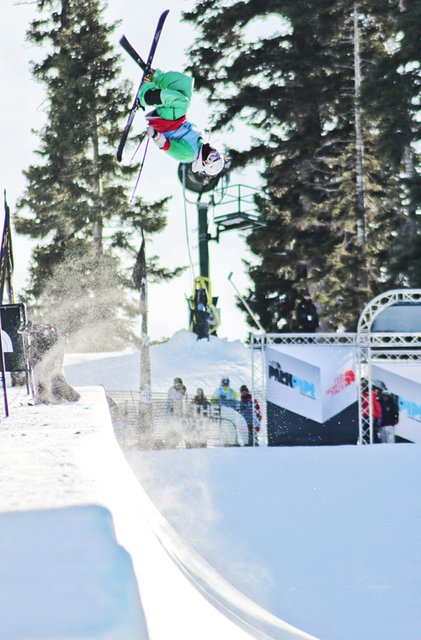 Pat Baskins
After a strong 3rd place showing in semis, Matt Margetts moved one spot up into 2nd place at the end of the day, landing one of the most impressive runs of the entire competition. Left 900, into a right 900, to double flair, to alley-oop flat 360, into a switch 720, followed by an alley-oop flat 540 and finishing with a big 1080, Margetts earned the 2nd tier on the podium and a spot in X Games Superpipe later this month, as the next man had already been invited.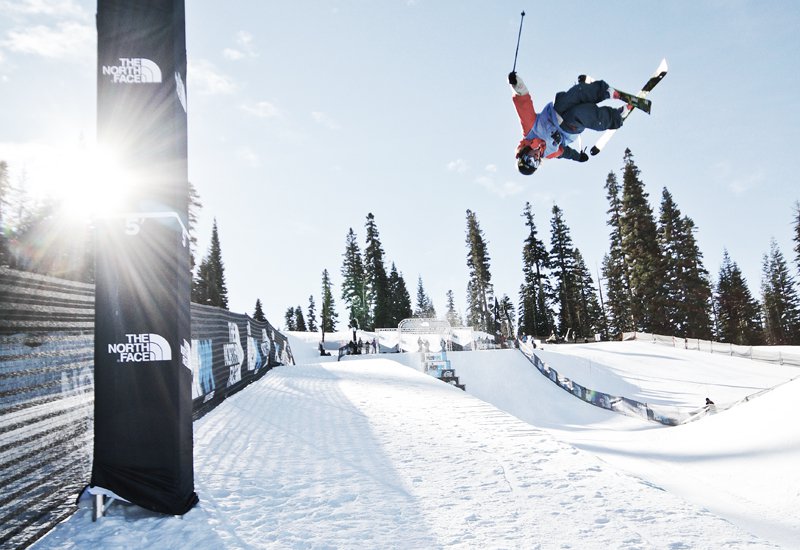 Matt Margetts
That man was the man of the day, David Wise, who after taking top honors in semi-finals kept up his amazing streak until the bitter end. The Truckee local was lucky enough to have family and friends in the crowd cheering him on with signs, which may very well have helped him pick up the win.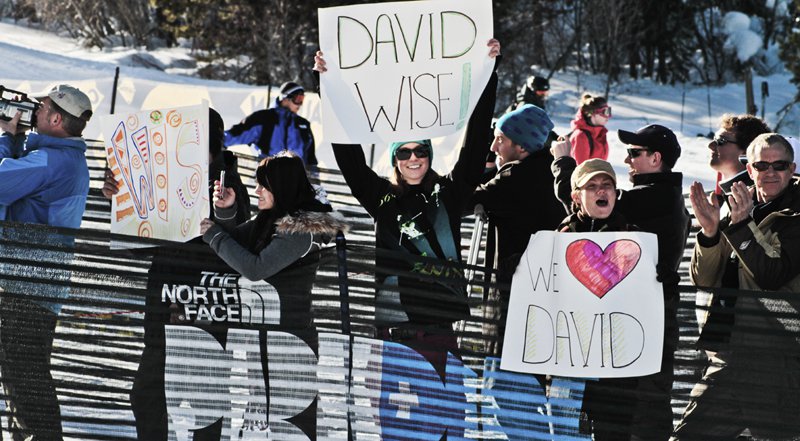 With an unbeatable run that began with a left 900 into a right 900, David then chose to add a bit more difficulty with a double flair in the middle of his run and finished things off with a massive left 1080, earning him the top spot overall. Congratulations are very much in order to him…as there's nothing like winning on home turf!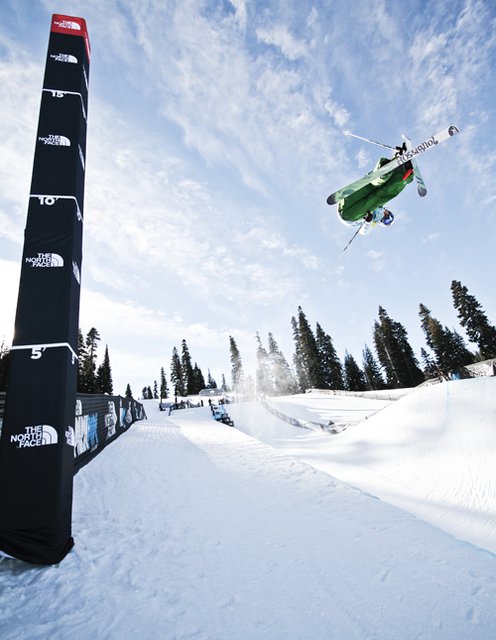 David Wise
This concludes the first stop of The North Face Park & Pipe Open in Northstar-at-Tahoe, California. The next stop goes down on February 17th - 20th in Waterville Valley, New Hampshire, and to see how today's event affects the AFP rankings, be sure to head over to http://www.afpworldtour.com.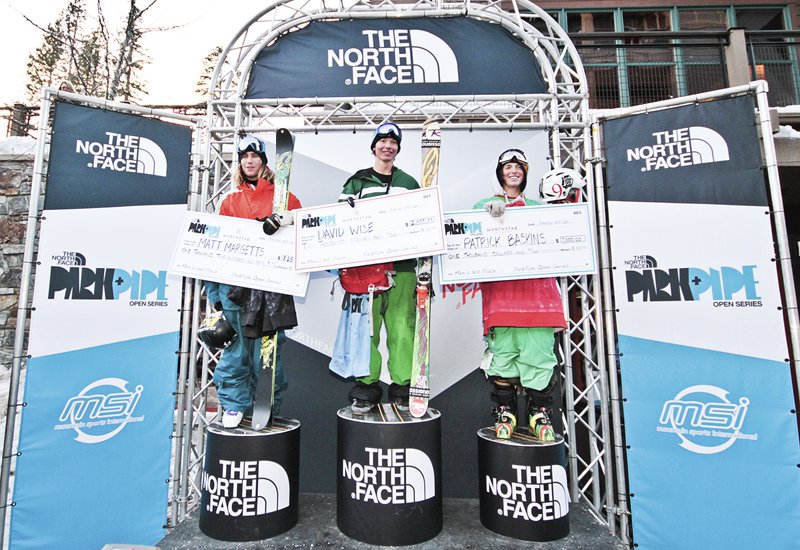 Matt Margetts (2nd), David Wise (1st), Pat Baskins (3rd)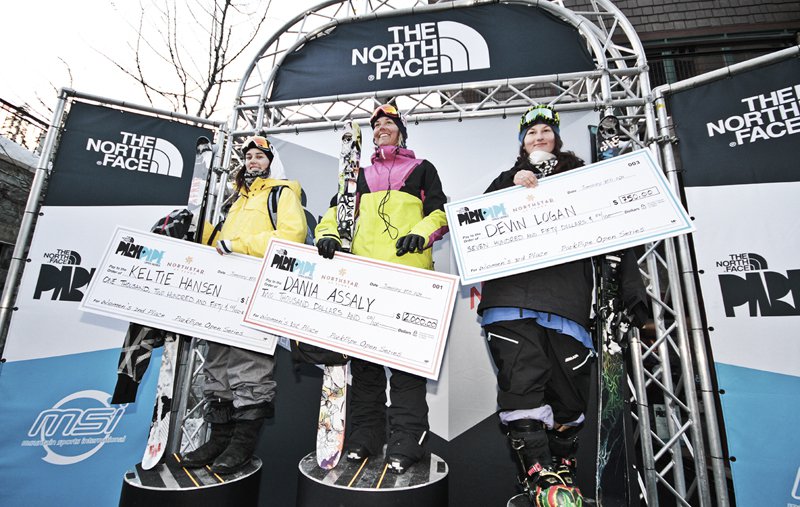 Keltie Hansen (2nd), Dania Assaly (1st), Devin Logan (3rd)
Results
Men's Semi-Finals
1. David Wise - 94.60
2. Noah Bowman - 91.60
3. Matt Margetts - 91.20
4. Patrick Baskins - 87.40
5. Brian Kish - 84.00
6. Peter Crook - 82.20
7. Kyle Smaine - 80.80
8. Taylor Seaton - 77.80
9. Kris Atkinson - 77.40
10. Christian Allen - 76.40
11. Walter Wood - 76.00
12. Joss Christensen - 75.20
13. Charlie Lasser - 74.20
14. Wing Tai Barrymore - 74.00
15. Sean Collin - 72.80
16. Tyler Peterson - 71.00
cut-off
17. Gus Kenworthy - 69.60
18. John Leonard - 66.60
19. Billy Mann - 65.60
20. Nick Goepper - 60.20
21. Alex Gorham - 48.00
22. Lyman Currier - 19.40
23. Neal Cadra - 10.00
24. Mike Mertion - DNS
25. Rob Walter - DNS
26. Zan Zirbel - DNS
Men's Finals
1. David Wise - 94.20
2. Matt Margetts - 91.40
3. Patrick Baskins - 90.80
4. Walter Wood - 88.80
5. Joss Christensen - 86.40
6. Taylor Seaton - 84.40
7. Noah Bowman - 83.80
8. Brian Kish - 82.80
9. Wing Tai Barrymore - 80.0
10. Tyler Peterson - 79.40
11. Kyle Smaine - 75.80
12. Sean Collin - 73.60
13. Christian Allen - 72.80
14. Kris Atkinson - 70.20
15. Peter Crook - 68.80
16. Charlie Lasser - 65.80
Women's Finals
1. Dania Assaly - 90.00
2. Keltie Hansen - 88.40
3. Devin Logan - 87.00
4. Maddie Bowman - 84.40
5. Brita Sigourney - 83.40
6. Kimmy Sharp - 72.80
7. Em Lonsdale - 65.60
8. Hannah Haupt - 50.00