My season started off with a short trip to Whistler. We were hoping to ski some pipe to get ready for the upcoming comps, but there ended up not being a pipe, so we just shredded a bunch of rails and side booters. Always a good time!
 
Then I was off to Breckenridge for the first stop of the Dew Tour. We had two training days, and those two days were my first days of the season in pipe, so that added a little pressure, but it went pretty well. I learned a couple new tricks and was feeling good for the comp. I ended up not completing either of my comp runs, so I was bummed but there is always next year.
 
January came around and I was off to France for the first World Cup of the season. This was definitely one of the best trips of my life. I wasn't super pumped on my result, I came in 19th, but the skiing was fun and Europe is just a really cool place to be. Also, the drinking age was like 14 so that was pretty dope hanging out with my team and getting to meet a ton of new people.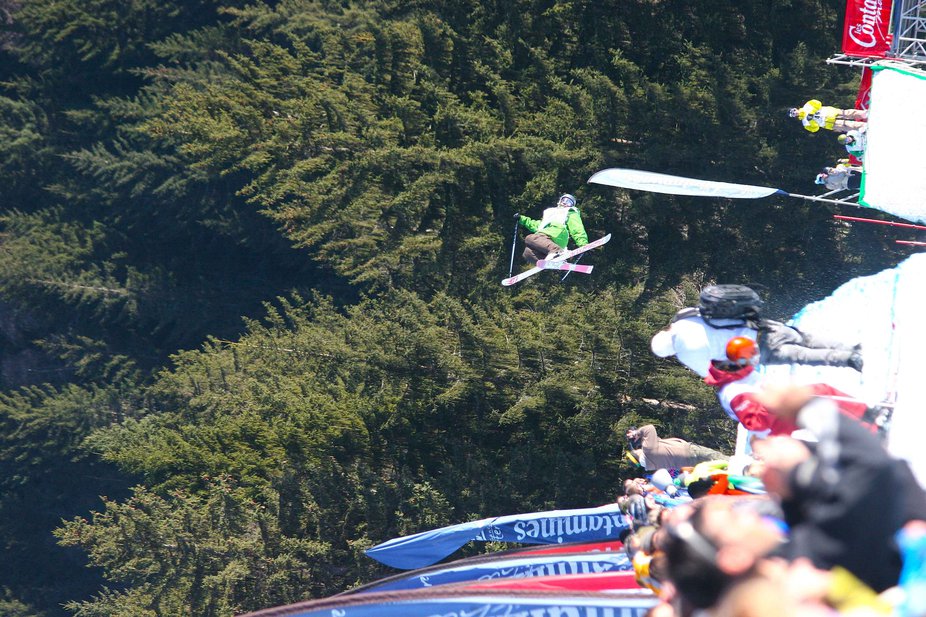 sorry guys about this pic
A little interview for French Network Television "Infront"
A concussion held me back for a couple weeks, but I came back ready for the Park City World Cup. This was a really sick comp! I had my best run of the season at this comp and ended up in 13th place.
Park City, Mark Derry photo
Then it was off to Copper for the US Open. US Open is always a fun comp, and this year I qualified for semi finals in second place, but I wasn't quite able to put it together in semi's and just missed the cut for finals.
 
After that the Jib Academy came to Calgary. It was great being able to coach and to be on the other side of the competition for once. That was definitely a highlight of the season for me and I hope to do it again next season the talent was amazign for such a young crowd!
For my final comp of the season, I was off to Whistler for WSI. I qualified for semi's in 5th place but fell on both my semi final runs and I was still stoked and know I will have my time to shine so watch out LOL...!!
After the comps were all done I got to do a Sunset Shoot at Sunshine Village with my buddy Kyle Sanborn as the head filmer. This guy is amazing and VERY underrated. His edits are magic, watch out for them!
Here's a link of an edit he made for me.
http://www.newschoolers.com/web/content/viewvideo/id/283094/
Once school ended I headed to whistler once again to ski at Momentum Ski Camps. Skiing Momentum is definitely the best park skiing I can say I had probably out of my whole year. I learned a bunch of new tricks that I'm really pumped on the people, they are chill and the camp is really set up for campers to progress fast! Thanks Momentum Ski Camps for having me!!!!
While I was at Momentum I was fortunate enough to go and throw down at the Momentum Sunset Shoot. It was super dope. Everyone was killing it!
For the rest of the summer, I'm going to do a bunch of weight and dry land training and hopefully some water ramping as well.
As for next season, I'm planning to do a lot of competing again, at comps like the Dew Tours, Aspen Open, Nippon Open, US Open, Orage Open, and WSI. Hopefully I'll see you guys there. I'm also going to try and ski a lot more pow, and I try and do a lot more filming.
Just wanted to give a big thanks to Steve Saranchuk, Fresh Sports, Kyle Sanborn for the edits and Mingo and Tyler from Salomon. Tyler, It was great to see you supporting the athletes at the comps this winter all around the globe, thanks.
That's all for now, I let you guys now whats up with a pre season and or mid season update next season.
Peace.
Noah Bowman