Cover: Lukas Müllauer // Shot By: Theo Acworth
_
Another insane winter edition, the 14th to be precise, of The Nines went down in Crans Montana last week. Whilst name and host locations have changed with the times, this still remains one of, if not the, biggest yearly spectacles in freestyle skiing and snowboarding. Nico Zacek and The Nines team delivered yet again to bring an insane invitational roster to an ever-artful and creative Nines set to the Plaine Morte glacier in Crans Montana.
I got the call to go and witness the madness and, naturally, the stoke was high. This is a monumental event in the ski and boarding calendar but I'd be lying if I said I hadn't always been at least slightly skeptical of The Nines. I'm not entirely sure why, the setups are always out of this world and it's a progression session like no other. It just often seemed to pass me by. Being a big behind closed doors invitational event it seemed far removed from us as skiers. Although, the focus is on banger clips and pushing limits on a dreamlike set-up something never clicked with me when it came to The Nines. It's impossible not to be stoked to see such creative setups and crazy progression at this annual freestyle extravaganza but it always felt, to me at least, very removed from skiing as we know it; Nines is to skiing what Formula 1 is to driving perhaps. This all changed when I got a chance to see behind the curtain and see just how special this place is to everyone involved. I am well aware my view of bigger more corporate (for want of a better word) events and films has been skewed in the last few winters – increasingly enjoying more lo-fi and grassroots content let's say.
The content is drip-fed through socials in the run-up to a mad recap edit (below) we, the casual viewer, get an insight into a space created to facilitate riders pushing their absolute limits. The biggest thing The Nines offers athletes is a truly free space to push their personal boundaries and those of the sport itself; turning dreams into a reality. After spending the week here things became a lot clearer. The no-pressure, totally free, and inventive approach to skiing truly gives back to the invited riders. A rider, who shall remain nameless, chose Nines over a team week because the jump was ripe for a new trick. It's the little things like this that began to marinate with me over the week.
_
The cornerstone of any Nines is the set-up. Always futuristic and seemingly carved by the hands of the gods. This year featured three main sections, centered around a huge jump with two alternate bowl hits on either side featuring plenty of transitions to create an array of lines and options to be skied. An innovative Swatch bowl feature, 7m tall with 1.5m of transition at the base and a tunnel exit. An over-vert sphere with tunnel entrances, designed with help of the mad brain of Jesper Tjader, capped off the course is enclosed by a semi-circular quarter pipe with rails to provide final hits in the athlete's lines.
_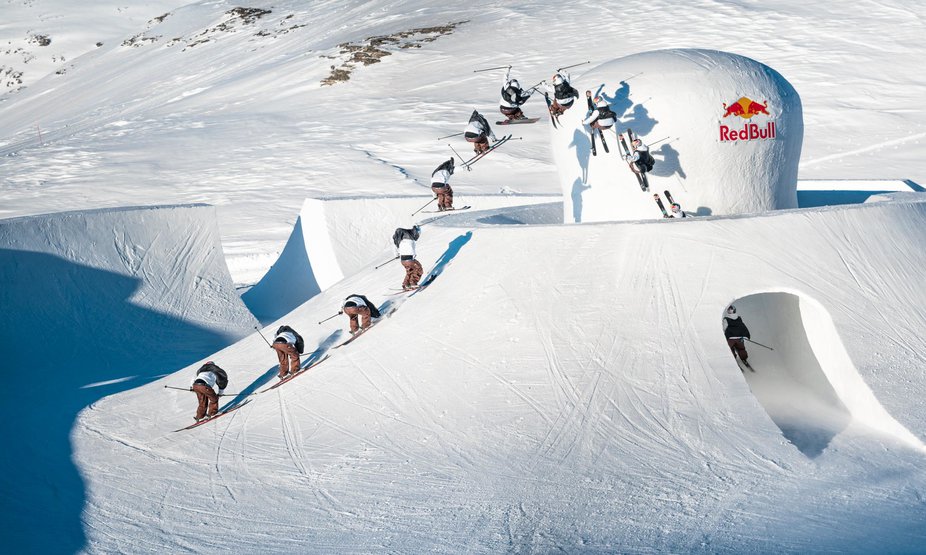 Air to Fakie from Matej Svancer // Markus Fischer
One of the biggest pieces of athlete feedback from the previous Nines was the lack of a huge jump for riders to put down NBDs and land those big spins they've been thinking of all winter, or in some cases for years. The jump this year was modeled on one of the best, according to riders, Nines' jumps there's ever been, the one from 4 years ago. The dimensions were dug out and the jump recreated.. it's no secret that the results were as insane as anticipated.
This year's iteration was on the backside of the face used previously at last year's Nines, also hosted in Crans, in the Plaine Morte glacier itself. A decision made in part due to the tough season in terms of snowfall, to put it lightly. This didn't change the dynamic of the event too much, maybe a slightly less consistent uplift; the bully drivers turned taxi for the week. Yet placing the set-up in the backside of the resort in the glacier created an even more grandiose backdrop feeling to this already epic (it might be hard to avoid running out of superlatives at some point in this piece) set-up.
_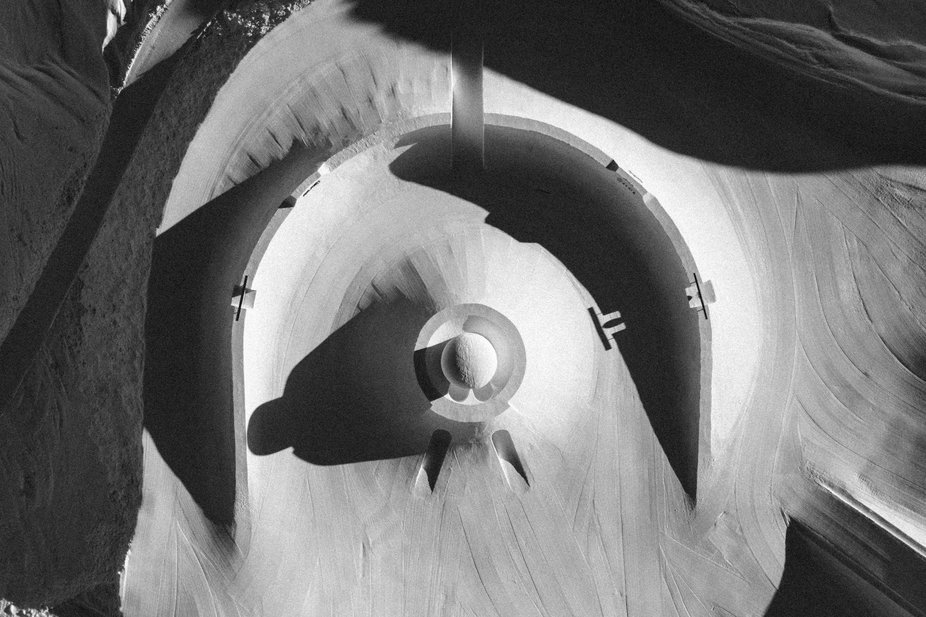 This is just art // Theo Acworth
_
One of the features of this, and last, year's Nines was being hosted in Switzerland Crans Montana. Home of all things Alaïa; Parks, Chalet, Bay, and Lodge inclusive. For those that don't know, the park is run by Alaïa, a company driving freestyle-oriented investment into Crans Montana – with other spots on the horizon. The Chalet has indoor and outdoor skateparks, trampolines and parkour set up, etc. The Alaïa Bay is one of Europe's 15 wave pools that hosted beginner to advanced sessions when the weather rolled in, it's no surprise that Finn Bilous absolutely crushed it. There is, of course, a summer edition of The Nines and the Alaïa partnership, and the powers that be brought a flavor of that to this year's winter Nines. Scott Pilgrim, Andy Anderson, and Coco Ho were brought along to show their bike, skate, and surf skills. Imagine my surprise to see Andy spinning like a top out of the corner of my eye one evening.
The combination of Nines and Crans seems to be a real winner. Although Solden is currently earmarked for next year it does seem like Crans could one day be the permanent home of The Nines. With an eclectic array of off-hill activities, there were no down days, just days off the hill with which to fill one's boots with skating or surfing. This partnership and the options it created for the athletes seemed to further entrench the laid-back style of things that really shone through my preconceptions of the event.
_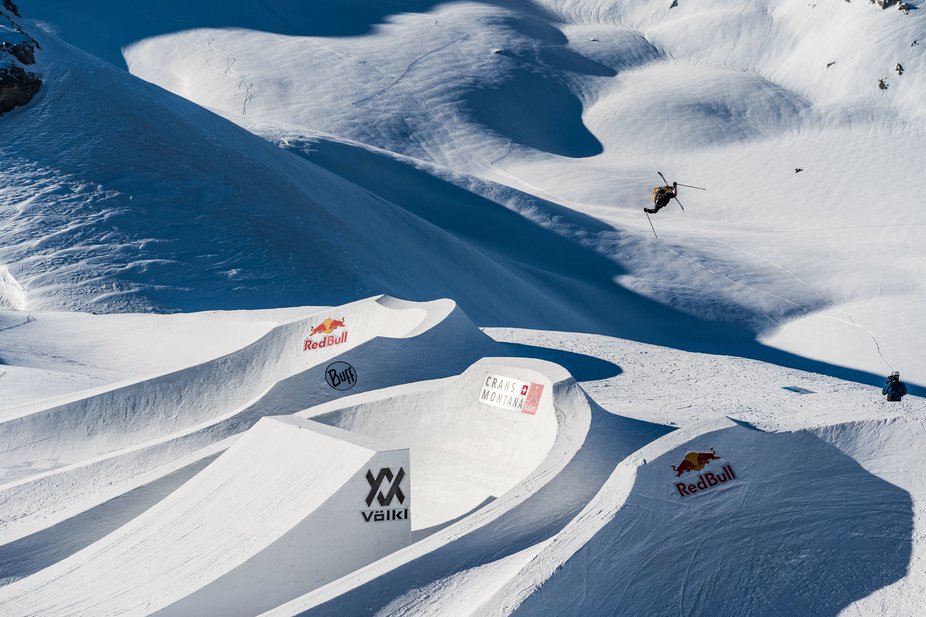 Thibault above the skin tracks and pow turns of the glacier // Klaus Polzer
_
While the Nines as a concept and the setup are both interesting points of discussion, what this event is about at the end of the day is skiing, and since 2014 snowboarding. So I'll cut to the chase and talk about some of that. To be brutally honest, as someone on a tour for Newschoolers covering ski events I spent more time than not being awestruck by the snowboarders. Being somewhat desensitized to crazy skiing over the last 5 weeks may have contributed to this, it was inspiring to see the progression and level from the boarders, specifically the ladies. Anna Gasser, Laurie Blouin and Leila Iwabuchi all put down triples almost back to back with an infectious energy spreading. Hiroto Ogiwara also went HAM putting down the first BS 2160 snowboarding has seen and potentially the first quint the world has ever seen, but that's one for debate I guess. It also wouldn't be a piece from me if I did hype up my fellow Brits; Mia Brookes has so much style on a single plank it's a bit ridiculous. If you don't know, get to know.
_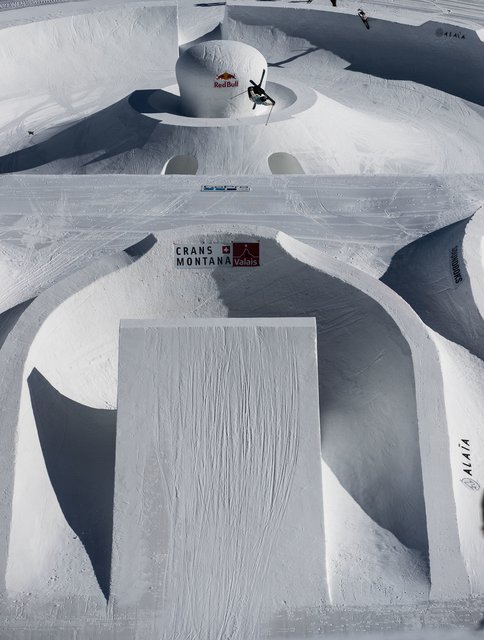 Lara Wolf Showing her steeze // Florian Breitenberger
_
The integration of snowboarding into Nines has made one of the most unique events even more so. The old 'beef' between the two is now more reserved for chairlift banter than it is a real divide. Yet no other invitational joins skiers and boarders in the same way. Matej laced a triple on a board earlier this winter and Birk Ruud repeated the feat at Nines. The skiing, too, was off the charts. It seems every year someone finds a new way to high five and Andri Ragettli put it into a dub 12, getting the assist from Fabien Boesch. Kim Gubser showed that his prolific rise and loose screws aren't going anywhere, sending a triple backie off the narrowest of takeoffs in the park. Thibault Magnin also brought his creativity and took GoPro moment of the week working with @shaggyfpv to create a superman frontflip drone release shot.
The whole week was highlights and the video recap does it much justice in a way words struggle to. The course was made with the help of Jesper Tjader and it's clear his brain is just built differently, he skied every line with a vision that inspires. Matej is still the future and that switch 14 mute, grabbed at 7, was perfection.
_
With the week all but wrapped up there were only two orders of business left to attend to. The award ceremony and copious amounts of shoeys. Forefronted by the man himself, Nico Zacek. Max Moffatt may have won best style, shared with Finn Bilous but his mum won the hearts of the attendees more than anyone, also getting into a shoe-off and earning the nickname Shoesan.
_
Results:
Ski Women
Best Trick: @laraa_wolf (AUT), Misty 540 mute
Best Style: @laraa_wolf (AUT)
Ruler Of The Week: @megan.oldhamm (CAN)
_
Ski Men
Best Trick: @jespertjader (SWE), Cork 540 to transition to switch backflip
Best Style: @maxmoffattt (CAN) & @finnbilous (NZL)
Ruler Of The Week: @maxmoffattt
Best GoPro Moment: @thib_magnin with @shaggyfpv
_
Highlight Reel
https://www.newschoolers.com/videos/watch/1040234/The-Ultimate-Wrap-Up---The-Nines-22