Hello Newschooler's Megan here!
So I started off my season by heading to Whis for some pipe training; they didn't end up having a pipe so we just hit up the rails.  Always good to get some rail time.
After Whis the next contest that came up was a Half Pipe World Cup in Les Contamines in France, it was dope because it was my first World Cup ever and in France, super cool! I ended up getting 7th.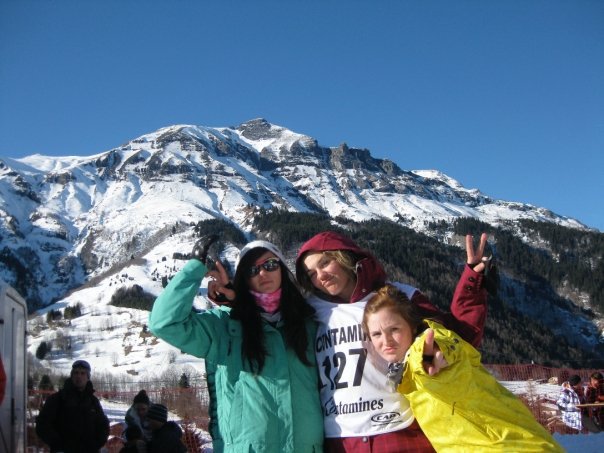 Keltie Hansen, Dania Assaly and Me in France
The next thing on the list was to head down to Park City, which is the sickest place ever! Their park is always perfect, plus they can have some good freshies! So sunny the entire week. I was there for the World Cup Half Pipe and comp day was so sunny and hot. I had a great day ended up getting 2nd which was super exciting for me!
Me at the Park City World Cup
Right after PC we headed over to Aspen Xtreme! Like PC sunny everyday sweater weather which is the best! I learned some new tricks there so I was stoked.  I qualified for finals but fell in my final pipe run which was a bummer, it happens.
Then I got to go to Japan for two weeks which was super rad. At Nippon it just didn't happen for me in pipe but in Big Air I qualified 1st. In Big Air finals the landing gear didn't want to come down so I didn't do so great, but so many great friends there.
Right after that I went to Half Pipe World Championships at Inawashiro which was a 5 hour ride from the Nippon Open. Got to see some Japan countryside.
World Champs was so great, I got second! I had the best run of my season there, so that was neat.
   Me in Tokyo
So after all that travel it was nice to be home with my family in Calgary, and riding with my friends. Jib Academy came to Canada Olympic Park which is where I ride a lot because I live across the street. With my luck, I got Noah Bowman as a coach!… pretty good.  It was fun to ride with all those kids and Noah as coach.
 
Me at Canada Olympic Park for Salomon Jib Academy
WSI was possibly my favorite contest of the year. So much fun, everyone is there, always sunny and good riding in Whizzz. I qualified 1st for big air, got to compete in the night with most of Whis watching with my good friend Dania! I ended up 3rd.
As for pipe it was sick because Keltie, Dania, Shannon (my sister) and I all qualified for finals.  In finals I got 3rd Keltie got 4th, my sister who is 12 years old got 6th which is unreal (I got 5th last year). Shannon is an amazing skier. Watch out Girrrrlzz
Me at the 2009 WSI Big Air in Whistler, BC
Angeli, Dania, Keltie, Me in Whis
Angeli, Dania, Me  WSI Pipe
We finally reach the end of my contest season, I had the sickest time, new places, a ton of new friends and always stoked to be on snow.  
Once the contests were over, I had so much fun just skiing with friends at Sunshine
I made this edit at Sunshine.
(I am sorry about the quality and the editing I try pretty hard.)
http://www.newschoolers.com/web/content/viewvideo/id/268857/
I also got to spend 10 days on the Whis glacier this summer thanks to Mingo atSalomon and the crew at Oakley!
I made an edit there too (sorry again for the quality and editing.)  I keep on working on it.
http://www.newschoolers.com/web/content/viewvideo/id/283055/
For the rest of the summer I will be working at Canada Olympic Park, doing some mountain biking, hiking,  rock climing, hitting up the water ramps around Alberta and planning out next season.
A big shout out to Sarah and Steve Saranchuk at Fresh Sports in Calgary, Salomon, Oakley all my family, friends and coaches for your support. 
Thanks for reading!!
MEGGGGGAN chea