words by Rom Marcucci
photos by C. Nelson James/MHF
Premiere articles typically start in two ways: 
It was a beautiful fall evening in Burlington, Vermont.  The leaves on the trees vibrantly changed in the cool air as the crowd lined up for the Meathead Films' premiere. Will Wesson's family was in line beaming with enthusiasm and anticipation; they drove all the way from New York.  As the theater overflowed, the lights dimmed and the happy families prepared to be wowed…
or
The University of Vermont campus braced for the ever-rowdy Meathead Films' premiere.  Burlington is a college town and has tons of college chicks.  College chicks have college boobs and Radio Ron quickly got to work signing them.  Austin Holt took photos of the miscreants in the hallway.  As the theater overflowed, the hooting, hollering and liver abuse roared to a start…
This isn't destined to be your typical premiere article.  Both of the above takes on the event are totally factual.  Most premiere articles are, unless there was no one there or the movie sucked.  Of course, no one would ever write that.  There are only so many ways to describe people filling a room, watching a movie, cheering, winning something, and then exiting that room.  With that in mind, Geoff McDonald, Chris Nelson James (Rooster) and I sat down for a chat the following afternoon.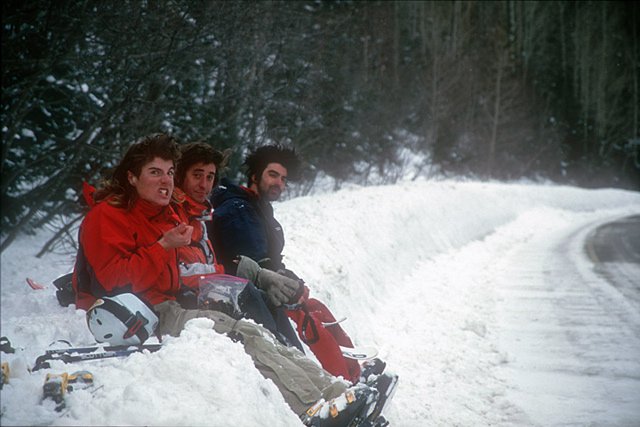 Geoff, Joe Morabito, and Jason Ghikadis, muchin' on trail mix, Chic Choc Mountains, QC, 2004
Meathead Films didn't begin with a large budget, business plan, and support from industry heavy hitters.  While a freshman at the University of Vermont, Geoff filmed PEEP, a ski short involving several of his friends, including Rooster.  Sophomore year Geoff purchased a VX2000 camera and spent a large amount of his time shooting friends.  PEEP showed on UVM TV, as did 'Ed's Corner' – a jackass-style TV show.  Police chagrined Geoff and friends' 30-minute weekly special but students loved it.  The group developed the Meatheads nickname as a result of the shows' antics.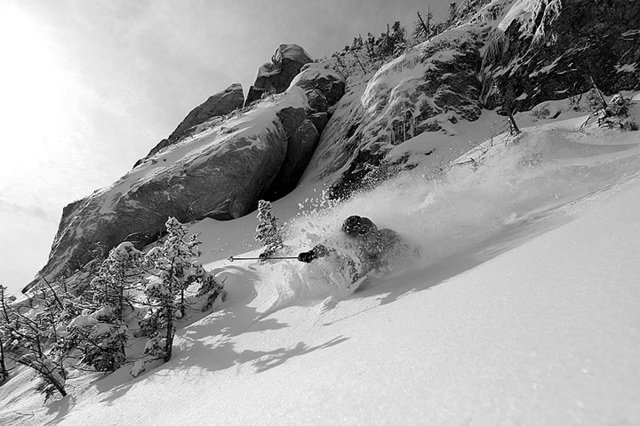 Simon Thomson, Stowe, 2006
'A Natural Force' premiered the next fall.  The film showcased friends skiing, snowboarding, and skateboarding.  According to Geoff, this event was eye opening.  "My first big revelation was the first premiere of Natural Force at CC Theater (at UVM, also the location of the current premiere). I expected 50 people, but it ended up being 250. It blew me away. The Cynic (student newspaper) wrote about it, and I got pumped to keep making movies."
Shea Flynn, 270 on, Whaleback Mtn., December 2006
Like much in Vermont, the Meatheads grew organically during the early years.  Rooster borrowed a friend's film camera and began shooting photos.  Geoff decided three sports were too much and dedicated his filming to his personal passion, skiing. Meeting local skiers Mark Courville and Kristian Geissler, along with Rooster, allowed Geoff to film extensively in the backcountry of the area.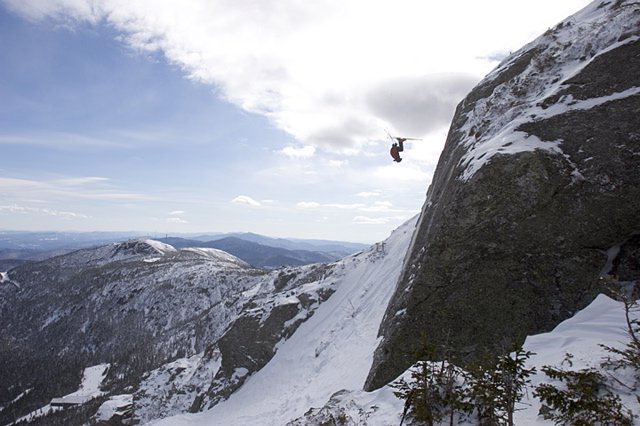 Kristian Geissler, front flip off the Rippey Cliff, Mt. Mansfield, VT, 2005
The winter of 03/04 was a breakthrough for the Meatheads. According to Geoff, "Our biggest push was senior year. We moved classes around, filmed 'Epoch' and 'Schooled,' graduated, and got big sponsors on board."  'Epoch' was a documentary detailing the history of the Eastern mountains where several friends climb and ski the five highest northeastern peaks.  'Schooled' was classic Meatheads fare. Additionally, the group was mentioned on the cover of 'Skiing' with a large feature in the magazine.  This was Rooster's breakout. "(That) was the moment it clicked. Some guy I met on the movie tour said, 'I saw your article, never stop living that dream.' It was cheesy but hit me in the face…(Skiing) brought us into the mainstream."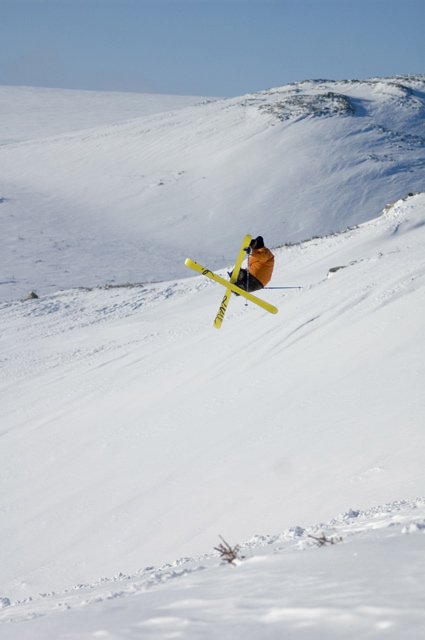 Erik Olson skies a 7 tailgrab over the Newfoundland backcountry, 2007
photo: Austin Holt (http://www.rightcoastphoto.com)
Since that year, Meathead Films has consistently produced quality movies showcasing eastern locations and talent regardless of the challenges.  They've dealt with horrible weather, limited terrain, and athlete losses.  Still, each year the movies improved.  Editing and art direction became tighter.  The soundtrack just fit better.  The cinematography shined more.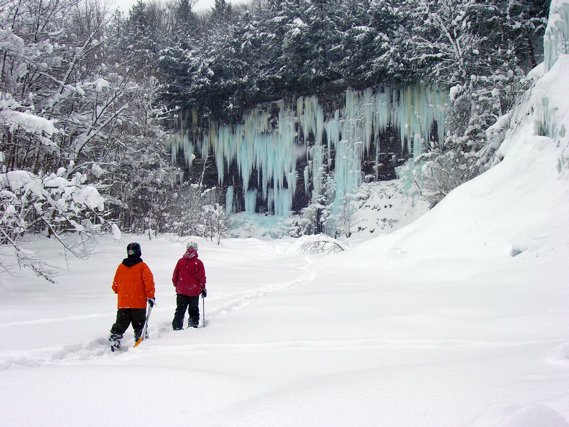 Erik Olson and Tyler Secrest hike into the Tug Hill, NY backcountry to shred the 140" that dumped in two weeks, 2007
This year's film, 'Wanderland,' is the Meatheads' best work yet.  The movie showcases unique locales like the Tug Hill Plateau in Central New York, and Gros Morne National Park on the island of Newfoundland.  It covers a variety of skiing from bumps to powder to backcountry freestyle.  Arguably, the movie features some of the most progressive and creative urban skiing of any film this year, an aspect of the sport that Geoff says, "is fun to shoot because of the unique shapes of buildings and man-made structures.  It's a nice break from hiding in the thick trees all day."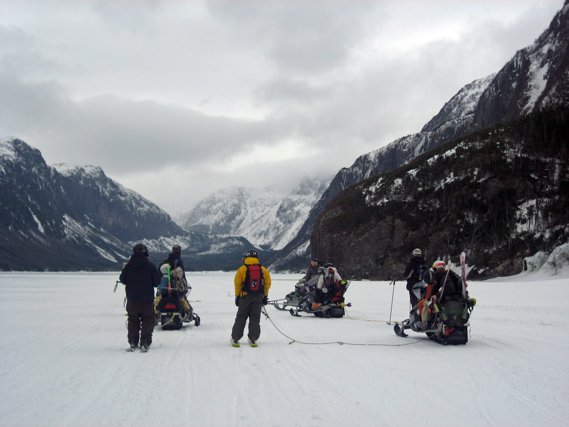 The crew explores a Newfoundland fjord for skiable terrain, 2007
Filming in the East presents a special set of benefits and challenges unique to the region.  Meathead Films is the only company focusing on the East.  They have sole reign over one of the largest and most passionate ski populations in the world.  Because the region is small geographically, they can load up The Meat Wagon (the company Subaru) and drive, rather than having to deal with the logistics of flights.  Of course, there are challenges as well.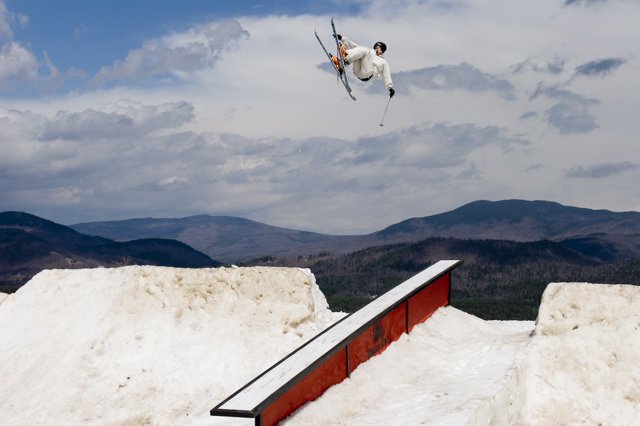 Will Wesson, rodeo 5 at the first ever Heat Harvest Superpark at Sunday River, ME, 2006
"Wow, they never end," was Geoff's response when I asked about weather problems.  At the top of his list was the January thaw.  On January 4th during the filming of 'Snow Gods' it was 65 in Northern New England.  "It gets a little scary when you're trying to make a ski movie and can go outside in shorts." It has always ended up snowing at some point, but if it didn't happen, the Meatheads could just head north.   Anyplace in North America on the Atlantic can be filmed, as well as further into the Midwest.  According to Geoff, "The Midwest counts as the eastern scene because the skiers share the same challenges."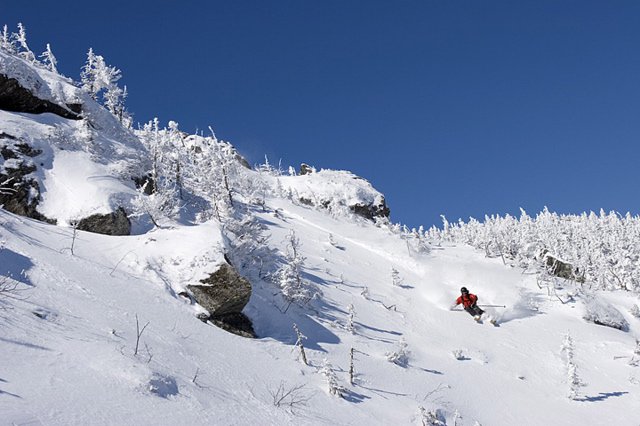 Andrew Whiteford, Stowe, 2005
The lifespan of an athlete with a ski movie company often seems to last for one or two movies.  Skiers have come and gone for the Meatheads as well.  This however, is not due to sponsorship requirements or lagging talent.  It is due to the Horace Greeley phenomenon, the sentiment of "go west young man." Wanderland is unique in that familiar faces are returning to the Meatheads.  Although Ahmet Dadali, Will Wesson, Little Jon Strenio, Tony Rossi, and Andy Parry have all heeded Greeley's call, they returned east to film with the Meatheads.  When asked how he selected athletes, Geoff said, "I want to build a network of people who can do various things. I like athletes who come back here as long as we keep the movie East Coast.  We are always finding new people each year like Stacey Rachdorf and Asia McGriby. Asia skied with us while four months pregnant. You need to be willing to adapt.  Every company changes, we find people, sponsors tell other companies."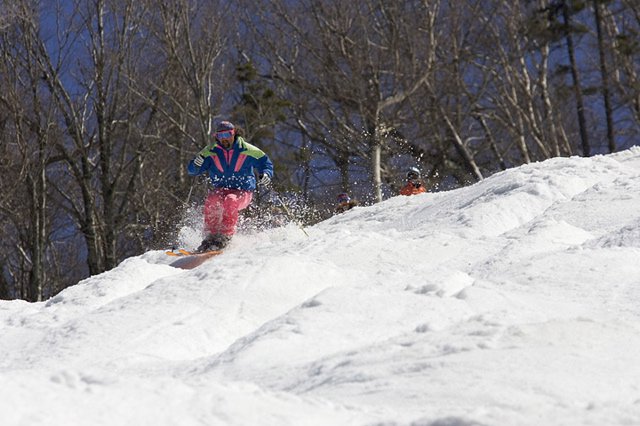 Randy "The Hammer" Grasso shredding the bumps on Superstar, Killington, 2007
Skiers are the key to the success of any ski movie, and Meathead Films strives to work with the best in the East.  The duo stressed that first impressions aren't everything. The past two years, movies have featured character segments in the bumps, an important and underappreciated part of eastern skiing.  "Hammer was in with the mogul culture but he intimidated people, a big motorcycle guy.  Radio Ron kept to himself. He is so focused on bumps; people thought he wasn't very friendly. Movie making is an excuse to go up and ask questions.  I knew they would both make great profiles for the movies."  Hammer had a full segment in 'Snow Gods,' with appearances again in 'Wanderland.'  For that film, it was Radio Ron's turn to shine. "Making cult characters is how you spin it and how you choose to film it. It's how you lay out the story editing wise. It's important to build hype; we build it on the website.  Hammer and Radio Ron deserve the hype. They work super hard for what they do. They are the most fun segments to edit but they take the most work, traveling in summer and winter, it is a lot of time put into 3.5-minutes. They are the most rewarding segments to watch and it makes me super happy to give these guys some recognition by the ski industry."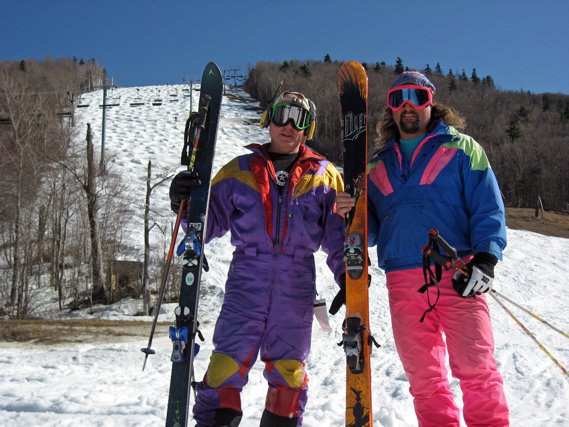 Radio Ron and The Hammer stoked after a long day of late-season bumps at Killington, 2007
Storytelling in the films goes beyond these segments, tying the entire films together.  It all started with 'Elevated.' Geoff realized his favorite part of most movies was people talking about how they felt, telling their side of the story and the winter.  He said the key is to not overdo it, but tell enough so audiences get to know the locations and people.  These are not some far off destinations and athletes, but fully relatable. Rooster and Geoff try to show a bit of how brutal the East can be, as it is important to the mentality of the Eastern skier.  However, the main goal is to present the region at its finest, from classic standbys like Stowe to exotic Eastern destinations like the Chic Chocs and Newfoundland.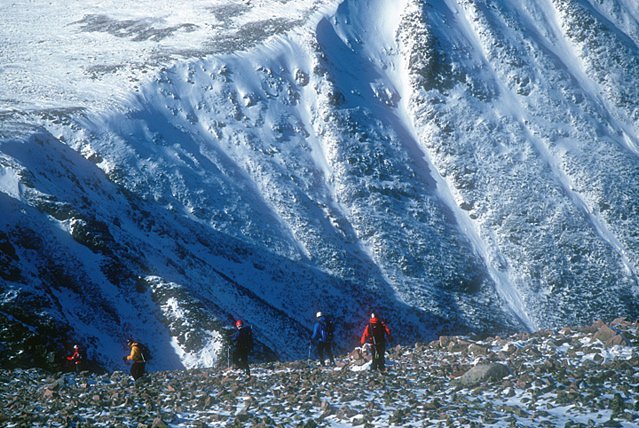 Hiking down from the summit on Katahdin, ME in April, 2004 while filming for "Epoch"
Doing this sometimes requires creative cinematography.  The Meatheads rely heavily on HD for the crisp professional shots, but fill in with Super 8mm. "Super 8 is the most broken down film image, it looks good for greybird," according to Geoff.  For 'Wanderland' they combined this type of footage with hand drawn sequences to create a distinctly coarse look. As for music, the duo tries to work with local bands and keep it unique.  Sometimes music has worked out they were initially skeptical of, the extreme example of which was the end credits organ music in 'Snow Gods.'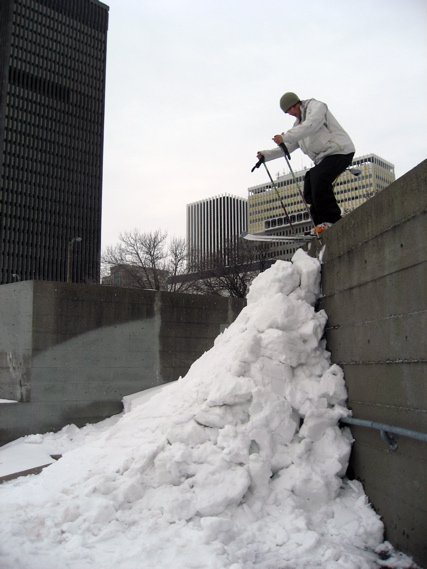 Urban extraordinaire, Will Wesson, gets ready to drop in. Rochester, NY, 2007
After the skiers are filmed, the movie is edited, and the DVD's made, it is time for the tour.  This fall, 'Wanderland' will show at over 60 stops. Rooster explains the significance, "The tour is super important to our company.  The thing that makes us different on a whole is we aren't working with huge names; lots of our skiers aren't sponsored. How we get our name out is self-promotion. We've gotten super good at touring." Geoff adds, "It is a great way to shake hands. People get to know you on a personal level."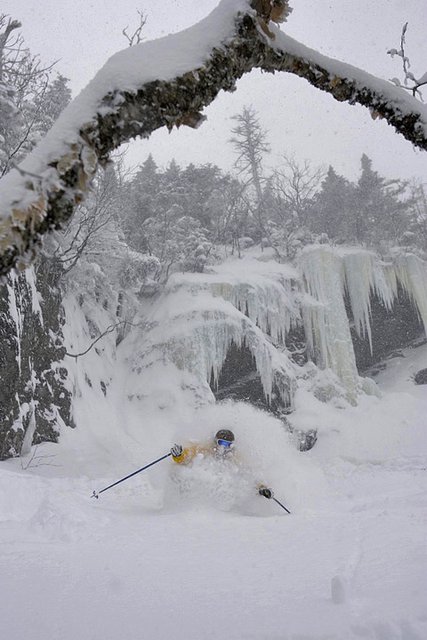 Stacey Rachdorf, blower pow at Stowe, St. Patricks Day 2007
Which brings us back to opening night in Burlington.  As the lights go up, so do the cheers.  The stars hand out prizes and Jason Levinthal himself is there to give away some Line skis.  Both babies and drunken college students stumble up the stairs and out into the night, totally satisfied.  The Meatheads ability to showcase world class skiing from an underrated region is only overshadowed by their ability to tell a compelling story.  That is what has led to their continued success.
 
Purchase the Wanderland DVD: https://www.skitheeast.net/products
Keep up-to-date with all things Meathead at: http://www.meatheadfilms.com