Words by Jamey Voss / http://www.redbullskiing.com
The ski season is still alive and kicking in Oregon. Tanner Hall is taking full advantage of the 900+ inches of snow that fell on Mt. Hood this year, by having X-Games pipe builder Frank Wells push up a massive pile of snow for a season ending super feature at Timberline.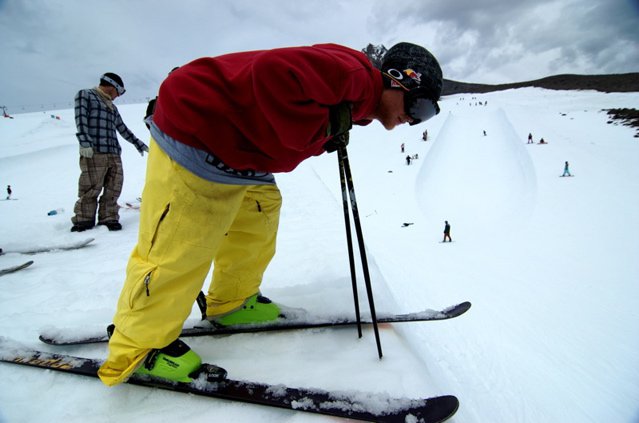 photo: Jamey Voss
Just a couple days before the final shoot for "The Massive", Tanner is enjoying the quiet before the storm. The last few days have been mellow: skiing at T-Line's public park, a quick tramp and skate session at Windell's, and some tasty BBQ served up by local legend Justin Wiegand.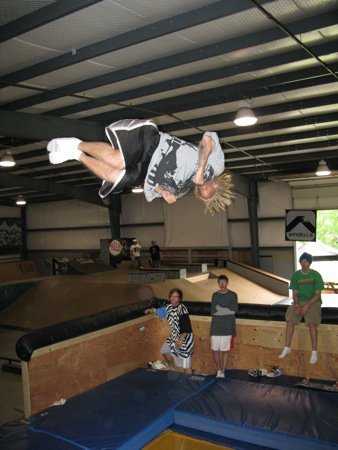 BOB. photo: Jamey Voss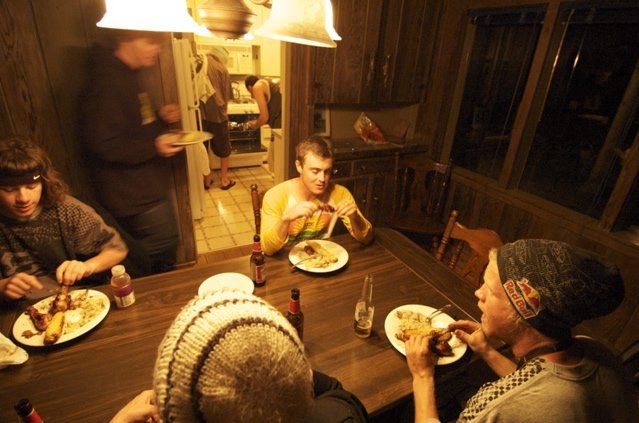 BBQ. photo: Jamey Voss
Red Bull Skiing has a huge house down in the woods of Welches, and all the boys are up for this session.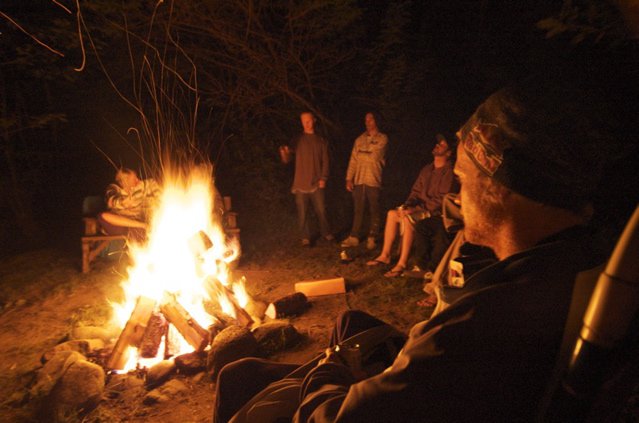 photo: Jamey Voss
Sean Fields can't stop talking about all the fish he's going to pull out of the river behind the house. Callum Pettit made the push from Whistler with super photog Blake Jorgenson. Just hours before Dana Flahr, Frank Raymond, and Chris Turpin rolled in from the same leg despite the best efforts to thwart the mission from their GPS. The Provo brothers, Ian and Neil, arrived late last night and are armed with topo maps and fly rods at their camp down by the river. Sammy Carlson's house is just across the street, and ski-filmmaker Eric Iberg is omnipresent and fueling the stoke. We got Cali P coming out to do a show, and the super feature being built for Tanner Hall is too sick for words.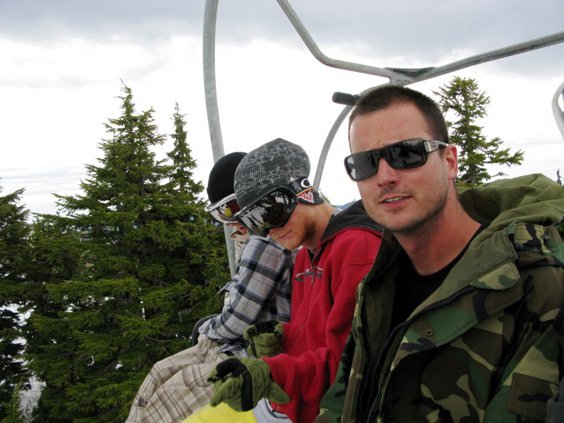 Eric Iberg with the boys. photo: Jamey Voss
After a few days of shredding the public park, spreading the stoke and chilling out at the spacious Red Bull Skiing house in Welches, it was go time.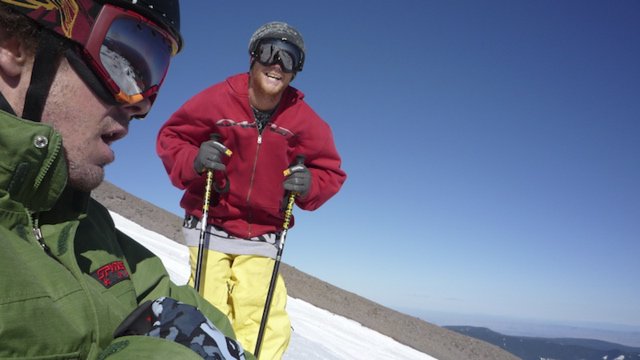 CR & Tanner. photo: Dana Flahr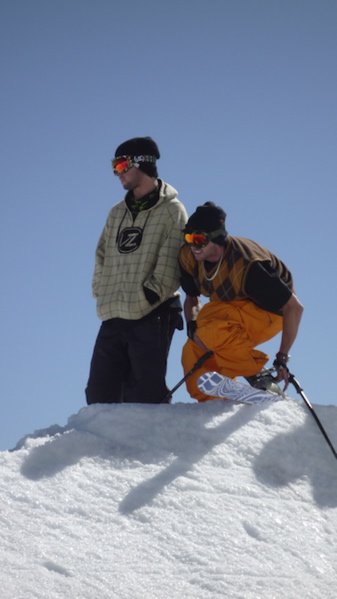 Frank Raymond & Chris Turpin. photo: Dana Flahr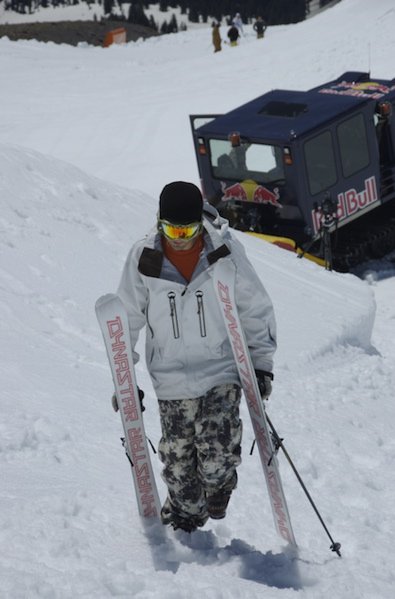 Dana Flahr: photo: Jamey Voss
The crew of Tanner Hall, Callum Pettit, Dana Flahr, Sean Fields, C.R. Johnson, Chris Turpin, and Frank Raymond cruised up the silent slopes of after-hour Timberline in a transport cat to survey the madness that Frank Wells and Jerimiah Pebley of Snow Park Technologies were pushing up out of massive amounts of snow.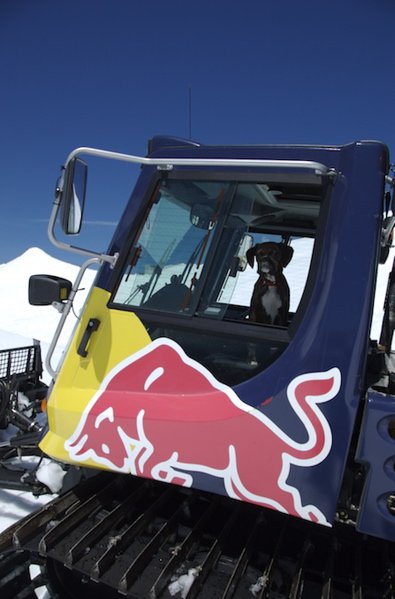 photo: Jamey Voss
What they found was a hip with 90-foot long landings on two sides, seperated by a 17-foot wide deck.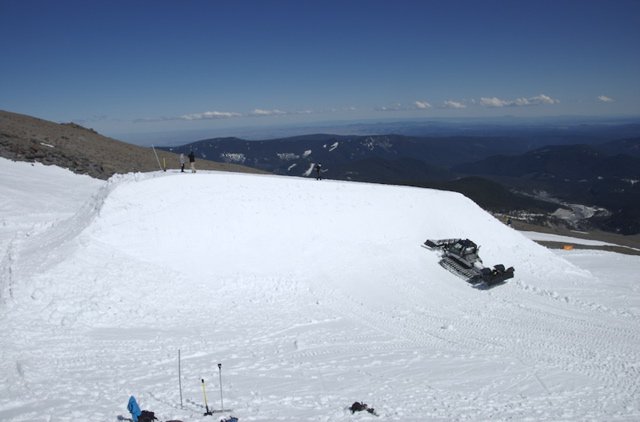 photo: Jamey Voss
Tanner got up on the hip next to Frank and began shaping it to his liking right away. Soon he was bombing in the steep in-run and boosting some large test airs.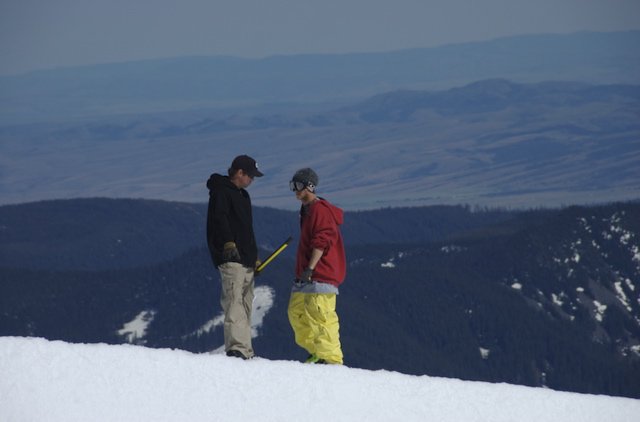 Frank & Tanner. photo: Jamey Voss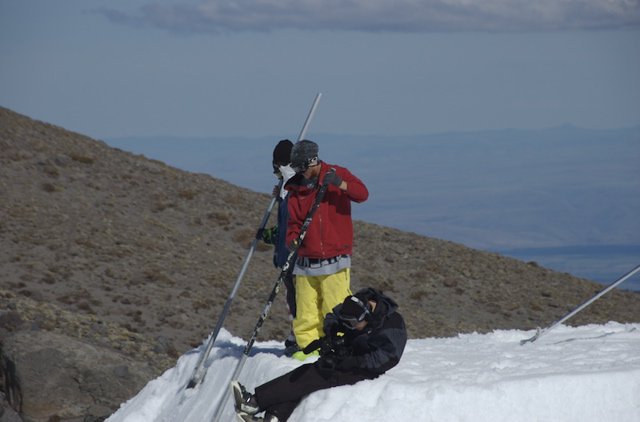 photo: Jamey Voss
All the other skiers hit it a few times as well and the general consensus was it was dope, but needed just a bit more vert in the takeoff. Frank and Jerimiah got to work and the crew cruised down set for a full on session the next day. Unfortunately, the weather on Tuesday wasn't playing along, and the shoot was called off after some chilly, windy hits in the increasingly overcast light.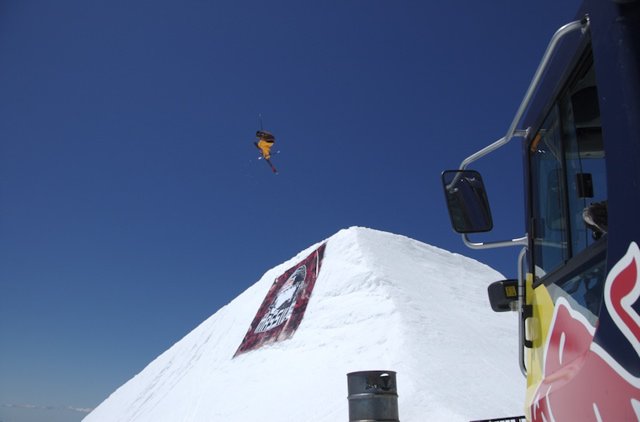 Turpin tests it out. photo: Jamey Voss
No worries though, the stage was set and the forecast was calling for blue for Big Wednesday and the helicopter coming down from Seattle.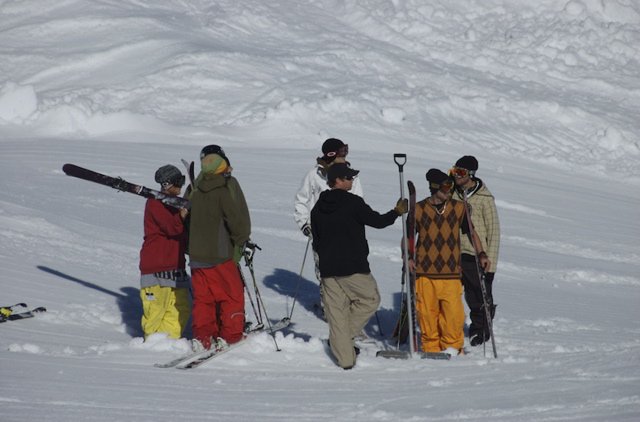 the crew. photo: Jamey Voss
All the preparation and all the practice came down to one day, really. CP flew an A-Star fitted with a Tyler mount down from Seattle. Based on thoughts from credible sources, this was the first time Mt. Hood had ever seen a helicopter used for ski or snowboard shoot.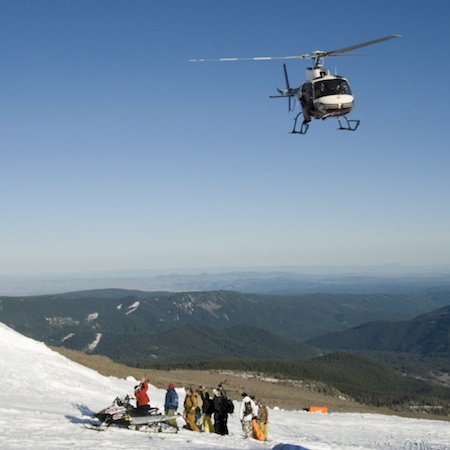 photo: Darcy Bacha
It's difficult to fathom what needs to go on for a heli shoot to be a success. The chaos is nearly indescribable. We sat on the in-run up by the skiers while the Red Bull Skiing team manager Pete did his best to relay commands from CP over the roar of the rotors sitting in the shotgun seat. Those little Motorola radios provided little more fidelity than indecipherable bursts of muddled shouting.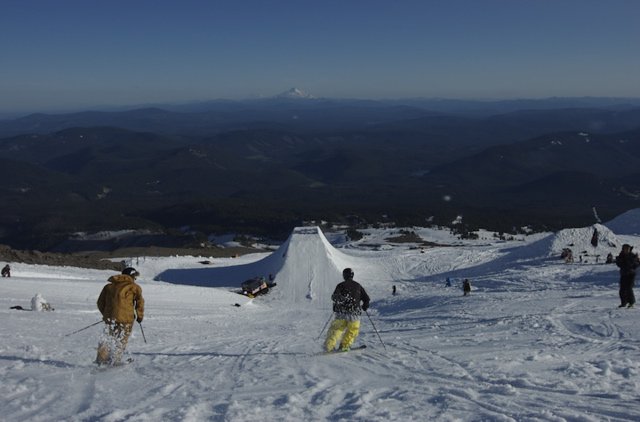 Sean Field and Tanner dropping in. photo: Jamey Voss
...and sending it. photo: Dana Flahr
Nevertheless as the heli dropped low over the top of the in run, and our gloves skipped away across the glacier like bunnies across a field, order somehow manifested itself from madness and the shoot was a resounding success.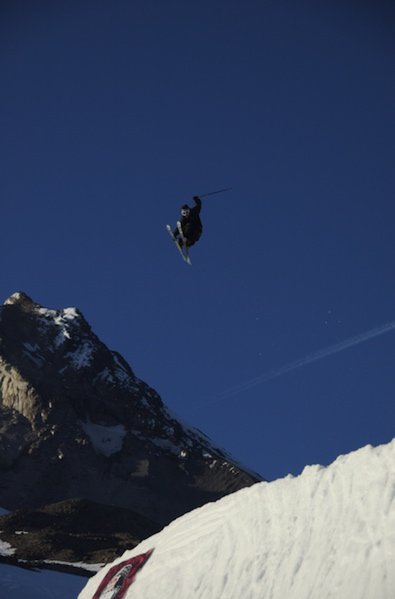 Ian Provo. photo: Jamey Voss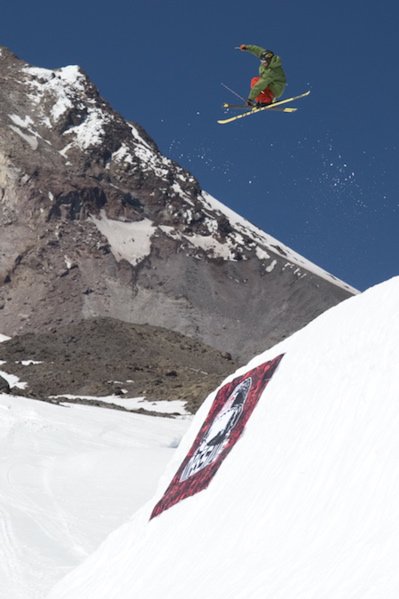 CR Johnson. photo: Darcy Bacha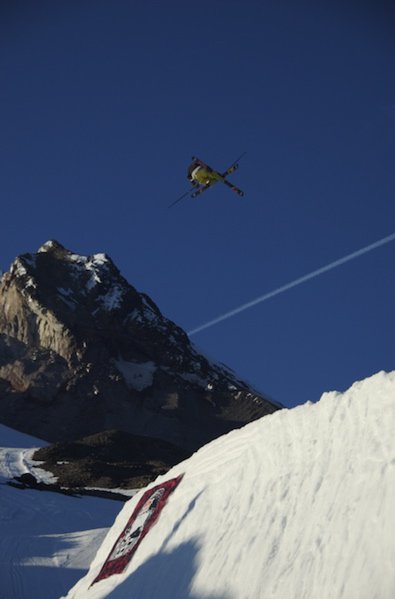 Tanner Hall. photos: Jamey Voss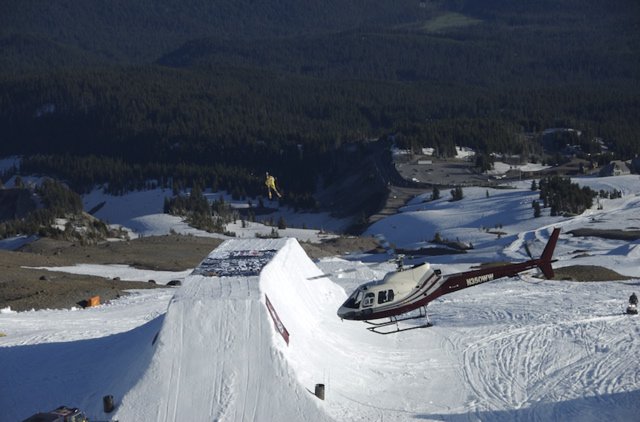 Stay tuned to NS tomorrow for another article on the Massive shoot, written by none other than Frank Raymond, who's unique behind the scenes story on the shoot from an athlete's perspective is not to be missed.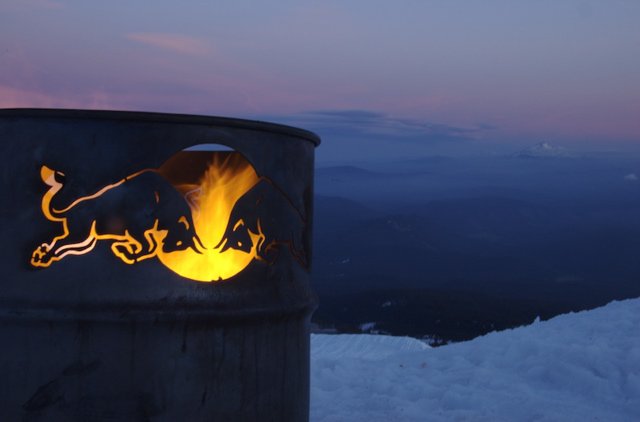 photo: Jamey Voss