All things must pass and as such, Full Tilt, has evolved into K2 FL3X. Both the team and the boots themselves live on under the new moniker, with an improved, simplified lineup of boots as the focus and some game changing projects in the pipeline. If you've spent years buying FT boots, you will certainly know which boot you like, but might have some teething problems figuring out which of their offspring will fit you best. If you're new to the three-piece boot, and have been told to *get Full Tilts*, the K2 FL3X collection is now where you should be looking. Here's a handy guide to the different shells in the new K2 FL3X collection, including how they fit, organized by shell shape.
As before, there are 4 base shell options in the K2 FL3X lineup, and each is offered with a choice of flex and liner options, as well as Men's and Women's models in all boots.
_
Original Shell -> Revolver Shell
Both the Revolver and Revolver Plus shells have a 99mm last, but the Revolver has a narrower toe box, making it the lowest volume, tightest fitting of the K2 FL3X boots. They also have full-length plastic alpine soles for the lowest possible stand height. This pays tribute to the OG Raichle shell and gives it a new lease of life; with fully moldable plastics and Grilamid tongues for superior strength-to-weight ratios and consistent performance all through the temperature spectrum. The Women's specific models feature a lower cuff, anatomically shaped to match a female-specific calf shape for increased comfort and control.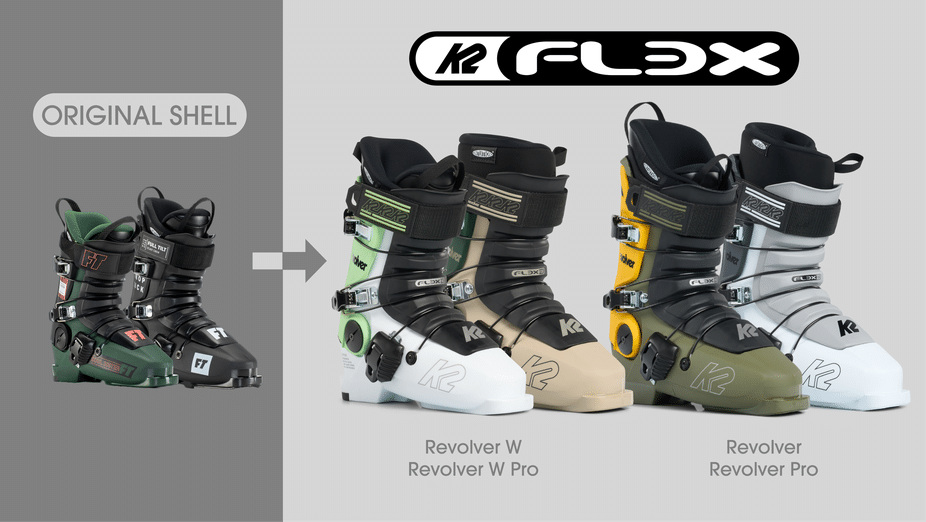 Buy the Revolver shell boots if you previously wore: FT Classic, FT Drop Kick
_
Soul Shell -> Revolver Plus Shell
The Revolver Plus shell is, as the name might suggest, an evolution of the Revolver shell. The main differences include a roomier toe box for added comfort and replaceable Gripwalk soles for improved walkability and longevity. They also feature the same upgraded plastics, Grilamid tongues as the rest of the line and the Women's specific boots feature the same lower cuff.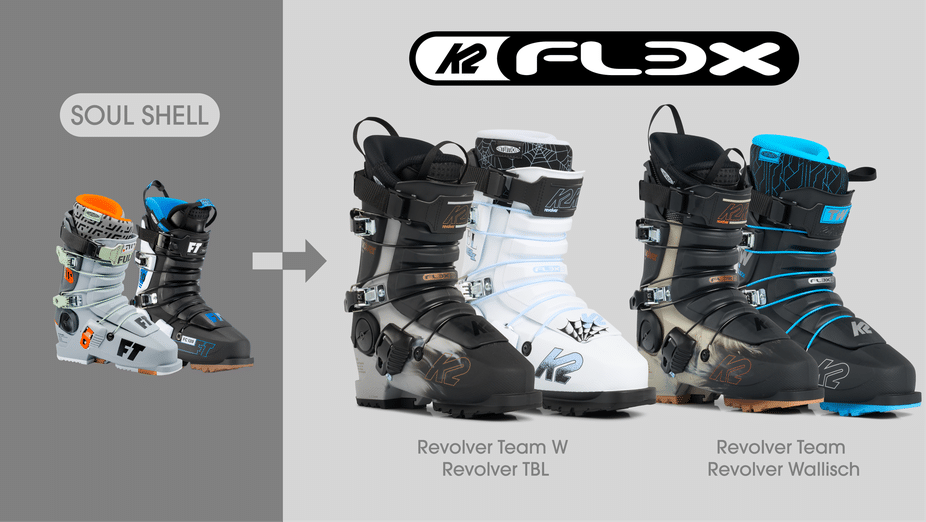 Buy Revolver Plus shell boots (Team, Revolver TBL, & Revolver TW) if you previously wore: FT Tom Wallisch Pro, First Chair
_
FT Evolution Shell -> K2 FL3X Method Shell
The Method shell is for wider-footed riders looking for that three-piece comfort and feel. With a 102mm last and fully moldable plastics they will fit even the girthiest footed amongst you. All four models feature replaceable Gripwalk soles and Grilamid tongues, with the pro models featuring wrap liners and stiffer tongues. The Women's specific boots feature a lower cuff height.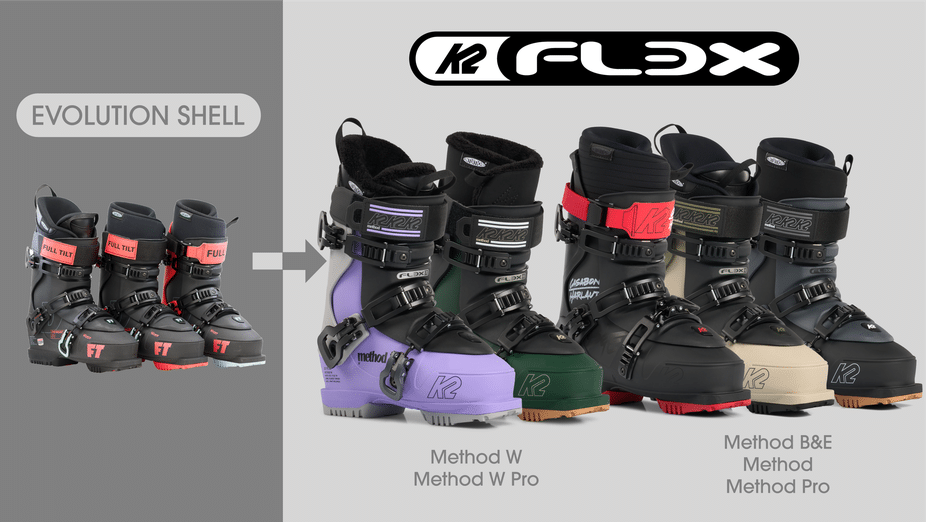 Buy the Method if you previously rode: FT Descendant Series
_
FT Ascendant Shell -> K2 FL3X Diverge Shell
The Diverge shell is based on the Method, but updated for touring use with a walk-mode, lighter plastics, and, of course, tech binding inserts (aka pin binding compatibility). The Diverge LT/LT Women features a full grilamid shell and is the lightest boot per size in the FL3X Collection. The Diverge SC and Diverge W are designed as heavier-duty options for more occasional touring.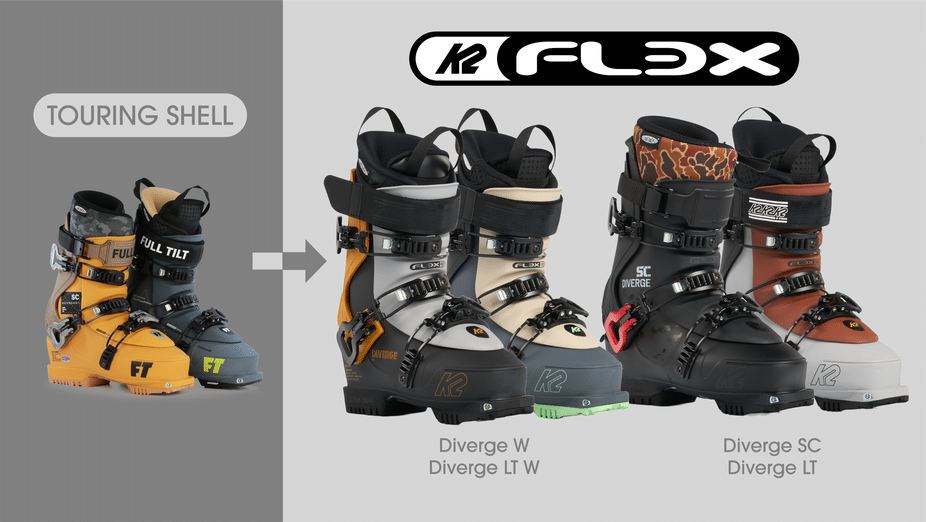 Buy the Diverge if you previously wore: FT Ascendant / Sammy Carlson Pro