The 4th Annual JP Memorial (JPM4) will be held once again in Whistler Blackcomb, April 11- 13, 2018. JP was not only one of the greatest skiers to ever live, he also gave back to the mountain community by starting the non-profit organization, Alpine Initiatives.
https://www.newschoolers.com/videos/watch/900000/4th-Annual-JP-Memorial---April-10-13---Whistler--Canada
Alpine Initiatives takes this time every year to bring the ski community together in a celebration of the life of JP.
"We are excited to continue the JP Memorial in Whistler by collaborating with WSSF to bring the event to life. It's a great fit to host the event as Whistler meant so much to JP. It gave him friends and a community, opportunities to grow as a skier, and shaped part of who he was. It will allow a broader audience to celebrate the legacy of JP and grow the awareness around Alpine Initiatives." ~ Ingrid Sirois

The JP Memorial is a gathering to remember a friend, a father, a hero and to simply have fun. It's not a contest, but there is a contest. It's not a festival, but there will be music. It's an intimate springtime event comprised of some pros, some ski-industry types and a bunch of people who simply love the mountains. Open to the public - everyone is invited and encouraged to join.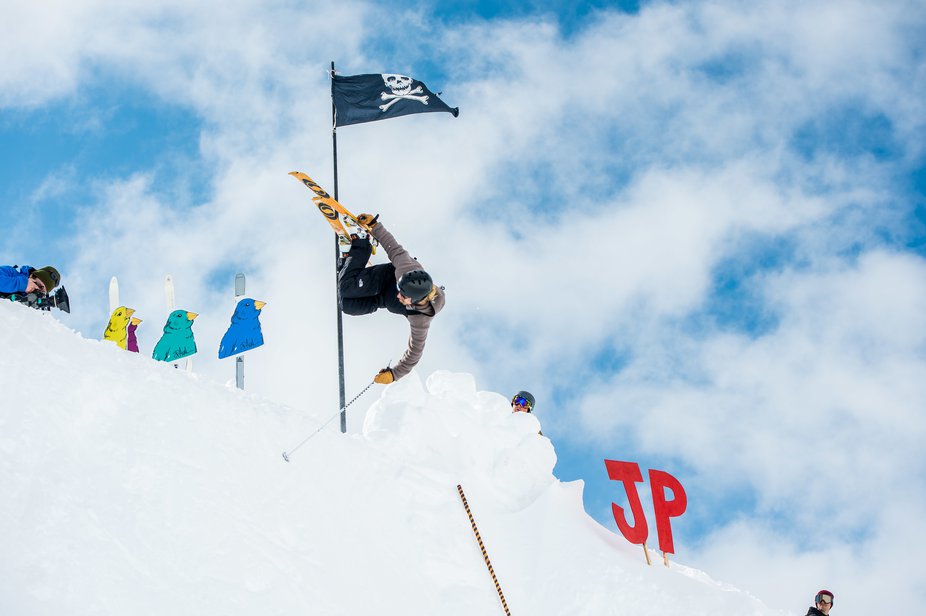 Lineup of Events:
April 11th: The Fundraiser @ Forlise – 7- 9pm: Alpine Initiatives welcomes you to the JP Memorial with a rundown of events, a silent art auction and good giveaways.
April 12th: Shred Session @ TBA – 10am- 2pm: We will ski as a crew. A time to enjoy the beauty of the present moment and shred in honor of JP.
April 12th: Freeski Trivia presented by Evo @ TBA – 5- 8pm: Come one come all. Buy in individually or in teams to participate in the trivia night. Hosted by Micah Abrams (Former Editor for ESPN and Freeze Magazine, current Content Director of The Enthusiast Network).
April 12th: Alpine Initiatives at the Olympus Pro Photographer Showdown @ the Whistler Conference Centre – 9pm: Alpine Initiatives will present a short video that honors JP's life and love for the mountains. The video will include work from a variety of photographers and filmers. *For more information on the Olympus Pro Photographer Showdown and to buy tickets http://wssf.com/Olympus-Pro-Photographer-Showdown
April 13th: The Après Ski @ the Handlebar – 3- 5pm: An après that's kind of like a closing ceremonies, a bit of an award ceremony, but really just a gathering to enjoy good food, good drink, and good company. A time to just hang out and be together in honor of JP.
For more information on the event and to register, visit https://www.thejpmemorial.com. The World Ski & Snowboard Festival is a proud partner of this year's event.
About Alpine Initiatives:
Alpine Initiatives connects people and mountains by fostering authentic experiences that pull you from the familiar to the untamed and nourish the body and mind. We build huts, high in the mountains, which celebrate the journey by offering a refuge for the human spirit to truly rest. We guide backcountry trips which offer a chance to unplug and connect with the natural world. These experiences help develop the skills needed to travel safely in the mountains, while providing the support to step outside one's comfort zone. We gather every year to celebrate JP – his genius, humble creativity, kind spirit and desire to always do more. Inspire, Connect, Grow.
Sponsors:
Alpine Initiatives is a 501(c)3 organization and is looking for outside brands and individuals to help sponsor this event. Please contact Ingrid Sirois at ingrid@alpineinitiatives.org for sponsorship opportunities.