Newschoolers!Well the time is getting close for the IF3, and you need to get yourself ready! Step 1: Go buy your tickets.
http://ww1.ticketpro.ca/current.php?Type=Festival You
can either purchase tickets for each showing, or one overall festival pass that will get you into everything. I highly recommend doing the weekend pass, as its like $50 and there's 10 movies, the NS Awards, Kid Koala show, and a badass party. Step 2: Find a place to stay. Either bug your buddy or someone you know on here to give you a place to stay, ante up and stay with the rest of the crowd at the Hilton, or check
http://www.hotwire.com
to find a smokin' deal on a hotel. Step 3: Mark yourself as attending.
http://newschoolers.com/web/content/events/event_id/438/ our
event calendar has a fancy new feature where we can see who is coming to an event. This way we'll know some of the members who are coming, and we can organize to meet up. Step 4: Come to Montreal, check out some videos and partake in one of the baddest-ass ski parties ever to hit the east coast!There really has never been something like this for us East Coasters. You get the chance to see the world premier of all the best pro and am videos coming out this year. There will be tonnes of pros and film makers hanging out, great parties and a great concert to wrap it all up at the end. There really is no excuse but to get your ass out here. Friday and Saturday all day is showings of all the top videos in our sport. During this whole time, our panel of judges will be viewing the videos as they premier and ready themselves for the NS Awards. The NS awards will present prizes to the best pro filmers, and as well give prizes to the top Am filmmakers. If you are an am filmmaker, and you haven't submitted your video yet **submissions are still open!** Thats right, this is your chance. The winner is getting flown to LA for an all-expenses paid trip to the Studio411 offices, where you'll have a chance to meet everyone there and pitch your video project. This is your chance to get a jumpstart to the bigleagues of movie making, so don't let it go just because you wanted an extra few days to finish your movie! This could change your life! Also, we'll be showing a few of the top entries so as well so thats even more reason to submit.After the awards will be a concert by our musical guest, Kid Koala, who will lay down turntableism like you have never seen before. Then we get to do what skiers do best (well other than skiing), and party the night away until the wee hours. If you're not going to be able to attend the event, you can still be a part of the action with our first ever live broadcast! Lets prove how much interest there is in this stuff, so tell your friends, tell your mom, tell anyone with a computer and a love for skiing to tune in and check it out. The night will be chock full of pro/film maker interviews, hyjinx, live awards footage and the concert by Kid Koala. You could even rally up a couple of your buddies, plug the computer into your dad's fancy TV and have your very own IF3 party at your house! This is our chance to make this a truly international event. Remember we've never had something like this on the East Coast, and it is going to be something not to miss. So stop making excuses, start making plans and come visit the hometown of Newschoolers.com! See you soon, Mr.BishopEvent Schedule: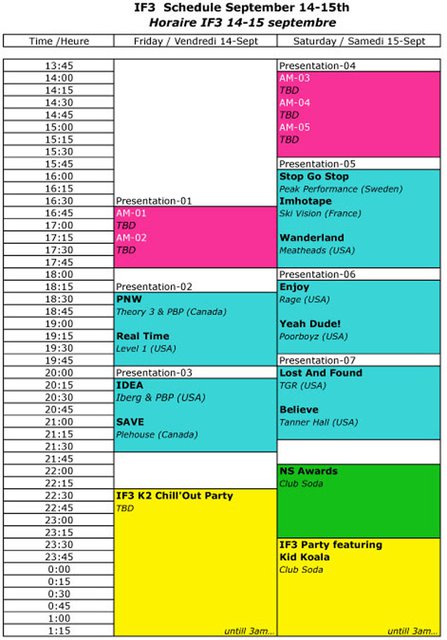 Ticket Prices: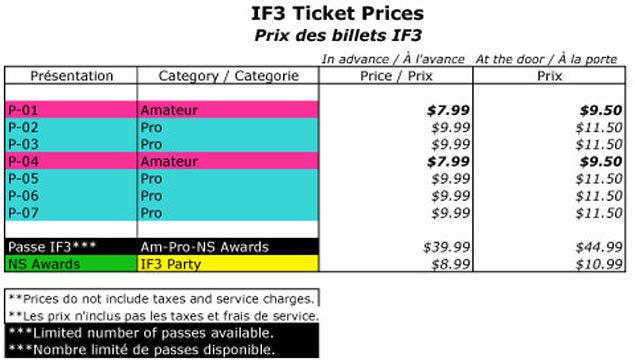 Official IF3 Press Release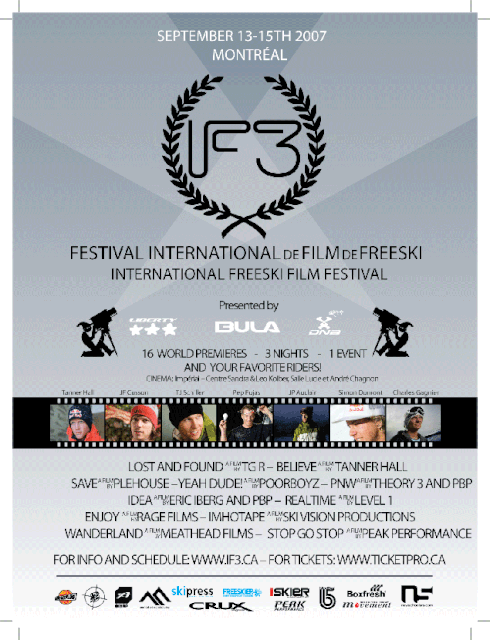 Bula, Liberty and DNA to present the First Annual IF3 International Freeski Film Festival International Crew of Freeskiing's Top Filmakers and Athletes to Gather in Montreal(Montreal, Quebec) – AUGUST 20th, 2007, Bula, Liberty ski and DNA are pleased to present the first ever IF3 International Freeski Film Festival, September 13-15, 2007 in Montreal, Quebec. Freeskiing is one of the fastest growing and most skillful snow disciplines today, and has quickly developed an impressive community of dedicated filmmakers working to chronicle the sports evolution and talent through film. The IF3 will feature the world premiers of eleven of the top professional, and five amateur Freeski films, drawing athletes and adrenaline addicts from all over the world. The film showcase and its surrounding events will take place all weekend at l'Imperial, Centre Sandra & Leo Kolber Salle Lucie et André Chagnon, in Montreal. Scheduling and festival information can be found at
http://www.IF3.ca
and tickets are now available through
http://www.ticketpro.ca."The
expressive and revolutionary nature of Freesking as a sport has created incredible opportunities for film makers to capture - these films appeal not only to athletes bit to anyone who can appreciate skill, risk and snow!," said Felix Rioux, IF3 president and co-founder. "We are incredibly honored to partner with our sponsors to bring the entire world of Freeskiing together for three days and give the community a chance to see the talent that our community has been fostering over the last few years".No doubt festival highlights will include appearances by some of freeskiing's top riders including Tanner Hall, JF Cusson, TJ Schiller, Pep Fujas, Sammy Carlson, JP Auclair, Simont Dumont, Charles Gagnier, Henrik Winstedt, Sean Petit, Andy Mahre, Lyndsey Dyer, Michelle Parker, Phil Belanger, JF Houle, Phil Larose and legendary Glenn Plake. IF3 is supported by Bula, Newschoolers.com, Red Bull, Liberty Ski, DNA, K2, Orage, Blind Five, Boxfresh, Movement Ski, Peak Performance, Moment ski, Ski Press, Freeskier, SBC Skier, Moose mag, 33mag, Musique Plus and Crux magazine."The IF3 sets an exciting precedent for the future of freeski, and the festival's format and mission to further the sport for all is representative of the Bula lifestyle," said JF DuRocher, Bula's director of marketing and IF3 co-founder. "It's time these filmmakers and the Freeski community have a proper festival forum to kick off the season and show this body of work, and celebrating talent and turning the world on to our undiscovered talent is what we're all about."In addition to the loaded film schedule, the IF3's activities will include daily autograph signings sessions, Friday night K2 party and Saturday night Newschoolers Awards with a performance by Kid Koala presented by Boxfresh. IF3 Official Professional Feature Film Schedule Includes:Lost and Found / Teton Gravity Research (USA)From industry leader Teton Gravity Research comes a must have cinematic epic. Shot on 16mm and HiDef, Lost and Found is the story of the extraordinary season of 2007 as seen through the eyes of world-class skiers and snowboarders. With global drought persisting and ski resorts closing around the world, athletes are forced to follow the snow, sending them deep into the uncharted north country of Alaska and Canada. Filmed almost entirely in North America, Lost and Found is a testament to the terrain and conditions that only exist in the Western Hemisphere. This film will take you into the vast, unexplored Tordrillo Mountains of Alaska, proving that some of the best big mountain riding in the world is still completely undiscovered. Athletes take advantage of the bountiful winter in British Columbia, hit disturbing park features in Aspen and score over-the-head powder pillows at Skeena Heliskiing. If the winter of 2007 was feast or famine; Lost and Found documents the feast. Featuring: Seth Morrision, Jeremy Jones, Sage Cattabriga-Alosa, Ian McIntosh, Candide Thovex, Dash Longe, Jeremy Nobia, Erik Roner, Dana Flahr, Chris Collins, Victoria Jealouse, Kye Petersen, Mark Carter, Micah Blac, Shroder Baker, Dylan Hood, Cody Barhill, Skogen Sprang and many more….Believe / Tanner Hall (USA)Follow Tanner Hall and his crew around the world in his latest ski film, Believe, as they take skiing to a level unlike anything you've ever seen before. Believe takes you from sessions in chest deep blower pow at Mt. Baker to a little cat time in Retallack, British Columbia. The journey continues while picking up major speed through Whistler, B.C., then on to a massive roadside session in Japan as the crew mashes the all time dirtiest pillows in Mica and up North to Haines, Alaska as Seth Morrison throws a 150+ double front flip to stop! You better believe it, Believe is the new standard in ski films. Featuring: Tanner Hall, Seth Morrison, Kye Petersen, Sean Pettit, Callum Pettit, Anthony Borownowski, Ian Provo, Dan Treadway and CR Johnson.Save / Plehouse films (Canada)Skiing beiing threatened by the consequences of the global warming is a point of interest to every skier. Plehouse wanted to produce a movie to sensitize viewers, raising awareness that a problem is present, and Save features the incredible performances of some of the best riders to drive home this message. Featuring: JF Houle, Frank Raymond, Charles Gagnier, Josh Bibby, Arnaud Kugener, Manu Guedet, Alexis Godbout, JF Cusson, Phil Bélange and Phil Larose.Yeah Dude! / Poor Boyz (USA)If you're a Poor Boyz fan, you've probably noticed PBP's movies follow a formula: The world's best riders + sick locations + sick action – filler = the best ski movie of the year. PBP's 2007 release Yeah Dude! follows the Poor Boyz tradition of scintillating action, sending crews to all points of the globe to capture the year's best skiing. Once the snow melted, the Poor Boyz Crew expanded their repertoire, inviting many of Yeah Dude's athletes and crewmembers to visit the Poor Boyz studios to give candid accounts of their seasons. The result is a much more intimate portrait of the Poor Boyz crew than ever before, but without any consequent lulls in the action. Featuring: Sammy Carlson , Andreas Håtveit , Peter Olenick, Chris Benchetler , Simon Dumont , Julien Regnier , JP Auclair, Tim Russell, John Spriggs, Craig Coker, John Symms, Anthony Boronowski, JF Cusson and introducing the youthful talents of: Mike Henitiuk, Tim Durtschi and Matt Walker. PNW / Theory 3 and Poor Boyz Productions (Canada)This high definition freeskiing project documents the travels and locations visited by focusing a unique group of athletes and an entire season on the endless areas of Alaska, British Columbia, Washington, Alberta and Oregon. The project includes two different edits, one which is laid out based on the highway systems of the Pacific Northwest, and the second, which is laid out as an segmented film documenting each athlete's season. Featuring: James Heim, Charley Ager, PY Leblanc, Brandon Kelly, Justin Dorey, Joe Schuster, Riley Leboe, Charles Grant, Max Hill, Kevin Hjertaas, Colin Puskas, Johnny Five, Erich Kunz, Andrew McIver, Ian McIntosh and Josh Stack.Idea / Eric Iberg and Poor Boyz Productions (USA)This film project is the "idea" of professional skiers Eric Pollard, Pep Fujas, and Andy Mahre, who have spent close to a decade innovating and creating on skis. Now, they want to innovate and with their first ski film. Idea follows these three athletes around to their local stomping grounds, documenting the sessions that go down with the friends they meet up with in each location. Idea provides insight into these excellent pros and their unique approach to making a ski movie. Featuring: Eric Pollard, Pep Fujas, Andy MahreREALTIME / Level 1 (USA)Six months of skiing action. Lots of snow. Weeks of rain. Sun. Clouds. Fog. Blue Skies. Unforgiving concrete. Untracked landings. Low Pressure. High fives. Triple kinks. Double grabs. Too much speed. Not enough gas. Underrotated. Overtweaked. Real Time is a chronological portrayal of the trials, tribulations, and triumphs of the '06-'07 season exactly as it happened. Directed by award-winning filmmaker Josh Berman and shot in HD across the globe, Realtime captures the season as it unfolds for a crew of the biggest names and best up and coming talent in skiing. In a winter quite unlike any other to date, Level 1 throws down a fresh new format with their trademark style, and nothing short of the best cinematography in action sports filmmaking. As usual, Level 1 packs in over 60-minutes of the best bonus features in the business, and all DVDs will include a supplementary booklet including stories, anecdotes from the athletes, and a collection of the year's best photography. Featuring: Corey Vanular, Tanner Rainville, Wiley Miller, Steele Spence, Sean Decker, Travis Redd, Stefan Thomas, Liam Downey, Mike Hornbeck, Ahmet Dadali, Richard Permin, Tom Wallisch, Adam Delorme, Mike Clarke, Dan Marion, and Matt Philippi.Enjoy / Rage Films (USA)Making a ski movie is a constant battle of conditions, terrain and travel. The season began by driving all over the country chasing down handrails, and as it continued, "global warming" and inconsistent snowfall patterns became the biggest obstacle. From greasing handrails in New York to perfect conditions in Alaska, the Rage Films crew was there at a moments notice. In the end we were rewarded with the most technical urban, progressive backcountry, and big mountain lines that has redefined skiing. Featuring: Tyler Cooley, Wiley Miller, Mike Hornbeck, Ian Cosco, Taylor Felton, Ahmet Dadali, Dylan Natale, Tim Durtschi, Mark Dvorak, Tim Russell, Richard Permin, Martin Misof, Ashley Battersby, Fabio Studer, Thomas Doplads, Luggi Brucic, Banks GilbertiImhotape / Ski Vision Productions (France)Our film represents the fast and growing Fench freeski scene. Imhotape was mostly filmed in France all and across Europe, with a little touring in Canada and in Japan. This film is packed with action shots and also includes cinematic performance from riders. Featuring: Richard Permin, Thibault Fornier, Vincent Estorc, Anthony Vugnier, Laurent Thevenet, Aurélien Fornier, Xavier Bertoni, Mick Tissot, Arnaud Rougier, Andy Collet, David Lacote, Mathieu Imbert, Thomas Krief, Kevin Rolland, Gigi Couttet, Virginie Faivre and Arnaud KugenerWanderland / Meathead Films (USA)Grab your gear, jump in the car and take the road less traveled. Join the infamous Meathead crew as they roam windswept backcountry summits and grimy city streets from Ohio to Newfoundland in search of the finest Eastern skiing. Filmed in High Definition and Super 8mm, Wanderland is an unforgettable ski odyssey through the winter of 2007. The Meatheads had to pour over dozens of maps, endure record-breaking blizzards and brave 30-foot Atlantic swells in their quest for the best. Welcome to the real East Coast. Welcome to Wanderland. Featuring: Jay Bowen, Pat Colburn, Giray Dadali , Mike Evan, Shea Flynn , The Hammer, Ross Imburgia, Ben Leoni, Asia Magriby, Nick Martini, Erik Olson, Aandy Parry, Stacey Rachdorf, Radio Ron, Tony Rossi, Tyler Seacrest, Lil' John Strenio, Dave Watson and Will Wesson.Stop Go Stop / Peak Performance (Sweden)Stop-Go-Stop is a ski movie following the Peak Performance ski team in their search for epic skiing. Stop-Go-Stop shows us that being a pro skier is not only fresh powder, it is about traveling and meeting friends and enjoying nature. Most of all it is about passion and a choice you make...or not. Featuring: Henrik Windstedt, Jon Larsson, Jacopo Bufacchi, Baptiste Blanc, Sebastian Garhammer, Kelly Holland, Rachael Burks , Kevin Hjertaas, Adam Falk, Stina Jakobsson, David Lacote, Jennifer Farde, Peter VelisekNewschoolers Award with performance of Kid Koala presented by Boxfresh IF3 organizers recognize that an international film festival is only as good as the awards it bestows upon its' most deserving films. That's why they have aligned with Doug Bishop at NewSchoolers.com to present the NewSchooler awards for outstanding professional and amateur film entrants. Awards categories include:Major AwardsBest Film – ProBest Male - ProBest Female – ProBest Trick – ProBest Cinematography – ProBest soundtrack – ProPeople's Choice – ProBest Editing - ProBest Film – AMBest Edit – AMMinor AwardsMost Professional - AMBest Trick - AMBest Soundtrack – AMBest Male – AMBest Female – AMBest Teaser of the year – WebBest Hand Job – (best follow cam) Pro awards will be decided on by a pre-selected panel of industry-expert judges while amateur awards will be judged by a combination of judges and peers. The winner of the coveted "Best Amature Movie" prize will head to Studio411 in Los Angeles for a once-in-a-lifetime opportunity to learn more about the business side of action sports filmmaking and a chance to pitch their upcoming project for global distribution. Studio411 is the top action sports studio working with the best ski producers such as Poorboyz Productions, Train Jump Entertainment / Tanner Hall Productions and Plehouse films. For more information about the selection process or Newschoolers Award with Kid Koala at Club Soda, visit
http://www.if3.ca.About
IF3: The IF3 was created to gather the world of freeskiing annually to create public awareness of free skiing's new dynamic emergence through showcasing the year's best freeskiing movies. The premier IF3 is made possible through the generous sponsorship of Bula, Newschoolers.com, Red Bull, Liberty Ski, DNA, K2, Orage, Blind Five, Boxfresh, Movement Ski, Peak Performance, Moment ski, Stowe Mountain, Ski Press, Freeskier, SBC Skier, 33mag, Musique Plus and Crux magazine. For films schedule details and more information visit
http://www.IF3.ca.Last
Updated ( Friday, 24 August 2007 )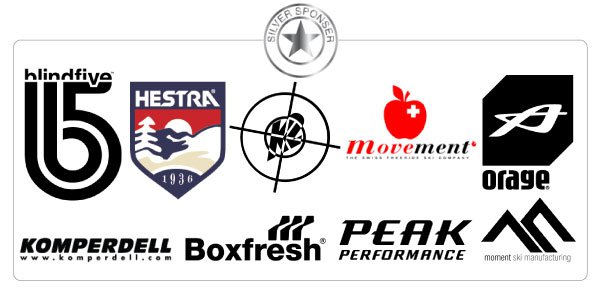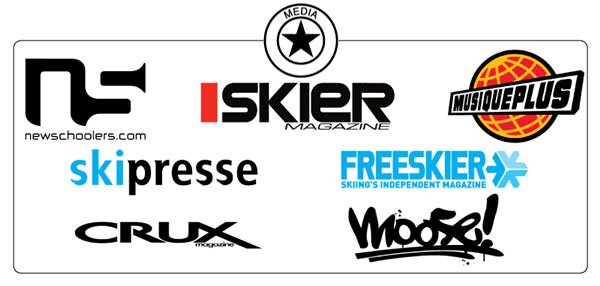 Please join me in a shoutout to our gracious sponsors, who believed in the IF3 even in its first year. They are the ones to thank for making this event happen!