Cover photo by Josh Bishop
Last week, Gus Kenworthy opened up about his past, in both his skiing and personal lives, part 2 talks about his present and future, but not before he sets a few things straight about his Olympic past and why he made the switch to represent Great Britain at Beijing 2022. After his final X Games appearance, last weekend, will the Olympics be his last contest?
_
So, let's pick up where we left off: it was only COVID that really limited your skiing in recent years. You said you admired skiers that do everything, so what made you settle on competing in the pipe?
I never wanted to choose. I like both and there are things I like about each discipline, more than the other one and there are things that I find easier in both of them too. Ultimately, it was so hard for me to make a decision that in 2014 I said I'd try and go for both.
The US has this really intense qualifying procedure, where there are like four or five qualifying events that are right before the games. It's your best two results from those events and you have to have two podiums to hit the subjective criteria. In 2014 I did it. I was the 3rd ranked slopestyle skier and the 4th ranked halfpipe skier and I hit two podiums in both of the disciplines. They were like; 'Congratulations, you're going to Sochi for Halfpipe and Slopestyle.' I was so ecstatic. A few days later, they took back my halfpipe spot and gave it to Torin Yater-Wallace. It was a coach's discretion decision. Torin had been out with injury for all of the Qualifying events, so he hadn't had an opportunity to qualify. He was going to be healthy for the games, so they took my spot and gave it to him.
Honestly, it was one of the toughest pills I've had to swallow because I feel like I worked so hard for the spot and had trained for so many years. I felt so driven and I felt like I had to push myself so hard to try and keep up in both disciplines and do all of the qualifying events. When everybody else got to go rest after competing in halfpipe, I had to go compete in slopestyle and vice-versa. At the same timepoint, Torin is a good friend., I really like him, I think he's very talented and his track record did show that was somebody that was a podium threat. It was hard because I kind of understood it, but I also hated it and felt like it was unfair.
Another thing that was really frustrating, was that I felt like there wasn't a whole lot of sympathy from the US team. It wasn't like; 'We're so sorry to do this, but this is what we're doing and this is why. Please don't think it's anything to do with you or your skiing or whatever.'They were just like: 'hey, we're sorry. You're not going to be in the 4th spot. We're taking Torin.'
It was super cut and dry and it just kind of rubbed me the wrong way, but it was fine.
I went to Sochi and I just focused on Slopestyle. It ended up working out for me and I had a performance that I was really, really happy with and landed a run that I was really happy with. I thought the course was insane, the weather was great and it felt like a really good podium. It was very high-level riding and I was really, really happy with it. I couldn't have been happier with it, for the first event for slopestyle.
_
Was it the same story in 2018?
It was the same process with the US: Five events, you have to have two podiums and it's just a really arduous process, to try and get through all of these.
Again, I was the only guy doing pipe and slope. I ended up being the number one ranked slope skier for the US, after the qualifying events, but I was the number five or six pipe skier. I had one podium, but you need two. The US is so stacked, that there were more than four people that had two podiums. So, I missed out on going for Halfpipe again. It was unfortunate because I felt like I actually had a run that could have medalled there. At the time I was doing both ways 14s in my run and that's something people are just putting in their runs right now. I sort of lost those tricks and I'm relearning them now. At that moment, I felt like I really had the tricks to get on the podium. Doing stuff that not many people were doing.
One, I felt that maybe the coaches could have seen that, and used the coach's discretion, like: 'we took Gus's spot in 2014, and now he just missed it by one or two spots'.
Obviously, that didn't happen.
The other thing is, all of the qualifying events in the US, a lot of them were scheduled in a way that Slopestyle practice would happen during a Halfpipe competition and vice-versa. By doing both disciplines, I was only getting half the practice that other people got. I'd have to run from one discipline to the other and I was a wreck from it. I never had any downtime; I had a couple of bad crashes and I was just always playing catch up.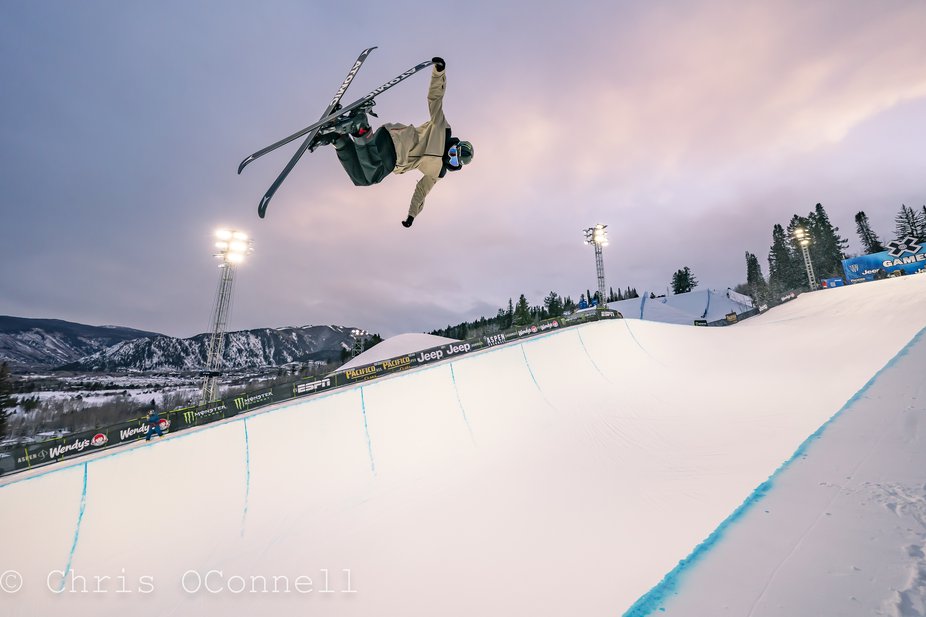 _
Do you think they do that to discourage people from focusing on more than one event?
I don't think they do it for any reason really. I think that there's a lot of logistical stuff. They have so many riders and they have snowboarding to think about, as well as the women's disciplines. My agent and I definitely went to them to say that the schedule sucks. They also like stacked events. An event would finish and the next day it would reset. We had back-to-back competitions in Snow Mass; Slope and Pipe and then back-to-back again in Mammoth because there weren't that many mountains that had stuff set up with how much snow they had. We were basically told them the schedules were really shitty, it forced me to miss half of my training. I knew I could do well in both of these disciplines, but I can only do so much. My body was wrecked.
Ultimately, they said that they couldn't change the whole schedule just for one person. They couldn't make exceptions and they couldn't give special treatment. I actually, completely understand, but I felt like I wasn't asking for special treatment. I was just asking to be able to have the same amount of training as everybody else. I felt like I was almost being penalized for doing both disciplines.
I went for slope and it wasn't the best course for me. Sometimes you just get to a course and you're like 'game on!' or you're like 'f*ck, what am I going to do here?' and it was definitely the latter. I was struggling to figure out a run. I was pretty happy with the run I put together, but it wasn't the best run I could have done.
I qualified through to finals and then the finals were that same day and I had been dealing with this injury. I had this huge hematoma, on my hip, because it was so cold and icy, and I had landed on my hip/butt during practice. Because it was so rock-hard ice, I had this huge hematoma. I was limping around and the US doctor ended up draining my hip of like 40cc of blood. It was super gross. I just felt like I wasn't in tip-top shape and I didn't feel like I could give it my all and it was unfortunate, because I was considering having that be my last competition.
_
It's obviously been big news that you switched to compete for Great Britain at the next games. As a Silver-medal-winning US skier, what prompted the switch?
I don't want to be old and look back with regrets that I didn't try one more time and go one more time. I still think I can do this right now and I basically decided that I was going to do it.
I started figuring that out and part of that was deciding that I was going to do that for the British team.
I got grief when I did that. A lot of people said I made that choice because I wasn't good enough to make the US team anymore. That's a fair and valid critique, except that I think that I do think that I'm good enough to make the US team. I'd done it twice , for two Olympic cycles. I've made the team for slope and my focus is on halfpipe now, because I haven't been able to go to the Olympics for pipe yet.
So you didn't want to ski slope for GB?
No. I did two World Cups: one in Calgary and last year in Aspen. That was more just for fun and to compete again. My focus the whole time was to go to the games for halfpipe. It's a valid critique, I see how it obviously can look that way; Like I wouldn't make the US team, so I switched teams, but I think I would make the US team. I'm grateful that I don't have to because it's so competitive, but in a way, me going for GB actually opens up another spot for another US guy. I wouldn't be taking one of those four spots, whether or not I'd get it. I'm not taking someone else's spot for GB. There's no GB men's skier that's within the subjective criteria, to qualify, for pipe. I already have my spot.
The other critique was that I was taking the spot of some British kid, who grew up on dry slopes, I actually don't think that's the case and I think that and I have been told that me joining the GB team, has brought a lot of new budget and interest to the British team. If anything, it raises the profile of the whole program, so they have more funding for kids in the future. I hope that's true.
It's the same Olympic qualifying criteria, I don't think I was taking anyone's spot, because there wasn't someone else who had the spot in pipe.
_
Fair enough. Had you ever thought about skiing for Great Britain before?
It's not as though I pulled some shady sh*t to do this. I was born in the UK, my mom's British. Half of my family's British. I've always had both passports. I spent the first two years of my life there, but I have 2 older brothers, my older brother is 9 years older than me, so he spent the first 11 years in England. My family moved when I was 2, so I have spent my whole life in the US. That's actually why I chose to switch to GB. I obviously skied for the US in my first two Olympic Games, but I had the same dilemma in 2014. I could go for either Olympic team, I have both passports. At that point, I thought: 'I feel like I'm an American. I grew up in America, I have both passports, but this is where I feel like really is my home. Plus, the US team has way more infrastructure and is way more organized, so it would be better for me –just for training and stuff—to be with the US team and have access to everything they have access to. Then after the situation with the halfpipe spot in 2014 and 2018, I thought that if I wanted to go again, I want to go my way. I knew there would be criticism, but ultimately I wanted to do this.
I initially told my mom and she got so excited about the idea of me skiing for GB (she's from Bristol, but she was born in Essex) and her sisters were all fired up. That was just when I was kicking around the idea, so I did it for her. It's my last games, I'm going to dedicate this to her. I'm going to ski for GB and wave the Union Jack. I will have an easier road to qualifying, because of that, I'll just be able to focus on training and get a really good run, instead of worrying about fighting for spots.
_
If you win gold will you sing the GB national anthem? Do you know the words?
Honestly, I do, but I think I would f*ck some of them up. That's the same thing for the US National anthem too. I always f*ck up the lyrics.
So, will you try?
Yeah, God save the Queen!
Do you do anything "British"?
I love a fry-up! That's what I grew up with, for breakfast. On any birthdays/Christmas, we have roast beef and Yorkshire puds.
My mom is full-on, through, and through British. I grew up having Heinz baked beans, with my eggs. We would do egg in a cup with soldiers. There are certain words like I saw rather not rather (Haha just imagine the first one in a British accent and the second in American). There are lots of little things.
How much do you talk about the weather? That's a pretty British thing! On one side you've got britishness and skiing, but on the other, you live in LA!
I feel like growing up that definitely was a thing. My mom talks about the weather a lot. I'd say I don't talk about it so much, like a regular Brit, but you definitely talk about it at competitions or dealing with conditions. But in LA, it's always sunny!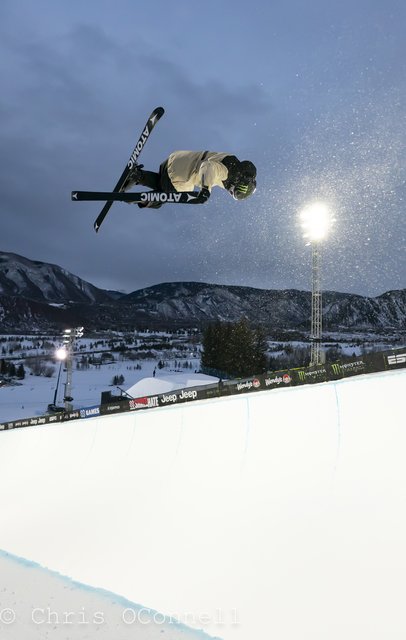 _
So, is this Olympics your last contest?
Win, lose or draw it's my last competition. I'll still keep skiing. I'll be a skier for life.
I have always known that I wanted to end my competitive career when I was on top, near the top or feeling really good. I didn't want to be chasing, trying to keep up at the end of my career and have that overshadow any previous success. I was just feeling really burnt out at that point.
Even still, my relationship with skiing has really changed. If you think about a romantic relationship; the beginning of it is so hot and heavy, it's infatuation, lust, desire and it's so intense. That fizzles and ends up going away and it's replaced by a deep appreciation, gratitude and love. At least in a good/healthy relationship! I feel like that is my relationship with skiing.
Do you think this is a natural time to end your competitive ski career then?
I was with my best friend when I was 14, and he was run over by a snowcat and died. I was there with my other best friend. It scarred me, it changed my relationship with skiing and the mountain. At one point, it made me want to quit skiing.
Ultimately, I feel like I've had this very long, ongoing relationship with skiing. At this point, now, I feel like it's just gratitude. I am so grateful to the sport and I love the sport, but I'm not obsessed with the sport, in the way that I was when I was younger. I have other interests and other things that I enjoy.
I've also just done this for a long time. I started skiing when I was 3, but professionally since I was 16. I'm 30 now, so that's almost half of my life. I've been doing this competitively. Always on the road, travelling and dealing with injuries. I've had so many surgeries, so many broken bones and I'm just ready to not have that pressure, expectation or risk of injury anymore. I'm excited to have skiing go back to just being something that I get to enjoy and not be a job.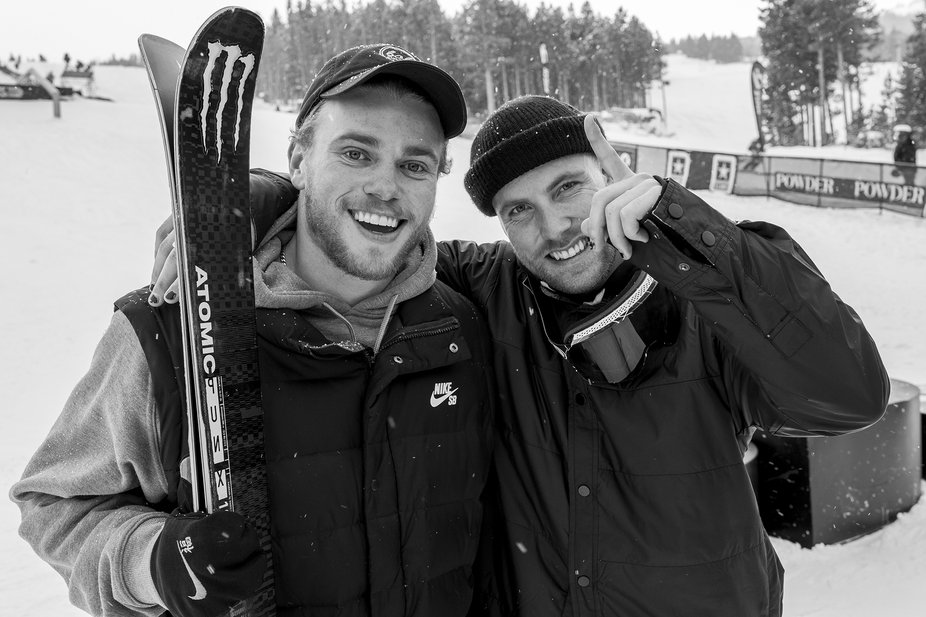 Gus and Jossi Wells at the Dew Tour Photo: Josh Bishop
_
Will you film?
Yeah, I hope to. I mean I don't have anything lined up, but I would like to still ski and get to showcase it, enjoy it, do some stuff for sponsors and whatever. I just don't want my whole season to revolve around competing, travelling, dealing with shitty weather and getting hurt. I thought Korea was going to be my last one and I kind of just had a hard time walking away. Partly because I felt like I still had more left in the tank, but also; I do love the sport, I didn't feel like I was done and –I don't know if I even believe this—the saying; 'You're only as good as your last performance' and my performance wasn't the performance I was hoping for. I took a year off from competing, I re-evaluated and I thought 'I could still do this and if not now, then when?'
Would you ever ski street again?
Yeah, I want to actually. I sort of have mixed feelings about it, because I'm ready to not get hurt anymore or worried about getting hurt. It's impossible not to get hurt doing urban, it's so gnarly. The level that it's at right now is insane. That used to be my favourite, I used to travel around doing handrails with Rage. Rails are my favourite part about freeskiing. More so than jumps or pipe or anything. I feel like I never even hit them anymore because I travel with my pipe skis and it's sad. I'd be pretty stoked to do some urban again. I think I'd just be specific on what it was because I don't have the knees anymore!
_
It's probably not possible, logistically, but -with astroturf and winches- could you do any urban in LA?
It's not really possible, I don't think, but I'm still the same ski-kid that I was, so I will constantly be like; 'oh my god, look at that handrail!' or 'if I did that rail onto that ledge, look at that redirect' then I'm like; 'it doesn't snow here'
It snows once in a blue moon and it doesn't really stay. On the off chance, with climate change, we end up getting a big dump in LA, I already have a bunch of spots in my head.
Will you do more acting and stuff after the Olympics?
I definitely want to, I don't think that I'm the best actor. I think I'm ok, I really like it and I would like to keep getting better. One thing I like about acting is that unlike skiing, where there's a definite expiration date on it, with acting you can just keep getting better and honing your craft.
I would like to continue to work at it and take lessons and continue to audition.
There are a few other things that I'm hoping to work on after the games. Like TV hosting and commentary. I've written a few essays and maybe modelling too, I'm open to anything.
_
In an interview, you said that skiing is 'on the way out' because of climate change. Do you want to elaborate on that?
I don't think that the sport is on the way out, for any reason other than I think there'll be less and less viable places to do it. I don't know if that's going to be in the next five years or ten years or even in our lifetime, but the planet is heating up and we're not doing enough to reverse it.
I am not saying that I am the pinnacle of what you should be doing, because I'm flying all over the world. Taking planes is so harmful to the environment. We go to Saas Fe every year, to train. It's a glacier and literally from five years ago to this year, you can see a huge difference in the glacier. There are constantly little avalanches. Small ones, up off the glacier, but you can just see that it's eroding. It's falling apart.
I don't know exactly what it means. Obviously, we're still having snowstorms and they're getting snowstorms in Houston and places that wouldn't normally get them.
I think it's going to cause a general shift in our winters; when we'll get them, how long they last and how safe they are – in terms of avalanches and stuff like that. It's going to negatively impact skiing. I don't know what the timeline is going to be for that.
Do you make efforts to help reduce your own carbon footprint?
I do small things, like bike instead of taking my car, if I can. I try and carpool if I can. I don't use plastic or paper bags at the grocery store; I'll bring my tote. I pretty much don't eat red meat. I'm happy to take some of these steps, but ultimately, me not bringing a plastic bag back from the grocery store or me carpooling or whatever, doesn't really change anything. The changes that need to be made are a lot grander and they need to be done at the discretion of governments. I think that countries and political leaders need to do more to help curb the effects of global warming. The citizens will do what we have to do or if laws are imposed upon what types of fuels or resources we can use. Something needs to happen because it's not looking good.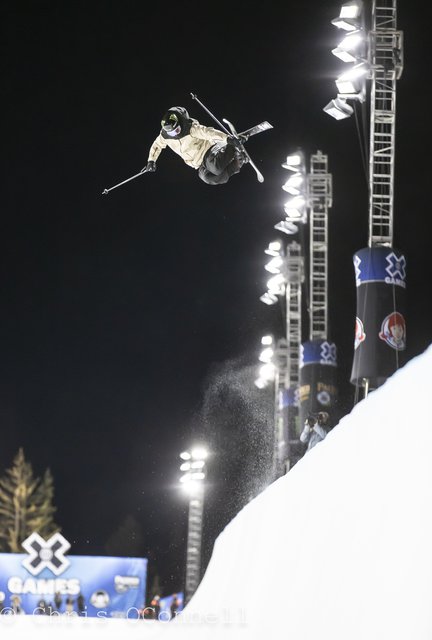 _
Gus's Favorite:
Trip: New Zealand. Not just for the skiing, like it's fun there's a good pipe and jumps but it's just my favourite place. It's so fun, I love Wanaka, I love Queenstown and the views are insane. When you're not skiing, it feels warm and there's the lake right there. I just love it!
Trick: It kind of changes. If there's something I'm working on –like a left 14, in pipe—I'll be doing a bunch of right 5s before, just for fun, as a set-up. Then right 5s would be my favourite trick for that while. But I think through and through, my favourite trick is probably a switch 7.
Switch 7, on a jump, is probably my favourite, most fun trick. Bigger tricks a dub 10, on a jump, is one of my favourites. Alley-oop double, in the pipe, always scares me and makes me nervous, but it's always fun.
Track: The last trip that I was on, I was very much into Black Out Days by Phantogram.
Haha