This evening saw the inaugural Golden High Awards go down in Annecy, France. These are the new awards given at out at the opening of the High Five Festival, the biggest ski film festival on the planet. More than 70 edits and movies will be shown at the multi-screen Cinema Rex in Annecy over the course of the coming days with thousands of guests enjoying the show… and the infamous parties.
It's tempting to get carried away with awards, offering up dozens, recognizing the many different aspects of skiing. High Five have opted for a simpler approach, awarding just six golden palms or 'Palm D'Or' (in homage to those given out at the world famous Cannes Film festival, just a few hours south of Annecy), plus a special jury's choice award. The ceremony was hosted in the very grand Impérial Palace, with industry insiders and riders congregating for canapés and cocktails before the madness of the days to come. The vast majority of early arrivals were suited and booted, presumably all french ski industry folk and very glamorous indeed. I did not get that dress code memo, but thankfully neither did the other skiers.
The ceremony itself was one of a kind, with a uniquely french take on skiing, ski history with confusing games and more. It took a little time to get to the presentation but the awards were eventually.... awarded.
Things kicked off with High Fives honouring a legend of the sport with a lifetime achievement award, which went to none other than Tanner Hall. Accepting his award in true 'bananas' Ski Boss style, Tanner had the whole room stoked. Judging by the preview, hinting at yet another year of bangers, the award couldn't have been more deserved.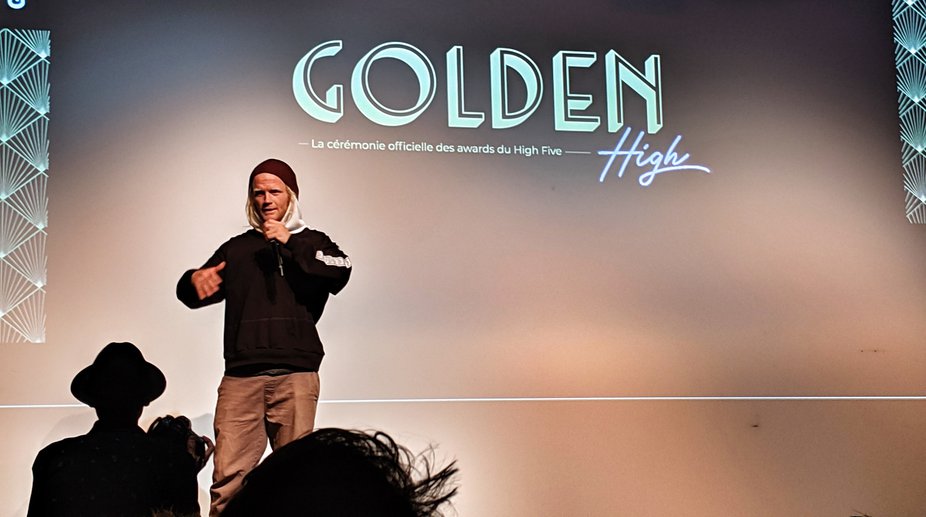 Shortly after, Josh Malcyzk, of Line Skis bossman fame, collected the award for best short film on behalf of Eric Pollard. His new movie, Drawn From Here, has flown way under the radar. It's an artistic passion project for Eric and releases alongside a 200 page book. Get stoked for this one if you're of an artistic persuasion or a massive Pollard fan, as I unashamedly am.
And then the biggest one of all, film of the year was contested by four projects: Level 1, Faction Skis, Matchstick Productions and Jeremy Pancras' Keep It Real. There could only be one winner, presented by Johnny Decasare, and the panel went with what was probably the only possible choice all things considered, Romance, the Level 1 swansong. On stage, Johnny D, was full of praise for all the movies and all the shorts, but said that Romance pipped them all by presenting the fullest account of skiing as it is today. They key message though, it's a crazy year for ski movies. Get hyped.
Winners:
Best Male - Sam Kuch
Best Female Segment - Laurie Blouin
Best Short Movie (under 20 minutes) - Eric Pollard - Drawn From Here
Best Feature Film - Level 1 - Romance
Legacy Award - Tanner Hall
Public Choice Award - Perrine Laffont
Prix Du Jury - Jeremy Pancras' - Keep It Real