Interview by Andrew Thomas
Let's start with the basics. Where are you now?

I Just got back from the Poor Boyz Triple Threat Tour stops in Missoula, Bozeman and Helena, Montana, where they were showing both WE and The Eighty Six. Chillin' in Boulder at the moment. 


How was your summer?

My summer was amazing. I skied for three months in Oregon and loved every minute of it. We had two houses in Government Camp courtesy of K2 and the skiing was all-time. Season 2 of K2 Summer School was a success too, so I can't complain. Big shout out to everyone who follows Summer School, and be sure to check out Extra Credit below. We mixed it up and featured a few new friends in this edit. Big thanks to Connor Scofield for gettin' after it with the camera this summer.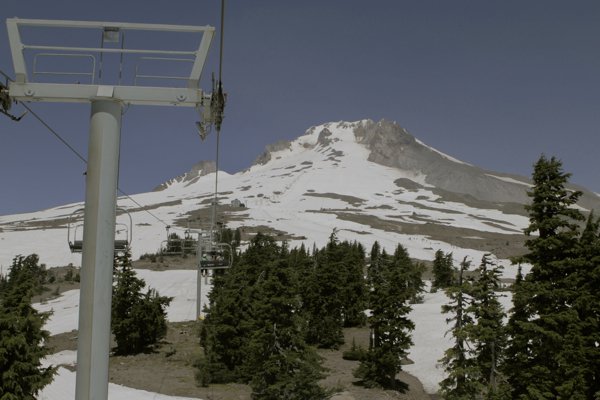 Mount Hood. Photo by Connor Scofield


Tell us about this past winter season. Best place you traveled? Worst?

The best place I traveled to was probably Duluth, Minnesota, believe it or not. I'm sure people are expecting me to say like New Zealand or Japan or some shit but let's be real here. The States didn't get much snow this past season and we had a stout crew in Minnesota. The worst place I traveled to was during my first trip of the season to New York. To be clear, NY is sick as hell, so I'm not hating at all, as I actually enjoyed the time I had there. With that being said though, I did sprain my MCL on a stupid late-night feature and had to drive 15 hours back to Maine to get checked out. As a result of getting hurt, I had to watch all the snow come and go that month. I swear that was the best month to be healthy and filming, but I was sitting in a dark ass basement, broke as hell, going crazy. I'm still bitter about that shit to this day. 


Who or what influences your skiing the most, both inside and outside of skiing?

Personally, music influences me the most. I'm really big on music and enjoy seeing the style that artists put into their work when trying to portray swagger and movement. When I watch skiing, whether it's an edit or a movie segment or something, I want to be mesmerized not only by the skiing and talent, but also by the music that's playing along with it. Inside of skiing, I would say that my biggest influence would have to be the past history of freeskiing alone. I've grown up watching this culture evolve in so many ways. We have athletes representing mass corporations like Target and Verizon and we're heading to the Olympics in 2014. All of this is well earned and I'm amped as hell on it. I think since skiing is becoming so big and commercial, I want to stay true to the idea of self-expression and continue making a name for myself just like the greats that I grew up watching. Big shout out to Liam Downey by the way. Ever since I met Liam back in the day in the dirty Lew (Lewiston, Maine), he's always told me that I was the man and encouraged me to keep going. If it weren't for Downey, I wouldn't have been motivated to do what I'm doing.
Speaking of music, what's in your earbuds right now?


I've been getting funky recently. A little Bill Withers, a little Curtis Mayfield.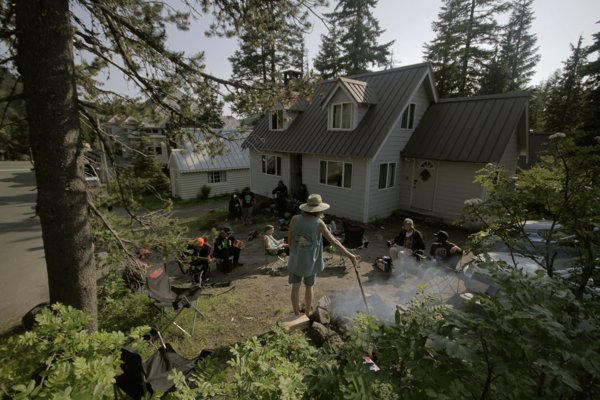 Shea Flynn's home away from home this summer. The K2 House in Government Camp, Oregon.
Photo by Connor Scofield
People view you as a predominantly urban skier. Would you say this is accurate? How many days do you get on hill versus nights in the city?

First off, I would say the term "urban skier" sounds kind of ironic. Skiers are supposed to go skiing at resorts, not urban environments right? I would prefer the term non-conventional skier. I also have a problem with the term "jib" by the way. I'm 22 years old. I sport a massive beard. I'm grown. Why would I want to be referred to as a jib skier? Grown men don't go jibbing. Regardless, I would say that I spend the majority of my time filming in urban environments as opposed to ski resorts. When I do get to hit the slopes with the crew, it's usually laid back and enjoyable. I live in Colorado where we get 300 days of sunshine. I don't feel I should be spending those days practicing comp tricks or anything like that. 


What draws you to this lifestyle of urban missions and evading authority in order to accomplish your ski goals? Did you get written up many times last winter? Any serious tickets for ski-related "crimes"?

Sometimes the authorities take their jobs a little too seriously and act like they are omniscient human beings. I probably like urban missions so much because of how much I dislike police officers. It feels good to get under their skin like that. You would think we'd have a ton of tickets racked up by now but we really don't. Usually, the police just check my ID to make sure I'm not a felon and then tell me to leave. Giving us a ticket would only piss us off more, and most of the time, the police just want to get rid of us so they can move on with their regiments. Remember kids, if you don't get a ticket, you're allowed to go back at another time to hit the spot again. It's unwritten urban etiquette.


A lot of older people have the complaint that you are vandalizing or disrespecting property when you ski on it. Others say you are trespassing. What are your feelings on this matter?

I feel it necessary to disregard whatever older people tell me when constructing negative things to say to me. Older people that try to shut us down should simply worry about their health and their own problems. Don't worry about what we're doing out here. Go grab that 2% whole milk at Whole Foods and work towards diminishing those early signs of osteoporosis. It would be a lot different if we were asked politely to stop. We're not trying to vandalize or break anything, we're trying to innovate skiing in the cities. Unfortunately, since we appear different to the common eye, (baggy clothes, cigarettes and long hair), we are often approached with hostility. Luckily, we've learned to laugh at those types of people and don't lose sleep over it. 


Just before your segment in The Eighty Six, your hotel was burning down. Can you tell us what happened there?

We were staying at a shady motel in Fargo, North Dakota. One night after a long session, we came back to the spot to dump cards and recharge batteries before going back out for a late night job. After bringing all of our gear inside, we heard the fire alarm go off. At first we thought nothing of it. After two minutes however, we opened the door to find a thick cloud of black smoke billowing toward us with people running past us screaming. We then had to grab all the gear and jet as soon as possible so that it didn't burn. It was trippy. People were jumping out of their windows and shit. Apparently this motel was known for its prostitution and drug trafficking so it was definitely a sight. We saw so many sketchy people get in their cars and never come back. Chuck (Charlie Owens) ran past this one room on his way out and saw this chick yelling to her boyfriend to "grab that shit, lets go, lets go..." while her better half packed all of his drugs up into the bed sheet before splitting. In the end, we found out that the fire was caused by an old man who was smoking a cigarette in his room. The oxygen tank that he was hooked up to caught on fire and blew up. The hotel probably cost us less than 50 bucks to stay in, so hopefully this is some insight for those who think the life of a pro skier is glamorous!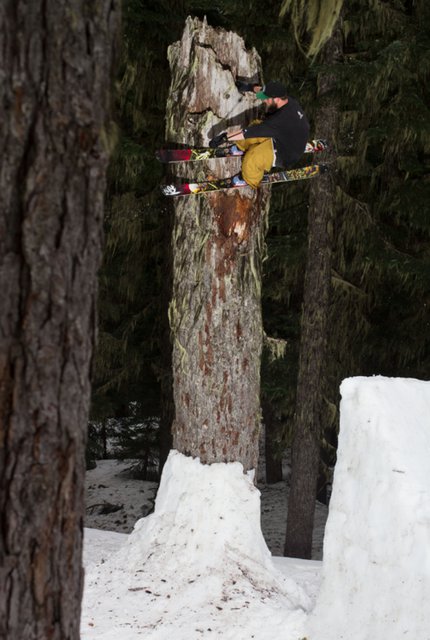 Photo by Topher Baldwin
What goes through your head prior to dropping in on some of the more high-consequence features that you hit? Is hitting features with a crew kind of like having a support team there for you?

When I set a feature up, I visualize the whole time. When I'm shoveling snow, I'm thinking about speed and picturing myself dropping in. Most importantly, I visualize all the wrong ways to hit the feature that will lead me to a horrible crash. I know it sounds weird, but for me, thinking about eating shit and getting broken off helps me develop the best mindset. If I'm setting a feature up, I'm going to hit it. If I'm going to hit it, I'm going to get a shot. If I'm going to get a shot, I need to go 100%. By knowing how easily it could go wrong, I'm forced to stay on my toes. This is why having the crew there helps. When there's a group of my homies at a feature, I can worry less about my environment and more on what I need to do at that time; mainly, logging a banger. The same goes for the crew. If it's my turn to pull bungie and shape the in run, I'm trying my best to make my homie feel comfortable so that he too can get his shit done. It's a cycle that we've figured out to the T.


You're very picky about your video and photo content that makes it to the public. Tell us about your philosophy behind your image and quality of skiing.

I've had footage released of me in the past that I look back on now and disapprove of. Whether it be dialogue or action shots, I feel I would prefer to keep most stuff from the public. Most of the time, I'm doing stuff that professional skiers aren't supposed to be advertising. Other times I dislike how I look on camera and realize it wasn't exactly what I was going for. I have to be picky. If you're not picky, you become careless.


What lies ahead for the future of urban skiing?
 

I'm honestly not sure what the future holds for urban skiing. If enough kids get bored of conventional skiing, just like a lot of freestyle kids at one point got bored of racing, I feel like urban skiing would be a good way to continue thinking outside the box.
How do you feel about being bumped to the Factory Team proper of K2 Skis? How does it feel to be in the ranks of guys like Pep Fujas, Andy Mahre, Seth Morrison and Sean Pettit?

When I was younger, the first pair of twin tips that I begged my parents to buy me for Christmas were the original Public Enemies. I didn't have cable TV at the time but had a friend record Pep's X Games run on VHS for me that year, which was in 2003. Pep got the silver. I didn't care what place he got though, his shit was fuego. Left spins, right spins, that grey puffy. After a few seasons on the Public's, I saved up enough money and bought the original Fujatives. Needless to say, I have had my eye on K2 for a long time. I feel incredibly honored that I am considered a teammate when referring to such legends as Pep, Andy, Seth and Sean. I've watched each and every one of those dudes since I got into skiing. They have all influenced me incredibly and for that, I thank them.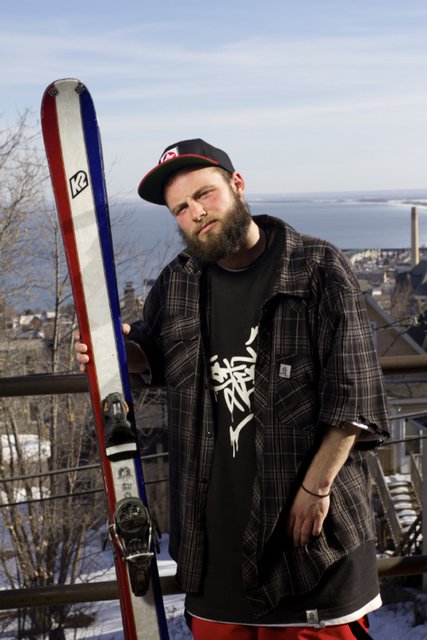 Photo by Topher Baldwin


You've been touted as having one of the best beards in skiing. How long did it take to get it to where it is, and how much longer do you plan on having it?

I don't know how long it takes to reach a proper length but I change it up here and there. Sometimes I'll let it go for a few months before trimming it down. When I can't eat cereal without the milk going directly onto my face, it's usually time to get the scissors. At this point, I'm not putting a time limit on it. I originally grew it because people told me that I needed to shave. Nowadays, people tell me that I shouldn't get rid of it. So I'm just gonna keep doing what I want to do and right now sporting a beard is what I want to do.


Speaking of cereal, you could battle Jerry Seinfeld for the nation's biggest appreciator of cereal. What's in your bowl these days?

I don't currently have any groceries, but if I did, I would probably be rocking some Blueberry Shredded Wheat, some Raisin Brain Crunch or some Peanut Butter Crunch. 


Favorite person to ski with?
Brian Rory and Devin Ross.


Tell us about your plans for the upcoming winter season.

I'm currently enrolled in two online classes. Once I finish those, I'll be getting my film plans lined up for the season. I don't have any specific locations yet. I've been dying to get some East Coast storms so I can go back and get some shit done. I'll keep my fingers crossed. Other than school and getting in shape for the season, I'll be working with K2 on a couple new projects that I'm not yet at liberty to discuss. There should be more news explaining everything shortly, so stay tuned with what we're doing!



To keep tabs on What Shea Flynn is up to, check out sheaflynn.com and be sue to follow him on Twitter at @fleezyfeed.