Cover photo: FIS
The FIS World Championships Slopestyle final takes place on Wednesday. This will be another opportunity to see the new FIS Slopestyle judging system. We spoke to one of skiing's most experienced judges, Jason Arens, to explain what the changes actually are and why they've been made:
"In general, the consensus with judging recently has been to try to be more transparent. To really give the athletes the best idea of what they're being judged on, from a contest to contest basis. That way, they have something to build on and it's not something that surprises them. Judging tries to serve the athlete to push the sport, in the direction that the athletes are already taking it."
Jason admits that judging can be a little bit too subjective at times and can weigh people's personal preferences, which can even be subconscious:
"The idea behind this new system is to break down slopestyle runs (it's only being used in slopestyle for the foreseeable future) in a way where each feature is specifically accounted for and the athletes have an 'eyes on' view of what their scores, per section of the run, are. That's intermingled with a 40% overall score, that's still the same as usual. Judging on overall impression, the PAVED criteria (Progression, Amplitude, Variety, Execution, and Difficulty). That leaves the other 60% to do exactly what I explained, split the course into sections and give a score 1-100 on each specific feature, on that trick itself.
"It's taking out the just strictly judging the full run top to bottom and it's giving the judges the ability to really focus on the technicality and difficulty of each of these incredibly high-level tricks and judge them as if they're a one-off contest, right in front of them. They're only judging that one feature, so you're essentially doing an overall impression judgment on a big air off every jump and a single rail hit on every rail feature."
This is what the judging breakdown from the Stubai World Cup, where the new system was first used looked like
"Traditionally, the athletes, looking at scores, are always very concerned with the numbers. It's hard to get away from 'Oh an 89. That's good, I may have won the contest but why wasn't it a 93? Why didn't you give me a 90? Why did you have to keep me in the 80s?'
"In the old judging format, these numbers were just based off what we were seeing, sometimes scores don't go into the 90s. The scores aren't the thing that matters, it's about the ranking in the old judging system. This just gives a more in-depth look at how the rankings are created and it gives the athletes to break-down that system to understand where they can add points to their run. They know exactly what they were docked for in their run. Rather than look at a score that might not be good, they can think '1,2,3 I was in first place and looks like they saw me touch a hand on feature 4. They killed me on that.' So that's how it works.
"They're only testing it, there's only been one contest so far, the Stubai World Cup, it'll be used in all the FIS World Cups leading up to the World Championships. X Games and Dew Tour will stay with the regular overall impression."
Someone who was in Stubai, skiing, was James Woods and he's a fan of what he experienced in Austria:
"I believe the new judging method is going to be good. Obviously, it needs to be trialed in real life circumstances some more times to get a real understanding, however, I am into it."
Woody says that as far as he could see the crucial point of the new format was the individual feature judges do still actually use "overall impression" in their judging of those individual features.
"So it seems the judging format hasn't actually changed that much, the only thing that has changed is that there are more eyes on each feature and the judges have less to look at and can be more focused."
Like anything new, this system will be tested extensively to iron out any issues, but Arens says that it's way too early to judge after just one event:
"We're testing this, we've never done it before. It's a system that was created in snowboarding and it's had a lot of success. We are attempting to adapt it because the athletes were pushing for it. Everybody's been pleased so far, I have fun looking at the runs afterwards. I haven't seen most of the runs, but looking at the numbers, you can tell, more or less, where the riders struggled on any particular course. I would be curious to see it work on a course with three or four jumps. The spinning both ways part of a slopestyle contest is an area that could be slightly altered with this format. The new format will place a more objective value on trick difficulty, as opposed to looking at runs in the way that we do many times and say 'that doesn't complete all the criteria, so it cannot place first. If people don't necessary, spin in all 4 directions or they're not spinning fluently throughout the run. That's one place I can see it altering.
"Overall I think that the skiers are really receptive to it, they had a really good first experience and I think it's going to help the competitive skiers really get a better understanding of what the judged format is and hopefully end all questions. They can look at the results and we'll never have to explain why a run was scored a certain way. They can just look at it and if they have a question, it's so pointed and direct that we'd know exactly how we came to it.
"The last thing any judge or skier wants to hear after a run when they come to ask why they finished in 7th or whatever and the answer isn't clear to them. Like: 'oh you took 15 points off for that.' But it's not really the points it's just they couldn't place above this skier with that mistake. Now it's just putting it on paper in front of them, they can look at it and dispute whatever they need to, but it's so pointed that the conversations are immediate and direct."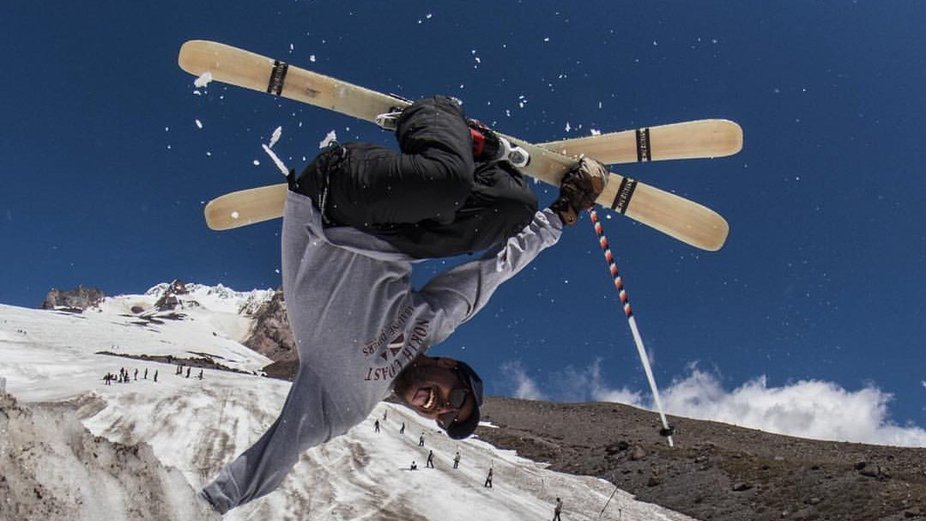 Jason has been doing it since day one, check out our interview with him here. Photo: Aiden Ulrich
Jason was actually wasn't actually in favor of this method of judging every feature when it was presented to in the past:
"The idea of taking out the overall impression, I really wasn't in favor of it because so much of the sport has been built on pushing it in the vision of the founders. Really trying to keep it free, trying to take out criteria, not trying to make it abrasive and pushing in any one direction. The fact of the matter is that competitive skiing has shaped itself in a way that is pushing the boundaries on just about every aspect of technicality. I feel that way in which we've been judging has really promoted that environment. You look at a snowboard contest and you look at a ski contest, the way that the runs are put together, there is a night and day difference. Based on the judging systems that have been implemented. I think that started from the beginning and I think that this new system, as much as it's breaking it down and judging section by section, it's giving us a more understandable and accurate result. That the judges can be held accountable for.
"That's what I think the ultimate benefit is, I think the results are going to be pretty much the same and everything is still valued at an incredibly high capacity, with all the criteria considered. In reality, we're just judging overall impression of each feature specifically and then accounting for it overall. It kind of is just a more comprehensive overall score. The idea of making this sport any more structured or having any more exact directives that athletes must meet, on any given run, I think is counter-productive. We're not trying to do that, we're just trying to give the athletes a better understanding of what they're doing, and this seems to be the best possible way to do it, given all parameters considered."
So you've heard from a judge and a competitor, what do you think of this system?