Words by Jeff Schmuck
Photos by Jeff Schmuck, Piotr Pinkas & lucekphoto.com
Mapping out my globetrotting for the winter is always one of the most exciting times of year for me. I'm fortunate enough to be in possession a pretty good gig that allows me to travel the world to document skiing (and even do a little of it myself) and even more fortunate to have an awesome boss who trusts me enough to let me decide where I want to go, as opposed to the other way around. So as old man winter knocked on my door this past fall and the prolific and hectic competition schedule emerged, I began formulating my plans for the season.
One of my top priorities was to go on a big film shoot or two, as although being a ringer on the contest circuit is always a good time (especially at the after parties), it can be become breathtakingly mundane much more quickly than one can imagine, especially for a writer...because how many times can you write about skiers doing cork 9's in a pipe before it starts to get old?
Fast forward to roughly a week before X Games began, when I was sitting in a conference room in Whistler at the Salomon Canada sales meeting, where I was asked to be a guest speaker. During a coffee break, the ever reliable world traveler Mike Douglas and I were sitting down catching up about life, at which point I asked him if he had anything lined up this winter that I could tag along on.
"You should come to Poland and Czech Republic,' he said "We're sending Charles, Kaya and Steve from Freeski TV there and Poorboyz is going to send a filmer as well."
"That sounds pretty sweet," I replied. "When?"
"The day after the SIA trade show in Las Vegas."
Ugh.
Jet setting to Eastern Europe right after five straight days of bad behavior in Vegas preceded by the elephant-sized stress and wooly mammoth-sized partying that comes with being at X Games wasn't exactly...what's the word I'm looking for here, well I suppose there's actually three: enticing, realistic...and smart. However I had been wanting to go to Eastern Europe for a while and with Charles and Kaya on the crew I considered the fact that it would be fairly mellow, so figured it'd be a good way to see something different and chill out and get away from it all after X and SIA.
Then I found out Cody Carter from Poorboyz was going.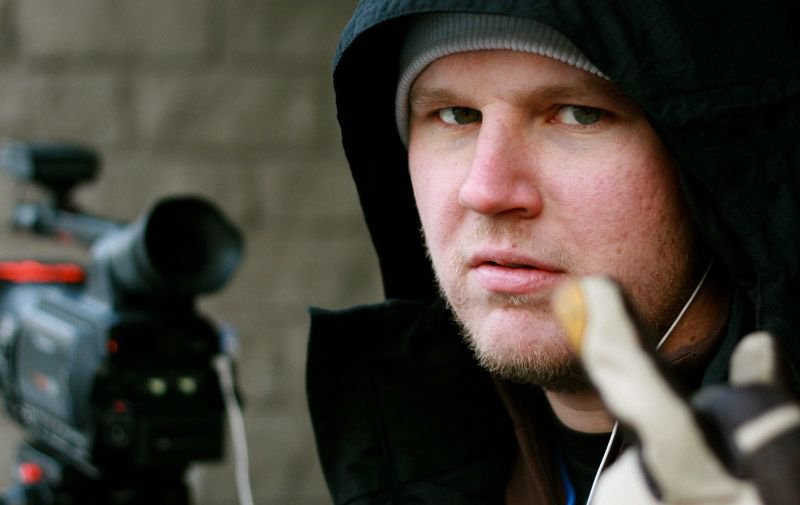 Cody Carter
Cody and I have known each other for almost 10 years, and I can't recall a day we've had together when we didn't party and laugh our asses off the whole damn time. While I was still in the process of mulling about whether or not I should actually go on this adventure, I opened up my Facebook page to find a message from him saying, "is this true, me and you are spending the next three weeks together? X, Vegas, Poland?"
I booked my ticket.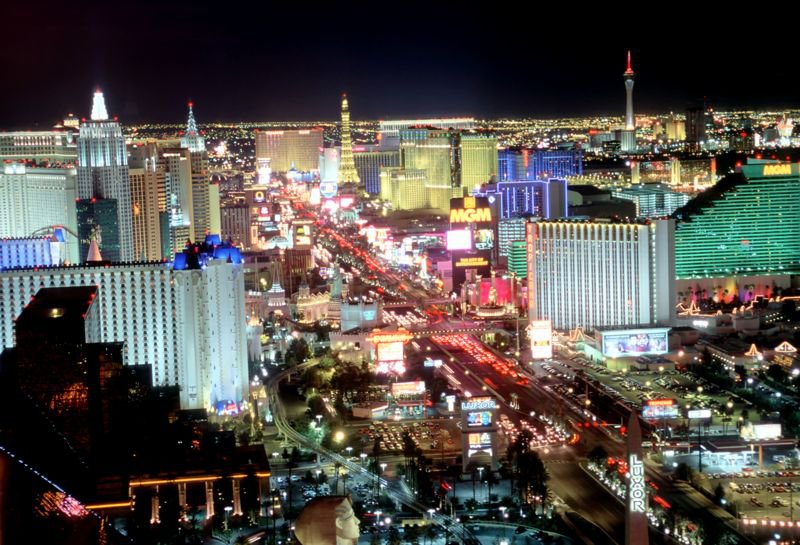 Leaving Las Vegas...
X and Vegas, as to be expected, were a total junkshow, leaving me stoked on life (as always), but tired, stressed and cranky. I boarded the airborne aluminum tube out of Vegas with Anthony Boronowski and Reed Holmes, and hazily watched as the wake of bright lights and gambling debts of Sin City disappeared beneath me. I landed in Vancouver at midnight, grabbed some Burger King, hit on a chick while waiting for my Whopper, scored her number, mowed cow with Reed, and cabbed to my buddies house for a few hours of sleep. At 6am the next day I was up and at em and back at the airport again ready to embark on a hell ride to Toronto, then Munich then Krakow, Poland.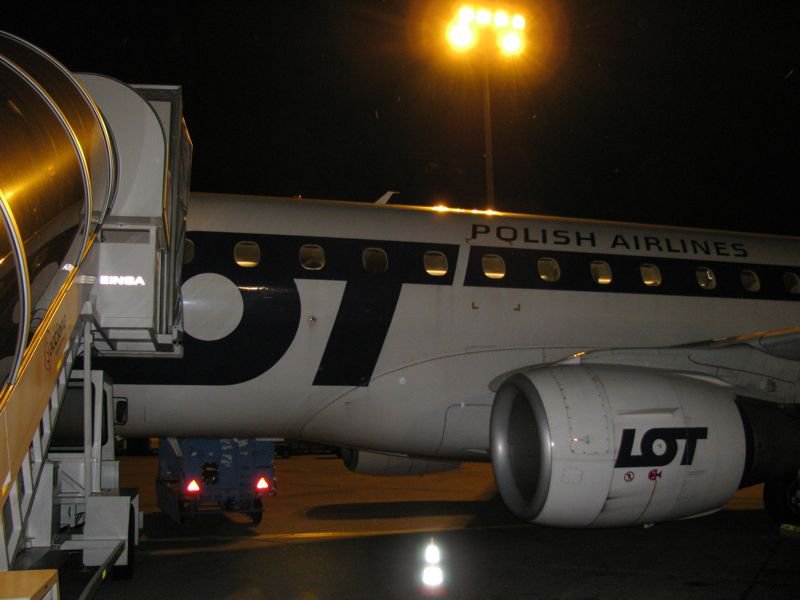 ...and somehow making it to Poland
Naturally, my first plane had a 'mechanical problem,' which delayed us two hours out of Vancouver, which meant I was going to miss my connections to both Munich and Krakow. I'm pretty much the most patient traveler in the world and am always of the 'whatever, I'll get there' attitude, but I knew things were going to be bad when I rolled up to the customer service desk once I made it to Toronto and the clerk's eyes bugged out of her head when I told her where I was headed.
"Honey, I don't know even know where that is!"
Great.
I was re-routed through Frankfurt instead of Munich, where I would wait for seven hours instead of one, and arrive in Krakow at 8pm instead of Noon, turning my originally planned not-too-bad 14-hour trek into a really bad 25-hour one. My mountain of baggage tags weren't any comfort either, because for all you rookie travelers out there...too many baggage tags are not a good thing. It means they're going to lose your luggage.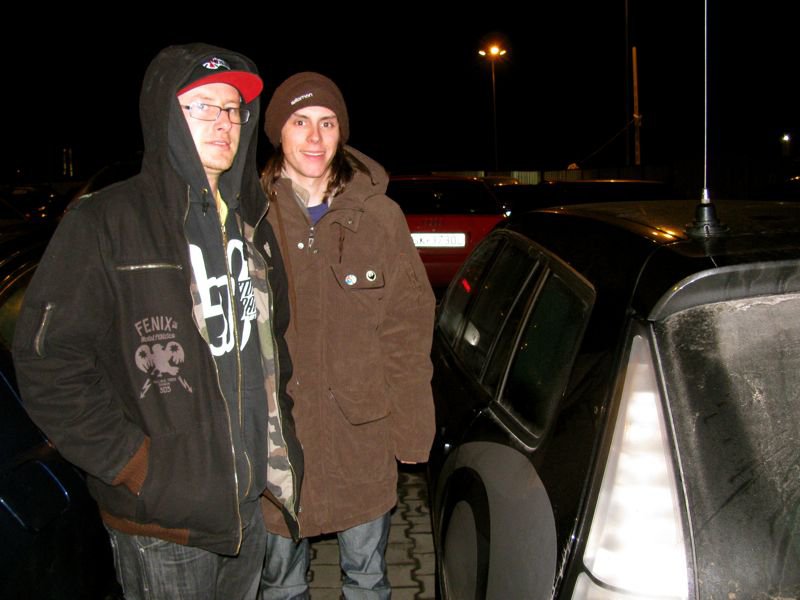 The hosts with the most: Marek Doniec & Wojtek Antonow
I finally arrived in Krakow and was warmly greeted by our hosts for the week, Marek Donic, a Salomon team rider from Poland who pitched and planned the trip and is the absolute man (more on how great of a guy he is later) and Wojtek Antonow, the editor of High, a really, really cool Polish magazine that mixes both freeskiing and snowboarding.
I looked at them groggily and somberly and apologized profusely for being late, but they had no worries (which I would come to realize was a very reoccurring theme for them). Then much to my hock and awe, my ski bag miraculously appeared on the carousel...but the bag with all my clothes in it did not. Traveling is the best part of my job...and the worst.
After Marek did some uber-necessary translation for me to the cute Polish chick at the lost baggage desk we hopped in a pimped out Saab filled with Red Bull (which was the last thing I needed after X and Vegas) courtesy of Salomon's partnership with Saab and headed on down the road to Katowice to meet up with the rest of the crew, who had already arrived. I began picking Marek's brain about Poland, as while I normally research a country I'm going to before I depart in order to learn about its customs, culture, history and sights, being that I barely had time to think since getting on the plane, I went into this one totally blind...which I was pretty stoked about. We talked for a while about the country and its history which of course lead me to asking about the possibility of going to the Auschwitz concentration camp (which is something Kaya and I agreed at X Games that we definitely wanted to do) and then I dropped the million dollar question...
Just what exactly were we going to do here?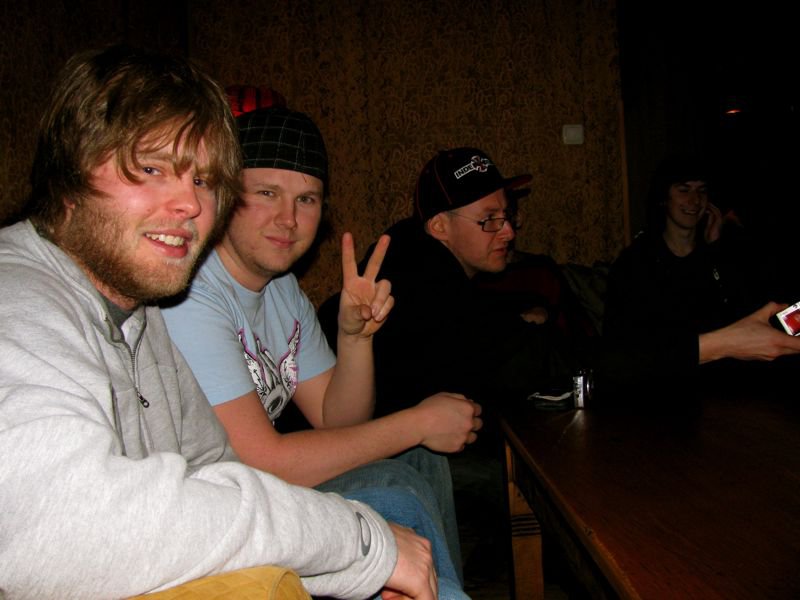 Salomon Freeski TV's Steve Horton & PBP's Cody Carter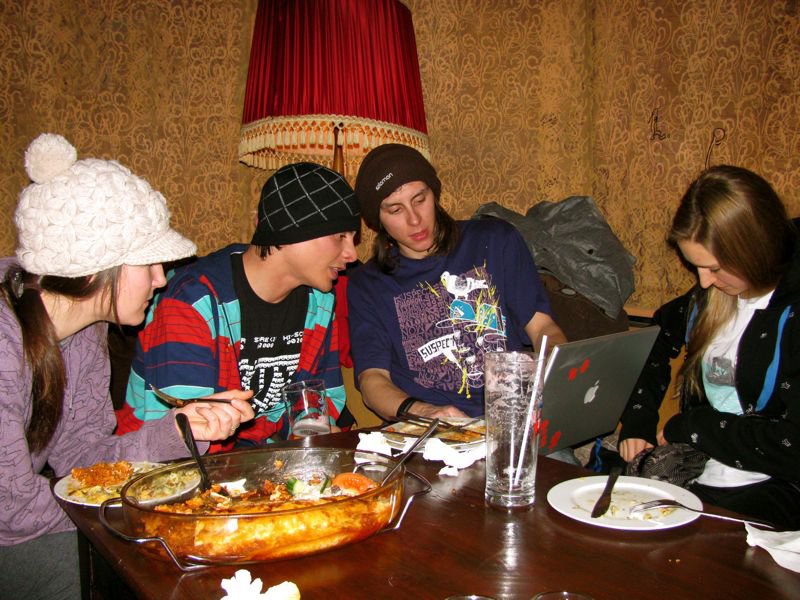 Marek shows Charles and Kaya some shots of Katowice's finest rails
After an hour of getting to know my new friends while periodically gazing out the window at dark skies peppered by coal mines we arrived in Katowice, Marek's hometown. We rounded up the gang and went out to a crazy jazz bar that I'm pretty sure was playing polka when we walked in (giving us our first, 'Yep, we're definitely in Poland moment'), and ate some Zapiekanki...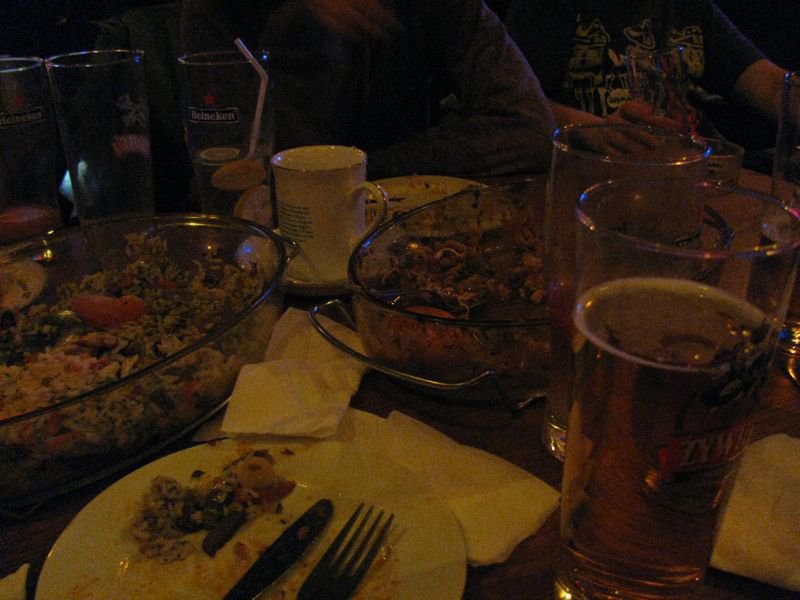 drank some Wsciekle shots...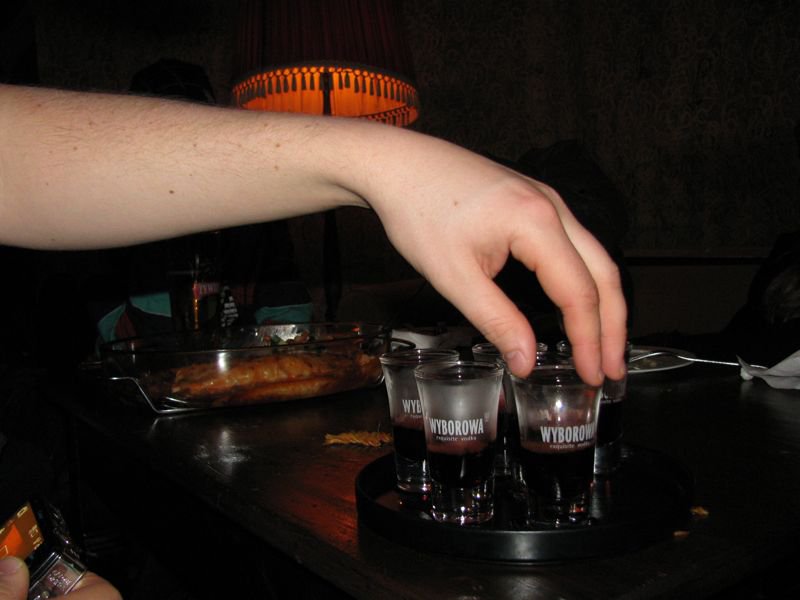 ...and made plans for the trip with the rest of the crew that was going to join us on our adventures: local filmer Aram Socha from Roadkill Productions, photographer extrodinaire Lukasz Skormog (www.lucekphoto.com) and last but certainly not least, Piotr 'Pinki' Pinkas, a skier from Poland who would continually stun and surprise us with his amazing abilities over the course of the week.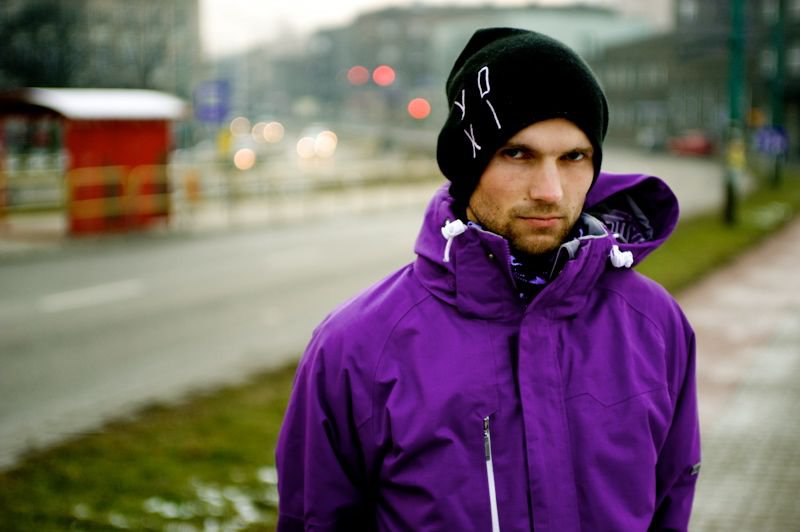 introducing: Piotr 'Pinki' Pinkas
Katowice had recently been blessed with what was considered a decent snowfall in Poland so the decision was made to take advantage and hit up a few rails around town, as the post-war influence on the architecture of the country had made for some killer urban. Then after a few days of sessioning we would head to the main ski town in Poland, Zakopane, for the remainder of the trip (as going to Czech had been called off) to hopefully score some backcountry.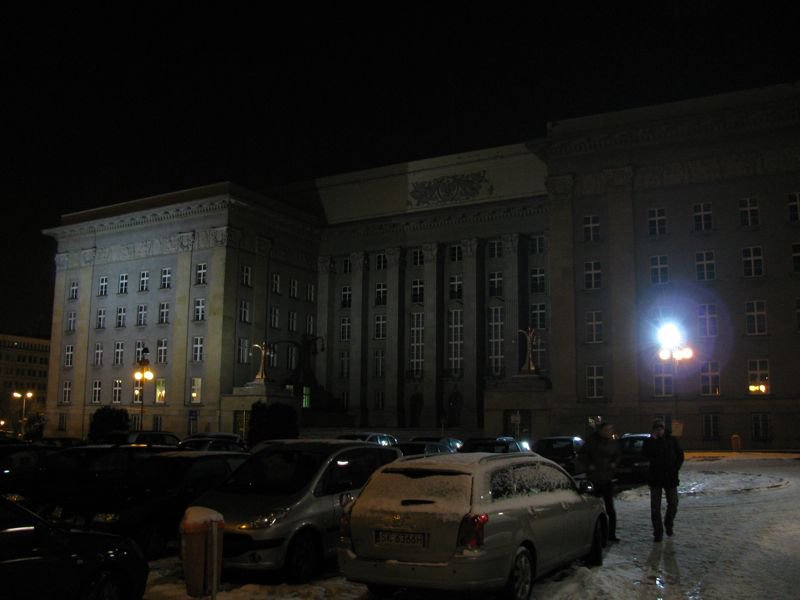 The next day dawned...well actually it didn't dawn, but nevertheless we got our first true glimpse of Eastern Europe. Grey and dismal was the ocean of weathered concrete and beaten down red churches beneath us, and in the midst of it all lay a heavy metal wasteland of urban rails.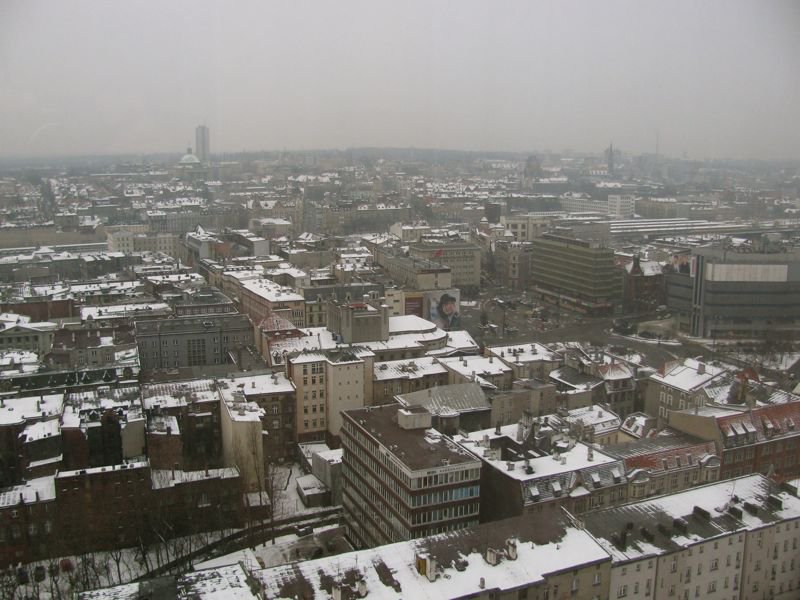 Katowice, Poland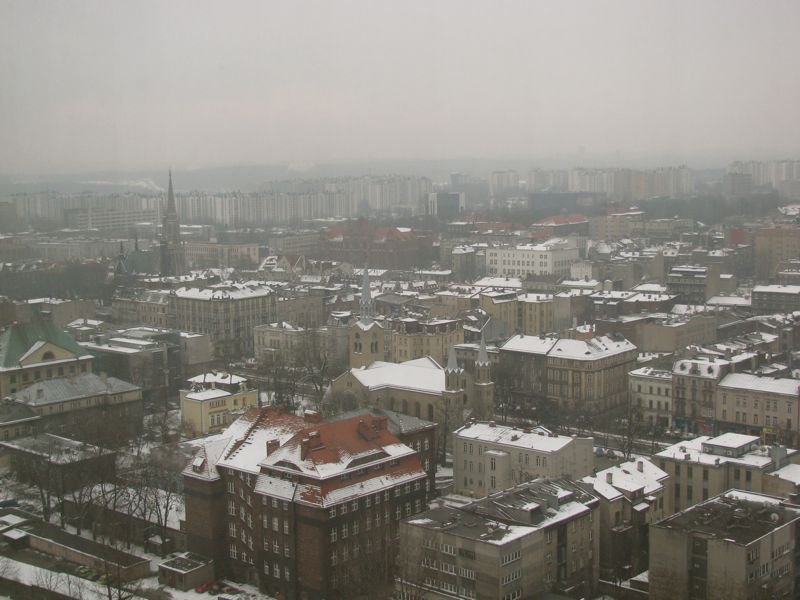 We decided to head out and scout locations for the shoot, and low and behold, as you'll see below and in the next two intallments of this series...Poland is no joke when it comes to rails...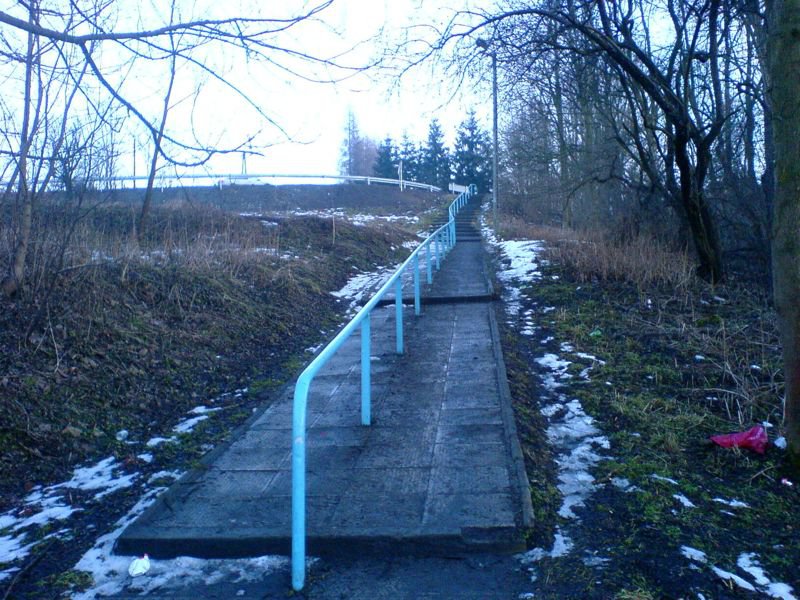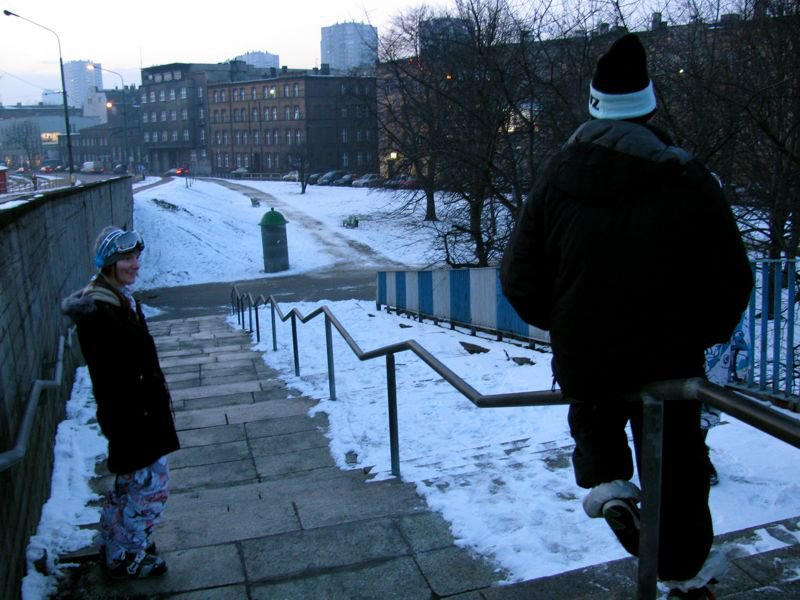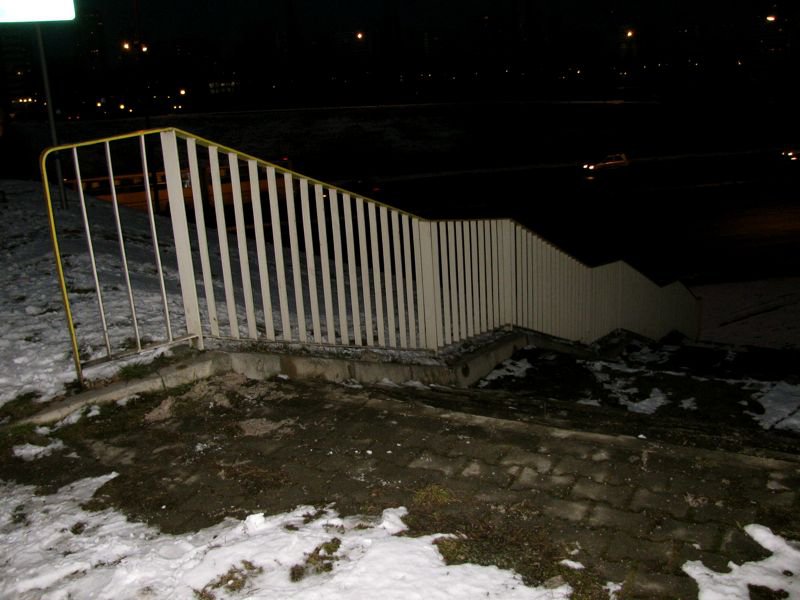 Stay tuned for part two!