'When the Going Gets Weird, the Weird Turn Pro' - Hunter S. Thompson
The calm and humble demeanour of 22-year-old Patrick (PC) Dew does little for the madness the guy can do with two planks of wood strapped to his feet. And although he hates the accolade of being "retired" at such a young age, Dew took the time to sit down and chat about the ups and downs about being a competitive skier in today's climate, and what finally let him decide to step away from a shot at making the Canadian Olympic team.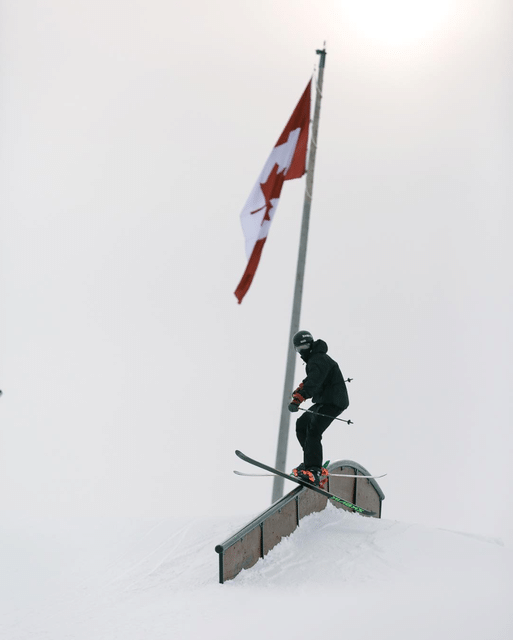 Photo creds: Zoë Blewett
Dew, like many before him, grew up skiing in Vernon, B.C, a little Canadian town that has manufactured more amazing skiers than it knows what to do with. Starting skiing with his dad when he was about 5, and distinctly remembering that he didn't like the cold very much. It wasn't until joining the Silverstar freestyle program, going to little comps and skiing with friends every weekend that Dew fell in love with skiing. Recalling that he never really looked up to any pro skiers growing up, mostly just drawing inspiration from everyone else around him.
"seeing the other guys do tricks and emulating them, the more progress I had, the more drive it gave myself."
Dew had the upper hand of doing a program at his high school that allowed him to do online classes and miss much of the school year. Knowing in the back of his mind that skiing would not last forever despite his success, "My intention was never to be a lifelong pro skier - my parents made me have an after skiing plan, which I agreed with. Looking back it may have distracted me from further skiing."
Although not a household name by any means, I knew Dew would be an ideal candidate for an interview; growing up skiing together, I watched firsthand as he continued to progress his skiing far out of reach of my own capabilities. Dew's mild-mannered temperament, combined with a keen sense of strategy, allowed him to compete head-to-head with the sport's biggest names. Growing up, friends often called him a "prodigy" as he quickly learned trick after trick and when I asked him his favourite? "Dub 12 blunt, either direction, whatever is working better that day" (huh?) Dew was a tactician first, skier second, and although he never acclaimed any fame on Newschoolers, he was getting paid to go skiing. So why stop now?
https://www.instagram.com/p/BYHJIdZB72L/?utm_source=ig_web_copy_link
After being named to the Canadian Development Team in 2017, PC noticed a huge shift -
"The demand was way more than I was expecting; I had to step up my game hugely. My First-year on the World Cup circuit was my first year on the team, and travel days were exhausting. The non-stop skiing took a huge toll on my body, not only physical but also mental."
Recollections of being in "comp-mode" entailed weeks of back-to-back competitions where his body and mind would be pushed to the limit. So far that most of the team members were seeing sports psychologists to maintain some shred of sanity. Summers entailed cleaning cars to make some extra funds before being shipped out to summer glaciers to make sure his trick quiver was fully stocked. As Dew's skiing career continued to climb, he noted it was "damn near impossible" to get companies to support his dream. Although fully deserving, Dew struggled to find sponsors to support his vision, often spending countless hours in emails and phone calls selling himself and trying to convince a rep or a team manager that he's more deserving than the 100 other kids. Being the modest individual Dew is, he found this process taxing and downright drudgerous. With Instagram being the new biggest indicator for success in the skiing world, Dew was never a big fan of the new medium for Freeski content.
"Nobody cared about anything except posting on Instagram, nothing else mattered."
"social media was exhausting, and some people love it. For me, it was a chore. My creative side was not as strong as my numbers side. I like enjoying the moment and skiing and not worrying about getting clips. It wasn't for me. Nobody cared about anything except posting on Instagram, nothing else mattered."
https://www.instagram.com/p/BqfcHgvB-iR/?utm_source=ig_web_copy_link
Regardless of the sobering words, PC does have some clips on IG that are worth drooling over.
Despite the troubles acquiring sponsors, Dew came across a super unique opportunity to ride for Skevik Skis. "I was searching for a ski sponsor for so long, Skevik and I grew together, and we collaborated on skis." Being one of the only riders on the team, Dew and Skevik grew immensely, attracting many local groms and parents to their skis. Dew got to help build his skis hands-on, uniquely for skiing he was participating in. He wouldn't have had it any other way. Going in and helping develop his skis is a process that few are lucky enough to be apart of. Dew laughs as he talks about designing a metal plate in his base so his heel pieces wouldn't get pulled out.
https://www.instagram.com/p/BqX5ic6Bgrp/?utm_source=ig_web_copy_link
How often do you see this one?
At the height of his career, Dew was getting podium finishes in slope, climbing the World Cup circuit ranks, discussing a pro model with the aforementioned Skevik, and even won $25.000 from a TSN online video contest that his dad sent him a link to on Facebook. None of these great successes came without drawing some blood. With the gold standard of skiing so unrealistically high and the risk associated now looking to be fatal, Dew knew he had to strategize to have some skin in the game after some severe injuries.
"It wasn't until compartment syndrome that the risk factor really set in. I crashed in Calgary, and was rushed into surgery, my doctor said if I had waited another few hours, my leg would have to be amputated."
With such a traumatic injury, it put into perspective how much risk he was taking on and how he had to continue skiing. Although Dew was always a coordinator by trade, after this, he knew it was time to nail it down. In a slopestyle run where even the slightest bobble would steal you away from success, Dew would pick three jump tricks every year and make them all perfect. They had to work for him and be different from what the rest of the field was doing.
"At the end of the day, everything has to be fine-tuned. Everyone is different; my structure worked for me. A lot of guys could get away with doing whatever they wanted. I had to work hard and make a plan and tackle the season. Some guys can improvise. I could not."
Knowing that his jump game far surpassed his rails (although you wouldn't say that based on some of his shots), he was getting both way dubs, new grabs every day, the beginnings of a treacherous relationship with triples, but when it came to rails. "I had to work on rails so hard. If I couldn't get it consistent, I wouldn't even bother and would switch my rails." Dew would also participate in team meetings discussing who was judging the event, what they like to see, and how to change your runs based on who has podiumed in the past. Dew would try to accommodate the different judges' tastes for rails, deciding what tricks he will need to crack into that top 3 position.
https://www.instagram.com/p/BrJbNQkBLN9/?utm_source=ig_web_copy_link
Know what I mean?
In spite of some fantastic accolades, the end of Dew's career came this year. Already sidelined via injury before COVID-19 came to fruition, Dew took the injuries and the global pandemic that it was a sign to let go. Noticing the world around him seemed somewhat stagnant, and wanting to pursue a life outside of the niche sport. While always knowing that skiing was not an end-all for him, Dew saw where the riding level was heading, saw what financial compensation was available, and saw all the other athletes still living with their parents. The choice seemed obvious to him, noting that to make it, "you need to give it "110%" to stay at the top, and you need to be completely immersed in everything skiing." With a bone dry industry and the aim of being a pro skier, which required expensive non-stop work and travel towards a goal that continued to distance itself. With the next generation of ski academies bringing kids up and churning out dub 10's before puberty, the progression is still accelerating, and weekend warriors who don't have access to year-round training facilities may find it hard to make a name for themselves.
At the end of a prodigious, albeit short career, Dew uses the term progression as an analogy for where his life is heading. "I'm not going to stop progressing my skills. It's just going to be in other areas of my adult life." Dew saw his exit and took it graciously, with the call of retirement leading to buying a new home with his girlfriend and getting a job selling cars for a dealership he was previously riding for. The dive into real life has never looked so painless for a potential Olympic athlete. Still, Dew's usual upbeat tone darkens to say that calling it quits has been the hardest thing he has ever done, but he has no regrets and would do it all over again if he could.
Words: Z