Cover photo credit: Lukyn Wagneter
"I can't remember when I first skied, so that must have been super early! My dad was a race skier so he put me on skis pretty fast."
Dan learned to ski at his home resort of Deštné –where he now hosts the Soldiers Big Air Event—it's where he learned how to stand on a pair of skis and go down a hill. But another sport actually opened his eyes to what could be possible on skis:
"I started to rollerblade when I was about six, then I went to the skate park and since then I've just kept rollerblading. At some point I found myself getting bored of skiing, because I already knew how to ski, but then I realized that rollerblading and skiing are super similar. I started to sh*t on skis, just jumping on little bumps, doing 180s and whatever. I tried stuff that might work, like mute grabs and stuff. Then I realized that in the winter, instead of rollerblading when everything's frozen, I can go skiing and still enjoy the day. My first dream was to become a professional rollerblader and just do it every day, as time passed that just turned into being a skier. I feel like they're almost the same sport."
When pushed about whether rollerblading influences his style, he says his style isn't something he's worked on, maybe that's a style in itself?
"I don't consciously try to ski in a certain style, it's just the way I can do stuff. There's no other way I can do it. The only thing I work on is the little touches on the tricks, like I like to tweak a 540 Cuban and hold it until the very last moment, because I don't like the last part, when you let the grab go and you're just flying in the air. I like the little touches, where you just add a little something. But that's just how I want to do it."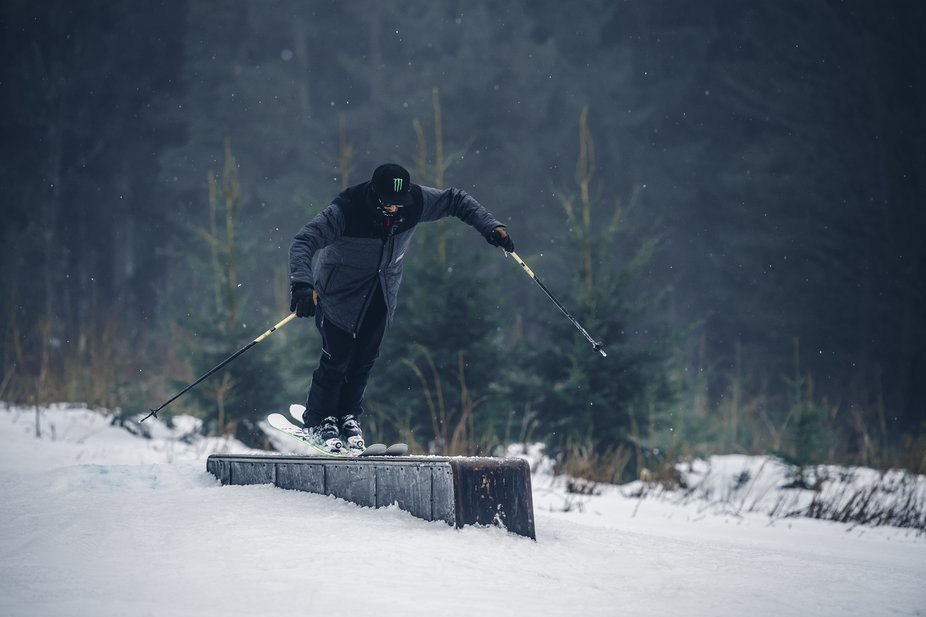 Photo: Lukyn Wagneter
_
"Smelly Socks started when I had two edits, one was called Speed and the other was called Charging, that got recognised within the ski industry."[/quote]
He used this recognition to launch a project around a relatively new concept:
"I was fascinated by the Travelling Circus, I think that's some of the best content in skiing. I like the concept of producing stuff regularly, but it's quality content, not just extra footage you had lying around. I thought it'd be really nice to have my own thing that was coming from different spots and different locations and Smelly Socks is that."
The reason for the title, Smelly Socks, is also pretty simple…
"My feet smell so bad and my socks smell worse after skiing. All these edits are based on just a lot of skiing. It should only be skiing, not stupid talks about how passionate I am or how injuries are 'part of the game.' I don't really care about that stuff, it was only meant to be about skiing, like; shot, shot, shot of trick after trick. The more you ski, the more your socks f*cking smell!"
_
"We don't really have big mountains in the Czech Republic, so I always thought it would be really interesting to actually try powder and show people how it actually works."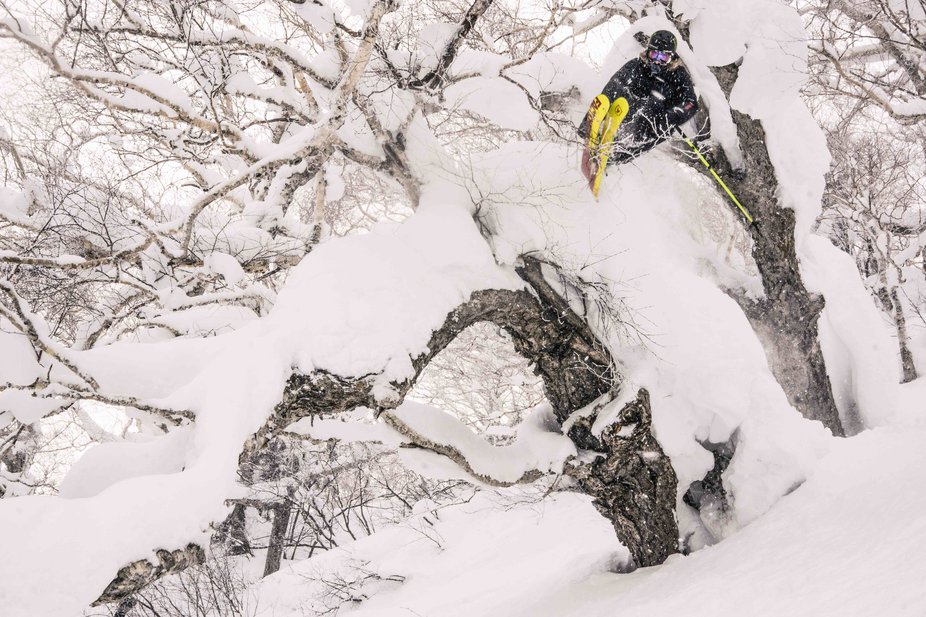 All japan images: Zuzička Stromková
_
I don't know about you, but I'd never considered pro skiers might have never skied powder:
"I feel that not that many people, in Europe, are really familiar with skiing deep powder. In all these videos you see pros skiing powder, doing crazy lines and dropping gnarly cliffs, I don't think you really feel how hardcore it is when you just see it on a screen. 'Oh yeah, he's going downhill, looks mellow, and then maybe dropping a 2m cliff'. That's not how it is in real life. There's also a lot of people who think that landing tricks into powder is ten times easier than in a park. I can tell you that's also false. I wanted to show people a guy, who'd never skied powder, to go and ski it for real."
Every skier knows where the ultimate destination for a pow trip is. Dan wanted to give us a taste of some legendary powder, from a first timers perspective:
"I linked up with Annti Ollila, because he's my good homie, and I knew that he'd never skied powder either. I thought it would be a pretty interesting experience to go to the mecca of powder skiing, Japan, that's how I came up with the idea. We were completely unprepared and didn't actually know what to do. When we met at the airport to go to Japan, we didn't even have skis then, we didn't have any equipment to ski powder. Antti was skiing in a hoody, I had to borrow pants because I didn't even have any proper ski pants. Our skis were mounted in a really bad way, like 6cm back, so the skis were f*cked."
They soon had to re-evaluate their expectations of what they could do in this new environment:
"When we got there we had such a high expectation of what we were going to land. We saw stuff from the bottom and we were like: 'Oh I'm gonna do a switch 5 here and cork 7 there!' When we got to the top of the zones it was: 'Where the f*ck am I? What am I supposed to do?!' everything was so different! We could barely even ski down without dying every 20 meters. We didn't even manage to land tricks and it was crazy. Sending was easy but delivering was so difficult. The weather was crazy, it snowed so much, it was almost impossible to film. The slopes weren't actually steep enough to go fast enough."
The weather didn't just affect the skiing, there were technical difficulties caused by that Japanese snow. "Every time Martin opened his bag to film, the camera was instantly covered by snow. We couldn't really film long distance either because with all the snow you couldn't see sh*t. It was like I originally wanted to do a documentary, but that didn't happen so I just made it into a special edition of Smelly Socks. We were so relieved when the video turned out ok, because we were scared that we were going to look like total idiots. We're stoked that it doesn't look that way."
Smelly Socks: Sayonara will be online tomorrow.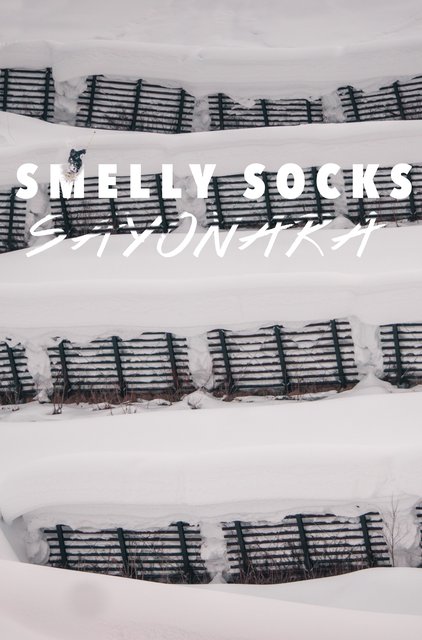 _
"I definitely want to go back at some point, because I did my knee and didn't even get to ski for the full two weeks. I had to just stay in the hotel crying and wait for the guys to come back every day."
He may have experienced Japanese powder, but Dan wants to go back again because he couldn't get the most out of this trip.
Having blown an ACL at SLVSH Cup in Grand Villara, his season had started slowly. the Japan trip was significant, as a true test of his recovery.
"I did all the rehab and went to Japan. One day, in the middle of the trip, it wasn't really good conditions so we went down the hill and we were going to go home. We ran into a couple of local kids in the parking lot, they were super-stoked to see me and Annti, so we took some photos and then I was like: 'let's do one more lap through the little jumps.' I did a straight air double nose grab. When I landed my knee just collapsed and that was it. I'm working pretty hard, I'm working out with a physio/fitness-trainer and doing my best to get back. I'm sure I will."
That was 6 months ago and this month his doctor gave him the all-clear and said he can do everything.
"So I could go skiing but I'm not going to. I'm going to take it a little slow and do some rollerblading to get my mindset back in the game. I want to learn how to trust the knee again and get a bit of muscle-memory back of spinning and trickery. It is similar and it's a bit more mellow on the knees. So I'll do that and I'll do some foam pit jumping. This year I got the graft for the knee from a cadaver. The rehab for the knee is three months shorter with that. It's a little weird that I've got someone else's ligament in my knee…"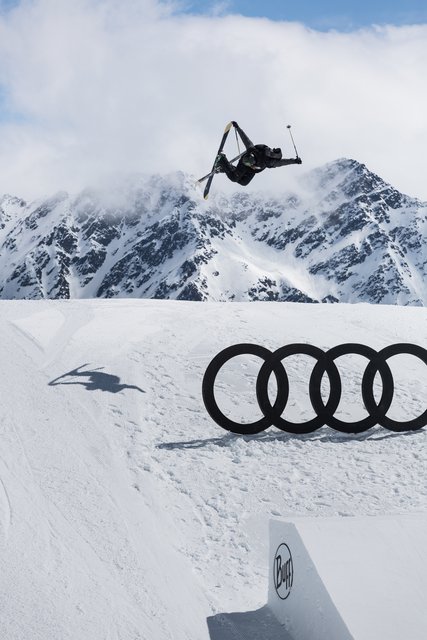 Photo: Gianmarco Allegrini
_
Dan has one more thing to say to the ski industry though:
"Every single ski party, why is there only trap music? It's not good party music. Everybody knows I'm the rock and roll guy!"
"I like rock and roll but that doesn't mean that I only want rock and roll at a party. But there's so much electronic music or whatever, that's so pumping and can get the vibe going."
Dan appreciates that tastes vary but he just wishes they'd occasionally switch up the playlists at ski parties:
"Trap or mumble-rapping sh*t has no rhythm, no nothing, it's just annoying sounds through the speakers. I would rather they play B.I.G or some of the classic rappers, that's a ten times better party."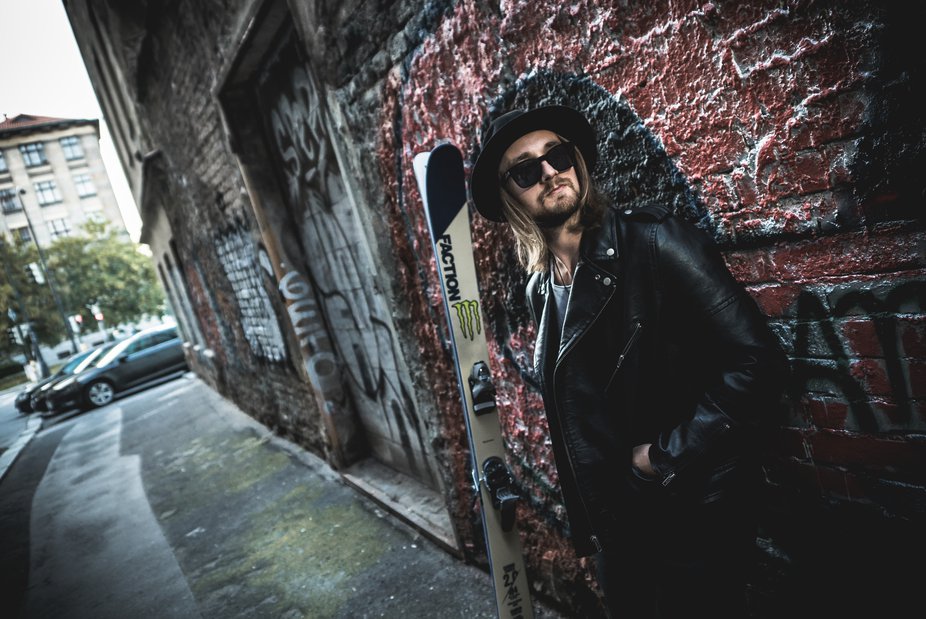 Photo: Stepan Svoboda
_
Dan's favorite:
Trip: Everywhere with somewhere to ski can be the best on any day.
Trick: Switch 7
Track: Metallica, Black Sabbath or Motorhead. If I had to choose a track to get me hyped to do a triple 14, it'd have to be Motorhead: In The Name Of Tragedy