Who owns 'freeskiing'?
Well the short answer is that behind almost every one of your favourite ski brands is a massive corporation. With one notable exception, all the big brands in skiing are owned by conglomerates or are part of publicly listed/private investment portfolios.
Why does that matter?
From August '13 to January '14 sales of 'twin tip' skis totalled $55million in the US. If the brand you buy from is owned outside skiing, then some of the profits from those sales ultimately leave the industry and are distributed among shareholders (or banked by owners) leaving less to reinvested in the skiing.
Each major corporation/private firm involved in, but primarily owned or operated outside, the 'freeski' industry is listed below with a brief description of what they do and who they own.
Publicly Listed Corporations:
Nike (USA, Market Capital: $60.5 billion)
The biggest brand in sportswear since the Air Jordans were made by children in sweatshops, Nike decided a few years back it was time to grab a piece of the snowsports pie. This is a company that after only 10 years has the famously anti-corporate skateboarding scene by the balls. If Nike pull out of skateboarding, and you can bet they wouldn't think twice if the bubble looked like bursting, half of the pros, contests and video production companies will find themselves up shit creek without a paddle. It is definitely in our interests to avoid that situation developing in skiing, so if you buy Nike gear despite all the options available, fuck you.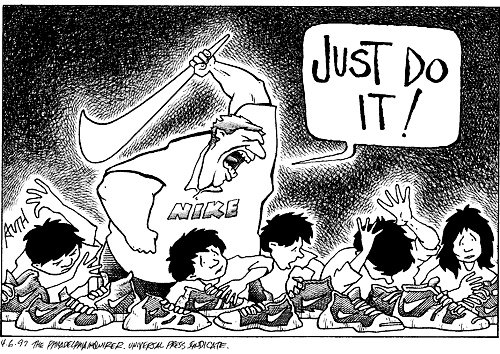 Vanity Fair Corporation (USA, Market Capital: $27 billion)
These guys own a lot, notably Vans, Wrangler and Timberland but most crucially for us at NS, they dress our favourite polynymous celebrity Tod Wallnuts aka Tammy Whammystick via owning North Face.
Luxottica (Italy, Market Capital: $25.4 billion)
The world's largest eyewear company, who's biggest competition used to be Oakley. However in the mid noughties, when Oakley lowered prices and Luxottica, who also own a large percentage of eyewear retailers, refused to stock Oakley products in their stores. As a result Oakley's share price collapsed and Luxottica bought them out in 2007, creating a near monopoly in the luxury eyewear market. Enough said.
Kering (France, Market Capital: $24.6 billion)
Kering joined the the snow sports world in 2011 when it bought out Volcom and Electric. They also own several other sportswear brands, notably Puma and many luxury brands like Gucci, Yves Saint Laurent and Stella Mccartney. Possible brand collabos to be modelled by every noughties teenage boy's favourite hotel heiress.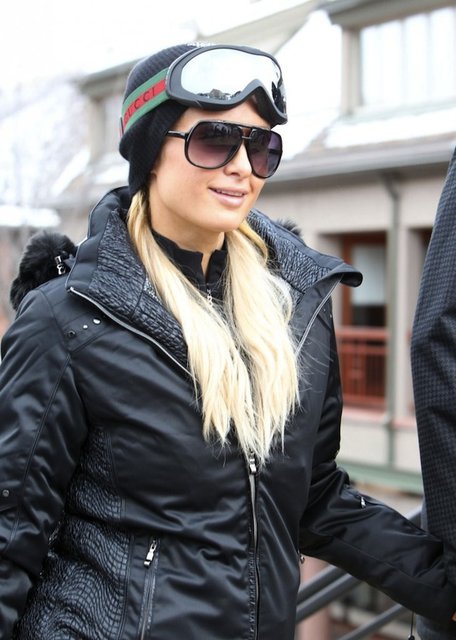 Electric x Gucci Collab?
Jarden (USA, Market Capital: $7.9 billion)
Everybody's favourite US conglomerate. Why? Well they mostly focus on a dazzling array of household goods brands from Breville to Spontex. However since acquiring K2 sports for $1.2 billion in 2007, they have been the ones feeding Andy Parry 39 cent burritos. They own several of NS's favourite brands... K2, Volkl, Line, Marker and Full Tilt as well as a minority stake in Chartreuse & Mont Blanc. See the full list of Jarden brands here: http://www.jarden.com/brands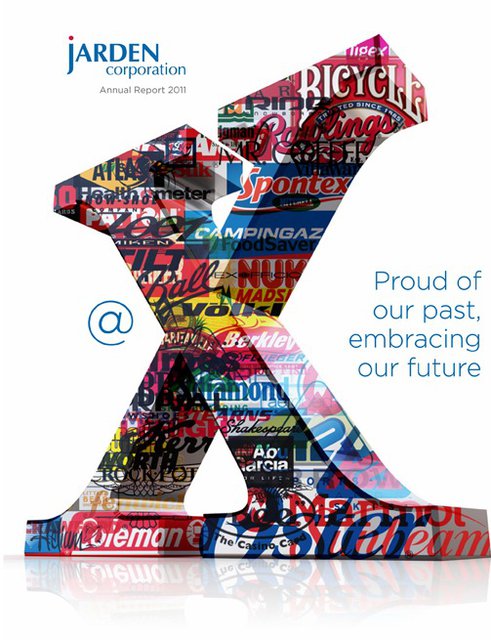 Can you spot the ski brands?
Amer Sports Corporation (Finland, Market Capital: $2.8 billion)
Home of Salomon, who brought us one of the earliest twin tip skis and sponsored some of the biggest names in the industry. Then they proudly launched EdgeDestroyer™ technology and generally gave the middle finger to anyone not competing in nationally televised competitions. They also own Atomic and Arc'teryx.
Head NV (Netherlands, Market capital: $0.21 billion)
Head is the new home of many of Salomon's discarded riders and more importantly everyone's favourite supermodel, Jon Olsson. The company is actually a relatively small fish in this multinational corporate pond despite also owning Tyrolia and making a lot of tennis rackets.
That's it for publicly listed companies, I've included Burger King on the graph below to give you an indication of how big these corporations actually are.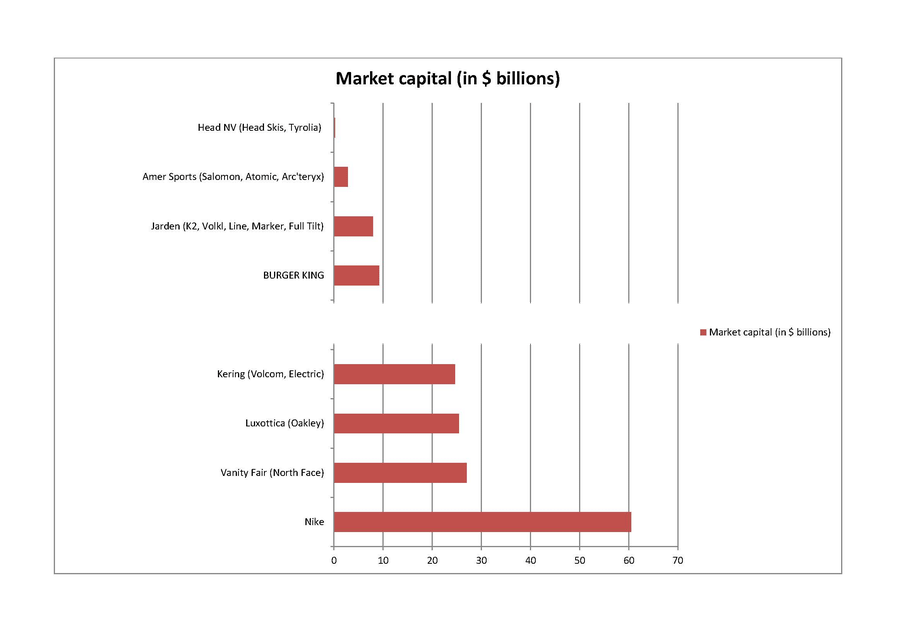 Privately Owned:
Altor Equity Partners, Sweden
As of 2013 the new majority stakeholder in Rossignol and by proxy Dynastar, Lange and Look. With an estimated investment value of $3bn this is not a small company. They also own, among other things, Helly Hansen, a pharmacy chain and an investment bank. Full list of holdings here: http://www.altor.com/
Altamont Capital, USA
A private equity firm with holdings over $1billion. They dabble in everything from used cars to designer furniture but more relevantly to us they own Dakine.
Vision Service Plan, USA
The largest provider of vision insurance in the US, they acquired Dragon in 2012. They also produce all of Nike's 'Vision' range, resulting in the Nike/Dragon collab now seen on radgnarlydudes from Sugarloaf to Boreal.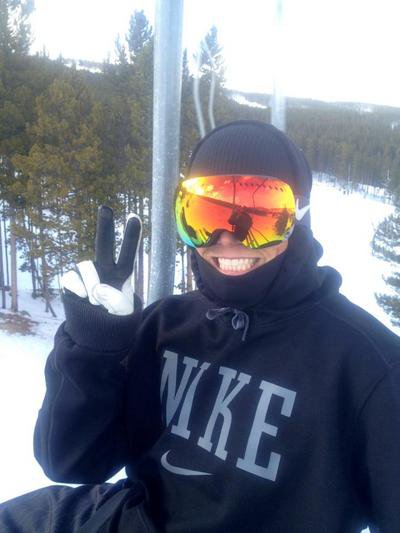 Sorry Gus but...
Burton, USA
Burton are often thought of as the most sinister of companies in snowboarding but actually they are at least still boarder owned and focused. However this is a ski website and Jake Burton has made his view of skiers very clear in the past, so his companies can sit next to the rest of the corporate wankers on this list. They own Anon and RED.
Scott Sports, Switzerland
Started out in the US making ski poles and branched out making bikes, accessories and finally, in 1997, skis. Now based in Switzerland and owned by businessman Beat Zaugg. He doesn't seem to get too involved in the skiing side of things, instead choosing to focus his personal attention on a range of mind bogglingly expensive bikes. Given the owner's focus, I'm prepared to make assumptions about where the majority of the research and marketing budgets end up...
Fischer Sports, USA
Based in Austria and still privately owned. Aside from being one of the dullest companies in skiing and sponsoring Olympic superhero Joss Christensen, there isn't much to say about Fischer. They also make Tennis rackets and stuff.
Tecnica Group, Italy
They started out making the infamous Moon Boot then went on to launch Tecnica Boots and acquire Blizzard and Nordica. But seriously, Moon Boots...
So there you have it, the 'freeski' industry in a big, bank-vault-in-Switzerland sized nutshell. None of this is to say that the people working at corporately owned 'freeski' brands aren't as passionate skiers as you or I. Speaking to them you can tell they are as dedicated to this sport as anyone but that doesn't change the fact that ultimately, they are not in the driving seat. A significant chunk of their profit must be lost to the ownership chain and even allowing for economies of scale, that margin must come from somewhere. Be it investing a smaller proportion of profits in the team or compromising on the quality of materials, somewhere skiing must be losing out.
The idea behind this article is to start a debate about what is right and wrong in our industry, so if you have your own opinion, please comment! If any brands, big or small want to contact me to either justify or refute my assumptions, please get in touch.