Colby Stevenson is obviously not the only person who had a disrupted 2020, but most of us hadn't just won two X Games golds, as a rookie! Many on NS will know about the car accident, in 2016, that Colby recovered so strongly from. But will that enforced break have given him any advantage in the return to contests after the global lockdown that interrupted a dream season?
Four years after the moment that nearly ended his life, let alone his ski career, he opens up about his injuries, recovery and the trick he did on his first day back on snow! His comp schedule is pretty stacked and he hopes one of those comps is the next Olympics, but Colby talks about the importance of keeping variety in his skiing. Yeah, we talked about a lot of stuff. Enjoy!
_
Hi Colby, so how did you spend your quarantine?
I quarantined with my mom and stepdad in Park City. We cooked a bunch of food, played Xbox, watching shows, just the normal at home pastime stuff. I went out to exercise a little bit, but stayed away from people, whether it's on the bike, running, yoga at my house or up ski touring. Also, I got rid of a lot of clothes, something I hadn't had time to do. So, I tried to use the time to do things I wouldn't normally do.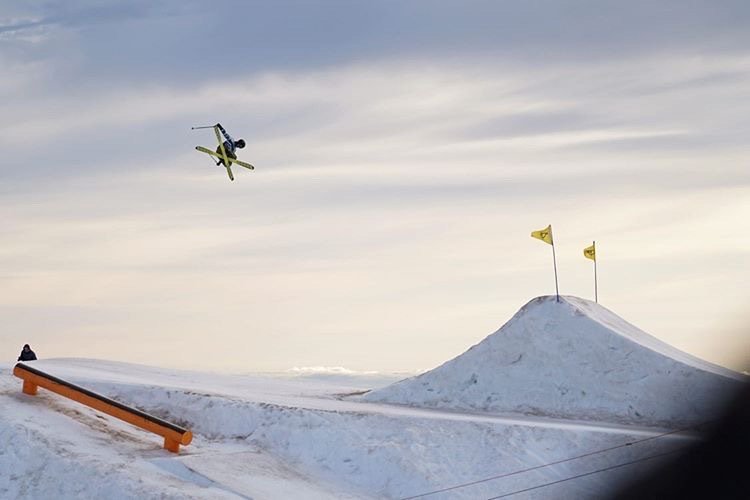 Photo: @ryangramswell
_
You were having such a great season, so was it being cut short even more frustrating for you?
I mean, there were only a few more competitions left for us, one of them being the last World Cup –Slopestyle in Silvaplana (Switzerland), I was really bummed that was cancelled, because I was 2nd in the standings, behind Andre Ragettli. I was really hoping to put down a sick run there and see if I could get the globe. Other than that, I mean SLVSH cup was cancelled, that was pretty heart-breaking and Audi Nines, there was Total Fight and obviously Kimbo Sessions. Those were the only ones I missed, it put a dampener on the season, for sure, but I look at it as an opportunity to step back, organize some other sides of my life and get stronger and fitter for next season.
_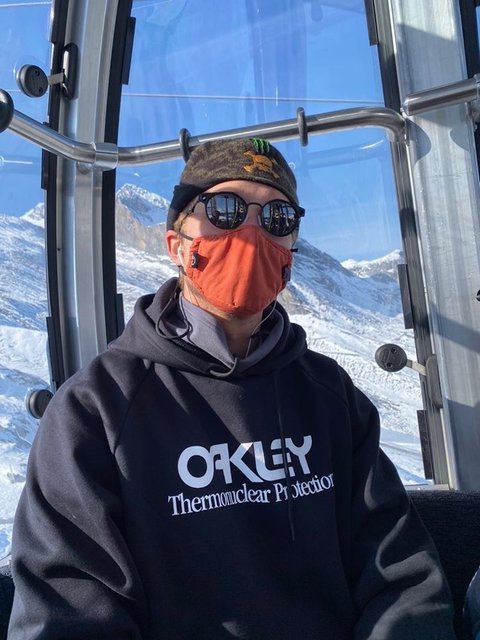 Skiing Post/during-Covid
_
It's hard to plan anything these days. Have you been able to make any plans for 2020/21?
I'm heavily on the competition circuit now, with the US Ski team and stuff, so that'll take up the majority of my year. This season (19/20), I didn't get to film at all in the backcountry, as I did for Ignite the year before, which kind of sucked, but I was just competing all season. That's kind of where I am in my life right now. Going into this year, I know it's going to be the same kind of thing, it's a pre-Olympic year. I'll have a bunch of qualifiers for the US, which is a different qualification system. I'm just really focused on getting healthy and to stay healthy throughout the season. I won't be sending it as much in the backcountry, to minimize the risk.
_
I'm not super familiar with how Olympic qualification works for freeskiing, are there certain contests that you have to do and do X Games and the Dew Tour count?
No, the X Games doesn't count. The way they do it is, it's results-based, but it's only the World Cups that put you on the World Ranking. X Games isn't part of the World Ranking, because it's not a FIS event.
This year the US Team is doing a qualifier based off of the World Ranking at the end of the season. They normally do it the year of the Olympics, there's five World Cups right before the Olympics and those are all qualifiers, but there's not enough time to do it on the year of the next Olympics, because they moved it up like three weeks, So there's only time for two World Cups that year and they'll do it and they'll do it off the World Ranking of the season before, to select the four skiers.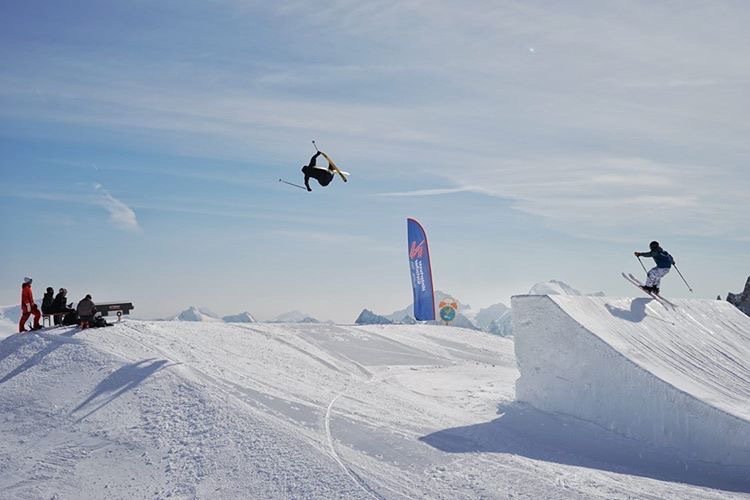 Photo: @daveeuler
_
For you, how does an Olympic Medal compare to an X Games one?
There's so much more hype around an Olympic Gold, just because people who aren't in action sports. Even though it's really just another competition, but it's so prestigious because it only happens every four years and there's all this pressure built up around it, so if you win it, you're going to make like five times as much money as you do if you win X Games.
I don't know, I don't personally enjoy the hype around it, I think XGames is equally as cool, if not cooler, because more people get to have a chance at it.
I made it a really big goal of mine when I was younger –from the last Olympics—to go to the Olympics, I got hurt right before and it was heartbreaking. I'm never going to do that again, I'm never going to put that much pressure on myself to go because it's not everything to me. Obviously I'm going to try, but if it doesn't end up happening, I'm not going to get all upset, like I did last time. Like, I won't be happy, but I'm not gonna get super bummed, because I know there are other things, there's X Games, there's filming and all these other things that I enjoy more than stressing out about one competition.
_
Cool, so that's Covid and contests! Let's go way back now; where did you first get on a pair of skis?
I grew up in Park City, my parents moved here when I was four years old, from the East Coast. I mean I've been skiing since I was 14 months old, in Vermont and California (Lake Tahoe) and then we moved here, and I was on the ski team. When I was four, they had me going around, on the ski team, getting out of elementary school early. Every other day I'd get out at like noon and go skiing. Park City was definitely a big part of getting me to where I am now.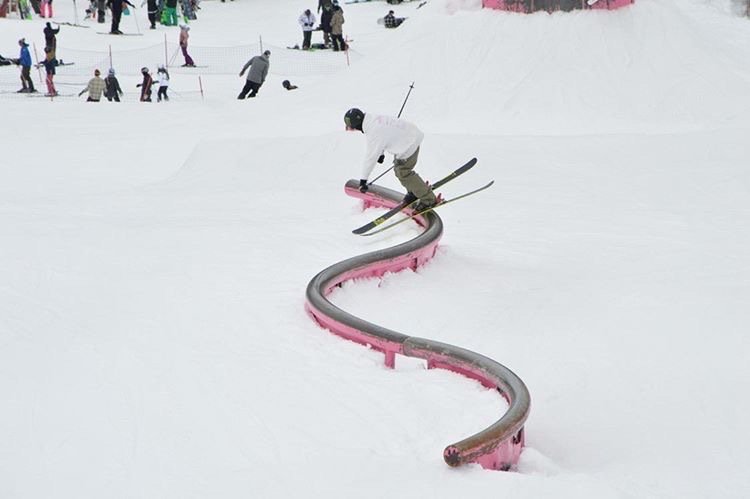 Photo: @daveeuler
_
Were there any skiers you looked up to? When you were that young, did you watch any ski movies?
I didn't really take interest in slopestyle skiing until I was like seven. Haha I know that's super young still, but that's when I quit racing because I was so intrigued with freestyle skiing. It was just coming on the scene and I was watching Tanner Hall and Simon, those were my idols back then.
_
So, if I asked seven-year-old Colby to pick between Tanner and Simon…
I mean Tanner was always my favourite, just because he had such a punk attitude, he didn't care and I remember a ski movie where had the spiked hair, I just thought he was so cool. He was always winning X Games. He was just kind of the wild child of skiing, I thought he had great style and was just the coolest.
Everyone was saying to me: 'you're like a mini-Tanner Hall!' so that made me like him even more. I had super blonde hair, just like him and I was just a crazy little kid, jumping off stuff.
_
The car accident, you had in 2016, has been pretty well documented in the ski-world, but that must have changed your outlook on life and on skiing?
It took me from a place of feeling invincible to realising that I could die any day and had to make better choices in my life if I wanted to keep this thing going. Even more than that, I didn't think that I was going to be able to ski after it happened. I thought my life was over. The experience was definitely character-building, in that I saw how precious the little things are in life. It took me away from being in a place where I was not as grateful as I should be to being the most grateful person in the world. I think that really helped my skiing.
_
What injuries did you have?
I completely shattered my skull, the whole right side of my head was caved in. I broke a couple of bones in my neck, I broke my eye socket, my jaw and like four ribs. I also ripped my forehead off, so I had this huge scar between my eyebrows. They call it the 'Degloving of the scalp' it ripped my forehead back and I lost about a quarter-sized of skin, off the middle of my forehead. They were actually able to stretch the skin, without having to use a graft.
That was definitely one the hardest parts of the crash, looking at myself in the mirror and I would say I looked like Frankenstein. I couldn't believe what I'd done to myself. It was super depressing on that front.
After a while of recovery, it actually started to look alright and now it's just part of me, I don't care or notice it.
_
So, talk me through your rehab and recovery…
After the crash, I went to speech therapy, which is just something you do after a traumatic brain injury. I would go there once a week in Salt Lake to do all these brain tests and play these like memory games and stuff. Then the physiotherapy. I couldn't really do much for a while, just because I was messed up, so probably for two months I didn't do any P.T at all, it was all just the brain stuff. Once I was able to go to P.T, I went to the gym at the Centre of Excellence at the US Ski Team building. I'd do a bunch of neck exercises and start to use my body, with the spin bike, just to start moving a lot more and doing a little weight-lifting. I couldn't do anything extreme, because I was so weak, I lost like 25lbs in a month. It was gross.
It was five months after the crash when I first skied again and for two of those months, I was pretty much incapacitated. Those last three are when I got back on the bike, road bike and I started mountain biking a little bit and that's when I really started to see the light.
_
How long from when you got back on your skis, to when you hit your first jump?
First day! It was actually a really huge breakthrough on the first day I was back on skis. During my recovery, I had a problem with my inner ear and my balance. Every time I would lay down, I would just start spinning. I thought I would never be able to go upside down again. It kind of went away, but I did feel it a bit when I went skiing in New Zealand, a couple of months later. First day back I did a dub 10 blunt and I knew that I was gonna be alright at that point. That's when I was like: 'holy crap! I could make a comeback!'
I was definitely supposed to be doing that. I was having lots of problems with my neck, I still do. Every little bump, and stuff, my neck would jolt. When I hit a jump, it wouldn't hurt. I was like: 'I don't really know what's going on, but I can do a dub 10 blunt and I'm the happiest person in the world!'
_
The first jump you did post-accident was a dub 10?!
Haha, not the first hit. I was working up to it all day, but it was on my first day back.
_
What clicked last winter? With Wallisch's Rail Jam, X Games and Ignite or was this just the natural progression after the accident?
I don't think anything clicked. I'd say luck was finally on my side. I know it's crazy to say that, but I've gone into it with the same mindset, the last three years, and sometimes it just goes the right way. It definitely helped, going in with the momentum, because it was Tom's event, then I went straight to Italy for a World Cup and got third, then X Games and was feeling good after those two results.
To win X Games and then two World Cups with two 2nd places after that. The ball was rolling, and I was just happy to be healthy and skiing. I couldn't tell you if something clicked, I just felt like I was doing what I loved, as I always do, and it finally came together. It's weird because I didn't have the best summer, in 2019. I was up in Whistler and I went to Mount Hood. I broke my collarbone, mountain biking in Mount Hood and I was out for almost eight weeks. I was just not feeling healthy at all, I couldn't do anything. I guess at the very end of the summer, I was able to get in the gym and work out, but not as hard as I would have liked to. The fact that I was able to have the season I did shows that it was purely out of love for skiing.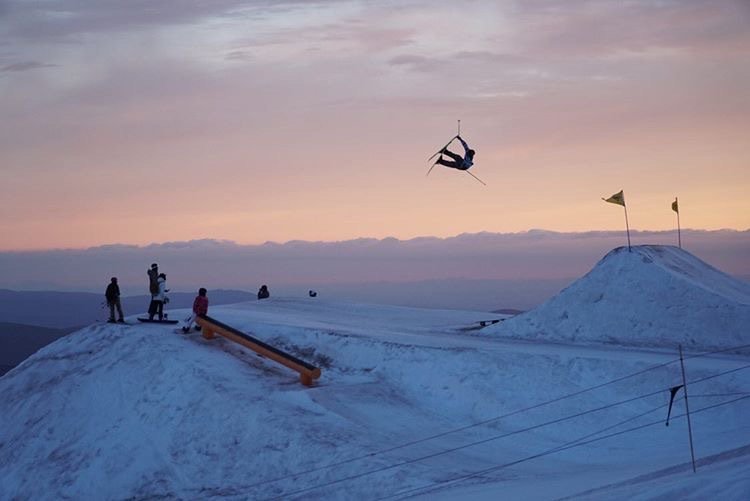 photo:@ryangramswell
_
Obviously, everyone had a bit of an enforced break, but do you think you'll pick up where you left off last season?
I mean, I'd like to for sure haha. I'm going to do everything in my power to get myself strong enough, for when that time comes. I'm gonna throw down and I want to learn some new tricks and show them some new stuff.
_
This is kind of a weird question, but do you think —if anything—you'll have a bit of an advantage because you had an enforced break before. Now everyone's in the same boat, but you kind of have a bit more experience of it?
Maybe. I don't know how other people are going to react to this, but I know that I'm definitely good at being at home and feeling like the world's stopped because I've been in that position before. I feel the same as I always have, just living day by day and I don't let things stress me out. Maybe learning that, from the car crash, is helping me in this time to just stay calm and know that things are gonna come back. I think that helps, for sure, but I don't know how other people are gonna react. I'm sure that people will use this time to get strong and get more focused on what they want to do.
_
Obviously, you've had success in the park, but Ignite showed your backcountry skiing too. Do you think it's important for skiers to stay varied and not just stay in the park?
For sure it's important to do all sorts of skiing, otherwise, you're gonna get burned out. If you're doing the same thing too much, it's just like anything, it's not as fun. You want to keep things spicy! I've always had a passion for skiing pow and skiing the mountain. Growing up watching Pep Fujas, and all those guys, building jumps and doing all these crazy switch landings. Hitting huge cliffs and stuff, that was my childhood and so it's always been a goal of mine to transition into that side of skiing. Finally, last year I had a whole month to try it out and that was Ignite.
_
If I gave you a choice of a day in the park or a day in the backcountry, which would you choose?
Well, it depends on the snow conditions, first of all, then it depends on location…
If I was up in Alaska, about to shred a spine, I would say that 100%, like 10 out of 10, there's no chance I'd take park over that. Then, a perfect spring Park City, slush day, beats like an average pow day. One of them is a lot more common to me.
_
You've talked about the Olympics, is that your main focus for the next couple of years?
My main focus is competing over the next couple of years, the Olympics just happen to fall in that timeline. I wouldn't call the Olympics my main focus. I would say staying healthy is my biggest goal and to be able to compete until I'm in my late 20's, like some of my predecessors have. Henrik is the most amazing one because he's still progressing the sport at his age.
After that, I cannot wait to have a whole season to film and travel with my snowmobile, kind of like what Bobby Brown is doing. I see myself doing that until I can't, until I'm 40, hopefully!
I'm thinking I'd also like to do the Freeride World Tour one day, that's also in the back of my mind.
_
Colby's favorite:
Trip: Kläppen Snowpark. Smallest, sickest park. I mean, I've only been there for Kimbo Sessions, but even when it's not, it looks like they build a really sick park, the park builder does a great job. That's where I've had my most magical moments for sure.
Trick: That varies year from year, I'd say dub 10 blunt before now I'd say like a bio 7 blunt.
Track: The Format by AZ. That's what I did one of my runs to at X Games.