Interview by Jeff Schmuck
So what have you been up to since the summer?
Been keeping busy. I took it pretty easy this summer at Momentum because I broke my collarbone near the end of last season, and then tried to come back a month after and ended up re-breaking it right around WSI. I didn't want to make the same mistake again so I waited the full four months and made sure it was fully healed before I started shredding gnar in New Zealand. I was actually pretty nervous to ski again, but New Zealand ended up being a really good trip. I made it through the whole trip without getting hurt once, and the pipe down there was unbelievable. It was one of the best pipes I've ever ridden. 22-foot immaculately perfect walls.
A lot of people noticed you didn't compete down there at the New Zealand Open and NZ Games, and were wondering why. Why'd you sit them out?
I do pretty much every contest there is in the winter, so in the summertime I don't really feel like competing. I like to use that time to just ski for myself and learn new tricks instead of focusing on putting together comp runs. Also I didn't really feel 100% until the end of the trip because I hadn't skied in so long. I just wasn't in the right mind frame to compete down there.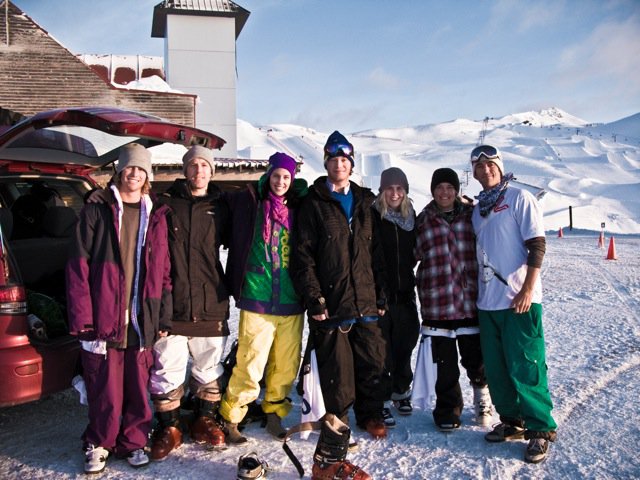 The Canadian Halfpipe Ski Team in New Zealand. (left to right) Matt Margetts, Justin Dorey, Roz Groenewoud, Mike Riddle, Sarah Burke, Dania Assaly and coach Trennon Paynter.
What'd you get up to after New Zealand?
Well Margetts and Trennon are really into surfing, so they convinced Riddle and I to head over to Australia with them to try to learn and see what it was all about. But man it's hard (laughs). I got slammed every time I went out, but I had a lot of fun. I got up on a couple of waves a few times and I ended up being really glad I checked out Australia, because to be honest, before I went there I wasn't expecting it to be the nicest place. I figured it'd be all crocodile hunter-style with barren, desert lands. But I was totally wrong, because it was awesome there. We went to Manly, which is in Sydney, and it was probably the nicest city I've ever been to. Most of the people were super dope, and the beaches were amazing. It was pretty much their spring when we were there, but it still got up to about 30 degrees, so it was a great trip.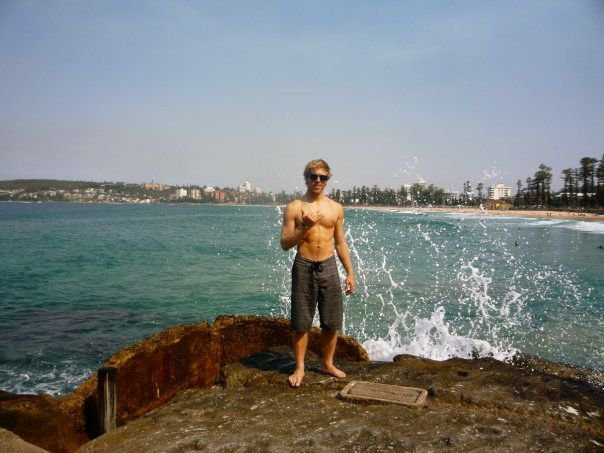 Australia
And then you started the fall off with doing a couple of the stadium big airs over in Europe right?
Yeah, after Australia I came home and started doing an online university course in marketing so I could try to keep busy and keep my brain working. Then CoreUPT asked me to come over and meet up with them over in Europe and during that time there was a couple of big airs going on. I hadn't really hit any big air jumps in like three years, but I figured since I was over there I might as well try it out to see what happens and have some fun. I ended up learning a double cork 12 in London, which was really cool for me, and all in all it ended up being a good call for the most part.

London Freeze. photos: Peter Wilson
Yeah, and speaking of 'for the most part,' tell everyone the story about what happened to you at the Barcelona Snow Show.
(laughs) I was warming up in practice before qualifiers and I tried my first double 12 of the day. It was about 25 degrees so I was skiing in a t-shirt. I knew I probably shouldn't have been skiing without a hoodie or long sleeve but I thought, 'It's all good, I just won't crash' (laughs). Then I tried my double 12 and my ski came off when I landed, and I bounced up and slid down the edge of my ski on my back and then down the landing. My t-shirt flipped up in the process and I figured I had some brutal snow burn going on, so before I went up to hit the jump again I asked TJ to lift my shirt up and take a look to see how bad it was. As soon as he lifted it up he immediately started yelling 'We need a medic, somebody get a medic!' And he put his hand on my back at which point I assumed there was a pretty decent cut and he was putting pressure on it so it wouldn't bleed everywhere. Then everybody came over and started freaking out and I looked back and there was blood just streaming down my pants. They put me on a stretcher, into in ambulance, and I went to the hospital where they gave me 13 stitches. I neglected to look at it the whole time because I didn't really want to see it when it was open, but it ended up being a pretty legit gouge (laughs). I was pretty fortunate I didn't slice my kidneys open they said, so I got pretty lucky, and I should be all healed up within a few weeks.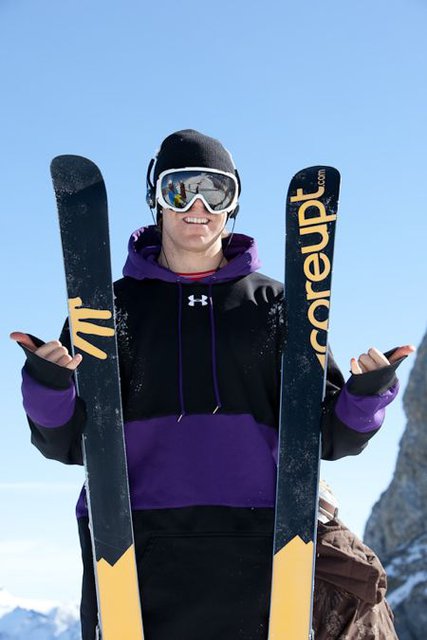 So as you alluded to a bit ago, the big news in your professional life is that you've switched sponsors from Dynastar to CoreUPT. How'd that all come about?
Well at the end of last season the European team manager for Dynastar was offered a job with CoreUPT and he pitched me the idea of joining the team. At first I was hesitant to leave Dynastar but the more I learned about CoreUPT, the more stoked I got on them. I saw an opportunity to design a ski that I could do whatever I wanted with regarding shape, size, construction and graphic...which has been a dream of mine forever. I could also relate to their direction and plans for the next few years. They have some big plans and I'm really stoked to be involved with them.
What are your plans for your pro-model?
I'm designing a stiff, fast, stompy, park and pipe ski for going fast and big. The idea is to be able to hit big jumps and go big in the pipe while the skis hold an edge and stays stable. Basically it's going to be a man's ski (laughs). I've also got a couple new ideas for the ski that I haven't seen done yet so I'm stoked to try them out.
When will it come out?
Probably not until next year. I just started giving them my first designs. I haven't gotten to try them yet because it's still in the preliminary stages, but I should have my first prototype by mid-December. Then I'll be able to provide them with more feedback and figure out if I need to change anything and what's going to work best.
X Games. photo: John Vandervalk
You're at the top of virtually everyone's list of who they expect to do well this winter on the pipe circuit, so with that in mind, what are your goals and expectations going into this season?
This season is going to be nuts. I have a run I'm planning on doing at the first Dew Tour, and then to be honest I never really try to predict where I'm going to be at for the rest of the season. I just try to focus on the first contest and then take it from there day by day. I constantly try to learn new tricks and then figure out how to incorporate them into my run. But I really want to win some big contests this year. Over the last year I feel like I've tended to ski either too conservatively or send it to hard at all the contests. So this year I want to figure out a balance between the two and get some big wins under my belt.
With Tanner out this winter and saying that he's not going to compete anymore, there's a lot of talk about who's going to step up and potentially rule the pipe competition scene in his absence, because Tanner of course has always been such a dominant force in that area. And a lot of people are now looking in your direction to possibly step up and fill that role. Does that make you feel pressured and bother you, or does it motivate you and make you even more stoked to get out there and compete?
It doesn't bother me, but it is a lot of pressure. However, I think there's a lot of kids out there right now that have some ill shit going on with their skiing. I don't want to say any names to ruin the surprise...but I'm not the only guy out there right now that's capable of taking it. I found out recently that there's about five or six kids who have sick new doubles in the pipe. So it's really going to be anyone's game this year with Tanner gone. There's going to be some tricks thrown that have never been seen before, so again, it really is going to be anyone's game. Pretty much everyone who's in X Games could take it. It's sick because everyone has such different runs now, which makes it that much more exciting to watch.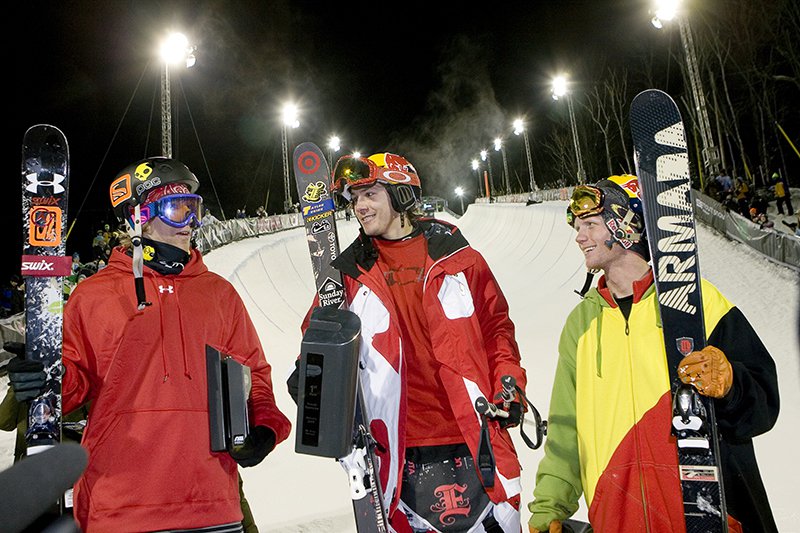 Dew Tour. photo: Dan Brown
Every year when the movies come out people always say they wish you filmed more. Do you have plans to do more of that this winter?
Definitely. The only contests I want to do this year as it stands are the Dew Tours, X Games, Euro X Games and maybe European Open, but after Euro X I want to shoot a lot more. I haven't put together a real segment in a long time, and after watching all the movies this fall I'm into it. So I really want to put together a legit segment with Level 1...that's a big goal of mine this winter.
I imagine it'll be bit easier for you to do that since you'll be competing less now that the World Cup circuit isn't happening this year, which of course you've been a mainstay on for the past couple of years. What are your thoughts on that, and the potential announcement this year or next that pipe skiing will be included in the 2014 Olympics?
Well on the positive side, it'll free up a lot more time for me and make my winter a lot less hectic. It'll also allow me more time to film for sure, but as nice as that is, it's kind of a bummer. I think we definitely need to have world cups if pipe is going to happen in 2014. I've heard rumors it's just because they want to take this year to focus only on the Olympic disciplines, but it worries me a little bit as a sign for it getting in, even though we've been hearing a lot of good things lately.
FIS World Championships. photo: Trennon Paynter
Any closing comments you want to make to aspiring young skiers coming up in the pipe scene right now who look to you for inspiration?
Get a foam pit and learn triple flips! (laughs) No but on the real, there are so many tricks, that aren't even doubles, that haven't been done yet so get out there, get creative, and have fun with it.