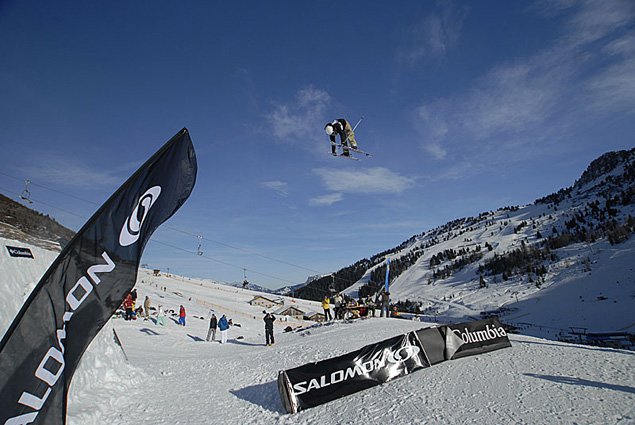 Photos by Tommy Bause and Matt KlemencLast Friday and Saturday, Feb. 9-10 saw the Columbia Austrian Open by Salomon go down with bluebird and perfect conditions in Mayrhofen in Tirol. Frenchman Kevin Rolland won the prestigious slopestyle title with a first-class showing, while the first podium places of the Ladies and Rookies competitions went to Belgium's Katrien Aerts and Scotland's Murray Buchan. In a couple of days just before the event, Mayrhofen did a tremendous job finishing the perfect slopestyle park with a big triple kicker line and a gap to box. The kickers, allowing massive 6-meter-high airtime, motivated the riders to push their limits.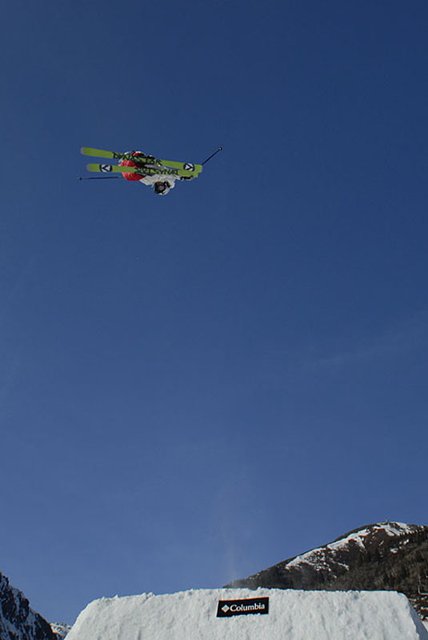 Columbia rider and event organizer Martin McFly Winkler said, "The qualification made clear that the Austrian Open anniversary is going to go far beyond any expectations, it's another step forward." For him, right from the beginning of the event the focus was on creating an event from riders, for riders; "the rest will follow." The growing international acknowledgement of the Columbia Austrian Open by Salomon is proof of the success of these tactics. Besides the Open Mens competition, the Ladies and Rookies were given the opportunity to present themselves on an international basis. The rising Ladies competition was won by Belgium's Katrien Aerts, who beat the favored American Kim Misof.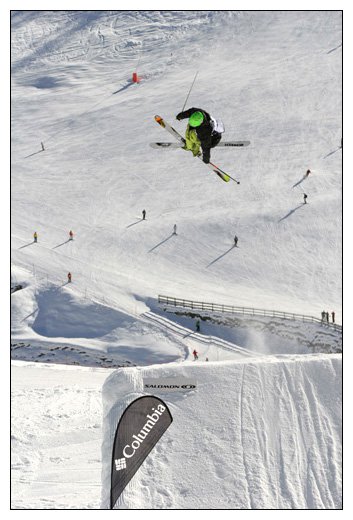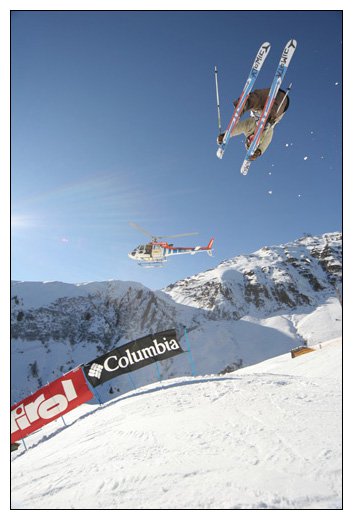 Murray Buchan from Scotland was in a class by himself in the Rookies competition for riders below 16, leaving Germany's Tadde Joas and the Italian Stefan Schenker behind. As all of them are sponsored riders, another lucky Italian, Andreas Bacher, won the sponsoring packages by Columbia Sportswear and Salomon, and prizes by Die Börse and Green Room went to some other lucky young riders. In the Open class, 12 invited international top riders faced the 12 riders from the qualification runs, with a surprising winner rising to the top. After two high-class heats, qualifier Kevin Rolland from France was finally awarded the Austrian Open winner's tie and the champion's cut of the €5,000 prize money, showing both sick tricks and massive control. Paddy Graham from the UK and the Austrian Fabio Studer rounded out the podium.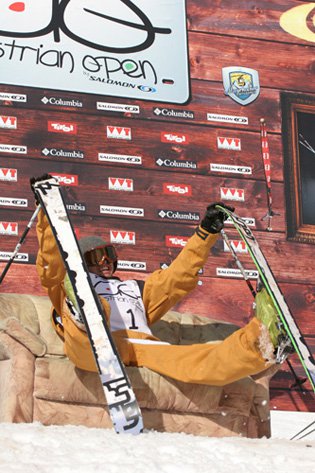 Xaver Gehring from Germany and Finnish Pekka Hyssalo completed the top five. Gehring was awarded the wildcard for the invitational in-city slopestyle contest Red Bull Playstreets. After a perfect day in a mellow atmosphere climaxing in a unique sunset, the after-contest party at Innsbruck's Couch Club was attended. On the videoscreens riders and guests reviewed the past two days in HD quality, as production company zeroDvision showed their rough cut of the event—helicopter footage included—and ended a perfect weekend.Austrian Open Full Results (.pdf)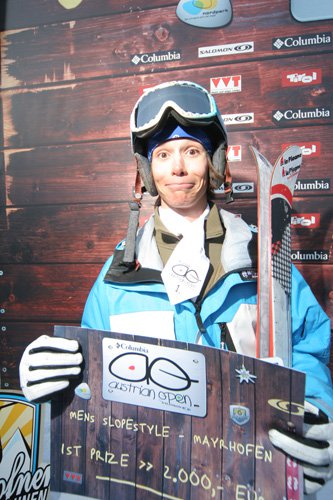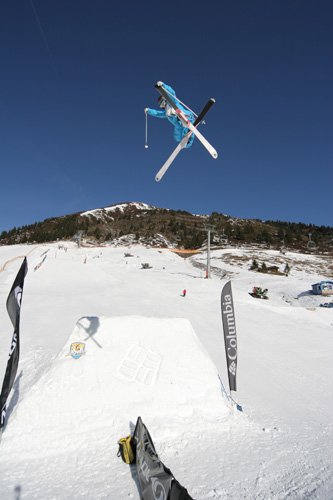 Bei strahlendem Sonnenschein und perfekten Bedingungen gingen am Freitag und Samstag die Columbia Austrian Open by Salomon in Mayrhofen im Tirol über die Bühne. Kevin Rolland aus Frankreich holte sich den prestigeträchtigen Titel im Slopestyle Bewerb mit einer Galavorstellung im Herzeigesnowpark. Die Titel in der stark vertretenen Damen- und Rookiesklasse gingen an Katrien Aerts aus Belgien bzw. Murray Buchan aus Schottland. Mayrhofen hatte nach den Schneeproblemen quasi über Nacht einen Slopestyle Park gezaubert, in dem sich die Fahrer voll austoben konnten und ihre Limits pushten. Auf der dreifach-Kickerline und der Railbox wurde alles gezeigt was Freeskiing momentan so zu bieten hat. Spektakuläre Tricks in sechs Meter Höhe zogen inmitten des Skigebiets alle Aufmerksamkeit der Zuschauer auf sich. "Es zeichnete sich schon bei der Qualifikationsentscheidung ab, daß diese Jubiläumsausgabe wieder mal alle Erwartungen übertreffen wird", meint Columbia Freerider und Organisator Martin 'McFly' Winkler, der seit Beginn besonderen Wert auf die Bedürfnisse der Freeskiing Szene legte und dadurch den Anklang der Veranstaltung in der internationalen Szene immer mehr steigerte. Neben den Herren kommen auch der Nachwuchs und die Damenklasse zum Zug und können sich somit auf dieser international beachteten Plattform präsentieren. In der an Beliebtheit steigenden Damenklasse schlug Katrien Aerts aus Belgien überraschend die favorisierte Amerikanerin Kim Misof.In der interessanten Rookies Klasse für die unter 16 jährigen war der Schotte Murray Buchan nicht zu schlagen. Tadde Joas aus Deutschland und der Italiener Stefan Schenker wurden von den Judges auf die Plätze 2 und 3 gestuft. Nachdem die ersten Fahrer alle gesponserte Fahrer waren, schnappte sich der Italiener Andreas Bacher die Sponsoringpackages von Columbia und Salomon und die Materialpreise von Die Börse und Greenroom gingen an andere junge Fahrer. Um den Sieg in der Open Klasse fuhren schliesslich 12 internationale TopFahrer, die sich mit den 12 Fahrern aus der Qualifikation in 2 Heats massen. Den überraschenden Sieg und damit die symbolische Siegerkravatte und den grössten Teil des Preisgeldes von € 5000 trug der Franzose Kevin Rolland mit nach Hause, auf dem Podium landeten Paddy Graham aus Grossbritannien und Fabio Studer aus Österreich. Rolland hatte bereits in der Qualifikation von sich reden gemacht. Der junge Franzose zeigte in seinen beiden Runs die grösste Vielseitigkeit gepaart mit einer Fähigkeit auch die schwierigsten Tricks sicher zu landen. Das internationale Siegerbild komplettierten Xaver Gehring aus Deutschland und Pekka Hyysalo aus Finnland auf den Plätzen 4 und 5. Xaver Gehring wurde zusätzlich mit der Wildcard zum Red Bull Playstreets in Bad Gastein bedacht. Nachdem sich ein Wettkampftag in sehr entspannter Atmosphäre bei strahlendem Sonnenschein dem malerischen Ende zuneigte, wurde die Nacht zum Tag gemacht und auf der After Contest Party im Innsbrucker Couch Club gefeiert. Auf den Leinwänden konnten die Fahrer und die zahlreichen Besucher bereits die gezeigten Leistungen im High Definition Rohschnitt der Produktionsfirma zeroDvision begutachten – Helikopteraufnahmen inklusive. Mit den Austrian Open 2008 wird mit Sicherheit wieder ein neues Kapitel aufgeschlagen werden.