All Photos by Joe Cadieux
Alex Beaulieu-Marchand started this season, as he means to go on, with a medal at XGames Norway. Last winter was slightly different and more personal. NS caught up with ABM at Audi Nines last April to explain why.
_
We're in Austria in April, the season's winding down. So how was your winter?
Winter 2019 was incredible, I made it through the season without any injuries. I feel like I went full-throttle and risked a lot starting with Real Ski. I didn't ski last summer, for five months, to try and heal my body and get in a better headspace. When I came back skiing in New Zealand, it was amazing. I was super hyped and skiing better than I was before the rest. I carried that to the Real Ski, that was a dream of mine for so long. It was like a childhood dream, In grew up skiing urban, so it was so sick to do a Real Ski part.
Real Ski is different from "normal" contests, was the experience enjoyable?
It was great to put two months of energy into a part. Now that I've done it, it was fun to do, but it was so much work! It's insane how much work we put in. As far as a contest goes, there's not that much money and there's not that much prize-money, in relation to how much work we put in. For me, it was really a passion project, rather than a competition. That's why I'm super happy I had the chance to do it. I just wanted to use the Real Ski platform to show everyone what I can do in the streets.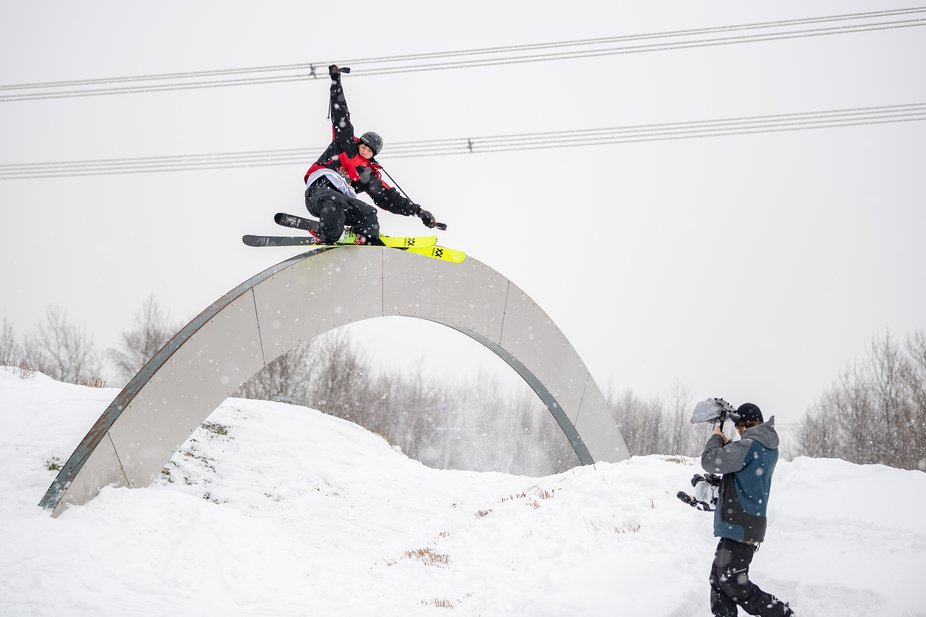 _
Was it nice to go back to traditional XGames afterwards?
After that, I went to XGames and I hadn't practiced jumps for so long, because of Real Ski. After throwing insane stuff and risking all the time on the streets, I felt at ease with Big Air and Slopestyle, of the XGames. I was even way more fired up to come and compete because I'd been doing this passion project. That turned out super-well, so I'm just so glad.
_
I saw an interview where you said your mom 'changed your diapers in the ski-lift.' Can you imagine your life without skiing?
It's not always been skiing. I've been skiing since I was super-super-young, but I feel like I've always had other passions too. I wanted to play hockey when I was young, my parents were more skiers, so they'd bring me skiing. I was like: 'I wanna play hockey!', like all young Canadians! When I was 11 or 12, skiing became my main passion and that took over. That's where I felt the most free and felt I could express myself the best on my skis. The sentiment of freedom was so amazing. I always feel that I've had a bunch of other things and if I couldn't ski anymore, life has so many other things, that are awesome. There's so many other sports and creative stuff things you can do. I love skiing so much and I hope that I will be able to do it forever, but at least there are so many other cool things in life.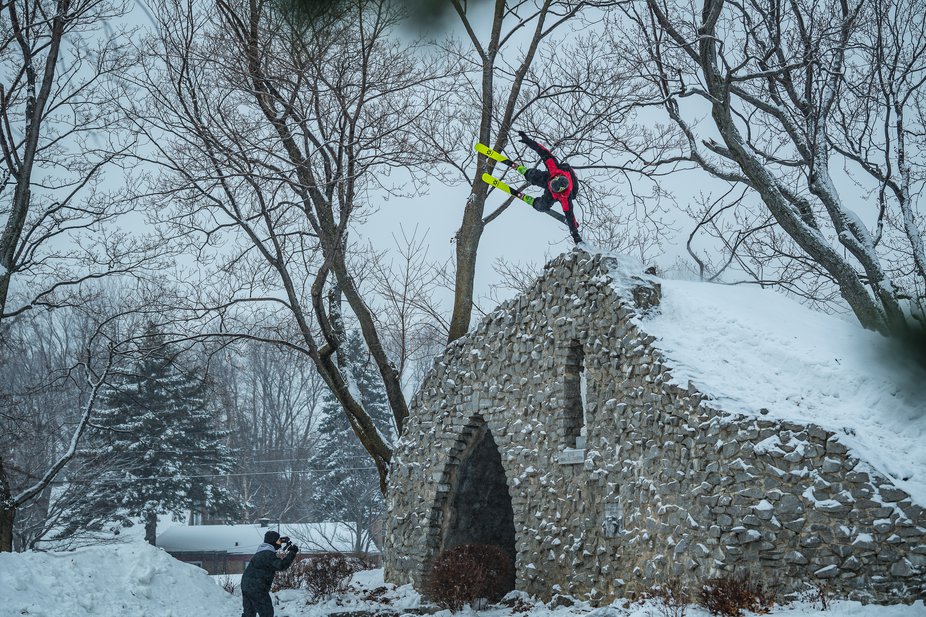 _
What would you like to do when you finish competing?
I'll probably go back to school. That's what I want and then to start a completely different career. I'll probably be an accountant or something. Hopefully not for a little bit, but that's gonna be good times anyway.
_
Which skiers did you look up to when you were younger?
Charles Gagnier was my biggest inspiration when I was super-young. He's from Mont-Saint-Anne, that's the mountain I skied at, I would see him ski and was amazed. Then in 2005, he won XGames and that was so amazing. JF Houle was a huge inspiration too and I got to ski the streets with him when I was like 15 and share a part with him. That was insane for me.
I've always looked up to Phil Casabon, he's from Quebec and has always done what I want to be doing, just a couple years ahead of me. Of course, JP Auclair has always been an influence. I got to film a couple of street spots with him. His creativity and how he created all his video-parts, kind of like Candide as well, those two are just legends that can do it all. The ultimate freeski legends, they even skied Moguls, but Big Air, Halfpipe, Slopestyle and then Big Mountain. They just have it all and that's always been a huge inspiration for me.
_
Plans for the summer and next season?
Next year my main goal is to keep doing the full competition-circuit, but also want to check a couple of marks off my bucket list. Real Ski was on there, but that's been checked. I might do it again, but not next year. I want to go to Japan, I've never been, and I would love to shred pow there. I'd love to buy a snow-mobile and get more experience in the backcountry.
_
ABM's favorite:
Trip: Japan in the middle of January —when there are perfect pow days—sounds like the dream. BC has so much to offer all the west coast of the US and I've never really explored the high mountains of Europe. That's all on the bucket-list. Hopefully, I can tick them off one by one.
Track: The whole album of Allah-Las, Allah-Las, the perfect road-trip album, I listened to it on the plane. I don't really listen to music when I ski but when I did it was Allah-Las. Super mellow and keeps me focused
Trick: There are so many tricks, but cork 3 and bio 7s are my favorites. Cork 3s are always fun and bio7 is a trick I'm so comfortable with, there are so many different ways to do it.