Words:  cko
Photos:  cko & Charles Boileau/Siver Cartel
A couple of weeks ago, after a fairly last minute invite I loaded up my gear on four hours of sleep and bussed it down from Montreal to Burlington, Vermont for the years annual Siver Sessions tour. I'm not certain how many years the events have been going on but stories of huge crowds and a relaxed vibe got me stoked. Adding to that the promise of a travel schedule that just screamed 'gong show' had me certain that I was in for fun of one kind or another.
And that's the beauty of piling 11 skiers and tons of gear into 5 vehicles and trying to put on three events over three days across 2 states: no matter what happens you're going to have a story to tell.
And so it began as Plehouse filmer/photog Charles Boileau and I successfully crossed the border and managed to rendez-vous with the rest of the crew that was already running a little behind schedule. Mike Nick showed up with Steve from Volume Video Mag and Scott's Winter Sports Team Manager Jonny Atencio in a brand new rental Nissan Armada and by luck of a coin flip I was tossed in the oh-so-roomy backseat for the rest of the journey. Charles accompanied Siver flow rider Chris Guilano in his Subaru and we headed off to our condo at Mount Snow for day one. By the time we found the place several hours later, we were joined by the rest of our crew: Iannick B, Armada and Siver flow rider Phil Warren, Plehouse filmer Fred Larue.
We awoke to blue skies and an icy parking lot that claimed at least one Volume Video Magazine employee. Things on the hill turned out to be a little more forgiving as we found the left wall of the immaculately groomed superpipe to be springtime soft by 10:30 in the morning. The only mysterious thing was the lack of people. After a few calls Mr. Nick realized that the ASC representative that had booked the events had messed up and didn't actually co-ordinate the tour to coincide with the spring break of Vermonters. No worries though – we had two perfectly groomed park runs to session and shoot on all day with the relatively strong twin tip contingent that did show up. Between shooting the pipe and a couple of rails in the park I was able to get some laps in on the smaller of the two park runs and drag myself up after some wrecks on the flat-down box in time to get in on the product toss at the end of the day. I was told lots of schwag was part of this tour but you really have to be there to believe the amount of gear we were tossing. Everyone left super stoked including yours truly who took a quick jaunt to a rustic shack near the parking lot just before 4:30 with some generous locals.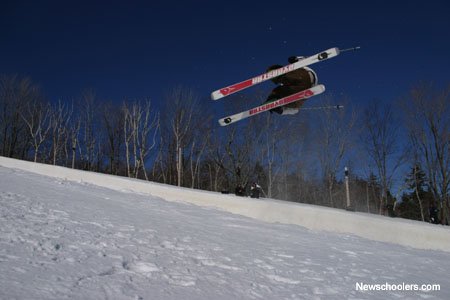 Chris Guilano in the oh-so-nice Mt Snow pipe.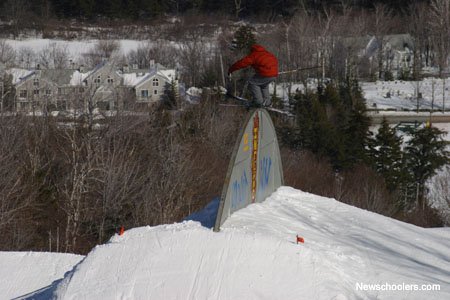 Mike Nick tempts fate on the rainbox rail.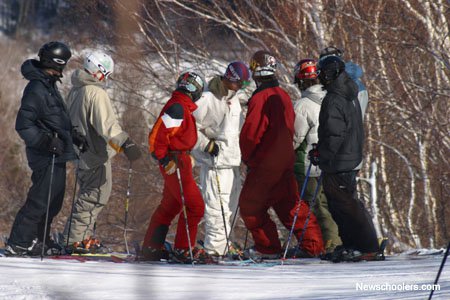 Mike Wilson can't go anywhere without attracting a posse.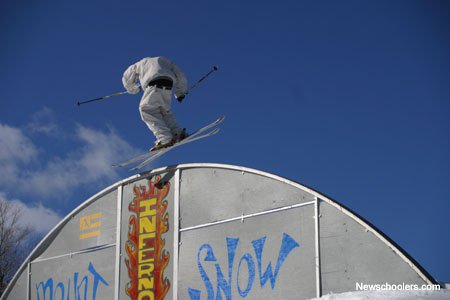 Wilson, mid switch-up.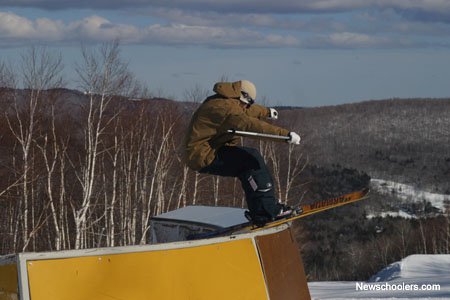 Phil Warren.  Actually rather hard to take a bad picture of this guy.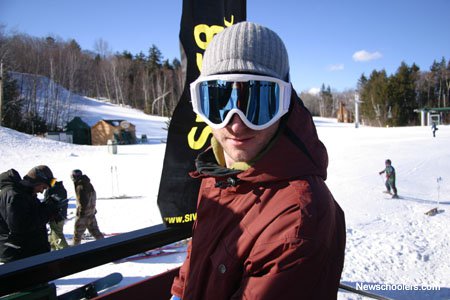 Splons!
Banners and tents disassembled, we headed off to destination #2: Killington. This was our longest journey and although it was supposed to be only a three-hour trek, we didn't end up getting into our spacious accomodations until almost midnight thanks to an absolute nightmare at check-in. What kind of reservation center doesn't have keys to the condos???
Our day at Killy had much the same turn out as the Mt Snow stop: not a ton of skiers but those that did attend were super stoked and made the best of the blustery conditions. The park at Killy had a lot of potential but taking laps became a combination of jibbing and dodging touristas in jeans and rental skis. No worries though, Mike Wilson, Iannick B, Phil Warren, Mike Nick and uber-grom Phil Casabon still threw down and put on a clinic for those that decided to spend the day sessioning the s-rail at the bottom of the hill. Apres lunch, Splons (the man behind all the Siver designs) and I decided to take a look around the rest of the mountain. Let's just say that the dodging of the joeys became a survival tactic and we got back to the session as quickly as possible.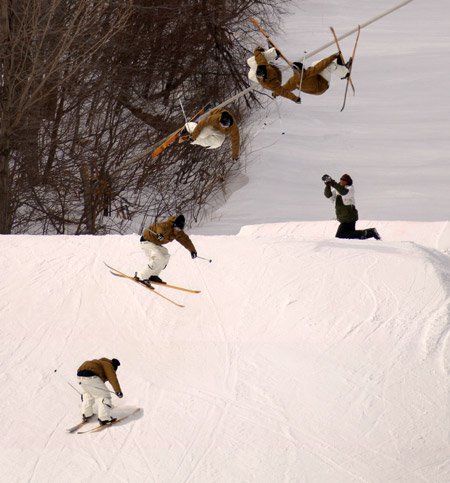 I told you Phil was good.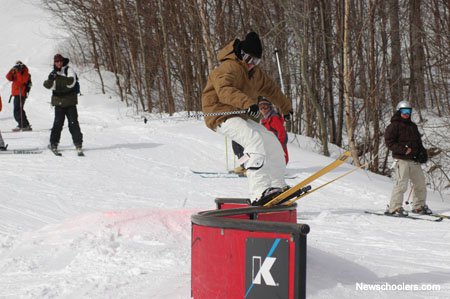 Charles Boileau loves his D70.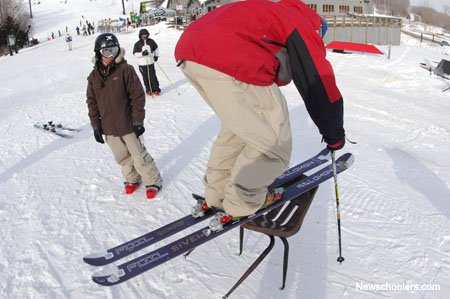 How to turn a pile of garbage on the side of a run into a photoshoot.  Photo: Charles Boileau.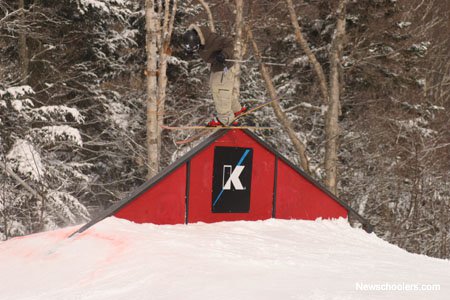 Phil Casabon schooling the a-frame.
Our next stop was Evolution Freeride in Killington for an autograph session. We had a great turnout and after a push-up contest and some really bad singing through our megaphone we hooked up the locals with a bunch of gear and called it day.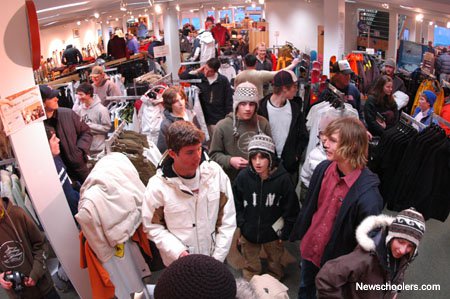 Everyone came out for a chance to meet the riders and get some free gear. Photo: Charles Boileau.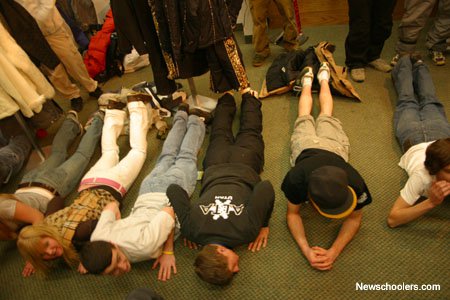 Not that free gear comes easy.  The push-up contest had everyone on the floor.
With our convoy now at six vehicles strong we made our way back up north through two states and into Maine for our last stop at Sunday River. Now, U-turns can be funny on their own but they're brought to a new level when leading five other cars. Mike Nick took full advantage of this and had the crew on quite the whirl-wind tour. We even found Iannick a Best Buy – which he's been looking for since at least X Games in Aspen. After a strong final push to the resort we piled everyone into the condo and managed to actually get everyone together for some quality free-time.
We found Iannick a Best Buy but he wasn't even there to enjoy it.
Pulling into the parking lot at Sunday River put an air of promise into the day: tents already setup, right in the midst of a groomed-to-perfection park, and plenty of time for breakfast. Maybe I'm a little bitch but it was cold out. No worries though – all the skiers that showed up threw down right from the beginning. Most of the action was concentrated on the table that housed the tents and sound system for the camp and the quarter pipe that followed. Phil Warren continued to just destroy it all day long and had to be the most consistent skier of the trip Phil Casabon threw a nasty double grab thing and Iannick had to step up and try it. He threw one to the bottom of the landing and stomped it with so much style it was over the line (see Iannick, rap can be good to ski to). Speaking of rap, the highlight of the day for me was the drama that ensued after Scott Team Manager Jonny Atencio's iPod broadcast Ice Tea's Bodycount for the resorts entire Saturday afternoon clientele. They actually tore down the entire audio system at one point and began to pack it up. Eventually we got the tunes back on (any one ever taped a headphone to a megaphone? Well we did and it worked). The afternoon's skiing ended with a session on a sick ass down-flat-down rail. The take off for this thing was set up as a perfect lipslide but for insurance reasons they had to build snow up to the rail. It really was the definition of lame. But while people like me complain about shit like that, the some people just step up and throw down. Such was the case for, guess who, Phil Warren. He, Iannick, Phil Casabon and a bunch of locals threw down until the sun was gone and it was time yet again for the distribution of tons of free gear. This product toss involved skiers having to retrieve an orange from on top of the quarter pipe which provided not only comic relief, but for participants the running around probably got them a lot warmer.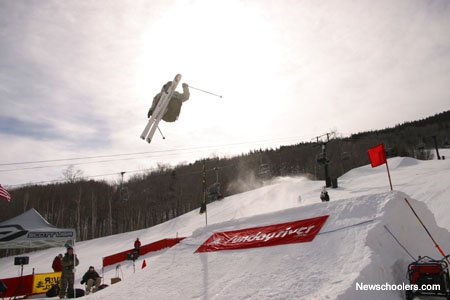 Iannick B. getting shitfy.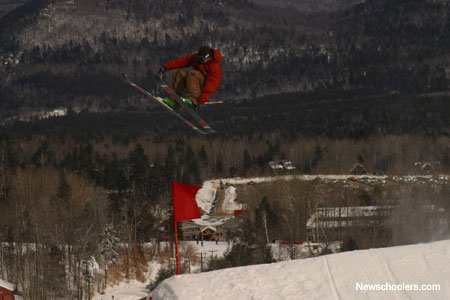 Mike Nick, Cork 5.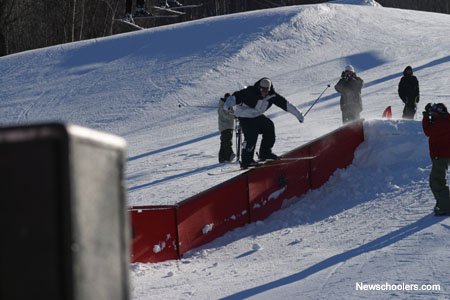 Is foreground bluriness played out yet? Another nail in the coffin.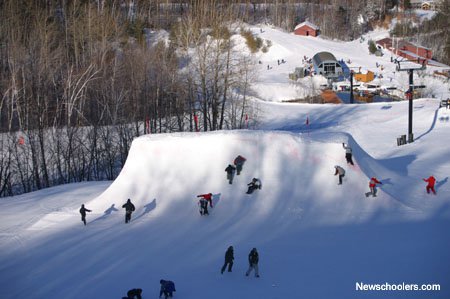 The quest for the illusive orange on the QP.
Alright we did it. Three resorts in three days and no casualties except for a broken Panasonic DV Cam (sorry Fred, had to mention it). Leaving Sunday River the crews dispersed and I headed back to Burlington for a night on the town with the boys. Thanks to Mike Nick and Splons at Siver and everyone else who made it out to the events. Word on the street is that Volume Video mag will have a chronicle of the sessions in one of their upcoming issues so stay tuned.
I'm also shouting out Jonny at Scott 'cause he hooked me up with goggles. That was wicked-ill.