By: Jamie Walter
This past weekend, news broke that A360 Media, LLC (recent acquirer of American Media, LLC) would be putting some of the biggest outdoor sport magazine titles under their umbrella on hold. Bike, Powder, Snowboarder, and Surfer magazine staff were notified on Friday, October 2nd that they would be placed on indefinite furlough, and their magazine, web, and social channels would be paused (the snow titles on November 20th, the others effective immediately). The length of the hiatus is unknown, and the future of all the titles is uncertain. Newschoolers, which is also owned by A360 Media, will not be impacted by the changes.
The news comes during a particularly rough year for all of us. COVID-19 hampered the ski industry back in March when it forced resort closures worldwide. It is no surprise that outdoor industry media likely took a big hit from the ripple effects that the uncertainty of a global pandemic has caused. Regardless - the fact that one of the longest-running, most core publications in skiing will be shutting its doors hits very close to home.
Established in 1972, Powder has released 49 volumes of "The Skier's Magazine." The publication has been dedicated to telling the stories that we as skiers all relate to longer than many of us have been alive. Their stories dove far beyond the surface level beauty of skiing into the real reasons why we all love this sport; no title has done a better job at conveying the "why" behind all of our collective passion for skiing. More recently, they began to address topics such as climate change, inclusivity, and privilege in our sport - things that affect how ALL people access the mountains. Using their own words, "we still have work to do," in these areas and others.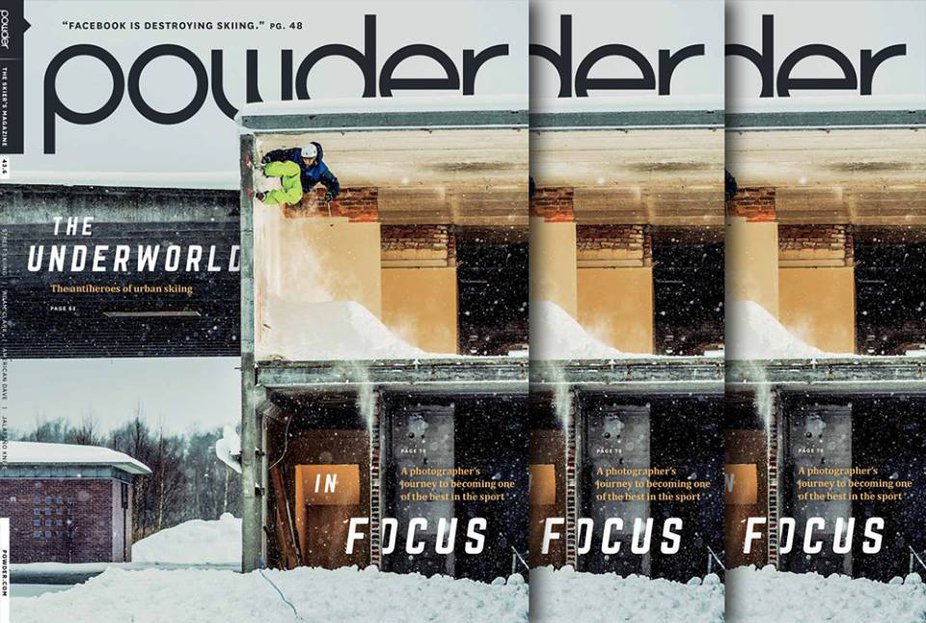 Powder's first urban skiing cover, February 2015
Newschoolers came onto the scene in 1999 as the freestyle skiing movement began to enter its renegade phase. It filled a void that many others in the industry (including, to some extent, Powder) first ignored. Over the years there has been plenty of beef between fans of both; Powder enthusiasts loved to rip on the Newschool movement - the baggy clothes, the skiing in the streets, the shitty parks built on landfills in the midwest, far away from the dreamy mountains they glorified - just as Newschoolers members have mocked hero turns and the expensive gear often flashed on Powder's pages. These quarrels have been brotherly in nature because, for better or worse, we owe a lot to Powder for paving the way for Newschoolers and have too often avoided admitting it.
Like brothers, as we've both matured, we have grown closer. Newschool-influenced skiers took their aerial talents to the sacred Powder proving grounds - the deep snow, big cliffs, and steep lines - and revolutionized skiing in a way we both could appreciate. Hell, even long time Newschoolers heroes have become just as important in the Powder world - Eric Pollard, Pep Fujas, Henrik Harlaut to name but a few - all matured from their early park skiing days and embraced the rest of the mountain as the large canvas Powder fans always knew held potential. Common ground was found; together, we celebrated mutual accomplishments and mourned the losses of our shared heroes. On a corporate level, Powder and Newschoolers eventually were joined under the same umbrella; at the core, we have both been focused on the same goal - sharing stories and the passion for skiing we all relate to.
I grew up obsessed with skiing and fed my addiction through the internet like so many other members on Newschoolers. Yet I distinctly remember flipping through the tangible copies of Powder at my local ski shops, awe-inspired by the carefully curated photo galleries and beautiful editorial stories that had a far different impact on me than any edit did on my laptop screen. Their stories left me thinking, wondering, and aspiring to continue skiing. They further validated that there was a deeper meaning to the sport and my personal obsession with it was also understood by people far wiser than me; they conveyed that indescribable feeling in such an articulate way. As much as I didn't want to admit it at the time, I knew that one day, sliding rails and hitting jumps were not going to appeal to me the way that untracked snow and vast unexplored mountains would. And it wasn't just because I feared for my knees - it was because they made the rest of the mountain out to be something I could also relate to on a much deeper level.
So, to Powder Magazine - we want to say thank you. Thank you for sharing your passion for skiing with us. Thank you for embracing our funky side we know drove you nuts at one point and even taking the time to recognize us in your coveted pages. We admit we don't say this enough, and that it may seem too late to acknowledge our appreciation, but your impact on all of us will not be forgotten. The future may be uncertain, but one thing is for sure: you taught us and countless others to love skiing for all the right reasons, and that sharing those stories is always important.
We ALL still have work to do.
---
Jamie Walter is a ski photographer and long-time contributor at Newschoolers, as well as a contributor to Powder Magazine.