For the 2021 ski reviews and every previous years, ski tests are notoriously tricky venues to judge skis. The reality is you get a couple of runs maximum per ski and have to make a snap judgment. There are so many variables out of your control too. How is the tune on the ski? How bad are the demo bindings (I broke 2 pairs so pretty bad)? Are the conditions at all appropriate to try the ski in question in the first place? Aside from the pay to play element, that was always my biggest reason to distrust magazine ski tests as a consumer. And that has made me wary of doing the same with NS.
But our test snapshot from last year sparked a lot of interest, so this year @P3t3r , @Dr.Zorko , @Kretzschmar and myself headed to Winter Park for the Outdoor Retailer On Snow test to try out all the latest and greatest for 2021. Cards on the table: we did only get a run or two on each ski, though we tried to double up and put in more time on the skis that caught our attention. It wasn't exactly deep either, so we didn't get a real feel for the float of the fat skis and we couldn't ski rails on the razor-sharp tunes, even if we hadn't been banned from doing so. But these are our early favorite skis for 2021. We'll be revisiting all these skis and more with in-depth Roofbox Reviews dropping in the fall, and announcing our more considered editors' picks then too. But for now, in order of waist width, here are our favorite skis from the test.
_
Line Tom Wallisch Pro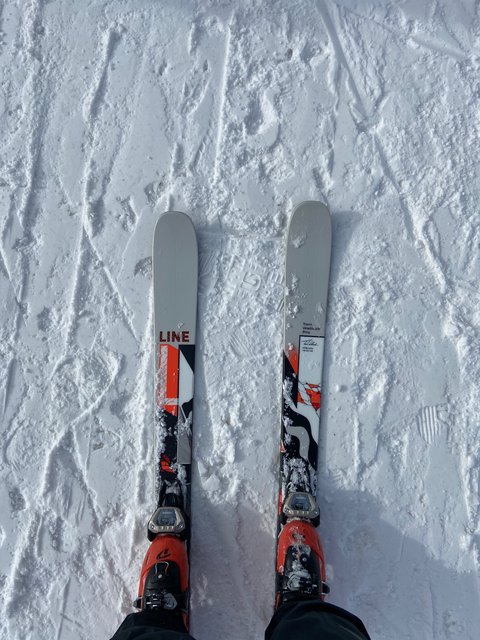 Revamped for 20/21, the new Wallisch pro model is a touch stiffer than the current ski and as a result, skis impressively well on trails. I've always been impressed by Line's ability to make skis that turn well, all the way back to the EP Pro and Elizabeths, which turned way better than they possibly should have. The Wallisch feels super stable on landings but still has enough playfulness that you can butter with a little extra weight thrown. They are stiffer than I generally go for in a ski, but they are still fun, unlike the stiff comp skis (in my opinion at least). With super low swingweight, they're a great do-it-all park ski for someone who likes to ski fast, spin a lot and go big, while still doing some buttery playful stuff too. For both myself and Peter, they were one of two standout new park skis of the test.
_
Deviation Lupe Hagearty Pro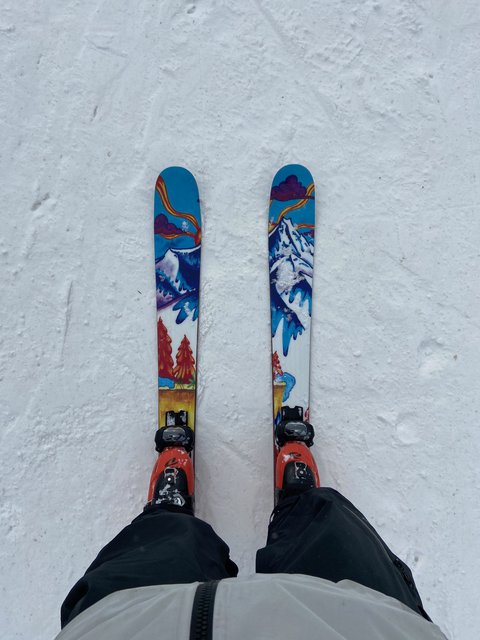 The other standout park ski came way out of left-field: the Deviation Lupe Hagearty Pro. I'd seen Lupe working on prototypes of this ski way back in fall, but the test was the first time anyone got to try them and they are tons of fun. With a decent amount of camber underfoot and a moderate amount of rocker tip and tail, the Lupe Pro doesn't seem particularly revolutionary. But when you hop on them, they are a ton of fun for sliming your way around the hill. The medium-soft flex throughout the ski, twins with fairly minimal rocker meaning they are a ski you can butter the proper way, by actually flexing the whole ski, but remain stable on landings. Peter loved the way they carved and the pop you get from the tail, while I loved the smooth flex for stalled out nosebutters and the low swingweight.
_
Völkl Revolt 104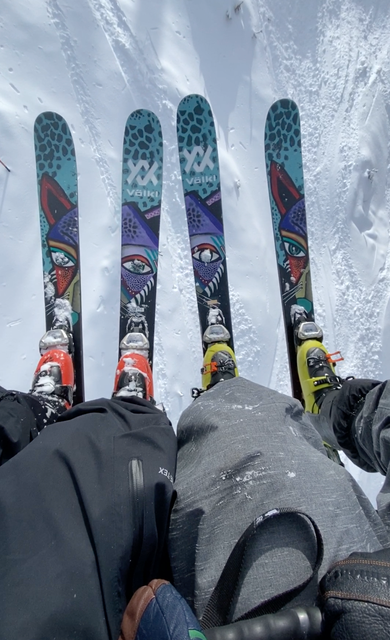 If we had a single winner of 'best of test' it'd be the Revolt 104. All 4 of us loved this ski, which for the jib focused skier, pretty much redefines versatile. Near full rocker and a damp flex makes them good in mixed conditions, and the tapered shape borrowed from the wider Revolt 121 goes sideways in the pow we did get to ski smoothly. They rail on groomers too when you throw them on edge, but they do take a little longer to engage thanks to the full rocker. But they also pivot super smoothly, slash well and still feel stable on landings/when you get back seat. The only downside is they are a little on the heavy side, but even as a lightweight individual, it didn't bother me much. Between us, we probably skied these for like 15 laps and so we're pretty confident about this one: these are going to be a popular ski for some time to come.
_
Faction Prodigy 3.0/3.0x
The Prodigy 3.0 was my Editors' Pick for pow in this season and while the ski has been tweaked, it very much has the same DNA as the current model. I skied both the 3.0x in a 178 and the 3.0 in a 184 and both were fun, although I forgot to take a photo of either. I feel more comfortable on the shorter ski but the regular ski and the X are identical except for the topsheets. The main change from 19/20 is that there is a touch less rocker in the tail, making the new ski more stable on landings and a little more energetic in the turn. But otherwise, all the things that made it my favorite ski of last year have stayed the same, and I can't wait to spend more time on them this season.
_
Line Vision 108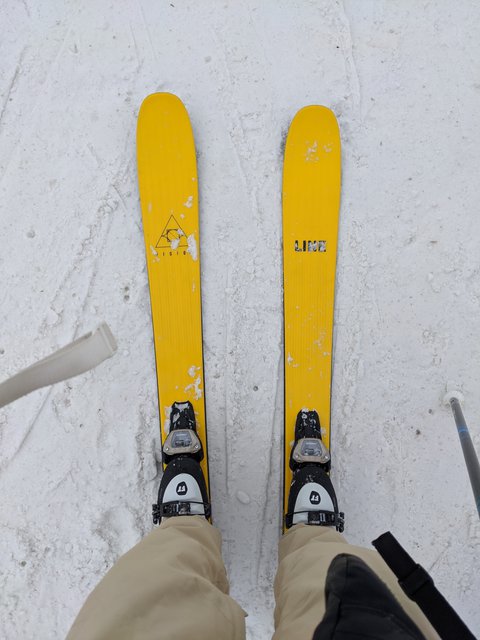 The Vision 108 is the only returning ski on this list. Zorko loved them last year and got back on them again this year as a reference point. It was still his favorite ski of the test and even though it isn't a new offering, it had to make this list as a result. Peter skied them too and both were popping all over the place, throwing shifties and generally having a good ol' all-mountain time. It's already an editors' pick from last year so you can read all about it here, but this year it has a fetching yellow topsheet.
_
K2 Reckoner 112 (&102/122)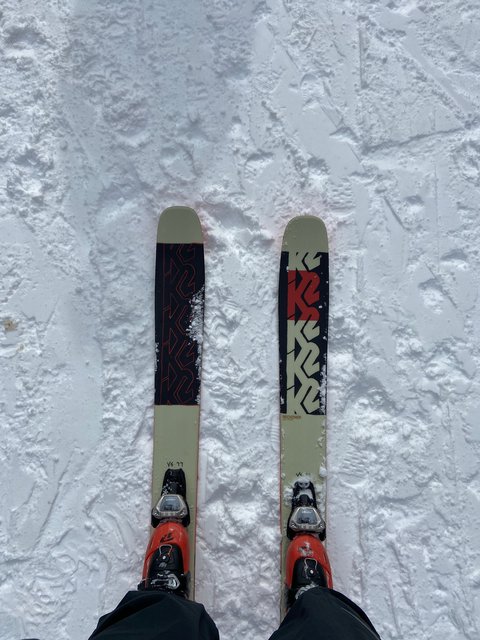 Both Peter and Zorko had a great time on the whole Reckoner series. All three skis are way more solid than the Marksman/Catamaran they are replacing, particularly in the nose. That means they aren't quite as playful and feel more freeride oriented than either of those skis, but also charge way harder. They hold a great edge on groomed and as you go up in width through the series, they get more rockered and playful but all three will go hard. The 102 feels like it shares a lot with the K2 Poacher, but in a wider shape with a softer tail. The 112 feels the most versatile of the three and overall, was the team favorite, thanks to a touch more rocker and a more tapered/rockered shape. It went hard in both tracked out snow and on groomers. The 122 feels like it would go hard in the pow and Zorko was a big fan of them for tracked out snow as well.
_
Armada Whitewalker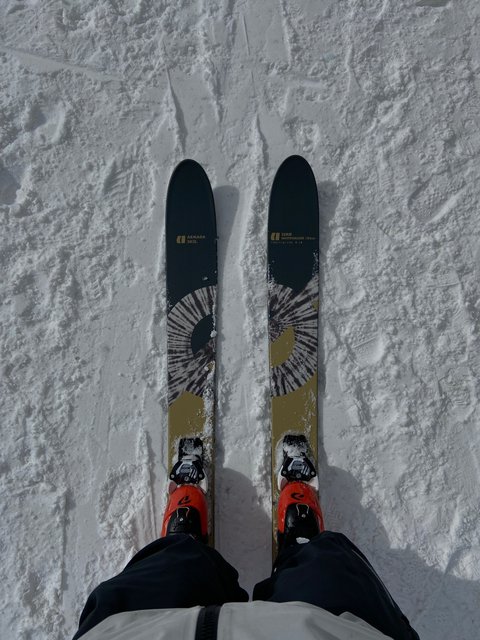 Sammy's new pro model is a different breed of ski. Lightweight and super solid throughout, this ski is no joke despite something of a touring focus. I actually found them far too solid for my paltry 135lbs but Peter found them great all over the hill. They ski surprisingly well on groomers, holding a nice edge and they are super solid on landings. I got one run on them in shallow pow but it wasn't really enough to tell much about a ski that big. The flex was a little solid in tight trees but for open bowls, they seem like they'd be a dream. And on big backcountry hits, it's hard to think of what would be a better ski.