Snowboarding is here!
December 25, 2018 update: iOS version 2.4.1 is now out
Snowboarding is here! Sort of. I was hoping to have the iOS, Android and web versions all out at the same time. But I found out that the Apple App store rejected version 2.4.1 because the latest news in the in-game news feed made mention of the word "Android". It's my mistake, I should really have platform dependent newsfeeds. Apple isn't accepting any new submissions during the Holidays so it seems unlikely that the iOS version with snowboarding will be out before Christmas as I had planned. I'm keeping my skis crossed and will keep you guys posted on any updates for the iOS version.
Test out snowboarding on the web version at shredsauce.com or by downloading the Android app.
https://www.newschoolers.com/videos/watch/918634/snowboardline-movHere's a little line through Cheeseball2000's Woodward map with a close call at the end of the jump line.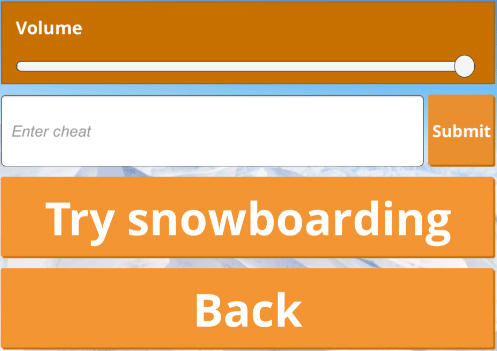 From the main menu, go to settings and hit "Try snowboarding". You'll have to start up a single player game as multiplayer isn't yet supported for snowboarding.
You may notice the lack of snowboarding grabs and the fact that they suck. The good news is the default grab configuration for snowboarding is being pulled from the server, so you will see the grabs getting slightly better over time. And they will stop sucking completely once the snowboarding version of the grab editor is opened up to the public.
You can now enter cheats on mobile. You'll find this cheat input fields in the main, level editor, gear editor and game menus. Try out "superspin" or "lowgravity".
Also new in version 2.4.1 is featured gear. You'll see a few different pairs of J skis in the featured section of the gear selector.