That's right it is time to get your stoke on if you're planning on doing a few laps in the Sun Peaks Terrain Parks this winter. We've come through again with a bunch of improvements for the 2008-09 winter season!
Thanks to our terrain park sponsor Monster Energy, and the local Blue Bird Day Fund we will be adding three new rails to our fleet of features. This will bring our total number of rails up to twenty-six for you to slide, bonk, and stall this winter. Darrin at Snow Park Solutions is in the process of building us a nice big 10ft x 24ft Flat Down Rail, a second 24ft C-Box allowing back to back C's, and a 40ft Flat Box for change ups.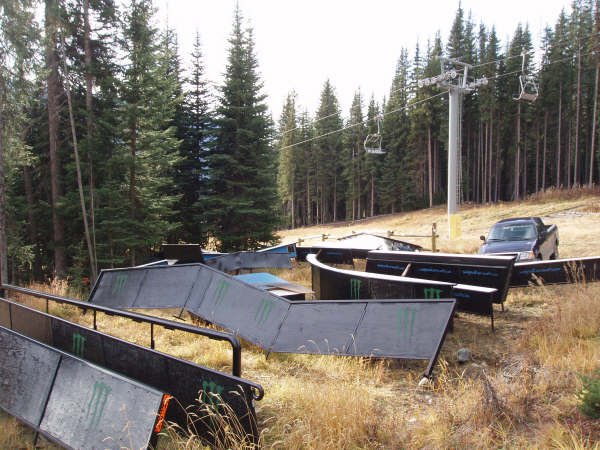 We also did extensive dirt work in the park this summer creating two massive dirt decks for us to build the two showcase jumps on. A HUGE thanks goes out to Diamond Lil's Trucking and Powder Ventures Excavating for providing the dirt and the machines to make this happen. Having these dirt decks in place will help us get these jumps open for the season faster, put two take offs on them right away, and hopefully create deeper landings. The dirt decks will also decrease the amount of snowmaking needed in half to build these monster jumps, which will free up snow for other features. The dirt work doesn't end there either, because the blue park received some truck loads of dirt to make the grade mellower and better suited for rail features.
As well, all of our star cat drivers have returned this season to deliver an even better product than last year. You can't beat cat drivers that spend all night grooming the park and all day riding it. The park layout will be similar to last year, but with some significant innovative changes to improve and better utilize certain areas. You can also expect some jib features to be popping up in the Green Park, shortly after the hill opens on November 22, 2008.
It's going to be good,
Toby Ianson
Terrain Parks Supervisor