Also known as "TanSnowMan", Tanner Rosenthal is the creator and "Chief" of a recent upstart business called Panda Poles, which manufactures bamboo ski poles in Southeast Idaho. Currently living in his hometown of Pocatello, Tanner spends his winter building poles crafted from bamboo and skiing at many of his favorite "local" resorts. Found skiing mostly at his home ski area, Pebble Creek, TanSnowMan lives only 2.5 hours from some of the best skiing in N. America, including the likes of Jackson Hole, Snowbird, Alta, and more. The Panda "Chief" spent almost 8 winters skiing in the Wasatch Mountain of Utah, which is also where he and co-founder Oakley White-Allen launched Panda Poles in the Winter of 2011. However, he returned to his hometown of Pocatello in 2013, and having put in almost 25 years skiing at the Southeast Idaho ski hill it is hard to find one local at Pebble Creek that does not know Tanner, and look up to him in some way. He has the uttermost respect for the Earth, which everyone on Earth can look up to as well.
Tanner: When Oakley White-Allen and I originally created Panda Poles, we had a vision of more than a revolutionary product, we had the sense of creating an evolutionary vibe in the ski community, based around a loving Tribe that cares for the planet and doesn't take skiing too seriously. We wanted to remind ourselves that the purpose of skiing is purely for enjoyment and heart expansion, and that without snow, there is no skiing...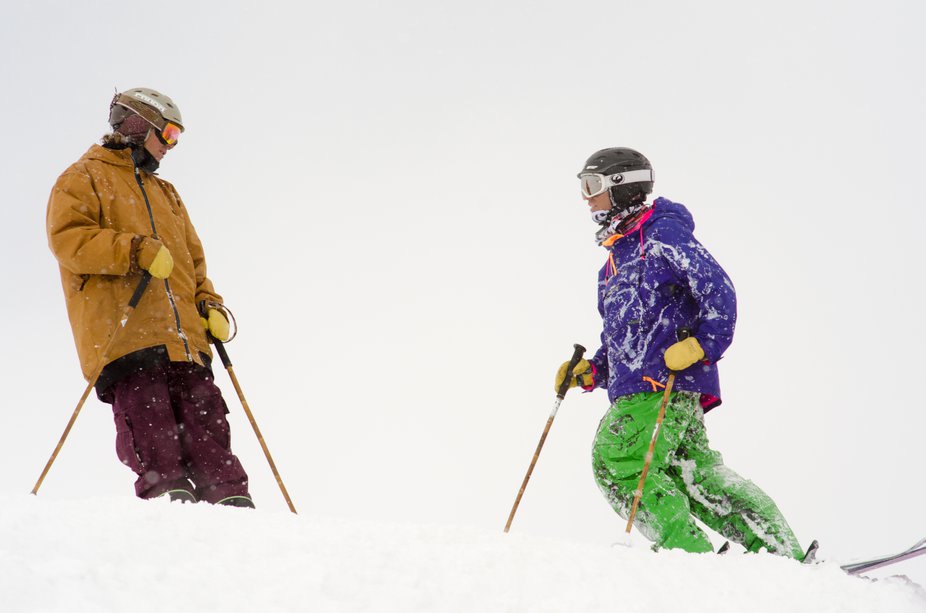 Oakley(left) and Tanner(right) at Snowbird, UT.
Why did you start Panda Poles?
Tanner: I originally had the idea to start a ski pole company back when I competed in moguls in the early 2000s. We all used short poles because they work better for mogul skiing (and skiing in general). I wanted to start a recycled aluminum ski pole company when I was 18, that reformatted the sizing guide for ski poles, while providing a product that had less impact on the environment. However, I could never wrap my head around what it would take to manufacture recycled aluminum poles. At the same time, I was having a lot of shoulder issues, and was very sensitive about snagging my powder baskets in trees (which inevitably would happen every few days). One evening in the Spring of 2008, I had a vision of 'these' bamboo ski poles (just like Grandpa's), but they had a cone shaped powder basket, long sticky grips, and a fatty hemp strap. The vision hit me so hard that I had to go after it... Oakley and I were working in a ski shop at the base of Snowbird at the time, and when I told him about the vision I had, he mentioned how he and his friend Rob de Montigny had talked about making bamboo poles back in the day, but never got around to it. I knew that Oakley had the network, and I had the drive to make this thing go... And off we went.
What things separate Panda Poles, not only from other poles, but from other ski companies in general?
Tanner: The main differentiation between Panda Poles and other ski poles would have to be the baskets and grips. While there have been bamboo ski poles before, never before has there been a Zero Drag Powder Basket, and never before has there been super sticky, extra long grips on ski poles. But beyond that, what differentiates us from most other winter sports brands is our intention. While many manufacturers are driven by consumer and economic trends, we are doing specifically what feels best to us, which is providing a cleaner, healthier, simpler, funner product and image. While so many are caught up in the image of being the most badass, we want to remind all skiers that the best skier on the mountain is not the person shredding the gnarliest line or doing the biggest trick, it's the person with the most joy in their hearts... This is a mindset that has been pushed to the wayside over recent years, and something we want to help bring back (with the help of our brethren at Pit Viper Sunglasses).
What "blessings" and/or opportunities has Panda Poles brought you?
Tanner: Panda Poles has blessed me in ways I never would've thought. On a personal level, I am a much stronger, more focused, and present individual than I was 4 years ago. I have a much higher tolerance for stress, and carry a sense that I can "do anything I put my mind to" (so cliche, but true). At a community level, I feel extremely fortunate to be surrounded by the most fun, loving, hilarious people in the snow sports industry. The Tribe we have created is a beautiful being on its own accord, and I am honored to be considered its "Chief".
What things are you trying to put out in the future from Panda Poles?
Tanner: We have a massive vision for the future! I could go on and on about this for hours, but to give a general idea, in 30 years we want to be one of the largest manufacturers of hydrogen powered, human sized quad copters. Just imagine having the quad copter drop you off at the top of a mountain, film you the whole way down, pick you up, and do it again?! All using water to power it! It sounds like a Sci-fi concept, but just you wait! However, it will take an array of successful, functional products to get to that point, such as: bamboo skis/snowboards, organic textiles from hemp/bamboo/merino/alpaca (all farmed on a ranch in the USA), organic household products (skin care, cleaning, gardening), and whatever seems to be most pertinent at the time to helping humans evolve into stewards of the planet.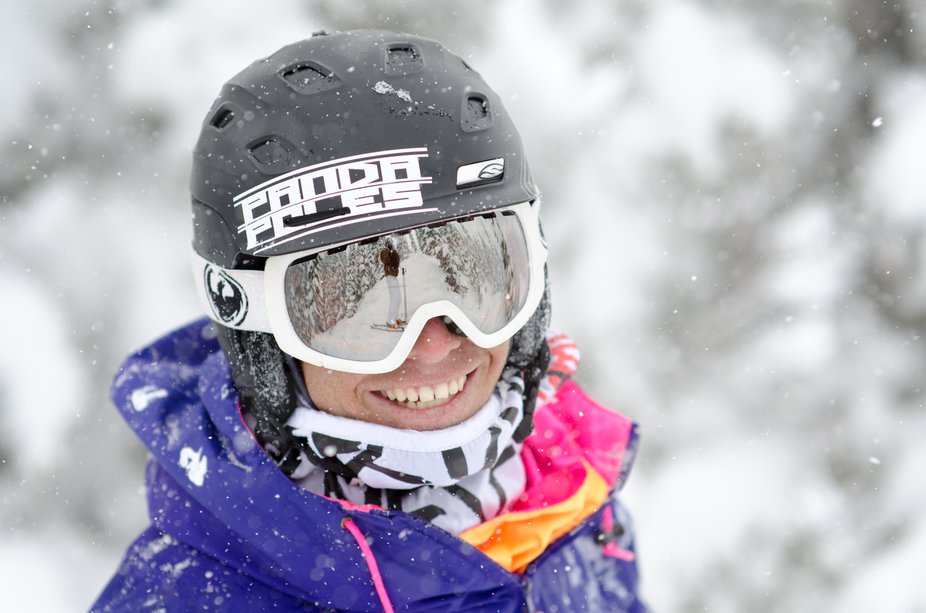 Tanner is happy when he's skiing.
What is your opinion on competitions?
Tanner: I've competed in skiing since I was 15, and I feel competitions definitely have their place. They can be enriching social activities which can teach a person about setting goals, self discipline, and bettering oneself. Unfortunately a lot of competition is done in a way which caters to the ego more than to these potentially enriching life experiences, and creates a lot of unnecessary stress and distrust within the community. There are several comp scenes which do a pretty good job of creating camaraderie amongst competitors, and I feel that these comps are quite healthy for any individual to participate in (IFSA is a great example). However, ego always has a way of sneaking in a taking over in competition, but as long as a person understands the potential downfalls of catering to the ego, competition is a beautiful thing.
What is your opinion on competitions vs filming?
Tanner: Although competition can be enriching, these days, I would much rather put my own efforts into creating art through video/photography. Not only do I enjoy myself more with creating art, but by removing the competitive edge, there is more freedom of expression. Competition used to be the only way to express oneself in the ski community, but now thanks to social media, we are able to share our stories and express ourselves peer2peer. I am grateful to be a part of this movement towards a more artistic, less competitive, snow-sports community.
What is your take on overseas manufacturing?
Tanner: Overseas manufacturing has its place. There are many products that lend themselves to being made overseas vs. in the US. Unfortunately people develop what I call "The China Syndrome" in which they value all manufacturing around the price tags that they find at WalMart. Many people scoff at a handcrafted, made in USA bamboo ski pole being sold for $100 when they are used to paying $40 for a hunk of trash from China. This is where there's a real problem. However, this isn't the only issue. Many people complain about the state of the US economy, only to go out and buy handfuls of Chinese manufactured products from some massive chain store. If we want to create strong local economies, we must start by supporting the people making things "locally" and buy from locally owned stores. With that being said, we are currently in the process of growing our own bamboo in the USA. We have been using bamboo from India and Vietnam, but should be crafting all of our poles from 100% "homegrown" bamboo in the next 3-5 years.
What is your view on progression? For example, future spins vs style.
Tanner: Hmmm progression... This is a tricky subject because progression is such a relative term. I think it's amazing what people are doing with future spins. Some of these tricks coming out are mind blowing. At the same time, I get bored watching future spins after about 2 minutes. It's starting to feel a lot like aerials. But then you have guys like Henrik who not only future spin, but do it with such style and grace that I could watch it all day and still be stoked. Really though, more than style, more than skill, there is a feeling I get when I watch people who ski from their heart. I can feel their joy watching them on the screen. I can feel the reverence they have for the mountain, and the love they have for snow. These are the people I enjoy watching the most, and these are the people who will still be skiing after everybody else burned out on what's cool.
How big is the importance of the community in skiing?
Tanner: Community is everything to me. Without community, there would be no chairlifts, no discussions, no laughter, no sharing. And as much fun as I have skiing alone somedays, when I am skiing with friends my joy is tenfold... Community is what sets humans apart from all other species. Yes, there are herds of deer, schools of fish, etc., but you don't see them sharing in community and personal triumphs. Humans have a special ability to interact with each other that is so beautiful. I hope we can take good enough care of this planet that we get to continue 'sharing' for thousands of generations to come.
What can we do to improve the sport, if anything?
Tanner: We can improve the sport by remembering why we got into it in the first place... It wasn't for money, fame, or glory. It was for this simple little thing called joy. Unless we all remember that every time we go skiing, the sport is doomed. It's a good thing there's a lot of people still having fun on snow.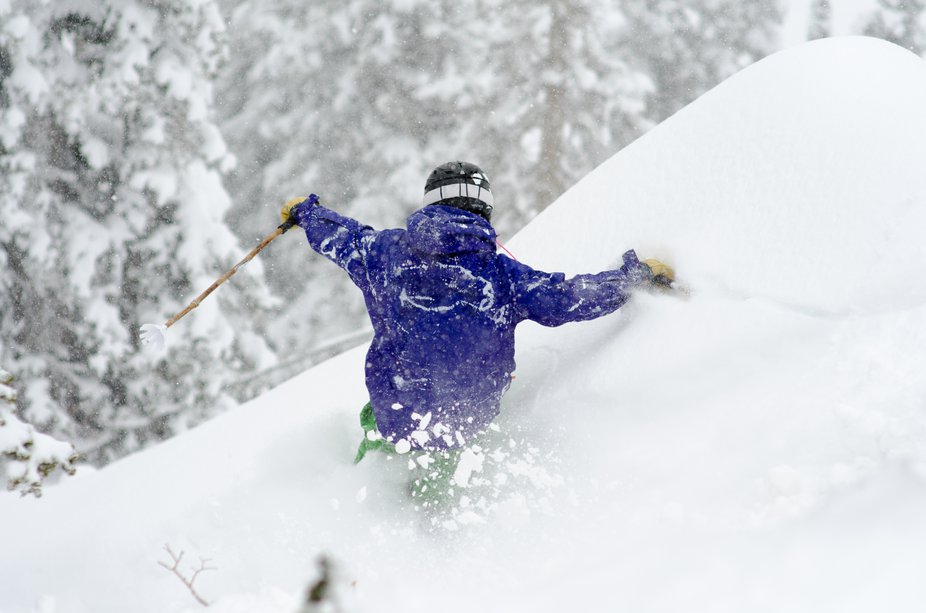 Tanner slicin' through the snow at Snowbird, UT.
What do you look for in skiers you support/sponsor?
Tanner: When somebody requests sponsorship from us, the first thing I look for is a video edit. Even if they have a great resume, if they don't have a video edit, I usually have a hard time considering them for endorsement. The second thing is personality. Do they seem like they really care about skiing and not just ego pursuits? And lastly, yet most importantly, do they care for the planet? Somebody could send me a stellar edit, with lots of personality, but if I look at their Facebook and they are driving a Hummer and eating McDonald's every day, they are probably not gonna get a spot in the Tribe.
Some people love to ski year round, and others love to take time off from skiing in the summer (even pros). What do you like to do?
Tanner: I would ski year round if I had the time/resources to make it happen. No doubt! A little surf trip here and there, and a month or two of biking might be a nice buffer, but otherwise, I've got snow on the brain all year!
For more information and background on Panda Poles and the owners, check out this vid:
https://www.newschoolers.com/videos/watch/773084/The-Story-Behind-the-Panda
First off, I would like to thank Tanner for taking the time to answer these questions. I have been lucky enough to intern at Panda Poles and have gained a better outlook on not only skiing, but the community as well from being around Tanner. He truly cares for this Earth, and he is one of the most creative and fun individuals I have personally seen ski.
Another big thanks goes out to Cy Whitling for encouraging me to start writing, keep up the good content.
Check out Panda Poles at http://www.pandapoles.com
Images courtesy of Weston Hall Photography circa 2011 @ Snowbird, UT