The Intro
I've said numerous times in the past 4 years that I'd love to blog about post college life, but never believed that I'd obtain a large enough audience that warranted the time and energy. Considering I get roughly 10-15 likes (mostly consisting of moms and other skiers) from posting my ski edits on Facebook, I know a mass piece of text doesn't stand a chance at maintaining viewership.
In the back of my head, there has always been the Newschoolers blog/article section. NS, despite its regular immaturity and bullshit, has been a place where I find myself when feeling anxious, upset, and just plain bored. I'd love to say the mountains are ALWAYS that place, but I can't. Don't get me wrong, skiing is my purest outlet, but a 45-minute drive, a work desk, and gas money don't exactly put it "at my fingertips". Carrying on, before it sounds like I'm just whining excessively, today marks the beginning of my endeavor to communicate with people who actually understand me. All while my CFO is sitting 5 feet away...
My Background
I started skiing almost exactly 4 years ago to this day. I snowboarded for 9 years and considered myself pretty good, but never fully embraced the lifestyle seeing as I was in school and just going with the flow. Long story short, my old high school friend, Steve, would post cool pictures and videos of him skiing and I said "I wanna do that". I picked up a pair of K2 Kung Fujas, progressed quickly in my humble opinion, and 9 pairs of skis and a full-time marketing job later, here I am – a 26-year-old attempting to balance work, relationships, skiing, and above all, happiness.
*In the future, I plan on discussing my personal work-skiing balance further, but for the sake of gaining interest, lets start with...
The Journeys
In the past year or so, I've come to the conclusion that skiing is about the journey. For me at least. I'm at an age and state of mind where taking skiing too seriously is just not worth it. Of course I love a faceshot and riding away from a trick, but for me, skiing is simply about having fun and making memories.
A recurring theme for me has been "busted ski trips" (I live just outside of Seattle fyi). Whistler, Hood, and Bear Mountain have all taken my hopes and dreams and mutilated them into bitterness followed by hangovers.
With a serious lack of snow in the area and after hearing rave reviews about the Mission Ridge rope tow park, Steven and I figured we should check it out. So two days before the New Year, we scrapped skiing one of the local mountains and were on the road to Mission at 5am. Some McDonald's breakfast, a destroyed Safeway bathroom, and 3.5 hours later, we come to find out the rope tow was broken. We hiked rails for a couple hours and watched the Seahawks at a local bar. The waitress' ass made it a little more worthwhile.
13-14 Busted Ski "Trip" Total: 1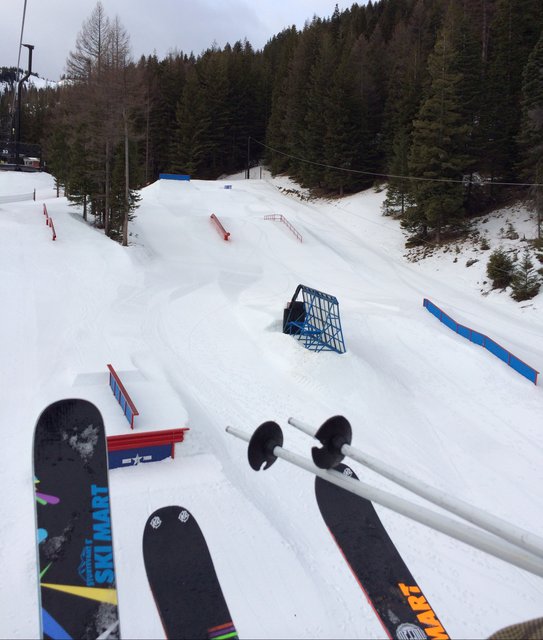 The (broken) rope tow park :(
6 days later we were on the road to Red Mountain Resort in British Columbia (look it up if you haven't...I mean err, don't) for a ski trip we booked back in October. Steve, our friend Parker, and I made plans to be on the road at 4am. We met up with Steve only to find out that he didn't have his passport. Another long story short, we drove back and forth to his apartment and parents' house TWICE, but never found the damn thing (#AmyDidIt). We looked up specific Spokane DOL services (he needed to obtain an Enhanced Drivers License), locations, and hours and were finally on the road at 5:45am just hoping for the best. The DOL was a breeze, we skied Mt. Spokane for a few hours, and made it through the border with Steve's paper license with no questions asked (other than a thorough search of our vehicle).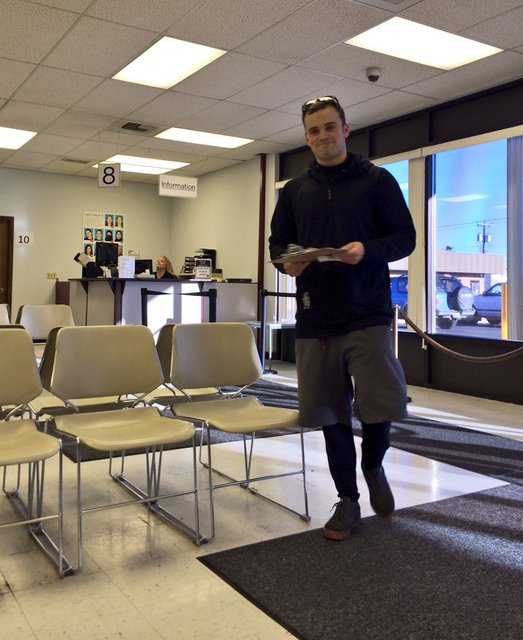 Steve at the Spokane DOL. You should feel embarrassed.
Going into the trip, we knew the forecast was bleak so we knew we'd have to make the best of it. Meanwhile, eastern and northern regions not all that far from us were getting pounded. We woke up to blue skies the first day and figured ripping the groomers would suffice (their park wasn't setup). Upon arrival, we found out quickly that the groomers were littered with rocks and tree branches that had yet to be buried. They were fun to use as gates I guess. Off-piste yielded some good fun and natural airs, but coverage wasn't much better. We skied for a handful of hours, drank, and repeated the next day, but with more emphasis on drinking. With one more day and night remaining on our stay, we decided that it was time to stop lying to ourselves and to forego the last day of skiing and our already paid night at the motel. We drove straight home and I Snapchatted my face off. The 4 following days, Red Resort got hammered with snow...
13-14 Busted Ski Trip Total: 2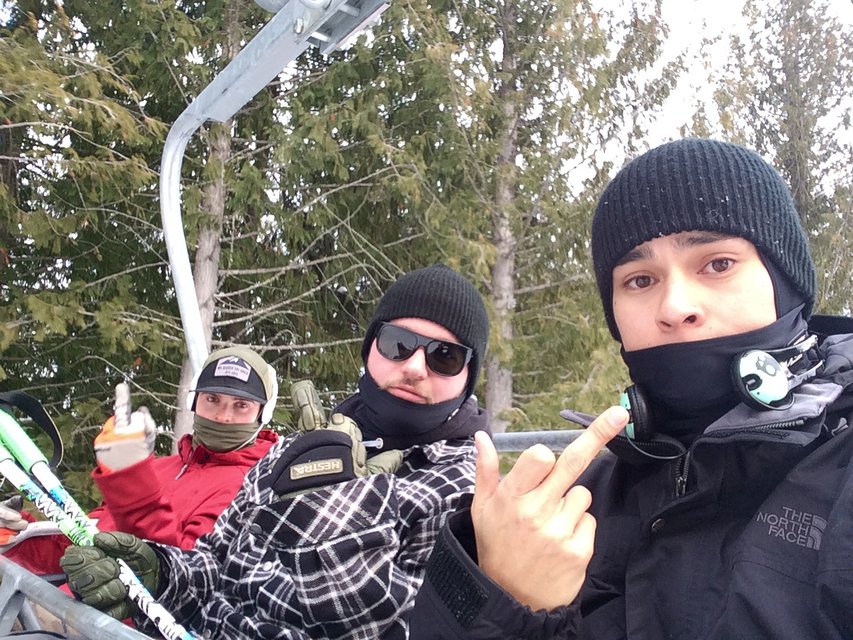 We were a bit upset with mother nature so middle fingers up. We take it back though.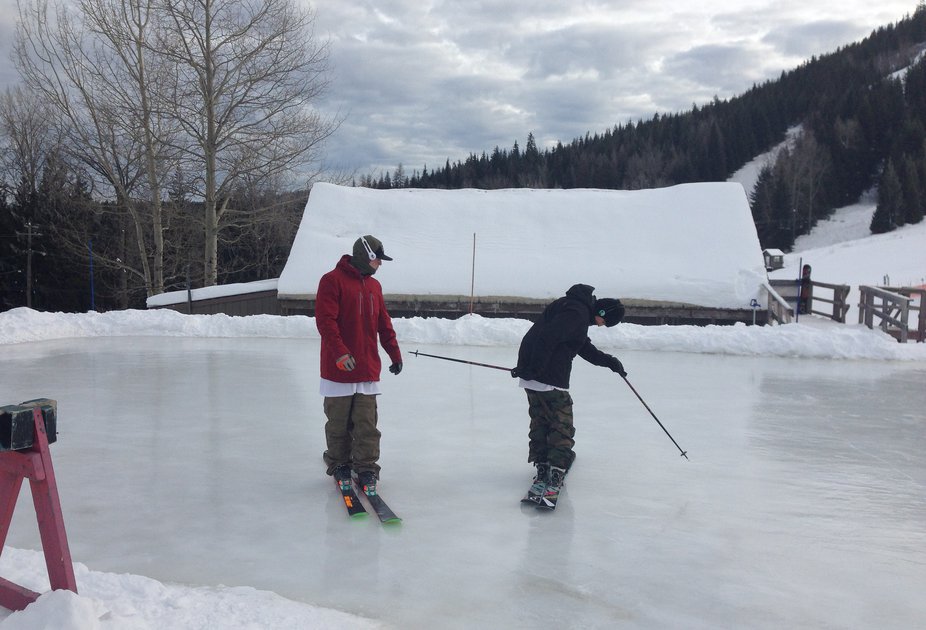 There was this ice rink at the bottom of the mountain. We swiveled for a bit.
The Takeaway
Although these two trips were considered busts, I honestly can't help but think back to the fun and memorable times. The car rides, the chair lift conversations, the drunken, and sober, stupidity. All of it is what makes skiing what it is to me.
Just two nights ago, in the middle of the most stressful 72 hours in recent memory, Steve and I escaped to Snoqualmie pass for our first night skiing adventure of the season. The snow was terrible and the jib setup was sketchy, but we were skiing. Maybe venting and drinking just a little bit too. Nonetheless, it was all a nice break from my newfound Xanax diet. And that's just it – when I'm clicked into my bindings and going down the mountain, nothing else really matters. Work, relationships, bills, school for many of you...it should all go to the back burner.
Summit at Snoqualmie. Where I am at peace.
I am undoubtedly preaching to the choir on this one, but perhaps it needs to be reiterated every so often. Skiing is fun. Skiing is an outlet. Skiing is a journey. And it's a number of other things. Don't forget that.
So when you encounter shitty weather, a broken rope tow, or whatever else your hill/friends decides to throw at you, just remember that things could be a lot worse and it'll probably be worth the story after the pain, anger, and hangover settle.